Sex and Violence VS. Sex and Violins
This bloggamy is a potpourri of news, views, awards and erotica. So, cuddle up to your computer screen, peruse the snappy subheads and delve into whatever piques your desire…
RadioSuzy1 & Our New Radio Free Archives
We are doing some awesome shows on RadioSuzy1 pretty much every night now, Monday through Saturday, 10:30 pm — Midnight (PT). Who are "we"? Well, I'm your hostess, of course, your Mother Confessor. And due to the Warholesque nature of Speakeasy life, there is often an interesting assortment of folks here with me. I'm sometimes joined on the air by porn star MILF Tai Ellis (see her squirt and get shaved in Clip-o-rama), sweet young Lorelai (one of our favorite telephone sex therapists here at the Institute, as well as a private nurse), the amazing Annie Body, or the original Airplane! Jive Brother Norman Alexander Gibbs. And of course, there is the inimitable Brother Dave, my faithful engineer.
Sometimes we have special guests, artists, authors or sexual Olympians, but usually we just take calls about sex, love, life, death, war, peace, pleasure and pain. In the past few days, we've talked about secret love affairs, trampling, queening, male erectile difficulties, female ejaculation (of course), masturbation, the Iraq war, Israel-Palestine, bonobos, the misogynistic sexual undertones to the Virginia Tech Massacre, philosophy, religion, heaven, hell, limbo, purgatory, passion, poetry and music. The other night, a romantic Egyptian business student sang us an exquisite Arabic love song that brought tears to our eyes.
Calls are coming in from all over the world, from Oregon to Iraq. Some of the questions people ask and the stories that they tell about their sex lives – lived out on yachts, under burqas, in lavish hotel suites and in the backseats of cars – are just fascinating. I'm not absolutely sure (and correct me if I'm wrong ;-), but I don't think there's any other radio show quite like this one on the Internet, satellite, and certainly not on the fascistically regulated, corporate monopolized "regular" airwaves. Listen for yourself on our new Radio Free Archives page where you can hear old broadcasts (now podcasts). Please be patient; the shows tend to start out a little slow as we grapple with our hook-ups; but after about 10 minutes, the fun and intensity starts to kick in.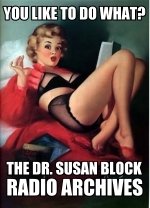 And tune into our live broadcast tonight on RadioSuzy1, or you can also listen on Skype, where you can also talk to me without even using a phone. If you're not on Skype and you want to talk to me and my guest(s), you can call me toll-free at 1.866.289.7068 (in North America) or: 213.749.1330 (anywhere else).
Pornology & Iraq
This past Saturday night's special guest on RadioSuzy1 was Ayn Carrillo-Gailey (Harvard '91), author of Pornology: A Good Girls' Guide to Porn, the misadventures of the world's first anthroPORNologist, a humorous, heartwarming tale of hardcore porn and true love, and a very promising debut for a first-time author. Pornology contains chapters on all kinds of erotic accessories from vibrators to videos, sexpertise to strip clubs, blowjobs to body creams, literary erotica to lapdances, including a 25-page chapter almost entirely devoted to your faithful Bloggamist (ok, ok, time to recuse myself), The Dr. Susan Block Show, Dr. Suzy's Squirt Salon and this magical, mystical but hyper-real place we call the Speakeasy.
Though Ayn was a little terrified of the whole female ejaculation phenomenon (assuming that Good Girls Don't Squirt), she finds herself falling in love with her husband-to-be at the Speakeasy. What could be more romantic? Well, many people have fallen in love here, and once I even officiated as Minister at an Eros Day Wedding. Now, adventurous young lovers will bring their partners to the Speakeasy for the perfect erotic backdrop to "pop the question."
We talked about erotic spanking, vibrators, religion, men vs. women, Harvard vs. Yale, and took a few calls. Then, in the last quarter of the show, an extraordinary call came in from a 32-year-old married English teacher named Kader in Basra, IRAQ, of all places. Back in La-La-Land, we all sat still, pressing our headphones to our ears, riveted to this friendly masculine voice speaking accented English from the middle of the Mesopotamian war zone, with the voices of his four young children squealing in the background. Kader talked about his marital problems, how his wife didn't want to try new sexual positions, refused to give him oral sex, and worst of all, couldn't have a satisfying intellectual conversation with him, and couldn't speak English, his language of love.
 We all gave him suggestions for how to improve his sex life with his wife. I offered to send him a free vibrator. It's always been my dream to actually fulfill my own slogan, to "Send Pocket Rockets, Not Patriot Missiles" to our Brothers and Sisters in Iraq, and I figured a nice vibrator would kickstart her waning erotic desire. Ayn advised him to find some hot literary erotica on the Internet, and translate it from English to Arabic for his wife. Brother Dave suggested he sing to her. We all said he should help out more with the kids and housework. Kader accepted all our offers and suggestions graciously, but he didn't act too excited about any of them.
Finally, I said to him, "It doesn't seem you actually want to improve your sex life with your wife. It sounds like you'd rather have sex with someone else."
"Yes," he agreed. "that's true." He told me that he looked at other women – what little he could see of them since most Iraqi women are in burqas again – with desire. I figured that now he was going to tell me that he wanted to have an affair or get a divorce. I must admit I wasn't prepared for what he said next, though after he said it, it seemed like the obvious solution to his problems.
"I want to take second wife," said Kader.
"A second wife?" I echoed. Back in LA, we all looked at each other; from the Harvard Good Girl to the Blacksheep Yalie to the Minnesota Porn Star to the Jive Brother, we were all a little shocked. Of course, we shouldn't have been; we've all heard about the harems of the Middle East…
"Yes, we can have up to four wives," Kader reminds us, matter-of-factly. "I can take second wife, but with limited salary, it take me over year to get money together for her." He wed his first wife sight unseen in an arranged marriage that his parents orchestrated. Thus, it's not surprising it's been a fairly loveless relationship. Now he is ready to marry for love, to make his own choice. But in Muslim culture, that's no reason to divorce Wife #1. You just have to be able to afford Wife #2.
Of course, to our Western ears, this reeks of political incorrectness, misogyny and barbarianism. Perhaps that's true, but I have my own spin. "Okay," I say, "Hopefully, your current wife is bisexual, so she can enjoy Wife #2 along with you." Kader laughed, probably thinking "What crazy American woman! Well, praise Allah, she is not bombing me," and we moved onto the next call, rounding out our international conversation with sexual citizens of the world, from Cambridge to Basra, Mauritius to LA. There are so many ways to share love, and we're learning about them all on RadioSuzy1. Listen to this show (4/21/07), on our new Radio Free Archives page.
Video Vets
Want to hear what some other folks have to say about the Iraq War? How about listening to some American soldiers and family members on the VideoVets Project. All of these Iraq War vets and relatives of soldiers feel that we'd best "support the troops" by bringing them home now. Some of these testimonials are very moving. Most of the soldiers have personal reasons for not wishing to go back to Iraq, like a two-week old baby to take care of. Others have very political and moral reasons for wanting to end the occupation, like that Americans were lied to from the beginning about the purpose and nature of Bush's Perma-War.

Check them out, hear from the troops themselves why "supporting the troops" means bringing them home. Vote for the video you think is most compelling, then director Oliver Stone will turn it into a TV ad.
And the Winner is…The Beastly Bombing!
As you regular bloggamists know, we have featured Julien Nitzberg & Roger Neil, the brilliant and subversive young creators of "The Beastly Bombing" as well as several of BB's extremely talented singers on our "Orgasm Operetta for a HipHop Squirting Holiday" and our "Eros Day Operatic Orgy.
We also did a radio interview with Julien and Jesse Merlin, the impressive baritone who plays the President of the United States on RadioSuzy1 (now in the Radio Free Archives). In fact, at this point, the Beastly Bombing crew has performed more than half the songs with much of the cast, some staying late, mixing singers with swingers in the great musical tradition of opera at Roman orgies and Bette Midler singing at the Continental Baths.
So we were thrilled and proud to be invited to the LA Weekly Theater Awards Dinner where "The Beastly Bombing" was up for five big awards. The invitation called for "40s attire," so JJ and I dressed up in our shoulder-padded jackets and seamed stockings, and I wore a little post-WWII hat with netting and my mom's old tortoise shell purse. Julien looked like the Mad Hatter in a big top hat, high collar and floppy tie, obviously, thinking "40's" meant 1840s, the height of the operetta era.
The Awards Dinner itself was, of course, a rather tedious affair, and the pain was intensified by the fact that "The Beastly Bombing" was bombing; that is, it was losing every single one of the first four awards for which it was nominated. It mostly lost to another musical poetically entitled "Urinetown." I was starting to think that the LA Weekly judges had a Golden Shower fetish, when they announced the big one "Best Musical of the Year"…AND THE WINNER IS…The Beastly Bombing !!!! YAY! Well, actually, they didn't say "winner," because believe it or not, "winner" is a politically incorrect term nowadays; they said "recipient." Recipient sounds like you're getting a dildo, not an award. But still, YAY!
There are still a few more performances of "The Beastly Bombing" at the Steve Allen Theater in the Center for Inquiry in Hollywood, and you can also see some of them singing at the Eros Day Operatic Orgy. The homoerotic pas de deux between the President of the United States and Jesus Christ is especially delicious. A few of the BBs might be joining us for our upcoming show on May 19, when once again, the cries of orgasm will crescendo into the mellifluous notes of operetta at the Speakeasy.
Diddlin 'n' Fiddlin'
Speaking of combining classical music and Olympian sex, we have some hot new photos BACKSTAGE from "Diddlin 'n' Fiddlin," playing this week on RadioSuzy1TV. A wild mix of hardcore sex and virtuoso violin, this extraordinary episode of The Dr. Susan Block Show is a must for porn enthusiasts and music lovers alike. Starring hot porn couple Kelly and Hamilton Steele (also telephone sex therapists with the Institute) and their deliciously slutty bi-lover Angelica screwing each other's brains out in every possible position, Diddlin 'n' Fiddlin also features the lovely and talented Elizabeth Chorley, violinist extraordinaire of the Elvis Schoenberg Orchestre Surreal. Hot sex flows with exquisite music, from downhome diddling in time to funky fiddling, to passionate lovemaking in rhythm to the amorous strains of Tchaikovsky, everyone playing their instruments – musical and genital – with tremendous ardor and ability. Nude Beer (Hamilton's new "favorite US beer") is also flowing, and so are the calls, including a sweet young couple named Anthony and Jennifer who call in need of oral sex education and get a vivid lesson from Kelly and Hamilton. And the band plays on… Some shows mix sex and violence. The Dr. Susan Block Show mixes sex and violins. Bravissimo tuti!
May 19 Show/Party at the Speakeasy!
Speakin' of Diddlin'…It's almost May which is Masturbation Month, and we are going to celebrate with a Jack 'n' Jill Jamboree on Saturday night, May 19th. Pet the Kitty, Spank the Monkey or just hang out and enjoy the uniquely erotic ambiance of the Speakeasy. Don't be embarrassed. Remember what George Carlin said: "If God Had Intended Us Not To Masturbate, (S)He Would Have Made Our Arms Shorter." We're lining up some exciting feature guests and swinging couples for another great Bacchanalian show and after-party, so let us know if you'd like to perform, or if you just want to attend this uniquely erotic exotic evening at the Speakeasy, become a BlockStudios member and make your reservations now.
We Rank!
Whatever the cause – the radio show, positive karmic blowback, war fatigue or a worldwide pervert revolution – the effect is that we have had a huge increase in traffic over the past couple of months. Our ranking has simply skyrocketed. We're now number 3183 out of all the sites on the Internet! But don't just take my word for it. Check out our stats through a neutral party: Just go to ranking.com, and type drsusanblock.com into the search box in the right-hand column, and you'll see the proof is in the stats.
Our 15th Wedding Anniversary
My darling H and I celebrated our 15th wedding anniversary last Thursday. We had fun knocking around Chinatown and up Santee Alley, bought some crystals (crystals are the theme of 15th wedding anniversaries), ate slippery squid, considered staying at a hotel, but decided against it, realizing that the Speakeasy is much more fun, more erotic, more comfortable, better equipped for our needs and less expensive (since we're already paying the Sky High rent) than any hotel. So we went home, cuddled, had a little lovers' quarrel (what's a wedding anniversary without a little lovers' quarrel?), then did a great radio show. In the middle of the show, our old Bulldog buddy Michael Blum (Yale '95) and his elegant wife Ines surprised us with a few bottles of champagne, and along with our beloved Bonobo Gang, we toasted our remarkable blessed marriage, overturning our ridiculous quarrelsome state in true bonobo style and sending us off to bed.
In bed, I took a swig off my bedside bottle of my favorite alcoholic beverage, Agavero Tequila Liqueur. UC Berkeley Theater Professor Mel Gordon (star of Weimar Love: Hot Sex in Pre-Nazi Berlin) introduced me to Agavero, saying "This is what Mexican grandmothers give their granddaughters on their wedding night to make them wet." Feeling just like a hot wet Mexican virgin, ready for love, I turned to my H who said, "I should drink whatever you're drinking, so we'll taste the same." This is a very important principle of alcoholic lovemaking. He held out his hand and I gave him the open bottle of Agavero.
Which he didn't realize was open. Two seconds later, I see to my confused amazement that he is hoisting the bottle up over his head. "What are you doing?" I protest, but it's too late, and the delicious sweet liqueur is already pouring all over his head, and soaking the bed.
I have never seen such a shocked, befuddled look on my H's darling face. I busted out laughing, and I can't help but laugh out loud every time I remember that look, including now.
H was actually pretty upset when it happened. See, he was about to do a playful Arlecchino maneuver, pretending to use the Agavero bottle (which he was "sure" was closed) as a hair tonic, and he was embarrassed that it didn't work. It was like an involuntary ejaculation, except instead of coming in his pants, the liqueur was pouring on his head. In fact, I think being doused in booze felt to him like he was being pelted with rotten tomatoes for a lousy performance. I reassured him that it was a fabulous performance, an improvisational work of high performance art, as a matter of fact, and a far funnier Arlecchino maneuver than he could possibly have mustered on his own, what with the liqueur spontaneously splashing all over his head and the bed.
There was nothing I could do to cheer him up except pull down his boxers and suck his cock. That did the trick, and we had hot happy anniversary sex climaxing with two near-simultaneous climaxes (we were just lucky on that; you can't plan for it), and we both slept on the wet spot — the whole bed was a wet spot — and smelled like drunken bums in the morning.
This does have a precedent. A few years ago, I was drinking a cappuccino while he was in bed, and he asked for a sip. I put the top back on the bottle, but not very tightly, never imagining that he would pick it up and shake it, causing the top to fly off and the milky brown liquid to go splashing all over his startled face and the bed.
I'm not sure what the moral of this story is, except that I should always screw the tops of bottles on tight before handing them to H, even if he's just asking me for a sip of something. Then again, if I don't, I just might get another big laugh that'll make my day. And his night! The 6th Commandment of a Lady's Pleasure from my 10 Commandments of Pleasure is Thou Shalt Make Her Laugh. If you can make her laugh, you can win her heart, and her genitals will soon follow.
And guess what happened two days later: H's head sprouted new hair!
---
Explore DrSusanBlock.com
Need to talk? Sext? Webcam? Do it here. Have you watched the show? No? Feel the sex. Don't miss the Forbidden Photographs—Hot Stuff, look at them closely here. Join our private social media Society. Join us live in studio 😊. Go shopping. Gift shop or The Market Place. DrSusanBlock.tv, real sex TV at your toe tips. Sex Clips Anyone? FASHION, we have fashion! We also have politics. Politics? Have you Read the book? No? How about the Speakeasy Journal? Click here. Ok, how about some free sex advice?
---