New Year's Eve Bacchanalia @ The Speakeasy + Horny Hanukkah XXXmas Show, Holiday Phone Sex Therapy, Peace on Earth, Pleasure for All <3

Hear Ye, Hear Ye:  The End Is Near…
Have You Made Your Reservations for a REALLY Happy New Year?

Meaning, Who Ya Gonna Party With, Baby?
Come Mingle & More with the Hottest Couples in Town & the Coolest Singles Around
@ Dr. Susan Block's NEW YEAR'S EVE Bacchanalia
Porn Stars, Artists, Millionaires, Models, Singers, Swingers & the Über-Awesome Bonobo Gang!
Free Champagne, Free Drinks, Free Aphrodisiacs, Free Gourmet Hors D'Oeuvres, Free Condoms, Free Sex Toys, Free Catalysts to Convivial Debauchery + Free Parking!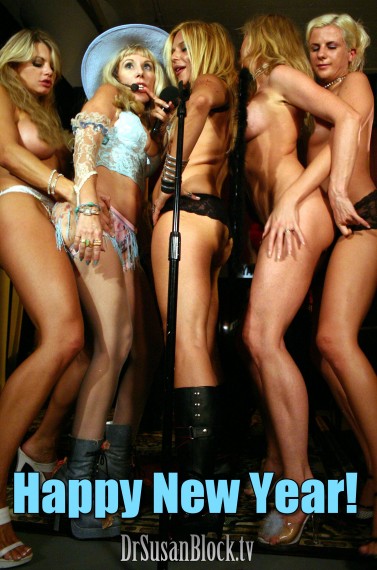 Occupy The Womb Room: Live Broadcast of The Dr. Susan Block Show with
Magical Midnight Countdown to Usher in 2012!
Eye-Popping Performances by the Commedia Erotica Players!
DJ All Night!  Panoramic LA City Views!  Amazing Erotic Art, Multiple Beds & Bondage Crosses!
Dancing, Romancing, Hula-Hooping, Trapeze, Pool Table, Piano, Flogging, Pole-Dancing, Spanking & Wild Rickshaw Rides!
And, of course, the Unspeakable (which We Won't Speak About…Yet)!
Where Else But @ the One & Only Dr. Suzy's Speakeasy Studios
In the Soul of Downtown LA.  For Address & Directions, call 213.670.0066.
Just $125 per couple includes everything.  No hidden charges for drinks, parking or anything!  Doors open 9pm and we'll go 'til  5am (at least).  That comes to $8 per hour per person! 
Compare with other NYE celebrations & you'll see we have the BEST DEAL for THE MOST FUN in LA!  Can't do the math? Let our friendly 24/7 receptionists help you :)
Call 213.670.0066

 RSVP NOW for our sake & yours–donation prices go up & up after 12/26/11!
Dr. Suzy's NYE 2012 Bacchanalia is a fundraising event for the highly endangered "make love not war" bonobos and the always endangered Speakeasy. Party for a good cause: the Bonobo Way of Peace through Pleasure into 2012 & way beyond!

This Saturday Night, December 24th, 2011, Xmas Eve on The Dr. Susan Block Show
Hot XXXmas & Horny Hanukkah Stories + Commedia Erotica with The Bonobo Gang
Want to Join Us In-Studio for this Intimate XXXmas Eve Show & After-Party?
RSVP Here or Call 213.670.0066
Call Anytime. Someone is Always Here 24/7 to Take Your Call
Doors Open @ 9:30pm ~ Show Starts @ 10:30pm ~ After-Party @ Midnite!
Can't Be Here In the Flesh? Watch Us Live on DrSusanBlock.tv
Not Sure If You Should Join?  Read some RAVE REVIEWS
or just Listen FREE on RadioSUZY1 ~ Call In Live 10:30p-Midnite PT: 1.866.289.7068
Ask a Question, Tell a Story, Make a Comment, Share a Fantasy, Talk with Dr. Suzy & Guests!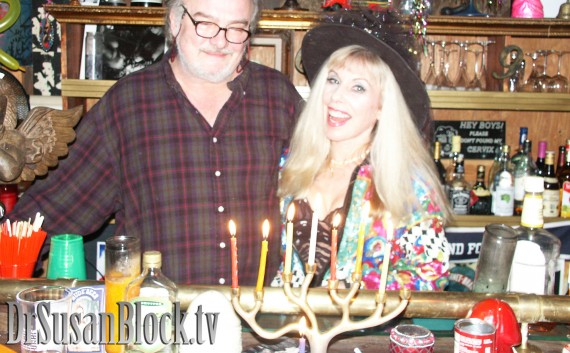 NEED to TALK…
About Something You Can't Talk About With Anyone Else?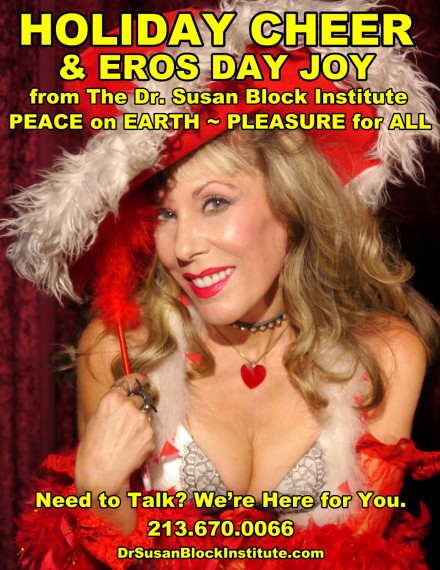 You Can Talk To Us.
EXPERIENCE TELEPHONE SEX THERAPY
Call 213.291.9497
We're Here for You Throughout The Holidays

What Can We Talk About?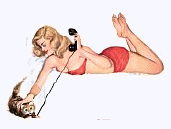 CLICK HERE TO FIND OUT
For Recorded Information, Call 213.291.9497
To Talk or Cam with a Sex Therapist Right Now, Call 213.670.0066
Want to See Your Therapist? Try Webcam Sex Therapy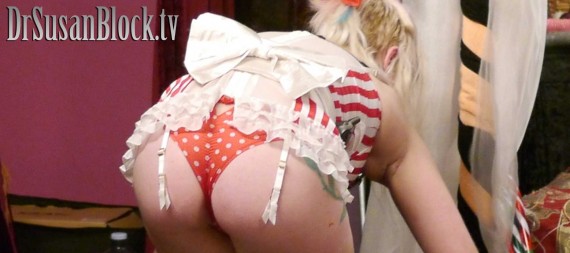 Holiday Cheer from your friends & lovers @ the Dr. Susan Block Institute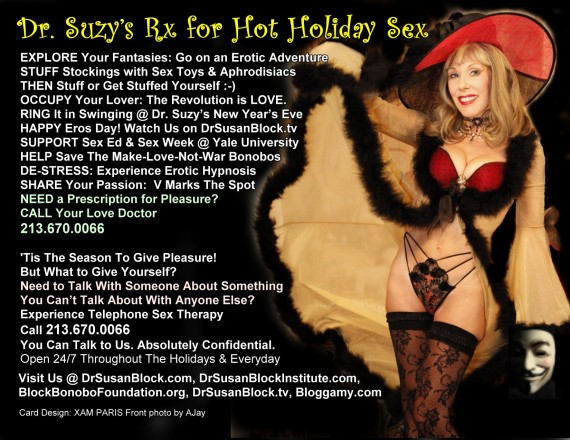 Peace on Earth ~ Pleasure for All
AMEN * AWOMEN
x S
DrSuzy


More places to visit when you're in a Browsing Mood:
http://drsusanblock.com    http://drsusanblockinstitute.com     https://drsusanblock.3dcartstores.com/     http://drsusanblock.tv     http://drsusanblock.com     http://twitter.com/drsuzy     http://blockbonobofoundation.org      http://drsusanblock.com/blockstudio.html