LA PORNO BOHEME avec BURLESQUE
Length: 103:49 minutes        Date: 06/25/2011
Click here for free PG-ish Pix Page…  X pix and video at DrSusanBlock.tv

Alt-porn stars, nerd-porn stars, a Yalie-porn star, and a breathtaking crew of burlesque performers come together in the Womb Room with me to explore the new erotic bohemia, the ups and downs of the porno life, the art of striptease and neo-burlesque, Commedia Erotica, Hardcore controversies, wet T-shirts and a new approach to eating mangos that would sharpen the skills of anyone who aspires to be a cunning linguist.
Here's a list of my featured guests on La Porno Bohème:
Zak Smith Sabbath: Self-declared cynic, acclaimed artist (whose paintings and drawings, including his celebrated exhibit depicting each page of Thomas Pynchon's Gravity's Rainbow, have been featured in museums and galleries from the Whitney to MoMA), alt-porn star, fellow Yale Alumnus (MFA '01) and Dungeons and Dragons Master, Zak makes his first appearance on the show.  He is also the author of We Did Porn, a cerebral roller coaster ride of hyper-real, take-no-prisoners brilliance documenting modern 'porno life' from the inside out, in the literary traditions of Tom Wolfe on hippies and Jack Kerouac on the Beats.  Zak spent years drawing and painting—a reasonably honorable trade—before he took up porn, mainly to have sex with as many hot women as possible. In the middle of the show, Zak appears to develop a serious lollipop fetish.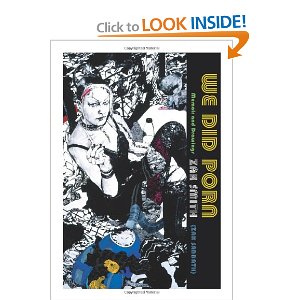 Malaika Millions: This is also the virgin appearance on RadioSUZY1 for this neo-burlesque queen, third wave feminist and 21st century bohemian Marilyn Monroe.  Always instructing, Malaika shares a very juicy sex ed tutorial: a demonstration of how to perform cunnilingus using mango slices cut to  resemble the female crevasse, Malaika and friends demonstrate just how "delicious and nutritious" practicing pussy eating can be. A visual punster, Malaika reveals her panties with protruding fur, asking if they're a little "low brow," followed by showing us her baby bottle slinky nipple pasties (you'll want to watch this) and feeding them to hungry volunteers from our studio audience.
Tonya Kay: The "Magickal Child," actress, dancer, and raw vegan danger artist, was last on The Dr. Susan Block Show, dramatically shooting sparks out of her crotch. This time around, she performs a dripping wet burlesque show involving another essential element: water. After most of her clothes peel off her victorious vegan body, she baptizes herself, soaking her white t-shirt, micro-thong and sculpted derriere.
Misti Dawn: Our divine Venus on our Eros Day Orgy in the Womb Room, lusciously tattooed alt-porn star and proud nerd in possession of a 20-sided fuzzy die, Misti joins us in the studio with Michael Vegas—shooting photos for most of this show–with whom she recently wedded and many times bedded (congratulations!). After a lot of Speakeasy-style foreplay, plus a few Agwa body shots, we get a money shot: Misti and Michael have hot, full-on, orgasmic, alt-porn star sex in on the couch in front of the Womb Room.
Ela Darling:  Late again to the show, this 'girls only' porn star makes up for her tardiness with a splendid striptease down to nothing at all on the Speakeasy stripper pole. Then, implementing our late arrival policy, she lies across Dr. Suzy's lap and receives a punctuality spanking, just like last week's guest Katie St. Ives. (Disciplines aside, we believe this might actually discourage future guests being on time, just so they can be 'subjected' to the punishment.) Later, Ela speaks passionately about the harsh reality of pressure in porn. In the after-party, she squirts out her feelings with the help of  our best selling Hitachi Magic Wand.
Judy Luck: Pin up model and burlesque performer, Judy is a virgin to the Speakeasy. Judy loves lollipops, so we have plenty for her and the other guests to suck on.  Slipping out of her dress, Judy displays exquisite embroidered panties and a set of tiny perky breasts, the nipples of which are embellished with sparkly red pasties in the shape of hot lips.
Katie Kinns: Joins us in the studio in burlesque appropriate attire—lacey boy shorts and an elegant white corset with red embroidery and gets our Agwa lime salt and shots ritual going.
Julian Nitzberg: Award-winning film director of the documentary The Wild and Wonderful White of the West Virginia, the play The Beastly Bombing and many other fine works of theatrical and cinematic art, ventures up out of our studio audience to discuss recovering from double anal herpes—metaphorically speaking—and not reveal the new film he's working on.
Weapons of Mass Discussion:
Art, Porn, Alt-Porn, Yale University, Yale Art School, Burlesque, Bonobos, Alt-Porn Stars, Nerdy Porn Stars, Neo-Burlesque, Creative Burlesque, Derivative Burlesque, Slutty Middle Names, Art Exhibitions in Barns, Respectable Painters vs. Shamed Porn Stars, Dinosaurs, Yale Husbands, Italian Housepainters, Michelangelo, Fake Porn, Ambitious Porn, Video Game Porn, Sex Week At Yale, Dungeons And Dragons, Juicy Pussy, Raw Vegans, Shooting Sparks Out Of Crotch, Filmmakers Pressuring Actresses To Do Things They'd Rather Not Do In Porn and Mainstream Film, Third Wave Feminism, Rare Yale Panties, Freedom Of Speech, Mental Parental Beating, Barbara Bush at Yale, Sasha Grey at Sex Week at Yale, Controversy, Slandering Without Evidence, Max Hardcore in Prison, Double Anal Herpes
Performance Erotica:
Striptease, Burlesque, Nudity, Licking Lollipops, Pole-Dancing, Titty Flashing, Pasty Flashing, Panty Flashing, Lust et Veritas Thong Panty Flashing, Mango Pussy Eating Demonstrations, Regular Pussy Eating, Making Love, Public Marital Sex, Erotic Wet T Shirt Dance, Female Ejaculation with Hitachi Magic Wand, Male Ejaculation on Breasts (Pearl Necklace), Punctuality Punishment Spanking, Lesbian Mangoes, Double Panties, Low Brow Panties, Baby Bottle Nipple Pasties, Agwa Body Shots, Doc Johnson Pocket Rockets, Screaming O's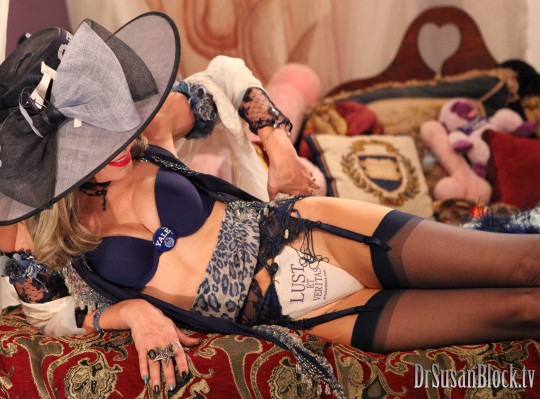 ---
Explore DrSusanBlock.com
Need to talk? Sext? Webcam? Do it here. Have you watched the show? No? Feel the sex. Don't miss the Forbidden Photographs—Hot Stuff, look at them closely here. Join our private social media Society. Join us live in studio 😊. Go shopping. Gift shop or The Market Place. DrSusanBlock.tv, real sex TV at your toe tips. Sex Clips Anyone? FASHION, we have fashion! We also have politics. Politics? Have you Read the book? No? How about the Speakeasy Journal? Click here. Ok, how about some free sex advice?
---