Kosher Sex in City Hall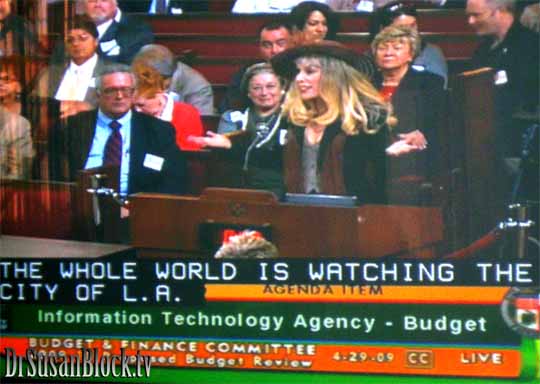 Dr Susan Block appearing at LA City Hall in defense of
the future of Public Access TV in Los Angeles
Along with dozens of cable TV and freedom lovers, I put on a suit and spoke up at City Hall last Wednesday, trying to convince the LA City Council to earmark a few measly sheckles of the $30 million they get each year from cable companies for Public Access. As blogged in RIP Public Access and Nightline Visits the Speakeasy, LA's Public Access channels were unceremoniously dumped by Time Warner at the beginning of this year, aided and abetted by various nefarious California State and LA City officials, some of whom were squirming in their well-polished seats right in the Council's Chambers.
For an overview of the end of the "bizarre" and wonderful world of Public Access, watch the Nightline segment here:
Dr Susan Block interviewed on ABC's Nightline
Not that anyone on the LA City Council was openly "against" Public Access, Equal Access, Free Speech or the right of the citizens of LA to have our own independent channel where we can air whatever we want, free of government censorship and corporate sponsorship. Of course not! They all profess to love Freedom of Speech far more than We the People of LA could ever know! They just have, well, other priorities for that cool $30 million, thank you very much.
"The whole world is watching the City of LA," I reminded the Council members. Many others joined the chorus of municipal passion for public access. With somber sorrowful faces, the Council responded by invoking their sacred duty to pour the whole 30 mill into the black hole of "debt," with just a bit left over for "security" and maybe a few other far more important things than the People of LA's right to broadcast their own homemade TV shows for the viewing edification and pleasure of their neighbors.
And so, We the People are supposed to just turn off our cameras and go home to dutifully watch whatever our government and the big corporations provide for us. Oh, and we're supposed to feel "secure." Don't we have enough "security" officers on the streets of LA, picking up "bodies" to throw into the Soylent Green California Prison System? Can't we find a penny to keep Public Access alive? Are We the People to give up our voice completely to the cops, the corporations, the politicians and the members of the somber sorrowful City Council?
Well, We the People tried. And we will try again. Even though "we" are not united in any way. Factions of public access producers are already butting heads; some of the more conservative ones seem to wish that sexuality shows like mine would go away, or at least not hog most of the Nightline segment; hey, it's not our fault that we're so telegenic, and sexuality is such an interesting subject.
And so it was another sad, rather testy day for Freedom of Speech. But there is still hope. There is even A Plan put forth by a group that calls itself the Public Television Industry Corporation (PTIC), though this "plan" doesn't "yet" include a category for sexuality shows like mine. But you know what I always say about plans: the best-laid plans may not get you laid the way you planned. And the fight for Public Access is far from over.
The best part of the day was that, while admiring the ornate fixtures of the City Hall elevator, I heard a familiar voice call my name. I thought it was just another Public Access Groupie (not that I don't love all you PAG's; I do!). But it was the one and only Rabbi Shmuley Boteach whom I haven't seen since his Kosher Sex days, when his big beautiful family taught me the Scallion Flogging Dayenu that I've practiced every Passover Seder since. Moreover, in these years before the good Rabbi, now "America's Rabbi" and host of TLC's "Shalom in the Home," had been blessed by Oprah, he had been a guest on one of my Public Access TV shows, not coincidentally entitled Kosher Sex . I gave Rabbi Shmuley a big hug and shook his Dad's hand before I remembered that I shouldn't do that because they're Orthodox. Though someone Twittered me that it was okay since I wasn't menstruating. And yes, I now get all of my moral guidance from Twitter now.
Speaking of religion, I also hooked up with a lovely lady named Krysta Davis who works at a South Central Church and adores Public Access. If a Church Lady and a Sexologist can join forces for Freedom of Speech, the LA City Council can find a few American Pesos in that $30 million for Public Access TV in LA.