Is There Sex After Marriage?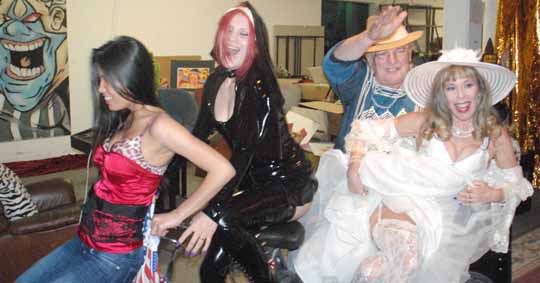 Length: 91:45 minutes
Date: 06/05/2010
Ah, l'amor! With joy, devotion, multiple orgasms, mirrors on the ceiling and a friendly orgy (not in that order), Prince Max and I recently celebrated our 18th anniversary of wedded love. Ah, le mariage! It's not for everybody. It looks like it's not even for Democratic power couple Al and Tipper Gore—at least not now, after 40 years of it. It certainly wasn't for Max the first couple times, but three's the charm for him; the first time has been the only time for me.
For many, marriage can be deadly. Not that it kills the husband or wife—at least not usually. It does, however, tend to kill the romance. Why? Because romance thrives on doing what's forbidden and, in marriage, sex is sanctioned by religion, family and the government. "God created sex," said Voltaire (who happened to have a 15-year love affair with the married Marquise du Châtelet), "Priests created marriage."
Marriage is an institution and, like court houses, jails, schools, hospitals, mental wards and other institutions, it can feel like a prison. As a therapist, I talk to many POMs (Prisoners of Marriage), doing my part to help them find a little freedom, either within or without the marriage.
But for some reason, I've never felt confined by my own marriage; it has always been a rock of sexual security as well as a constant catalyst for erotic change.   I realize that statement could someday explode in my happily married little face, just as Al and Tipper's famous 2000 Democratic Convention kiss is now exploding in theirs, but I'll take that chance, as I'm in a celebratory mood. Also, I feel that it's important, in this age of marriage after "perfect" marriage falling apart, to ruminate upon the possible reasons why ours keeps on ticking, with lots of licking.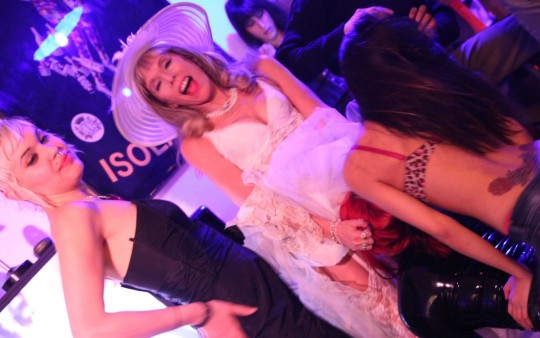 Make Love First If You Want to Make Love Last
First and foremost, our love is based upon sexual attraction. I don't know about "love at first sight," but we sure felt lust at first sight (he for my legs, I for his smile). That's an important component to making desire last: feeling it first. People who aren't attracted to each other when they get married may get along fine—and even share orgasmic sex—but they can't re-ignite their spark of lust if it was never fired up between them in the first place. If sparks did fly in your first meetings, there are always ways to keep them alive, like the eternal flame in Solomon's Temple.
Which brings me to another possible reason Max and I haven't "grown apart" as so many other couples do: we practice what we preach. We try to do all those things that we tell other people to do to keep their marriages hot: sharing fantasies, complimenting each other, maintaining open communications, making plans for sex, taking romantic getaways, using toys, staying in touch (literally), making each other laugh, mixing it up with other people (though always with each others' feelings paramount), making love first (priority-wise) so that we can make love last…
Third, we're lucky. We found each other at the *right* time in our lives: when we were ready for love. Also, we don't have kids or careers that compete with our relationship. In a way, our relationship IS our career, though that's hardly a guarantee of marital success—most relationship "experts" are divorced or terminally single.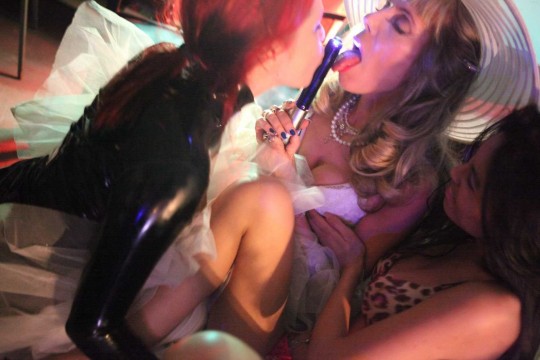 Another factor in our success is the slow pace at which our relationship developed.   It may have been lust at first site, but we didn't have sex for the first six years that we knew each other. Of course, that was mainly because he was married, and I'm not into husband-stealing. But whatever the cause, those six years of chaste but deep friendship not only solidified our respect and affection for each other, it seems to have created an ever-flowing stream of desire for each other. Taking your time taking something that you really want is the art of the tease. Men need to be teased because it makes them slow down; women need to be teased because it makes us come around.
Maybe another reason why two strong-willed people like Max and I have been blessed with such an awesome, erotic marriage, lo these 18 years, is that we've faced so many people—from friends to family to disgruntled staff members to the LAPD—bent on tearing us apart. When you're married, you're on a team, and there's nothing that fosters team spirit quite like a common enemy to battle, especially when that enemy is out to kill you—or, at least, destroy your relationship. Personally, I could do without the enemies. I really wish they would leave us alone (and for the most part, at this point, they have), though sometimes I wonder if their efforts to pull us apart have actually helped keep us together.
Common goals are even more vital to long-term romance than common enemies. We're lucky in that our goals tend to involve sex, spreading the Bonobo Way of peace through pleasure and expanding our Institute for the erotic arts and sciences; so our ambitions enhance our sex life. Along the way, we're always getting ideas and erotic inspiration from our wonderful, whacky, brilliant and bawdy clients, not to mention all of you incredibly sexy people that come to our Saturday night shows at the Speakeasy.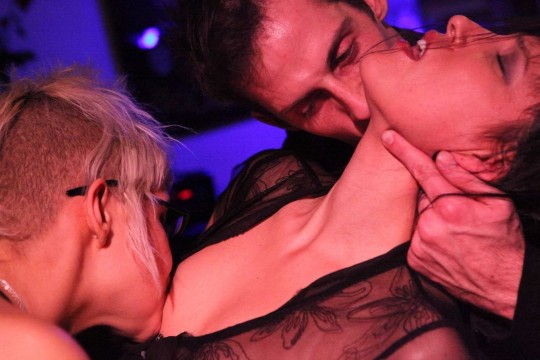 Make-Up Sex: Bonobo-Style
Another reason we're still standing might be that we subscribe to the Phyllis Diller School of Conjugal Harmony: "Never go to bed mad. Stay up and fight."
Going to bed mad hardens anger into resentment. We'd rather stay up and fight, talk, rant, rave, cry, bellow, bitch and moan our way to some sort of exhausted reconciliation. Furthermore, make-up sex is loads of fun!
In the primate world, bonobos are the masters of make-up sex. They appear to harness the give and take of sensuous, sexual pleasure to diffuse violent tension. This could be why bonobos have never been seen killing each other in the wild or captivity. All that hot sex just chills them out.  Even though the bonobos themselves are not at all monogamous, let alone "married," the Make-Love-Not-War chimpanzees inspire us to use all forms of pleasure—from culinary to intellectual, but especially sexual—to keep the peace between us. Certain kinds of arguments do require verbal negotiation, but so much marital discord can be resolved with a well-timed blow-job.
Or a foot massage. Or just the right gift. Some form of pleasure. The power to give pleasure is the greatest power we have. It's the Bonobo Way. And, in a way, it's our way of marriage.
"In the opinion of the world, marriage ends all, as it does in a comedy. The truth is precisely the opposite: it begins all." ~Anne Sophie Swetchine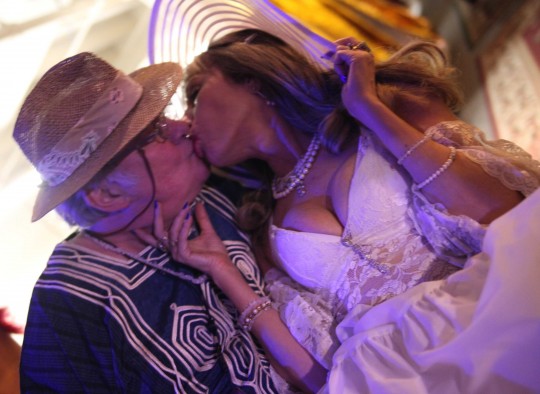 18th Anni Orgy & Farmer's Daughter Getaway
Our anniversary fell on a Monday this year, so we celebrated on the Saturday before with a show, party and orgy (doesn't everybody celebrate that way?). After rickshaw rides, cake, champagne, speeches, dancing, hot crazy sex with two of the most gorgeous young ladies in all of La-La-Land (RubberNecroand Asia), a Jesus Jackhammer dildo, a Pyrexions glass vibrator, and a multitude of spankings and floggings, Max and I were primed for epic orgasms once we hit the marital bed. And we did not disappoint each other—nor our Twitter and Facebook fans. Yes, I'm almost—but not quite—embarrassed to say that I pinged that post-coitally.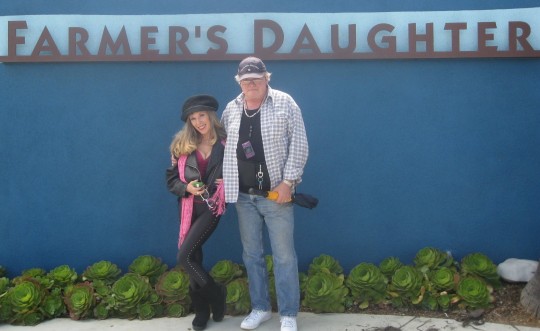 How could we top that for our actual anniversary? Well, we couldn't, especially on a Monday, so we did something completely different. We took ourselves on one of those "Romantic Getaways" we're always recommending for other couples: to the Farmer's Daughter Hotel.
It would prove to be a night of decadent pleasure as well as a trip down Memory Lane. This wasn't the first time we'd checked in at the notorious Farmer's Daughter. Back in 2001, before the renovations made it a chic spot for couples of all orientations, we had stayed in room 101. Actually, Max had been staying there during a very enemy-rich period of our lives, while a variety of individuals and institutions chased after us—or after Max—all for madness, long since proven bogus. I would work at the Institute all day but, come night, they'd whisk me over to room 101 at the Farmer's Daughter, where Max and I would fall into each other's overwrought arms, to scheme and dream and scare each other with paranoid fantasies of what our enemies would do to us in between rounds of passionate, this-could-be-the-last-time sex.
We felt a little like Bonnie and Clyde—without the guns, but with the fear and the romance. When it comes to erotic passion, a little bit of fear is like spice in your enchilada; too much spoils the meat. So it's great that, at this point, most of those enemies have backed down or faded away. Thus it was a treat for us to spend our 18th "honeymoon" at the Farmer's Daughter, heightened when we found that we'd be staying in room 101: our old hide-out!
Not that it's the same room. The whole hotel has been renovated, and room 101 itself has been transformed into a hot sex room with artisan-quality country-style finishings and mirrors on the ceiling.Ooh-la-la!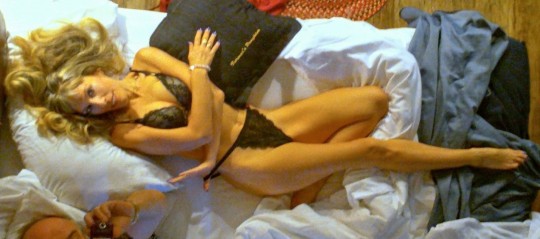 I do so love those mirrors on the ceiling, offering their different—and rather flattering—perspective. Most people look sexier lying down. And so, the added, fantasy-exhibitionistic spice and erotic disorientation of seeing our heavenly reflections floating above our earthbound, humping bodies made for even more orgasmic sex than the night before.
But the best part was that we got to leave together in the morning, though not before a delectable breakfast at their quite nice, post-renovation, hotel restaurant, aptly named Tart, which included a yolkless omelet and rattlesnake sausage (sorry Eve!).
Close to the Farmer's Market (another one of our old courtship haunts) and Cantor's Deli, the Farmer's Daughter is a great, inexpensive, little romantic getaway even if you never used it as a hide-out. Make sure to ask for #101 as that's the only room with the mirrors on the ceiling.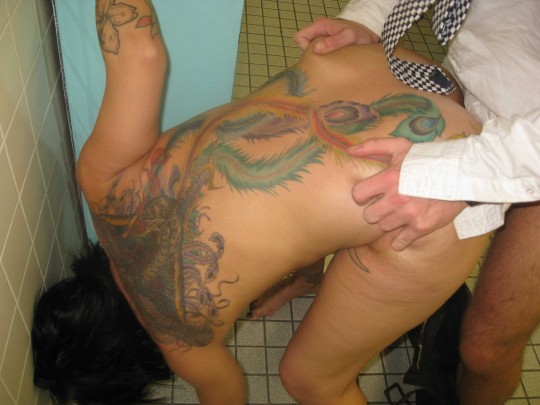 Other Great Shows & A Smoking Lavatory Sex Scene!
And we have AWESOME photos from the Anni Orgy, the Farmer's Daughter, and a bunch of our other hot shows, including "Tomboy Sex and Musical Feet," with Cadence St. John, Dane Cross and Dylan T.; "Get Lucky in Lust," with Dane, Tori Lee and Xtina Quinn; and the expositorily titled "Busty Sara Jay & Austin Taylor Meet Vibrating Vegas."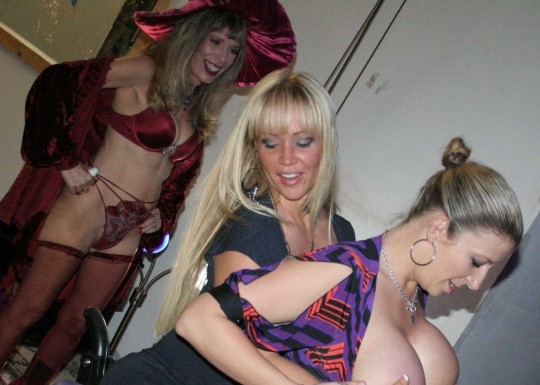 There are a few free PG-rated pics from these shows and the Farmer's Daughter below this bloggamy, but the best and hottest photos—including a torrid sex scene (shot by me!) in the Speakeasy ladies room between AVN award-winning porn stud Dane Cross and shy but wild Tori Lee—are reserved for bloggamy members' eyes only. But don't worry, this isn't Skull & Bones. Anybody with an interest in sex and/or the Speakeasy can and should join the bloggamy, and that includes YOU.
Related Links
---
Explore DrSusanBlock.com
Need to talk? Sext? Webcam? Do it here. Have you watched the show? No? Feel the sex. Don't miss the Forbidden Photographs—Hot Stuff, look at them closely here. Join our private social media Society. Join us live in studio 😊. Go shopping. Gift shop or The Market Place. DrSusanBlock.tv, real sex TV at your toe tips. Sex Clips Anyone? FASHION, we have fashion! We also have politics. Politics? Have you Read the book? No? How about the Speakeasy Journal? Click here. Ok, how about some free sex advice?
---