Dr. Suzy's Birthday Orgy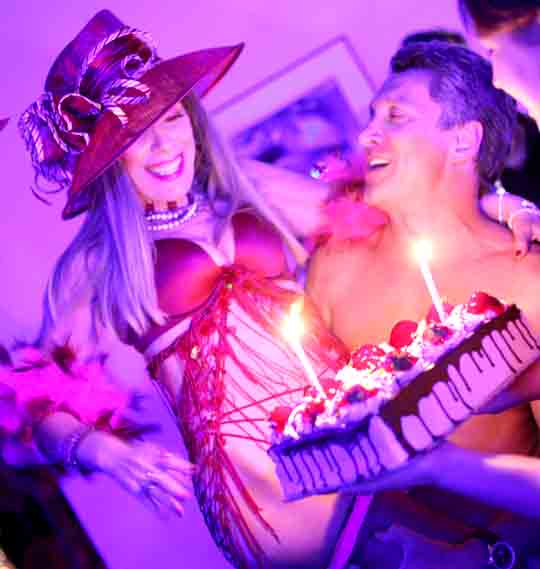 Length: 91 minutes
Date: 06/12/2010
Dr. Suzy's Birthday Orgy
Move over May Day, Memorial Day, and even Eros Day, because this show celebrates the greatest Day of the year (and, according to Prince Max, "the luckiest day of my life"): Dr. Suzy's Birthday! This special annual radioSUZY1 show is full of surprises, music, spankings and, of course, loads of sex   …along with torture, erotic clown art, nipple cake, money shots and a wild Birthday Orgy in the new Speakeasy Voyeur Room during the after-party. We don't think our favorite Love Doctor deserves any less–and the pile of presents in front of her proves it. Ever the giver, Dr. Suzy also gives gifts to her guests, from Pocket Rockets to lingerie, high heels to nipple jewelry. Though radioSUZY1 usually explores sex as recreation, this show honors procreation in the literal sense, as birthdays remind us we are all Children of Sex.
 Seated at the radio console are a few old friends: pliable radioSUZY1 veteran RubberNecro, slinky porn couple Natasha Skinski and Tommy Lei, newlyweds Master D and wife Bunny (formerly known as slave bunny), and Barry Fisher, long-time friend, intrepid attorney and kinky accordion player. The honking of horns heralds a surprise visit from the Porn Klown Posse, led by freekBALL and Tootz, who, lovely breasts bared beneath her ruffled clown collar, presents Dr. Suzy with a piece of exquisite erotic clown art, a tiny red clown nose and a few birthday spanks for good luck. Then Barry whips out his instrument and plays a lively number he calls "Shtuppin' in the Shtetl" as Master D wields his own instrument, a violet wand, on Rubber Necro's bare breasts and tongue.
 Somehow, there's time to take a few calls in between all this in-studio action. Most notably Block Institute phone sex therapist Tina spurs a discussion of Sperm Wars, the biological response of sperm to competition for a female, and cum shots in the face–which Tina adores and Dr. Suzy simulates by spraying wads of birthday Silly String in her unsuspecting guests' faces. She then invites a few eye-catching audience members up to the microphones who turn out to be friends of ace photographer and Speakeasy resident Jux. They come bearing the birthday girl a bottle of mysterious Thai alcohol (that contains two real snakes!) and have just enough time on the air to introduce themselves before the show adjourns for cake and sex (consumed together as well as separately). Who knew that one of them would become the star of the ensuing Birthday Orgy, celebrating with a bang–a sweaty, moaning, orgiastic type of bang–with a hot factor equal only to the color of her hair.
Caller 1: Tina, a recently initiated Block Institute sex therapist, discusses her experience so far and shares how her boyfriend's version of the Sperm Wars effect caused him to become so aroused after one of he therapy sessions that as soon as she hung up the phone, he burst into he room and, to her professed delight, ejaculated in her face
Caller 2: Cousins Imtiaz and Anna wish Dr. Suzy a happy birthday and discuss differences in how Christians and Muslims celebrate birthdays, as well as Dr. Suzy's currently disabled Facebook page.
Caller 3: Stevie Jay, a performance artist whom Dr. Suzy and Max met at Sex Week at Yale, calls to convey his birthday wishes and  discuss censorship on Dr. Suzy's Facebook page.
Caller 4 wants to know if it's normal for his erect penis to touch his belly button, then celebrates Dr. Suzy's birthday with an on-air orgasm.
---
Explore DrSusanBlock.com
Need to talk? Sext? Webcam? Do it here. Have you watched the show? No? Feel the sex. Don't miss the Forbidden Photographs—Hot Stuff, look at them closely here. Join our private social media Society. Join us live in studio 😊. Go shopping. Gift shop or The Market Place. DrSusanBlock.tv, real sex TV at your toe tips. Sex Clips Anyone? FASHION, we have fashion! We also have politics. Politics? Have you Read the book? No? How about the Speakeasy Journal? Click here. Ok, how about some free sex advice?
---