Foot Sex Marriage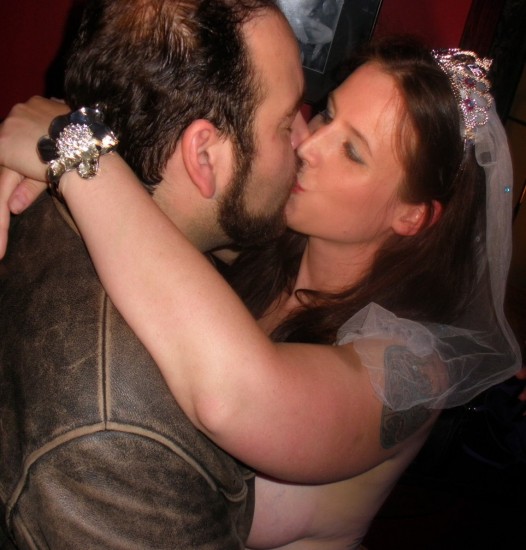 Length: 91 minutes
Date: 07/10/2010
 Foot Sex Marriage
As comedian Chris Rock said, "You can be married and bored–or single and lonely." But the guests on this radioSUZY1 show challenge that "either/or" defeatist attitude. Dr. Suzy begins with her thoughts on the social institution of marriage which "like court houses, jails, schools, hospitals, mental wards and other institutions, can feel like a prison." But she and her husband, who also happens to be her engineer, have been married over 18 years and haven't gotten bored yet.  So they bring on two couples who share how their own relationships also seem to defy the textbook marriage stereotype, at least in their pre-marital states.
 First up, on the actual eve of their own wedding, are Jared and Karen, discussing how they balance commitment and sexual openness between pre-marital kisses.  Jared previously appeared on radioSUZY1, with Karen on the line, as the couple described both the difficulties of long-distance love and the perks, demonstrated nicely by their raunchy phone sex session that climaxed with Karen's on-air orgasm, rocking the Pocket Rockets right out of our hands!  Caller Twanna Hines, aka @FunkyBrownChick on Twitter and self-styled "Singles Activist" who helps non-traditional unions (gay partnerships, civil unions, etc.) receive the same rights as married couples, weighs in with her reasons for staying single. Other topics of discussion include favorite masturbation techniques and exhibitionist honeymoons, and just as the marital ceremony has its sensual tradition of the kiss, radioSUZY1 has our Agwa body shots.  We toast to the (almost) newlyweds as we watch Jared lick Agwa salt (no, its not cocaine!) off Karen before downing a shot of the sweet coca leaf liqueur (with Twanna drinking wine in solidarity).
 Next up to the marriage altar are in-studio guests Ralph and Rita, a couple who has been together for 8 years… despite still being married to other people. R & R share their unusual story of how these one-time neighbors found true love over the fence, how their extremely passionate coupling drove their respective spouses together, and how the complicated dynamic of their blended family plays out. Dramatically, Rita confesses her newfound fetish for analingus, then a caller butts in and switches the topic from rim jobs to toe jobs as he describes his foot fetish, one of our favorite recent themes here on radioSUZY1. True to form, the show climaxes with some hot shoes, foot shots and wild toe sucking in a toegasmic foot orgy that definitely knocked everyone's socks off (and the after-party got Karen's dress, bra and panties—but not her bridal veil—off too). Well, when it comes to relationships, there's no need to toe the line. Married or single, if you're true to yourself, then you've gotten off on the right foot.
Caller 1: Twanna Hines, aka @FunkyBrownChick talks about her Singles Activism and Masturbation Techniques
Call 2: Foot Fetishist asks about how to satisfy his love of foot jobs and toe-sucking, inspiring all the couples to have a Foot Orgy
---
Explore DrSusanBlock.com
Need to talk? Sext? Webcam? Do it here. Have you watched the show? No? Feel the sex. Don't miss the Forbidden Photographs—Hot Stuff, look at them closely here. Join our private social media Society. Join us live in studio 😊. Go shopping. Gift shop or The Market Place. DrSusanBlock.tv, real sex TV at your toe tips. Sex Clips Anyone? FASHION, we have fashion! We also have politics. Politics? Have you Read the book? No? How about the Speakeasy Journal? Click here. Ok, how about some free sex advice?
---
---