Bonobo Handshake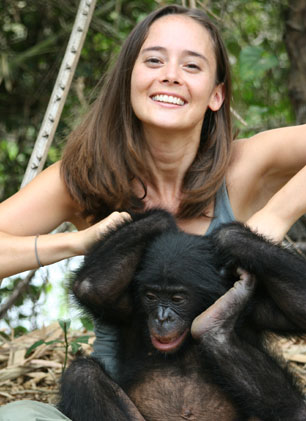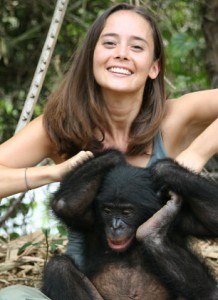 Length: 90:43 minutes
Date: 07/03/2010
This intellectually arousing, deeply touching show celebrates and investigates our kissing cousins who swing from the trees as well as with each other, the inspiration for the "peace through pleasure" mantra so central to our credo here at the Block Institute: the bonobos.
Talking with us live from the wilds of North Carolina is featured guest Vanessa Woods, Duke University research scientist and author of the wonderful new book Bonobo Handshake.  Having braved the war-torn Congo to work with and care for bonobos at Claudine Andre's Lola ya Bonobo sanctuary, along with her husband Duke anthropology professor Brian Hare, Vanessa fills us in on why so-called "pigmy chimps," 98% genetically similar to humans, are truly special animals, in part because of the way they use sex for establishing social relationships, easing stress and resolving conflict.  Indeed, they have never been seen killing each other or making war like common chimps–or humans.
Vanessa and I bond discussing our experiences interacting with bonobos in the wild and captivity, and how these beautiful but fragile animals have won our hearts and souls. What I call the "Bonobo Way" has also deeply influenced my therapy practice and advice to couples on how to resolve interpersonal issues.  Bonobos might even, as Vanessa writes, "hold the key to a world without war."
After taking questions from the studio audience about topics like the bonobos' remarkably sensitive responses to the suffering and death of their fellows, Vanessa gives suggestions for how we can help save these precious creatures from extinction by supporting the people and groups that fight for their survival, most notably FriendsofBonobos, through which the Block Institute has "adopted" a bonobo orphan.
After the show, the Speakeasy explodes into a real primal after-party complete with jungle music, jungle juice and ripe bananas…and for once, that's not a euphemism for dildos. After-parties aside, this is a highly informative, deeply emotional and inspirational show that we hope will encourage understanding of our bonobo brothers and sisters, and peace through pleasure in the world.
So…make like bonobos, not baboons; make love, not war; drop Pocket Rockets not Patriot Missiles; deliver bananas not bombs, and remember that a little hot sex can help cool us all off in the heat of human suffering and conflict.
Caller 1: Vanessa Woods discusses her book Bonobo Handshake and her research on bonobos.
Caller 2: A disabled man gets help coping with his fantasies about his sister who took care of him.
[AMAZONPRODUCTS asin=1592406343]
---
Explore DrSusanBlock.com
Need to talk? Sext? Webcam? Do it here. Have you watched the show? No? Feel the sex. Don't miss the Forbidden Photographs—Hot Stuff, look at them closely here. Join our private social media Society. Join us live in studio 😊. Go shopping. Gift shop or The Market Place. DrSusanBlock.tv, real sex TV at your toe tips. Sex Clips Anyone? FASHION, we have fashion! We also have politics. Politics? Have you Read the book? No? How about the Speakeasy Journal? Click here. Ok, how about some free sex advice?
---
---