Female Masturbation Education Rocks The Womb Room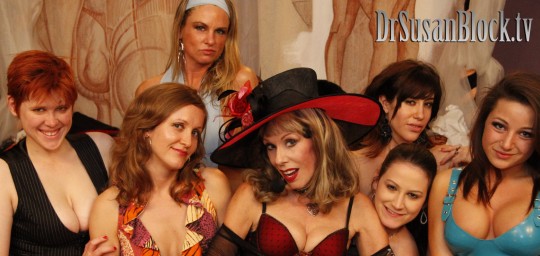 Length: 96:21 minutes Date: 05/14/2011
Click here for free PG-ish Pix Page… X pix and video at DrSusanBlock.tv
Notes from the Masturbation Education archives…
"If God had intended us not to masturbate, He–or perhaps She–would have made our arms shorter." So sayeth the late great George Carlin and, as a former Sunday school teacher turned Saturday night sex talk show host, it makes ecclesiastical sense to me. So smack in the middle of the merry Masturbation Month of May, rubbing a luminous Screaming O over and under my Yale panties, I invite a stellar cast of professors, porn stars, teachers, preachers, erotica artists and wild wanking nymphs to teach, testify, explore, analyze and very explicitly demonstrate the art and science of self-love. Masturbation is, of course, the ultimate self-help activity, in that if you can help yourself to the greatest sexual pleasure, you really don't need to kow-tow to the demands of an unreasonable husband, or wife, or religion, or government. No wonder self-love is still considered so taboo. Well, this show just sits right down on the face of that taboo and galvanizes those perfectly sized arms of ours.
Guest Stars
Amanda Blow: Porn star, performance artist and avid masturbator, Amanda is the first to respond to my invitation to testify "Yes, I masturbate, and I am not ashamed!" Whereupon she ascends
the show bed, stripping down to reveal her beautifully-toned, all natural physique, and assembles a complex battery of masturbation aids–a Hitachi Magic Wand, butterfly vibrator, Pocket Rocket, giant penis pillow, towels and lube—as part of a virtually selfless demonstration of her favorite self-love position that buzzes along in the background (and sometimes the foreground) of more than half the show. Surrounded by hot wanking women, Amanda demands "cock!" but this is Female Masturbation Education, so she doesn't get it until the after-party.
Sasha Sweet: 21-years-old "Girls and Corpses" model and daily masturbator, Sasha returns to the Dr. Susan Block Show in another chic strapless cocktail dress and special well-worn g-string panties for Panty Boy, which she soon doffs to reveal her svelte yet shapely, all natural hour-glass figure and blooming brunette bush. Starting out in the Masturbation Education spirit with a few toys and memories of masturbating to her sexy former professor, Sasha is soon swept up in the erotic human tornado known as Lily Cade, as the XXX Goddess of the Hunt fingers, licks and sucks this sweet little nymph into a screaming, squirtgasm on my show bed. Later Sasha and her mystery date make love in the Speakeasy guest room.
Dr. Chauntelle: Sociology PhD, PornValleyVantage author, Foucault scholar, "eminent pornologist," lifetime masturbator and professor (indisputable PILF), Dr. Chauntelle deconstructs, reconstructs, categorizes, analyzes, historicizes, dissects and demystifies the adult industry, having written a dissertation on the subject and a whole lot more. Undisclosed, however, are the university at which she teaches, and, more relevantly, the color and style of her panties. Her porn research is quite compelling, however, and she garners the most votes from the Twitter audience for "RadioSUZY1 show guest to whom I am currently masturbating."
Eden Baylee: Acclaimed erotica author of Fall Into Winter, Eden courageously abandoned her former life in banking to pursue her passion for writing. Her sensuous, velvety voice moistens our imaginations , loosens our fingers and causes a great buzz to rise up from the Womb Room as, in honor of Masturbation Month, she reads an excerpt from her upcoming erotic anthology, evocatively describing a woman who masturbates herself to a body-shattering climax using her "Power Pulsator" and an imaginary lover.
Addie Juniper: A fetish porn performer in cute nerdy glasses and strapless collegiate plaid which she strips off to reveal a toned yet curvy body, shaved and smooth all over except for the sleek ponytail on her head, Addie twinkles while being tickled, especially on her feet. When her male partner shyly refuses an invitation to join Amanda's masturbation marathon, I "punish" Addie's impeccable rump with an over-the-knee spanking while yanking that ponytail, with everyone wanking behind us.
Lily Cade: Gold-star lesbian college-girl-turned-porn star, Lilyth of the Harem and Goddess of the Hunt, Lily is more into masturbating other women than herself. Besides giving that screaming squirtgasm to sexy Sasha, she assists all the ladies (except the good Dr. Chauntelle) with their masturbatory and ticklish activities. Lily looks warily upon the Hitachi, until I press its head into her vulva and gives her a big Big O.
Charity Bangs: 18-year-old porn starlet with a honey-glazed South Carolinian charm, Charity makes her second appearance on my show in a skin-tight teal latex mini-dress. Having acquired laryngitis from too much sex or something like that, she can barely talk, but aptly shows off her sporty gray-and-pink stripped panties and hot boobs, and joins in the masturbation celebration with her usual joie de vivre.
Caller John from Toronto: Fully manscaped and well-equipped celebrator of Masturbation Month with a complete collection of toys, including a Hitachi Magic Wand for his perineum, masturbator sleeve for his penis, and a prostate toy aptly named The Zone, John calls to talk about masturbation (of course), vibrators and clit pumps. He requests that one of my guests demonstrate her favorite position when using the Hitachi, and Amanda happily volunteers.
Weapons of Mass Discussion
Masturbation, Education, First Orgasms, Betty Dodson, Yale University, George Carlin, Fetishes, Tickling, Michel Foucault, Masturbating To Teachers, Deconstruction of Porn, Porn History, Porn Profanity, Sociology, Manscaping, Prostate Toys, Clit Pumps, Erotic Fiction, Natural Boobs, Being Prosecuted for Publishing, Shaved Vulvas and Hairy Bushes, Why Men Tend to be Shyer than Women about Masturbating in Front of People and Cameras on a Live Show, Masturbation as a Revolutionary Self-Help Act
Performance Erotica
Female Masturbation, Marathon Masturbation, Squirting, Cunnilingus, Fingering, Spanking, Heavy Pillow Grinding, Foot Tickling, Booby Tickling, Panty Swapping, Masturbating with Hitachi Magic Wand, Pocket Rockets, Screaming O's & Other Vibrators, Dildo Play, Erotica Reading, Masturbating to Erotica Reading, Hair Pulling, Playing with a Frisbee, Rubbing Lube All Over a Laughably Large Black Plastic Cock
---
Explore DrSusanBlock.com
Need to talk? Sext? Webcam? Do it here. Have you watched the show? No? Feel the sex. Don't miss the Forbidden Photographs—Hot Stuff, look at them closely here. Join our private social media Society. Join us live in studio 😊. Go shopping. Gift shop or The Market Place. DrSusanBlock.tv, real sex TV at your toe tips. Sex Clips Anyone? FASHION, we have fashion! We also have politics. Politics? Have you Read the book? No? How about the Speakeasy Journal? Click here. Ok, how about some free sex advice?
---
---