Ethical Sluts and Elvis
Length 1:52:00 Date: July 18, 2015
Way back in the 20th century, when being called a "slut" was almost always a slur, the authors of a (then) brand new book that reclaimed this scornful insult as "a term of approval, even endearment," came on my show. We had a blast chatting about the nature of sex and the future of love, then played in the after-party. The book was called The Ethical Slut: A Guide to Infinite Sexual Possibilities (1997), and it became the sex-positive, poly-friendly manifesto of consensual erotic adventure for a new generation of sexual pleasure seekers with a spiritual conscience—a desire to do good as well as feel good, sometimes even at the same time!
Now on this live broadcast, one of the co-authors, Janet W. Hardy, is back on DrSuzy.Tv, talking about the new and improved edition of this polyamory Bible, which includes exercises, updates and a new subtitle: The Ethical Slut: A Practical Guide to Polyamory, Open Relationships & Other Adventures (2009). Janet—who had gone by her pseudonym Catherine A. Liszt on the first edition of The Ethical Slut, written with Dossie Easton—is coming to UCLA this Saturday for Sex-Positive World's special event, "Sexual Health Series Kick Off: Redefining Sexuality for the 21st Century."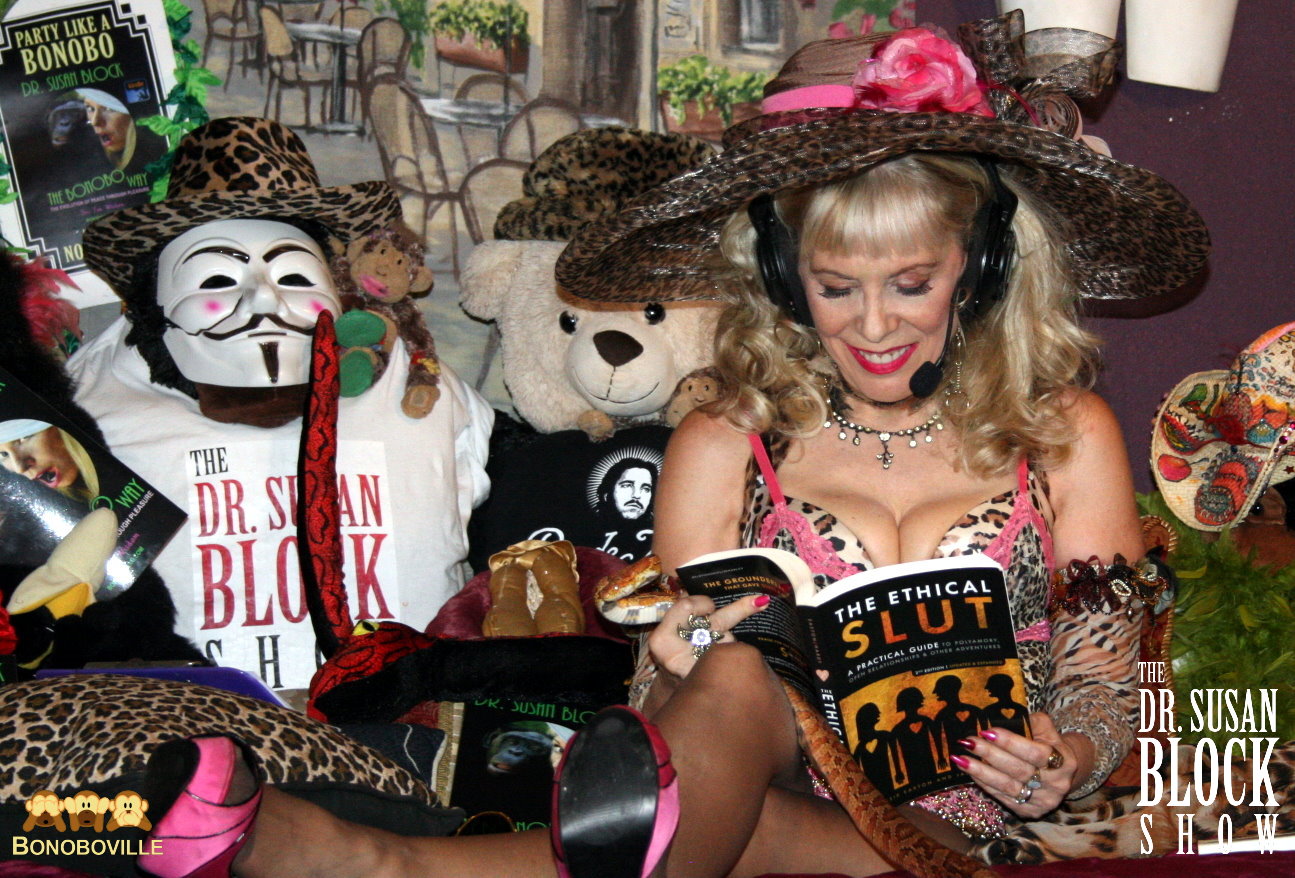 Other "Weapons of Mass Discussion" from our convo with Janet include:
Daffy definitions of "slut" (the British designation of a "slut" as a "slovenly woman" is on its way to being "archaic," thanks in part to The Ethical Slut)

Being an ethical slut in the 1950s vs. the '90s vs. now

Why group sex is "a fundamentally radical political act to deprivatize sex" –The Ethical Slut

The intimate relationship between jealousy & compersion

How unethical slut Rush Limbaugh's 2012 attempt to slut-shame Georgetown Law Student Sandra Fluke backfired

Slut-shaming among fellow sluts in the Sex-Positive Community

Will "marriage equality" make gays more conservative or make straights more liberal?

How the current culture demonizes male sexuality, sometimes at our peril

How gay men have inspired Janet to be the queer, poly, ethical slut she is today

Elliot Rodgers' disturbing anti-slut rhetoric
Bill Cosby's predatory sleep fetish
Celebrities who could be called ethical sluts, from Tilda Swinton's ménage à trois to Jada Pinkett and Will Smith's seemingly open marriage
Chelsea talks about how reading The Ethical Slut turned her away from cheating and towards polyamory and public sex, and Biz chimes in too
How Northern California and Oregon have emerged as havens for ethical sluts and ecosexuals

Sex work & Non-Pros in the Sex-Positive Community

Reasons why bonobos are the quintessential ethical sluts and have a lot to reveal to us about ethics and sluttishness

How all non-human animals are a lot smarter than we previously figured

Why being good feels good. And why feeling good is good….
And so much more! Listen to the free archive above, or watch it (soon) on DrSuzy.Tv.
As the show's first half wraps up, we sign off with Janet and, after a quick break, we return with the Elvis part of our "Ethical Sluts and Elvis" show. Smokey Binion, Jr., Elvis Presley tribute artist, hits the Bonoboville stage, lip-synching and dancing up a Blue Hawaiian storm to a pelvis-twerking medley of The King's greatest hits. All the while, Biz, Chelsea and Trixie Plenty provide back-up, big love and shrieking fanfare.
Was Elvis an "ethical slut"? According to Joel Williamson's Elvis Presley: A Southern Life, Elvis was most definitely a slut, getting close to Wilt Chamberlain in the sheer numbers of women he bedded, including another DrSuzy.Tv guest, Tempest Storm (who told me she "taught Elvis everything he knew). He was not always ethical; like many Southern men of the 1950s, Elvis had a problematic virgin fetish, and the too-young girls who adored his music often found their way into his bed. His wife Priscilla, whom he met when she was 14 and married a decade later, accused him of spousal rape. The King of Rock & Roll was not without his faults; still, he was very bonoboësque in that he loved lots of non-penetrative sex, earning him an offstage reputation as the "King of Foreplay."
But the thing that really makes me want to give Elvis an ethical slut award of some sort is his legendary erotic performance style, including those "Elvis the Pelvis" moves that were censored on The Ed Sullivan Show (as Capt'n Max recalls). Presley, as Williamson writes, "gave his female fans an opportunity to break free from straitlaced Southern society and express themselves sexually, if only for a few hours at a time." That's a springboard to an Ethical Slut Revolution, which is pretty much what has taken place since that dreamy-eyed, twerking Hound Dog put on those Blue Suede Shoes.
Thus stimulated by Ethical Slut talk and Elvis tunes, the bouncing boobies come out; the Cannabelly cannabis-infused coconut oil gets smeared on hard nipples with salt; and the Ron de Jeremy rum starts to flow as we all enjoy an ethically slutty and very boobalicious Bonoboville Communion. Ever the gentleman, Smokey takes his communion off of Trixie's bare foot.
And so we continue the ethically slutty fun in many, diverse, fetishistic, orgasmic, orgiastic ways in the after-party, and even after that.
© July 19, 2015. Susan Block, Ph.D., a.k.a. "Dr. Suzy," is a world renowned LA sex therapist, author of The Bonobo Way: The Evolution of Peace through Pleasure and horny housewife, occasionally seen on HBO and other channels. For speaking engagements, call 310-568-0066.
---
Explore DrSusanBlock.com
Need to talk? Sext? Webcam? Do it here. Have you watched the show? No? Feel the sex. Don't miss the Forbidden Photographs—Hot Stuff, look at them closely here. Join our private social media Society. Join us live in studio 😊. Go shopping. Gift shop or The Market Place. DrSusanBlock.tv, real sex TV at your toe tips. Sex Clips Anyone? FASHION, we have fashion! We also have politics. Politics? Have you Read the book? No? How about the Speakeasy Journal? Click here. Ok, how about some free sex advice?
---
---