Dr. Susan Block to be Mistress of Ceremonies for DOMCON 2020 Virtual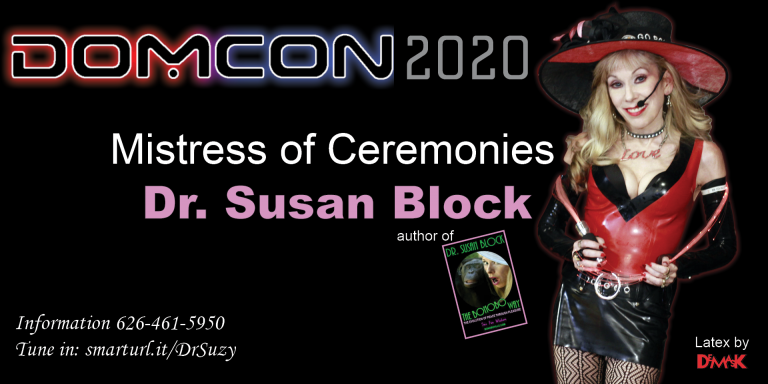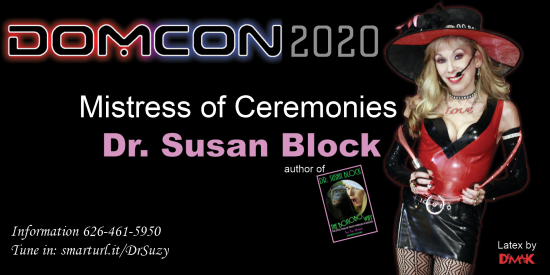 For Immediate Release:
Contact: David Rossi. Phone: 213.291.9497. Email: DrSusanBlock@gmail.com
LOS ANGELES, Calif., August 20, 2020 — World-renowned sex therapist Susan M. Block, Ph.D., a.k.a., "Dr. Suzy," will be Mistress of Ceremonies for DOMCON LA 2020 Virtual, August 28-30,2020. Founded and directed by Mistress Cyan St. James, DomCon LA is "the world's largest professional and lifestyle domination convention."
Winner of the "Sexologist of the Year" Glenny award and best-known for her HBO specials, Dr. Suzy is a veteran talk show host, best-selling author of The Bonobo Way: The Evolution of Peace through Pleasure and advocate for the international kink community.
"DomCon is the Comic-Con of Kink, the Met Gala of Latex," said Dr. Block. "Mistress Cyan has created a wonderful, enduring, bonoboësque gathering of kinksters. I love the DomCon philosophy of fellowship through fetish, the events and especially the amazing people. I'm honored to be DomCon LA 2020 Virtual's Mistress of Ceremonies, along with my fellow MCs, Simone Justice and Wiley Wolfe. I'm also happy that DomCon LA 2020 will be all online, as those of us who wish to protect our health and that of our fellow humans are physical distancing in the Coronapocalypse. Kink is no fun if kinksters get sick! Of course, it won't be 'the same' as gathering in person, but a virtual DomCon is better than no DomCon, and every dark cloud has a silver lining, especially if your lining is made of shiny silver latex! Also, while only a few could afford the time and money to attend a real-life DomCon LA, DomCon LA 2020 Virtual is extremely affordable and accessible to kinksters and the kink-curious all over the world. No travel, no hotel expenses; you can even attend DomCon from your own bed. I know I will!"

As Mistress of Ceremonies, Dr. Suzy will speak at DomCon LA's 2020 Virtual's Red Carpet and Opening Ceremonies on Friday night, August 28, and assist in co-hosting various events throughout the weekend. In addition to her Mistress of Ceremonies duties, she will deliver an updated virtual reprise of her acclaimed multi-media presentation, The Bonobo Way: FemDoms of the Wild series, on Sunday, August 30th at 1:00 PM (PST).

In delivering The Bonobo Way to DomCon 2020 Virtual, Dr. Suzy will be assisted by her Dr. Susan Block Show producer and husband Pr. Maximillian Lobkowicz and her assistant, Sunshine McWane. Topics to be explored include bonobo play, conflict resolution, "hoka hoka," female empowerment, male well-being, "penis fencing," pansexuality, socialized sex work, bonobo BDSM and the "Trust Game." She will also address the question of "Kink in the Time of Coronavirus," and how the Bonobo Way can help us find our way in these especially challenging times
"Dr. Suzy is phenomenal!" declared world-renowned dominatrix, artist and political activist, Goddess Soma Snakeoil, after attending last year's packed presentation. "I loved this class. It was such a joy, and I learned so much!"
In addition to her FemDoms of the Wild series at DomCon 2019, 2018, 2017, 2016 and 2015, Dr. Suzy has presented versions of The Bonobo Way at AASECT (American Association of Sex Educators, Counselors & Therapists) 2016 and 2019 and AdultCon in 2017. She also presented The Bonobo Way of Ecosexuality as the keynote speech at the University of Puerto Rico, Mayagüez, and at UC Berkeley for the 5th Conference on Monogamy & Nonmonogamy. She spoke on writing The Bonobo Way at Yale University (her alma mater), as well as at USC, UCLA and Caltech, for MENSA and the Young Presidents Organization. These presentations and others have been made possible, in part, thanks to Malcolm Jones and the Bonobo Way Female Empowerment Outreach Project, supporting worldwide dissemination of the Bonobo Way, as well as helping to save the real, highly endangered, wild bonobos from extinction.
For information or to arrange an interview, email drsusanblock@gmail.com or call 213-291-9497.
---
Explore DrSusanBlock.com
Need to talk? Sext? Webcam? Do it here. Have you watched the show? No? Feel the sex. Don't miss the Forbidden Photographs—Hot Stuff, look at them closely here. Join our private social media Society. Join us live in studio 😊. Go shopping. Gift shop or The Market Place. DrSusanBlock.tv, real sex TV at your toe tips. Sex Clips Anyone? FASHION, we have fashion! We also have politics. Politics? Have you Read the book? No? How about the Speakeasy Journal? Click here. Ok, how about some free sex advice?
---
---