Bonobo Spring Cam Girls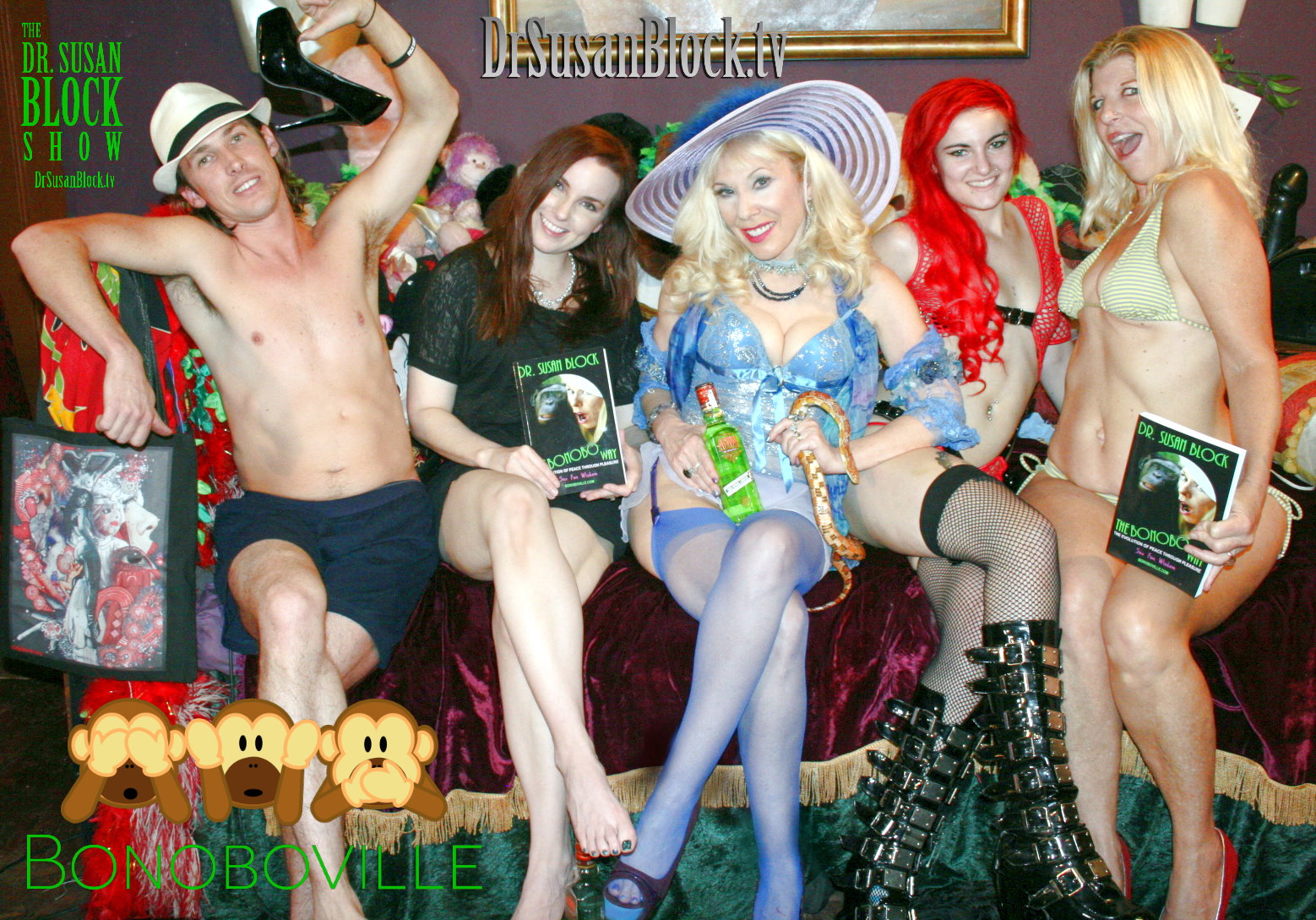 Dark Phoenix with Abby Martin tote & black high heel, Amber Lily with The Bonobo Way, Dr. Suzy with Snake Eve and Agwa, Layla Blue Phoenix, Chelsea Raw Bonobo. Photo: L'Erotique
Length 1:41:16 Date: Mar. 7, 2015
by Dr. Susan Block
Springing forward into Daylight Savings Time (though it feels like we're losing time) with The Bonobo Spring on the horizon, we get up-close and personal about life, love, bonobos, religion, revolution and camming with three hot cam girls and a guy. Then a little heartfelt booby-licking Bonoboville Communion, foot fetish play, snake play, striptease, topless hula-hooping, and we're off and orgasming on a wild Sybian ride with Hitachi and human "attachments."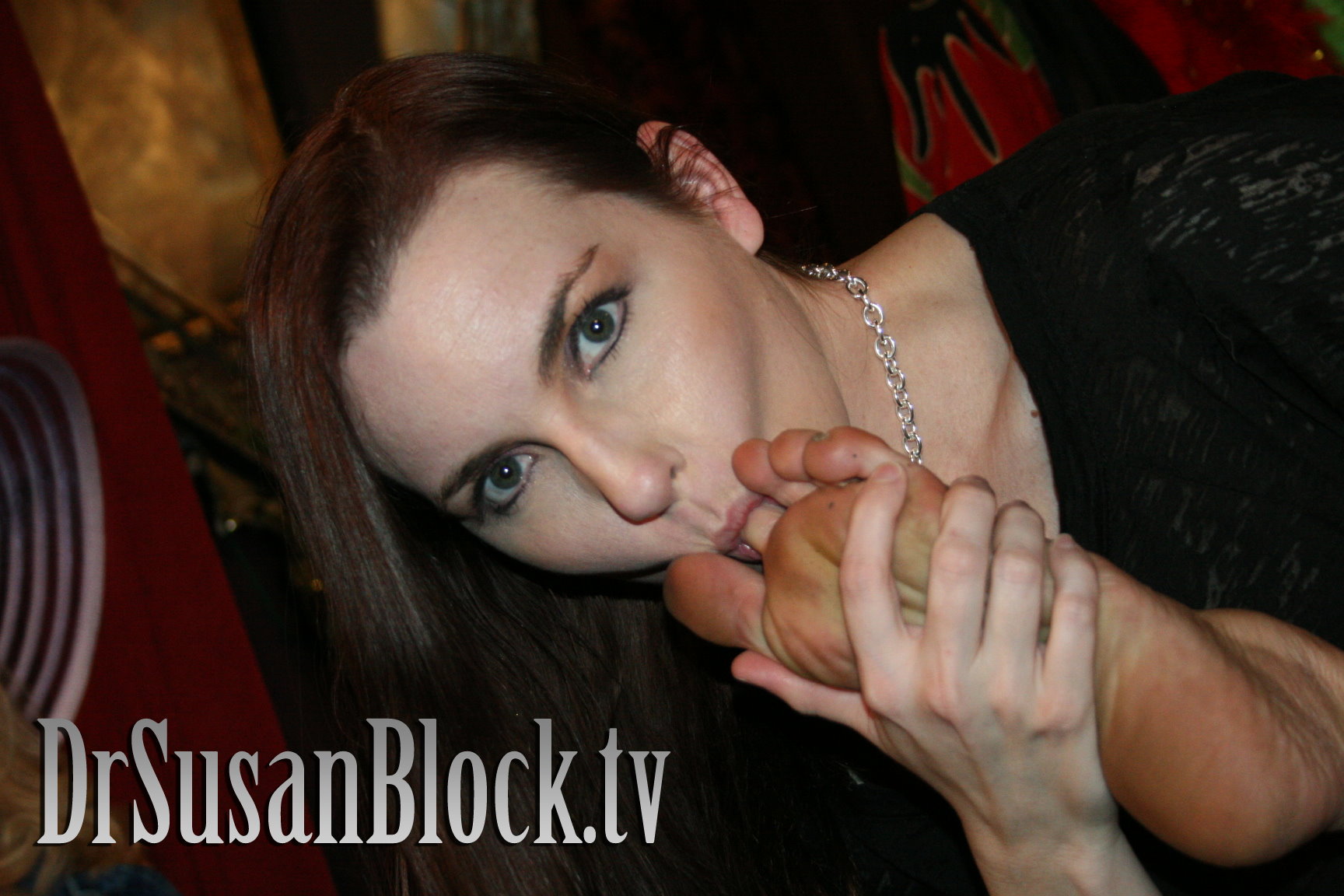 Amber Lily cannibalizes Chelsea's toe. Photo: L'Erotique
First up on the bed is sultry Amber Lily, "naked on the Internet since 1999," whom we met on our 21st Wedding Anniversary when her date that night, the ever-charitable Chris Gore, "volunteered" her to ascend the Sybian. That was a big party show and though Amber had a rip-roaring ride, she'd been too keyed up to come. This time we have time to get to know the real Amber, from her ultra-strict upbringing in the Church of Christ to her pioneering work in the early days of camming, from "Tiki Tuesdays" to married life. We also give her a much better Sybian ride—with a Hitachi—as well as several human helpers that have her screaming all of our names in tongues. Well, not quite, but she does appear to have quite the climax.
Holding the Hitachi directly upon Amber's vulva is our favorite teen beauty queen: Layla Blue Phoenix who performed a hot wax duet with Master D a couple weeks ago. Athletic, fire-haired, lapsed-Morman Layla is only 18 and not allowed to drink the Agwa in Bonoboville Communion (though, interestingly, she is allowed to have sex and join the army), but she can and does provide her pierced nipples for salt-licking and topless-hulas up a storm.
Chelsea Raw is our third "cam-girl," and Dark Phoenix is the cam guy, and yes, you can cam with both of them through the Institute (call 213-291-9497). In the after-party, Amber gives Chelsea a very sensuous foot-licking, and Layla takes a spin around the old studio stripper pole. In between, Capt'n Max gives a rousing speech on taxing the rich, resisting police brutality and the importance of practicing the Bonobo Way of peace through pleasure. Think of it as Gandhi plus sex.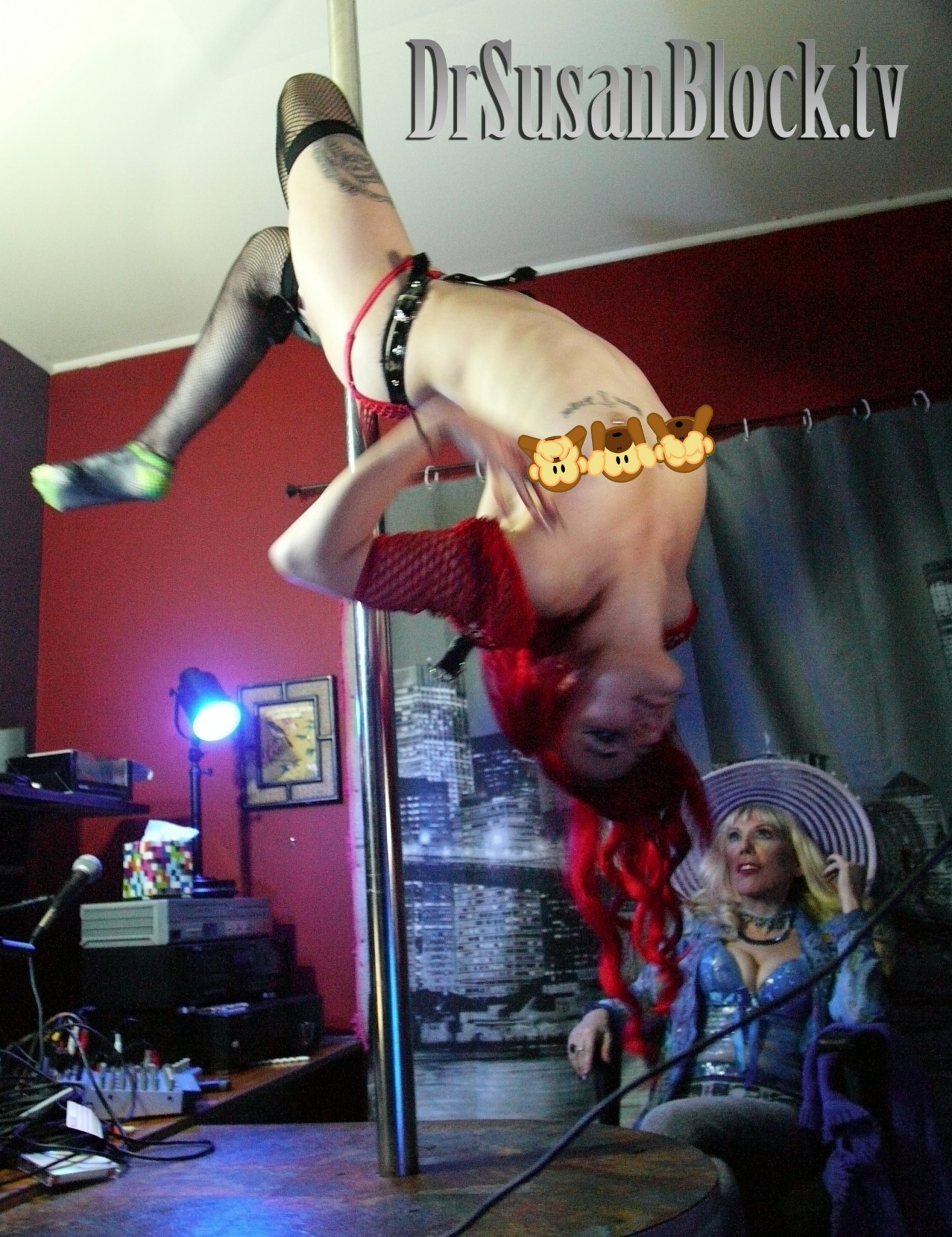 Layla Blue sliding down the pole… Photo: Hollywood Jake
© March 8, 2015. Susan Block, Ph.D., a.k.a. "Dr. Suzy," is a world renowned LA sex therapist, author of The Bonobo Way: The Evolution of Peace through Pleasure and horny housewife, occasionally seen on HBO and other channels. For speaking engagements, call 310-568-0066.
---
Explore DrSusanBlock.com
Need to talk? Sext? Webcam? Do it here. Have you watched the show? No? Feel the sex. Don't miss the Forbidden Photographs—Hot Stuff, look at them closely here. Join our private social media Society. Join us live in studio 😊. Go shopping. Gift shop or The Market Place. DrSusanBlock.tv, real sex TV at your toe tips. Sex Clips Anyone? FASHION, we have fashion! We also have politics. Politics? Have you Read the book? No? How about the Speakeasy Journal? Click here. Ok, how about some free sex advice?
---