Paint The Town Bonobo Red
Especially when skin is involved. Bodypainting, or even just fingerpainting, is always a sensuous, wild yet essentially innocent endeavor, wet color splashing here and there, bodies speckled like rare birds, faces streaked with warpaint.
War or peace through pleasure, we threw a hot wet painting party in Sara Sioux's new room at the Speakeasy Annex, painting the town bonobo red, blue, pink and purple, and painting ourselves right into the town.
Nude Body Painting for Peace (playing this Sunday on RadioSuzy1TV) features a multi-colored, multi-cultural palette of porn stars, political operatives, models, dancers, dommes, one hot ER nurse and your favorite media sexologist.
Also our genitalia…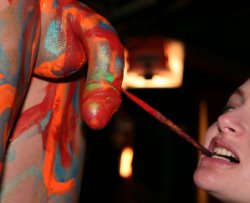 As we evolved from conventional body paint to the black light reactive kind, the Speakeasy Dance of the Painted People went over the rainbow with radiant color, orgiastic abandon, pagan symbols, big dildos, real dicks, real pussies, real pleasure, real laughter and bare beauty, like a Bonobo Tribal Gathering, like a Sixties Happening, like an Absinthe Dream, like a 21st Century "Paint for Peace!" Party of Resistance to the Politics of Perma-War. Yes, we can!
Check it out, listen free…Or watch the show this Sunday for a mega-dose of naked color and psychedelic-erotic eye candy.
or at least to paint your room.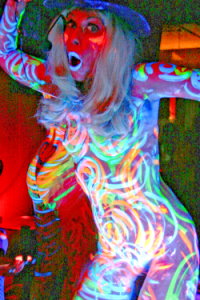 I'm imagining the looks on guys' faces as they read this.DR. BLOCK: Oh yeah, they'll say, "I'm not gay!" And I'm not saying they're gay. But I do feel that "bisexuality" simply means that we can get turned on by both sexes. Of course there are those guys that go to swing parties solely to get a lot of women for themselves… But a lot of these guys want to see their woman with another man. Of course, some of this is altruistic; they like to see their woman experiencing pleasure. Part of this is tit for tat; they want their woman to be with another man so they can be with the other woman. But I think a really big part of it — and as a therapist I talk to guys about this all the time — they get really turned on seeing another man with their woman. Part of that is about seeing the man with the woman. Why do you think porn is so popular? Really, porn is usually about one guy sitting there and watching a girl that he's attracted to having sex with another man.KASIDIE: You're probably totally blowing a lot of guys' minds right now. I actually agree with you. I just never thought of it that way.DR. BLOCK: That being said, I'm not trying to say that, "Oh, you guys have to start sucking each other off." I am not saying that at all. Because people have different things they want to do or not do. I'm just saying part of the excitement of the swing party for the man is that there are other men there.Click Here To Read The Whole InterviewClick Here For More On Male Bisexuality, Threesomes, Hot Wives and CuckoldsWebCam Sex TherapySometimes, a picture is worth a thousand words. Especially a live, moving, sexual picture. So, in addition to telephone sex therapy, some of the more adventuresome therapists with the Dr. Susan Block Institute also offer Webcam Sex Therapy sessions.It's a little pricier than phone therapy, but if you'd like to literally see your therapist and/or if you want your therapist to see you, then Webcam Sex Therapy is for you.
For more information, call us anytime at 213.670.0066.
RadioSuzy1 Back On The AirHere at the Speakeasy, we're still grappling with the after-shocks of being technologically and personally attacked by unhinged religious fanatic loser demons, as our beloved Prince is held hostage in the temporary "Temple of Doom."
But slowly but surely, we are getting back to taking care of business…
preparing for a visit from British TV's "Sexorama" regarding my run for the U.S. Vice Presidential as the running mate of Frank Moore…
…beating the devil and getting back to our bonobo ways…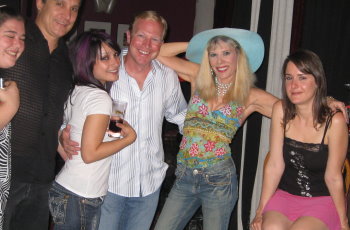 And now, back by popular demand, RadioSuzy1 returns to the airwaves! Sara, Teri, Joe and I did our Comeback Show this past Saturday night, and had a blast yapping with callers and each other about sex, love, life, death, alien abductions, police batons as sex toys, pregnant sex, bread-baking as an aphrodisiac and the joy of being cock-rich. It was a fantastic hour, and now it's lost in time, because alas, the recording failed, so we are only left with the memories.
Well, failure is the tuition you pay for success. So now that our dues are paid, our next RadioSuzy1 show this Saturday night is bound to be awesome. Only those who dare to fail greatly can ever achieve greatly. We're looking forward to future great shows, including an interview with Donna George Storey, author of the marvelous erotic novel set in secret sexy Japan, "Amorous Woman," on Saturday, September 27.
Stay tuned for the Fall…