YALE/NYC TOUR Part II: SEX WEEK at YALE '08
FOREPLAY . . PART I .. PART II .. PART III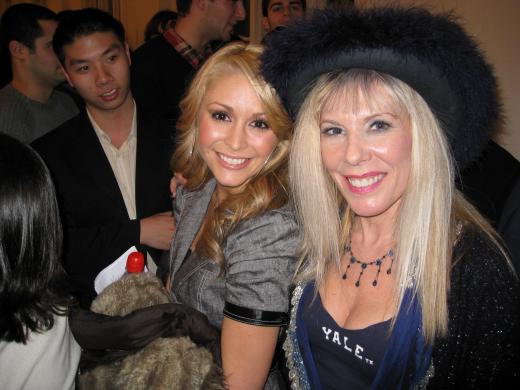 Next stop on our Lupercalian Valentine East Coast Adventure: my old alma mater Yale University. I had just visited New Haven a few months ago for my reunion, but now I was returning for a very different, very special event in American collegiate history, the fourth biennial Sex Week at Yale.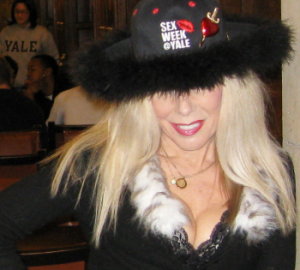 No, Sex Week at Yale is not a 21st Century Harrad Experiment. It's not the Eli edition of College Girls Gone Wild. Nor is it a bunch of tweedy Ivory Tower types reading each other obscure papers on genetics. It is a week of adventures in higher sex education: lectures, seminars, screenings, debates, panels and parties with "sexperts" of all kinds, from professors to porn stars, from maestros of seduction to authorities on suction, from Born-Again Catholic Virgins to Jewish Pagan Ethical Hedonist Bonobo Yale Alumni (guess who that is), all taking place within the breathtaking fairy castle confines of one of the world's most respected universities.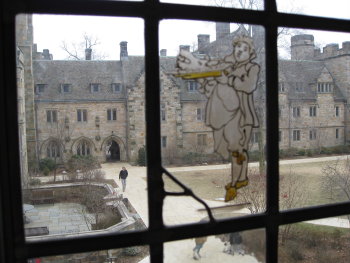 I've participated in every Sex Week at Yale since its inception in 2002, the brainchild of Eric Rubenstein '04, now an energy trader. That first year, it was more of a weekend than a week, and just a handful of students participated, most of them male and embarrassed. Now in its fourth incarnation, SWAY 2008 was a nine-day revolution in sex education and awareness, enthusiastically received by thousands of eager-to-learn Yalies, about half of whom were women.
Of course, not everyone in or outside of Yale was enthusiastic about The Week. When we arrived, the gossip hovered around a Fox TV news segment that publicized the SWAY schedule, but interviewed students writing for the conservative Yale Free Press newspaper, such as blogger Will Wilson complaining, "Call me a curmudgeon, but I find that my daily ritual of waking up with a cup of coffee, a cigarette, and a copy of the YDN is a little less pleasant when a smiling freshman holding a string of anal beads is staring back at me from the front page."

With SWAY Founder Eric Rubenstein 04 and a very shiny sign
Having had my fair share of being bashed by sexphobic rightwing curmudgeons, I tried to console some of the students who were working so hard to make SWAY a success, and expected to get an "A" for their efforts, as these all-A students typically get when they excel in other subjects. "This is what's unique about the sexuality field," I explained. "When you do work that is worthy of an 'A' according to some, you're bound to receive an 'F' from somebody else."
Now, if I was grading the SWAY team, I would give them all A's. Well, maybe a couple of B's. SWAY '08 was an ambitious undertaking, presenting a variety of approaches to this controversial but essential subject, with different themes for each day. The fact that it was, in fact, over a week might have been a little too much of a good thing, but each day featured something of educational value that was related to sex and relevant to students' lives.
Foreplay, Attraction & Seduction
Unfortunately, we missed the first few days, as we were busy nearly killing ourselves, ice-skating into our Blonde Island: Funk Me East Coast premiere in the Cinekink New York City Film Festival (for more on that, see YALE/NYC TOUR: PART I). So we were sorry to miss SWAY's opening event, a "Multi-Chakra Extravaganza" performed by Stevie Jay, whom I found to be quite adorable when we shared a panel on Sex and Spirituality later in The Week. We also missed "Relationship Monday" with lectures by Dr. Pepper Schwartz (who appeared on my show a few years ago) and the living legendary Dr. Ruth, "What A Girl Wants Tuesday" with presentations by media sexologist Logan Levkoff and Pure Romance CEO Patty Brisben, and "Seduction Wednesday" with VH1 "Pick-Up Artist" Matador. These are the kinds of weapons we need to stockpile: Weapons of Mass Seduction.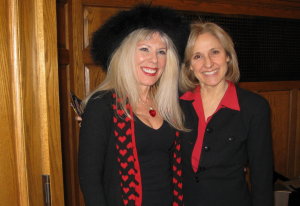 With Anthropologist Helen Fisher
We did get there just in time for Dr. Glenn Geher and Scott Barry Kaufman's lecture on "Mating Intelligence: Sex, relationships, and the mind's reproductive system," much of it inspired by one of my favorite evolutionary psychologists, Dr. Geoffrey Miller, author of The Mating Mind: How Sexual Choice Shaped the Evolution of Human Nature.This was "Love Thursday," and later in the evening, we got to see one of my favorite anthropologists, Dr. Helen Fisher, whose 1994 book Anatomy of Love: A Natural History of Mating, Marriage, and Why We Stray strongly influenced my marriage and my work as a sex therapist. I remember reading it shortly after I'd seen bonobos for the first time on a PBS special called The Nature of Sex. Since this was just before the Internet exploded, I wasn't sure where to find out more about the Make Love Not War Chimpanzees. And there they were, described in loving detail, in Anatomy of Love. Some people are thrilled to meet pop stars. I'm thrilled to meet anthropologists. Well, certain anthropologists. Dr. Fisher is as close as you can get to a celebrity anthropologist, and quite a catch for Sex Week at Yale.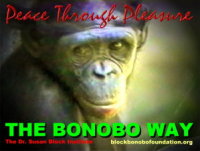 Roleplay: Yale Sluts Controversy
The students were also talking about the controversy stirred up by the Yale Chapter of Zeta Psi when a photo of its pledges standing in front of the Yale Women's Center holding up a sign that read "We Love Yale Sluts" surfaced on the Internet. Although the boys of Zeta Psi quickly apologized for their rude display, the Yale Women's Center announced that it intended to sue.
Opinions among members of the SWAY team varied on how bad it was to be called a "slut." Here's what my very informal survey came up with: Two girls didn't think it was so bad. Two guys thought it was really bad. One guy thought it was pretty good. One girl didn't want to talk about it. Most were annoyed that the media frenzy over the frat house prank had warped public perception of Sex Week at Yale.
I had my own personal "Yale sluts" controversy when I hosted a Yale Whim 'n Rhythm concert at my Speakeasy in 2006 (after meeting the group at Mory's during SWAY '06). It was a harmonious evening of beautiful a capella singing. Towards the end, the ladies rushed into my dressing room, donned some of my lingerie, hats, stilettos and feather boas, then marched back into the gallery and sang "Chain of Fools" for our appreciative audience. Later a few boys from Yale's Whiffenpoofs also raided my wardrobe. Everyone seemed to be having good clean post-graduate fun, and though some of the ladies continued to strut around in my camisoles and short shorts throughout the evening, no one was naked or otherwise compromised their brilliant post-graduate futures.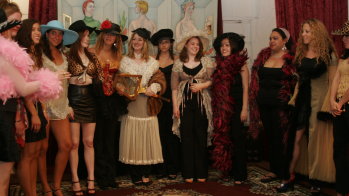 Yales Whim n Rhythm at Dr. Suzys Speakeasy . Photo: Ellis Martin
The controversy emerged when, in my bloggamy about the event, I wrote that the Yale girls had tried on some of my "Personal Slutwear." Call me utterly un-PC, but I didn't think twice about using the word "slutwear" to describe my zany erotic wardrobe. I didn't consider it an insult, especially since I wasn't describing the girls themselves; I was describing my own clothes. Besides, what better word is there to characterize a combination of lingerie, miniskirts, feather boas, high heels, hats and garters than "slutwear"?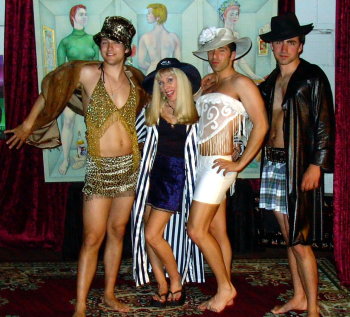 Whiffenpoofs Go Wild
 Well, from the reaction I received from one of the girls, you'd have thought that I had stood outside of the Whim 'n Rhythm rehearsal hall with a bunch of drunken frat boys singing "Divas Just Wanna Be Raped," but all I had done was describe my own clothing as "slutwear." This girl was so upset that she procured LA lawyer Roberta Wolff, who sent a letter filled with strange and defamatory lies to various Yale administrators and attorneys, threatening to sue me! Of course, nobody sued anybody, and I didn't change a word of my bloggamy. But for a little while, I felt the sting of being pursued by the PC Police.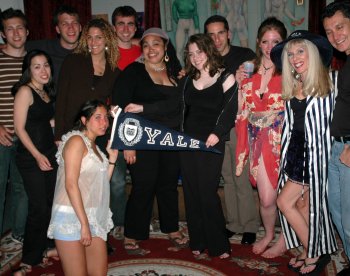 Inspired by anti-sex feminists like Andrea Dworkin and Catharine McKinnon who equate all kinds of erotica and even heterosexual intercourse with rape, some of these well-meaning sisters seem bent on making life as difficult as possible for innocent sluts and the people who love us.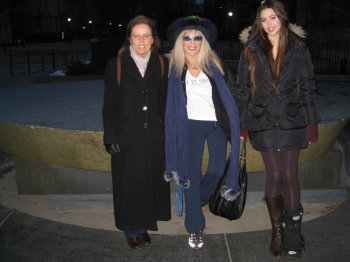 Well, they have a right to speak their mind, as do we all, and Sex Week at Yale is beginning to be that Big Tent big enough for all of our voices to be heard. And there was indeed a side of SWAY that was bit of a circus. I do love circuses, especially sexual circuses, but not everybody does. Those clowns can be pretty scary…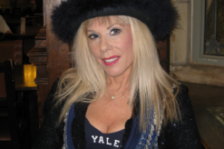 Getting Ready for the SWAY 08 Great Porn Debate!
Intercourse: The Great Porn Debate
The only folks who were more upset by Sex Week at Yale than the anti-sex feminists were the Religious Right. But the students managed to make the SWAY Big Tent big enough for them too. The most publicized event of The Week was a "debate" between porn icon Ron Jeremy and anti-porn crusader Craig Gross of the XXX-Church. Craig, who has been on my show and was heckled by clowns (I told you they could be scary), has put together quite a show of his own with "The Great Porn Debate," pitting his view of porn (aided by Christian ex-porn producer Donny Pauling) against Ron's (assisted by Vivid Girl Monique Alexander), which has been making the rounds of college campuses. At Sex Week at Yale, it was even televised on Nightline, with Martin Buchir moderating (you can watch it on Nightline: Face-Off. Check me out on Part 7, asking a question about the difference, in terms of fantasy, between porn and any other kind of art, entertainment or literature, and getting big applause.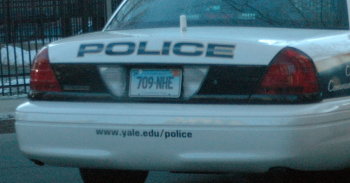 Ron and Craig said they don't agree on anything except the value of freedom of speech, and that porn should be kept away from kids. They also agree on who pays for dinner after the debates: Craig. According to various sources, Craig's Christian sponsors pay for most of the expenses. So Ron is now working for the Church. Strange bedfellows sometimes make mutually-beneficial business partners. And we are all sinners on this Earth.
Thou Shalt Tease: Yale Lingerie
Ron also appeared in some kind of trendy adult diaper inscribed with the commandment "Thou Shalt Fuck" from the Ric Hernandez '11 Design Collection, during the SWAY/Y Couture Lingerie Show, a benefit for AIDS Walk New Haven. Some of Ric's other "Subversive Boxer Briefs" included such ironic iconic inscriptions as "Thou Shalt Ride Me," "Thou Shalt Abuse Me" and "Thou Shalt Suck Hard." Maybe Ric got "Thou Shalt Swallow" from my 10 Commandments of Pleasure, where it is Gentleman's Commandment #10. In any case, I got a kick out of seeing one of my favorite commandments on a pair of cheeky briefs at Yale.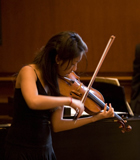 Mari-e Takahashi
The other models wore lingerie designed by Megan Danna '08 and Bonaire Le '09. I'd call some of it "elegant slutwear" (and you know I mean that as a compliment), but I don't want to get sued. Bonaire's black satin and purple sequin tailcoat for the classically sexy violinist Mari-e Takahashi's opening performance (which couldn't help but remind me of another great and sexy Yale violinist, Alma Cielo '95), struck just the right chord of angelic yet demonic sensuality to open the show.
Rough Sex: Porn in the Yale Law School
"Vivid Saturday" featured Vivid Entertainment's most prominent pornographers. These included Vivid co-chairman and co-founder Steven Hirsch (we missed his afternoon talk on "The Business of Porn"), porn stars Savanna Samson and Monique Alexander, plus my old friend Paul Thomas, (PT), one of the most prolific and celebrated filmmakers on the porn scene today. The amazing thing about Vivid Saturday Night wasn't the panel, but what preceded the panel: a collection of clips from some of PT's award-winning movies. That is, porn – straight-up – was shown in the Yale Law School. This was the same auditorium where, as an undergrad, I saw many racy movies presented by the old Yale Law School Film Society. But the hottest of these was the Rocky Horror Picture Show, kinky, but not porn. The Paul Thomas retrospective shown on the big screen at the Yale Law School was definitely porn. And in terms of the 300+ year history of Yale University, this was nothing short of revolutionary.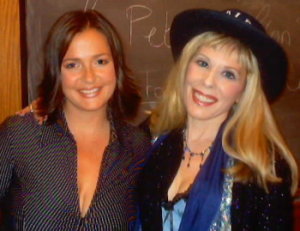 With Devinn Lane at SWAY 04
Yes, we had watched porn with Devinn Lane at SWAY '04, but that was at a midnight meeting of Porn 'n' Chicken at Sig Ep. This was no frat house party. This was an official, open-to-the-university screening at the Law School. We sat up in the balcony, looking down on most of the 200 or so students who sat in the main auditorium. The "Sex Week the Movie" crew, who had interviewed me after the Great Porn Debate the night before, was upstairs with us. Hubbub filled the hall. The lights went down. Porn filled the screen! A hush came over the crowd…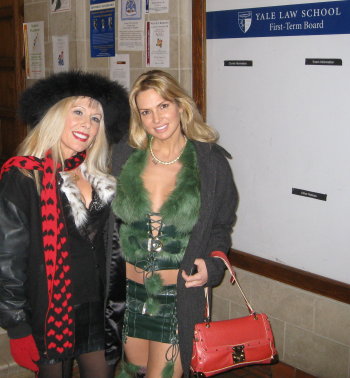 With Savanna Samson at the Yale Law School
Compared with most hardcore porn in today's market, PT's selection was quite mild. It included a lot of softcore shots of professionally-sculpted naked breasts, glossy hardbodies caressing each other intently, a silhouetted blowjob, but no genital-focused intercourse, oral or anal sex. There was an S&M scene where a woman wearing a ballgag submitted to other women, and a rather "vivid" piercing clip. There was also one particularly intense, very well-acted, non-sex scene from The New Devil in Miss Jones featuring Savanna Samson in the title role and Jenna Jameson as the Devil's mistress.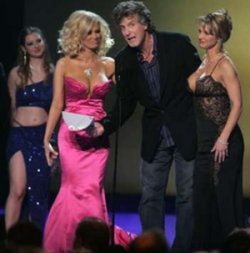 Paul Thomas, Jenna Jameson & Savanna Samson accept AVN 06 Best Film award for The New Devil in Miss Jones. Presenter Sunny Lane (L). Jameson won Best Supporting Actress; Samson, Best Actress; Thomas, Best Director.
The screening ended abruptly, then PT, Savanna and Monique hopped onstage for the panel. Most of the students' comments and questions that followed were respectful, some even enthusiastic . SWAY '08 Director Joe Citarella questioned PT as to whether he personally felt that "these graphic images are OK, knowing that there is someone on the other end who is enjoying it."
Then suddenly, we realized that Colin Adamo '10, Event Coordinator of SWAY '08 and future director of SWAY '10, was standing on the balcony right next to us, his loud outraged voice booming through the cavernous hall, challenging PT for his choice of films, forcefully decrying some of the scenes as misogynist and violent. Some audience members applauded Colin, as others booed his remarks. PT defended his choice of clips as "tame," and seemed genuinely surprised that students were offended. Whether you agreed with Colin or PT, there was no doubt that Colin's choice to declare his opposition to PT's screening from the balcony was dramatic and brought the conversation about censorship and pornography home in a visceral way. This was the real Great Porn Debate. And what better forum than the Yale Law School? The Sex Week: The Movie team filmed the whole thing, Weapons of Mass Discussion flying left and right.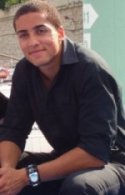 Future SWAY Director Colin Adamo 10
Speaking of weapons, after Colin finished, Carlo stood up, also in the balcony, and declared that there was nothing obscene about the clips we had just viewed, especially when compared with the murder and mayhem our military was perpetrating in Iraq. Carlo's comment received an explosion of warm applause. It was an ecstatic moment, and Carlo was thrilled to have addressed the students from the balcony of as the Yale Law School auditorium. He felt like a Roman Senator during the Republic. All he needed was a toga and laurels around his big head. But his comment was so true on a very basic level. Compared with the obscenity of the Iraq occupation now raging in America's name, what's the big deal about a ball-gag (inserted with the actress' consent)?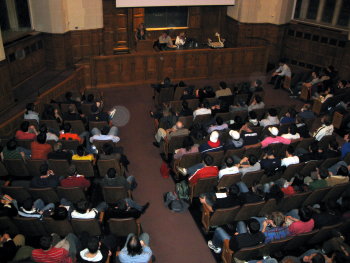 Yalies watch porn and a panel at The Law School
Nevertheless, there's no doubt that the clips were a little too "hot" for some Yalies. I must admit that the piercing made me wince and cover my eyes; guess I'm just a sheltered Eli at heart. But PT was right that his selections were "tame" compared to most porn. And like any artist or director, he wanted to go "beyond" T&A to show something a bit "edgy." Later, I asked Joe and Colin why they let PT show those clips in the first place. Why didn't they cancel the screening or ask him to edit out the "misogynist" parts? Turns out they hadn't pre-screened the compilation. Well, they received an important lesson that night: If you're going make a controversial presentation, you'd better preview what's going to be presented. Open and honest about their judgment error, and no slouches when it comes to learning, they vowed to be more vigilant about future SWAY events.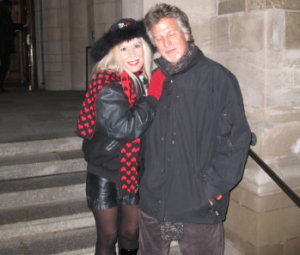 PT dreams he showed porn @ The Yale Law School
 But there was something electric about the whole experience, something educational that too much control might have ruined. Later, I talked with Eric who agreed that the students should have screened the film before showing it, but felt that the whole event was very positive. "This is why the students run The Week themselves," he explained. If they had asked him if he thought it would have been okay to show porn at the Law School, he admitted he would have said no. But they didn't ask him; they just went ahead and did it. And whether you liked it or not, they did something revolutionary: Porn was shown to some 200 undergrads in the Yale Law School auditorium. No one died.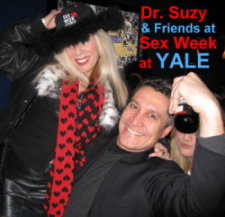 COMING UP NEXT BLOGGAMY: Part III of Our YALE/NYC Lupercalian Tour, including Sex Week at Yale CLIMAX at Toad's Skull 'n Boned Party, AFTERGLOW at my "Sex & God" Master's Tea, LOVER'S QUARREL on The Sex & Spirituality Panel, plus LA Adventures and upcoming Spring Equinox Easter Purim Bacchanal! Mae Victoria, author of Hooker, a very original, insightful, entertaining and unflinchingly honest memoir, and the bodacious Kelly Madison will be here, plus so much more…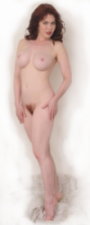 Mae will join us 3/22!
---
Explore DrSusanBlock.com
Need to talk? Sext? Webcam? Do it here. Have you watched the show? No? Feel the sex. Don't miss the Forbidden Photographs—Hot Stuff, look at them closely here. Join our private social media Society. Join us live in studio 😊. Go shopping. Gift shop or The Market Place. DrSusanBlock.tv, real sex TV at your toe tips. Sex Clips Anyone? FASHION, we have fashion! We also have politics. Politics? Have you Read the book? No? How about the Speakeasy Journal? Click here. Ok, how about some free sex advice?
---
---