Valentine/Lupercalia Tour: Sex Week at Yale and Funk Me's NY Premiere!
FOREPLAY . . PART I .. PART II .. PART III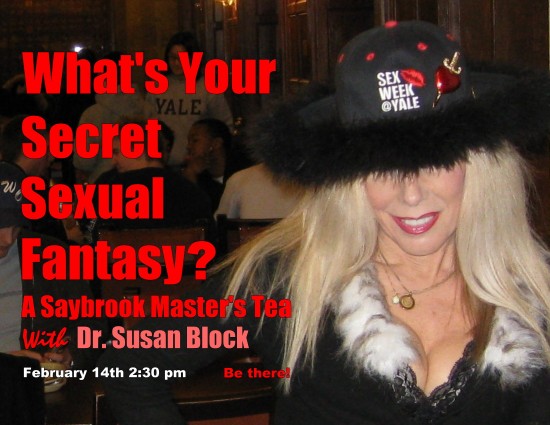 It's Hearts n' Flowers time again, or maybe it's Whips n' Panties time for you. Whatever your fantasy or fetish, unless you live by yourself in an igloo with no wireless, even if you manage to somehow steer clear of love and sex the rest of the year, it's futile to resist around Valentine's Day.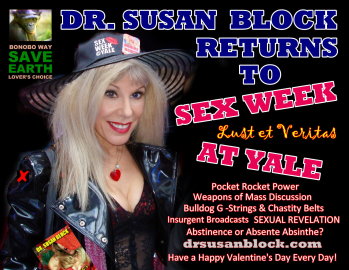 Images of Ideal Love surround you, the soft-lit couples embracing, kissing or strolling on a glorious sunset beach, baby cupids fluttering around them, candy hearts dripping with crème, dashing young men slipping gleaming diamond rings on feminine fingers, lovely young ladies gazing adoringly up (always up!) into their guy's eyes, lush lips parted in a sweetly suggestive "O". These images simultaneously make you feel good and bad. You feel good, because who but a romantic zombie isn't turned on by all that fluttering, embracing and dripping crème? Bad, because real love lives rarely measure up to the Valentine ideal, as least not in that gauzy goody-goody eternally youthful way, plus all that candy just puts on weight. As we so often confront in this bloggamy: The Ideal is the Enemy of the Real.
Saint Valentine & Lupercalia
Consider the fact that Valentine's Day itself is based upon a capitalist fairy tale. The High Holiday of Love was essentially concocted by the 19th century American greeting card industry, spinning a romantic tale of a Christian martyr named Saint Valentine who married young couples secretly and illegally in pagan Rome, where mean old Emperor Claudius had forbidden his soldiers to marry. In reality, there were several Christian martyrs named Valentine, none of which is said to have done anything remotely like this. But the Ideal is often more compelling than the Real. As the story goes, after Saint Valentine was arrested and refused to recant Christianity, he was condemned to death. While imprisoned, he healed the blind daughter of his jailer who fell in love with him. Before he was executed, on February 14 (of course), he left the girl a farewell note, which she could now see (thanks to his saintly ophthalmological skills) that he signed "your Valentine." If that sounds Hollywood, it's because it's just as much make-believe.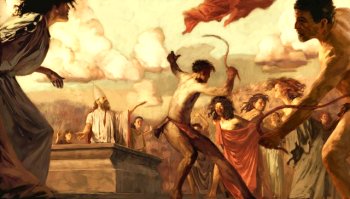 Celebrate Lupercalia
The idea of celebrating true LOVE on Valentine's Day might be a relatively new invention, but the idea of honoring LUST around Feb. 14 pre-dates classical times when Ancient Romans celebrated the Lupercalia on February 15, an archaic rite connected to fertility and purification (sexuality and spirituality). On Lupercalia, young women placed their names in a lottery, drawn out by the young men. Each man accepted the girl whose name he drew as his love, for the duration of the festival. So much for freedom of choice! Another Lupercalian tradition involved naked young men sacrificing goats, and cutting leather thongs from their skins. Then they would run through the streets, joyously brandishing their Lupercalian leather thongs, whipping the young women who would gladly offer up their behinds. Apparently, the idea of celebrating Valentine's Day with whips is even more traditional than hearts 'n' flowers. The ancient Romans believed that such gentle whips and spanking ensured fertility. Not as scientific as an IVF clinic, but it probably did whip them all up into a frenzy for sex. And in this bloggamist's humble opinion, all that swapping, whipping and spanking is a lot more interesting than candy hearts and flowers.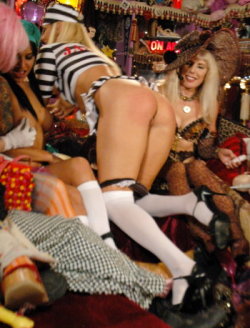 Give your Valentine a Lupercalian Spanking!
Seems it was a little too interesting for the Church which squelched Lupercalian enthusiasm by not only making the holiday illegal, but placing the more Church-friendly lover's celebration of Valentine's Day right before it.
Whether you're a Lupercalian or a Valentinian, you'll want to give something sweet or sexy to someone you love or lust after. Pleasure is a wondrous thing. To give IS to receive. The power to give pleasure is the greatest power you have. Of course, the obvious Valentine or Lupercalian gift is my Book of Pleasure: The 10 Commandments of Pleasure, now in its 3rd English Edition with hot new chapters on True Love, Swinging, Female Ejaculation, The Bonobo Way, Sperm Wars and more. If you already gave The 10 Commandments of Pleasure to your primemate for XXXmas, we've got lots more unique sexy gifts for your Valentine(s) or Lupercalian Lover in Shopping Heaven. Some real, some ideal.
"Blonde Island: Funk Me" Premiers at Cinekink/Pioneer New York City!
Real or Ideal, we've got a busy Valentine's month, and we're busting out the winter boots, because a big chunk of it will be spent in the chilly realms of New York and New England. And hey, all you Yankee Bonobos, we're making a few public appearances, so if you're in the neighborhood, come around and give us a hug!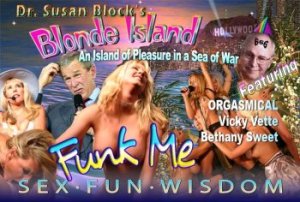 Our Valentine Lupercalia Adventure starts Tuesday night, February 12, when we'll attend the East Coast Premiere of our erotic political satirical music video "Blonde Island: Funk Me" at the Two Boots Pioneer Theater (155 East 3rd Street @ Avenue A) as part of the Cinekink Film Festival Pioneer Series. Funk Me will open for the NY premiere of Annie Sprinkle's "Amazing World of Orgasm," which features our good friend Betty Dodson and my presidential running mate Frank Moore. Here's the Cinekink blurb: "Dr. Suzy presents an erotic look at the nature of sex and the folly of war, exploding into pop star Orgasmical's performance of 'Funk Me.'" Missed the World Premiere and can't make it to New York? Get the Blonde Island: Funk Me Download. or Watch the Stream Now.
Wednesday, we'll meet with potential investors for our romantic retreat concept (to get in on the ground floor of this exciting project, call 213.749.1330 and ask for David), then have a private dinner with friends. Thursday is Valentine's Day, and we're not saying what we're doing or where we're doing it, but you can rest assured, it will involve several Big O's and lots of little toes. Also toegasms and eargasms, and lots of soft sensuous Lupercalian spanks.
Sex Week at Yale '08: Lust et Veritas Here We COME!
Thus orgasmed into action, we will make our way to the great Ivy League Festival of Higher Sex Education that I've participated in since its inception back in 2002, the fourth biannual Sex Week at Yale. Boola-Boola. I keep coming back, to the phallic gothic towers, the fantastical gargoyles, the Mory's silver cups, the dirty snow and sleet. I learned how to look things up in the library at Yale, useless skills in the Age of Google. I learned how to have my first orgasm at Yale (no, not in class). Mostly, Yale is where I learned how to learn.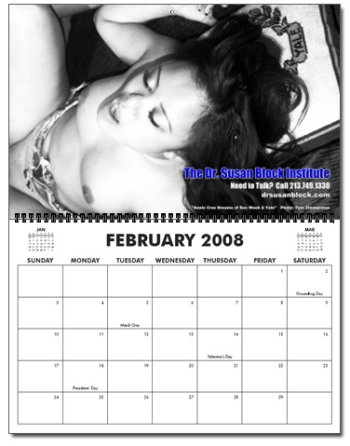 At Sex Week at Yale '08, we'll join professors, pundits, preachers and porn stars, from Dr. Ruth Herself to Vivid Girls Monique Alexander and Savanna Samson (along with veteran porn director Paul Thomas) to renowned anthropologist Dr. Helen Fisher, from Pure Romance's Wonder Woman Patty Brisben, to VH1's Pick-Up Artists Mystery and Matador, to a debate between Porn Legend Ron Jeremy and the XXX Church Boys Craig Gross and Donnie Pauling that will be moderated and televised by Nightline ABC, with host Martin Buchir. Yes, the Weapons of Mass Discussion are going to fly through the Halls of Ivy throughout The Week.
But the most interesting people at any Sex Week at Yale will probably be the students. Click on the TV in the room on the SWAY front page and watch their promotional video. It's very cool, sexy, funny and sweet, great foreplay for another exciting adventure in higher sex education, in the realms of the physical, the intellectual and the spiritual.
Oh My Goddess!
Speaking of the spiritual realm, on Sunday, Feb. 17, at 4 pm, your humble bloggamist will give a little talk at a Master's Tea at Saybrook, my old residential college. My subject, it being Sunday, will be Sex and God. Right after the Tea, which ends at 5:30 pm, I have to sprint from Saybrook over to Harkness Hall to join a panel of "experts" on Sex and Spirituality at 6 pm. Why all the spiritual talk? Well, like I said, it's Sunday. In its four seasons at Yale, Sex Week hasn't held an event on Sunday because the always respectful students haven't wanted to offend the Churches and religious folks who consider Sunday a spiritual day, not a day to talk about sex.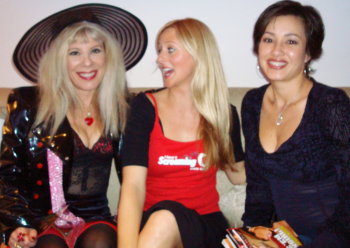 With he Screaming O Gal & sexy Dr.Sadie Allison at LOVE LA . Photo: Eric Emmanual
Sound quaint? Well yes, considering that last Sunday, I was shaking my Lupercalian fanny at the tastefully nasty new Love LA convention, put on by Freddy and Eddy and friends, trying out state-of-the-art sex toys and playing with porn stars on the Bonk'er and Monkey Rocker.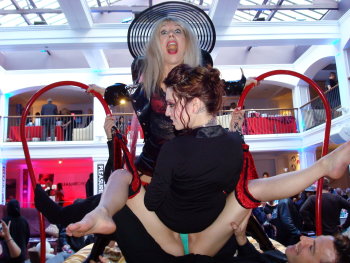 Bonk'in at LOVE LA . Photo: Eric Emmanual
But keep in mind that Yale University started out as a deeply Christian, virtually monastic institution. Over 300 years ago, on October 16, 1701, a group of Congregationalist ministers, including famous Puritan Cotton Mather, founded Yale, in part, as a rebellion against what they perceived to be the growing "liberalism" of Harvard. Yes, Yale's aim was, and sometimes still is, to be holier than Harvard.
Sex and God – What Are The Odds?
So Yale, like many of our society's venerable institutions, has a tradition of studious piety. How Yale graduated an ethical hedonist like me is another story. But on Sex Week Sunday, we will talk about how though Sex and God may be at odds, sexuality and spirituality are, in many ways, just opposite ends of the same Valentine, one passionate blood red beating heart. The mystical experience and the erotic experience are the most intense in human life; both connect desire with wonder, terror, love, awe, anguish, ecstasy, pain and extreme logic–defying pleasure.
Sound exciting? Good, because I'm about to use much of this bloggamy to outline my lecture notes for SWAY '08. Since Sex & God is such a huge sprawling subject, this is going to be one of my huge sprawling bloggamies. So bear with me as I bare my sexual soul, and please forgive me if I bloviate a bit (I am getting ready to go back to Yale). If I offend anyone, I apologize. But remember, one person's bloggamy is another's blasphemy.
…
Passion & Hypocrisy
At their most sublime, both religious and sexual feelings are great passions. The word "passion" comes from the Latin passio which means "to suffer." We suffer for love as we suffer for God. Religious mystics love God with a passion that can be feverishly erotic. Think of the young nuns who "marry" Jesus, Hasidic Jews dancing "with" God in ecstasy and the Islamic expectation of 72 nubile virgins for God's heroic martyrs. And it goes both ways. For to whom do most lovers call out in the throes of erotic passion? God, baby, God, baby, God! The sublime loss of self is common to both the supreme religious and erotic experiences.
But the convergence of Sex and God isn't confined to the moment of orgasmic revelation. Some of the most important decisions of our lives are based upon it. Most religions consider the sexual union between husband and wife to be the most sacred relationship on earth. Even if we don't think of sex as a sacrament, when we have great sex with someone with whom we also connect spiritually, we call that person our "soulmate."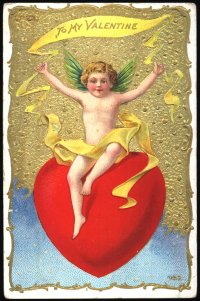 God, under the auspices of most organized religions, blesses or "promotes" the Valentine ideal of soulmates-for-life in marital bliss. But then, we all know, the ideal is the enemy of the real.
The reality is that when religion and sex intersect, the result is often hypocrisy.
The reality is that lifelong monogamy is difficult and unnatural for most human beings.
The reality is that sometimes, people who are considered "wrong" for each other have sex and fall in love.
The reality is that everybody masturbates, at least sometimes.
The reality is that too many pious preachers who command their flocks to save sex for marriage have been caught with their pants down with hookers, sometimes gay hookers. The reality is that too many "celibate" priests railing against the sins of sex have brutally released their pent-up desires upon the weakest members of their congregation.
The reality is that most people, try as they might, don't have ideal love lives.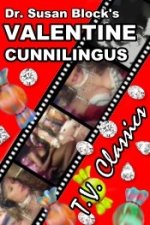 Fetish, Fashion & Holy War
Are the basic spiritual tenets of organized religion out of touch with sexual reality? Many people all over the world are seeking spiritual paths outside the box of organized religion. Most are influenced by science, which, of course, does not support the objective existence of an Almighty God, Goddess, a superior race of giant lizards or anything that is "supernatural."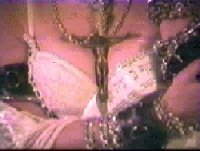 This shrugging off the shackles of God in the traditional sense has unleashed a vibrant spiritual anarchy, a diversity of erotic fashions, fetishes, families and lifestyles, and a sense of freedom of sexual choice never before experienced by humankind, particularly women, upsetting the carefully constructed hierarchies of organized religions around the world. Not surprisingly, this sexual and spiritual "revolution" (or evolution) has frightened many people who are accustomed to the old ways, creating a huge, sometimes violent backlash from the orthodox and fundamentalist branches of all the major religions of the world.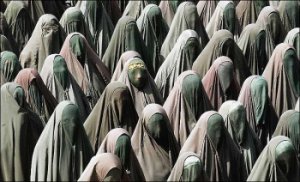 So along with the increase in attendance at Christian schools, Yeshivas and Madrasas, we have the Holy wars, Jihads and Crusades. And a big part of what people are fighting over (besides oil) is sex. Will women wear burqas or bikinis? Will we close down the strip clubs? Will we criminalize abortion? Will we honor same-sex marriage? Will we let men keep harems of four wives? Will we let our children inter-marry? How severely will we punish them for premarital sex? For adultery? Should parents circumcise their young daughters in the name of religion? How about their infant sons? And what about masturbation? Is it good or bad, and how bad?
Masturbation Nation: Come Together!
How can we even think that something so relatively harmless and good, according to science, can be so bad? Our modern religious taboo against masturbation probably began as a practical code to sustain agrarian culture and tribal wars. Way back in Old Testament times, when Onan was ostracized for "spilling his seed upon the ground" (Genesis 38:9, actually, more of a case of coitus interruptus than masturbation), tribal leaders felt that if folks were masturbating instead of reproducing, they wouldn't spawn enough children to work their harvests or go to war against opposing tribes. Talk about membership drives; this was a BIG ONE. Some experts believe that male circumcision was originally concocted to stop boys from masturbating and focus them on procreating.
Medieval Christians went on to further denigrate masturbation by equating sexual pleasure with pure evil, declaring it to be a major sin, one of the worst acts a person could commit. Over the centuries, frightening superstitions built up, e.g., that jacking or jilling off caused warts, blindness, insanity, hair on the palms, impotence, not to mention, of course, eternal damnation in hell. Modern science has proven all these masturbation superstitions to be 100% wrong. Even though an esteemed American Surgeon General was fired just for mentioning it in the context of safe sex education, most experts consider masturbation to be a healthy, normal activity.

There's even some positive spiritual folklore on the wonders of whacking off. According to the Greeks, masturbation was a divine gift. Hermes revealed the technique to Pan when his love for a nymph went unfulfilled, and Pan then taught the shepherds (so they wouldn't bug their poor sheep!). The Greek philosopher Diogenes praised the physical efficiency of masturbation, "Would to heaven that it were enough to rub one's stomach in order to allay one's hunger."
And as George Carlin testified, "If God had intended us not to masturbate, he would have made our arms shorter."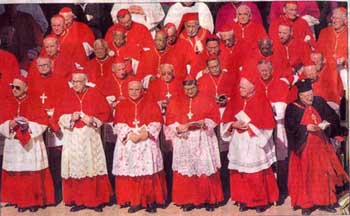 Modern Church Fathers: Repositories of Expiation for Masturbation
Not too many other religious leaders agree with the Gospel According to Saint George. The majority would say and have said that God most certainly does NOT intend for you to masturbate, no matter how natural, healtful and convenient it may be. After all, masturbation is recreation, not procreation. It's a form of pleasure sex.
Pleasure Sex
What is pleasure sex? If we define "sex" as any activity that produces erotic arousal, then we can say that there are two types of sex: 1) sex for procreation (making babies) and 2) sex for recreation (having fun), or what I call "pleasure sex." As organized religions tend to denigrate masturbation because it doesn't increase tribal membership, so they disparage or forbid most forms of pleasure sex including, gay sex, premarital sex, bi sex, fetishistic sex, sex with your neighbor's wife, sex with your spouse when you're coveting or just thinking about your neighbor's wife, which could mean thinking about Angelina Jolie, because in the Global Village, Brad Pitt is your neighbor.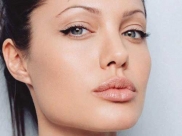 Thy Neighbor Lady
In some religions, every kind of sex is taboo except marital sex in the missionary position with the lights off, with no contraception, contemplating God and family values, with purity of intent, and preferably no pleasure, at least not on purpose.
The Sweetest Taboos
Why all the taboos? Simply put, people in power like to keep their power, and taboos against deviating from the religiously decreed social order help them to do just that. Individual religions may or may not really serve God, and we'll only find out if they do when we pass through the Lord's Pearly Gates or Mother Nature's Great Earthy Cunt. But there's one thing we know right now: Religions serve those in charge of the religion. Taboos help those in power, keeping those with less power in fear for their souls if they break the taboo and enjoy greater power or pleasure than they "deserve."
Napoleon is said to have put it this way: "The purpose of religion is to keep the poor from killing the rich."
To say in the name of God that pleasure sex is "dirty" perpetrates centuries of religiously inspired sexual abuse in homes, churches, mosques and temples, creating intense shame about our desires, fueling the belief that parts of our bodies are polluted, fostering hatred and confusion about pleasure.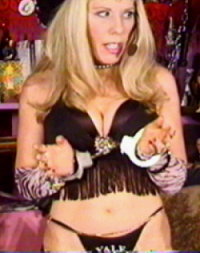 Of course, the irony of creating a taboo is that, once something is forbidden, it often becomes very interesting. The idea we're doing something naughty, behind the back of the Lord, so to speak, makes it exciting–hot. This is the eroticism of transgression. Because no matter how rigorously religions try to repress sex, Mother Nature always finds a way of asserting Her power. So, if, according to your religion, pleasure sex is bad (and it usually is), then "bad" becomes very sexy. For many people — especially religious people — sex has got to be bad to be good..
Bible Sex for Dummies
But is sex really so baad? Even according to so-called divine standards? One of the many odd hypocrisies of those that decry modern culture as obscene and hold up the Bible as the Word of God is that they rarely actually read the Book itself. If they did, they would discover multiple scenes of incest, rape, homosexuality, exhibitionism, child molestation, child sexual mutilation, bestiality, adultery, swinging, scatology and more that take place, both with and without divine punishment.
The Holy Scriptures, a hotbed of sex? You bet your bottom belief system–from Lot's incestuous escapades with his daughters, which go completely unpunished (Genesis 19:30-38) to God's anal exhibitionism, on glorious display when He dramatically reveals His Divine Derriere to Moses (Exodus 33:18-23). Some of the sex in the Bible is beautiful and very erotic, as in King Solomon's "Song of Songs," the first line of which is "Let him kiss me with the kisses of his mouth: for thy love is better than wine." Some Bible sex is horrible and sad, as when King David's son Amnon rapes his sister Tamar. But most Bible sex is somewhere in between. That is, it's complicated, like the rest of life.
Of course, the Bible contains many, many rules against many, many kinds of sex. And the punishments tend to be the stuff of Taliban dreams. For instance, a woman who touches a man's genitals gets her hand cut off; and if a man is caught having sex with a sheep, both the man and the sheep must be executed. Poor sheep!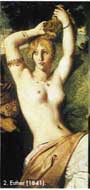 Some of the stories are practical, insightful lessons in human sexual nature. Some are, in a way, "feminist." Take the tale of Ruth, a young widow who boldly and successfully seduces her wealthy male cousin-in-law Boaz on the "threshing floor," at the suggestion of her mother-in-law Naomi, and thus becomes the great grandmother of King David. Then there's Esther, the teenage beauty queen who uses her powers of sexual seduction to save the Jews of Persia from genocide. Perhaps the anti-sex religious zealots would learn something about the power of pleasure sex if they actually read the Bible instead of thumping it so much.
Jesus Loves You, And He's Really Hot!
How about Jesus? Though the "Holy Father" of traditional Christianity might be even more sex-averse than the original Yahweh of the Jews, the Jesus of the Gospels is a rather erotic, feminine, even feminist God. He's not exactly sex-positive, but neither is he negative. In fact, the Jesus of the Gospels hardly says anything about sex. Of course, Saints Paul and Augustine more than make up for that later with their enervating concepts of Original Sin. But Jesus himself, though he decries adultery (even identifying the "thought crime" of adultery as equally bad as the actual act), he never denigrates sex. In fact, he advocates love, which is certainly related to sex. Nowhere do the Gospels say that Jesus is celibate or that anyone else should be.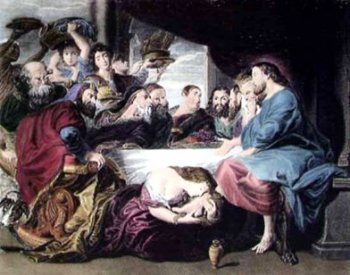 Mary Magdalene kisses Jesus Feet Surrounded by Jealous Apostles .. Painting by Rubens
Some Bible scholars – and Da Vinci Code enthusiasts – believe that the "real" Jesus was married, and that the Church vigorously suppressed that marriage for political and economic reasons. After all, the New Testament never says He isn't married, and the great majority of Jewish men, especially rabbis like Jesus, were married. Perhaps the wedding that Jesus attended and miraculously "catered" was his own. Without a doubt, Jesus appreciated women, especially sexual, independent, albeit "repentant" women. After all, who's the first person Jesus took a meeting with when He resurrected Himself on Easter Sunday? The Original Easter Bunny, Mary Magdalene.
Jesus also seems to have liked guys, being a "fisher of men." Award-winning playwright Terrence McNally's Broadway play Corpus Christie presents a gay Jesus who has sex with his Apostles. Outrageous, of course, but no more farfetched than a walk on the water.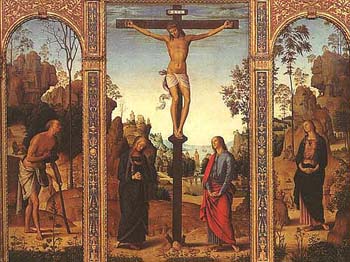 It's not just modern interpretations of the Story of Jesus that uncover the sex angles. Old paintings and sculptures of Jesus on the Cross are often highly erotic. After all, the man is practically naked, and though all that blood is rather disgusting (except for the Gospel According to Saint Mel), basically he's got a great body. His face is usually quite beautiful, "beatified," with his big sorrowful eyes, open sensuous mouth, long soft wavy hair and radical piercings. Hanging on a cross displays his nearly naked body in an outstretched, inviting, manner (you know how hot everyone looked on Eros Day Ecstasy on The Bondage Cross). Yes, of course, it looks painful, but suffering (passion/passio) can be sexy. When the images show Mary Magdalene looking up at him so adoringly, well, little wonder why Jesus is more popular than rock stars. He's not just holy; he's sexy. Which just goes to show: the one has something to do with the other.
As you might imagine, when I discuss the eroticism of Jesus, I get a variety of responses, many quite emotional. Most practicing Christians are, as you'd expect, livid. But last year, a young man from one of the Bible Belt cities called my radio show in tears, so relieved was he to hear that he wasn't the only one who was sexually aroused by images of Jesus on the Cross.
Of course, worshipping a sexy guy who's bleeding to death subliminally encourages violence. It certainly makes bleeding to death look appealing. And to think His omnipotent Dad was watching. It seems like passive-aggressive child abuse.. But then, this is the same God who commanded Abraham to sacrifice his son, until He stopped him with something to like "Haha, just messing with you, Abe. Just wanted to see if you'd do it." What a sadistic Mafioso! No wonder our leaders, when they undertake military aggression or state-sanctioned torture, always assert that "God is on our side." After all, the God of the Bible encourages murderous behavior and engages in what we can only call torture, some of it clearly sexual.

TANTRA: Many Orgasms for Ladies; Gentlemen, Hold Your Fire!
Religious rules against sex tend to be more confining for women who are stuffed into nun's habits, burqas, religious wigs, chastity belts and even coffins to "protect" their precious chastity for the honor of their fathers, husbands, brothers and sons. One exception is Tantra, where the women are encouraged to have many orgasms, and the men to give women pleasure. But is Tantra a religion? It's got some of the trappings of a religion, but it's more of a spiritual practice, especially nowadays.
From Southern India to Santa Monica, Buddhist and Hindu tantric "yogis" incorporate sex into worship, practicing the various disciplines of tantric sex to achieve the bliss and harmony with God that is *beyond* physical orgasm. Tantric sex practitioners focus on deep breathing, ritual sex positions, pubococcygeus muscle exercises and looking deeply into each other's eyes to find a kind of God.
Tantra is much more sex-positive than most religions, but it has its own taboos. Though encouraged to help their female partners enjoy as many orgasms as possible, the men themselves are rarely permitted to ejaculate. Some tantric schools insist that the man not come at all, except when he wants to have children. Talk about focusing your pleasure on procreation! And what a twist on the religious "cum fetish." Even though most scientists and urologists agree that men should ejaculate more often if they want to keep their sperm healthy, still many religions, including Tantra, command guys to conserve the stuff like its rare cognac. But if a man wants to learn to control his orgasm, Tantra is fantastic, and I highly recomment it to my male clients who have problems with premature ejaculation.
Tantra is a great discipline for integrating sexuality with spirituality in a pleasure-positive way. The G-Spot, named after Dr. Ernest Grafenburg who claimed to have "discovered" it, is now called the Goddess Spot. There is a sense in which masturbation can be meditation. Urban Tantra author Barbara Carrellas calls it "medibation." I don't know if that term will ever catch on. But I do know as a sex therapist, that some of my clients' most soulful moments are found in the practice of self-pleasure.
Eros, The Goddess & The Institute
Ancient Goddess-worshipping religions, now revived by people disillusioned with paternal monotheism, sometimes incorporate sex rituals, holy orgies, erotic art, even "sacred prostitutes." Perhaps the resurrection of these cults of Isis, Aphrodite, Kali and the rest is nothing more glorious than an effort to create some kind of belief system in which people can enjoy sexual pleasure without so much guilt.
Then there are the new worshippers of Eros, the Ethical Hedonists who come to The Institute and The Speakeasy to celebrate the Greco-Roman God of Sex, Love and the Breath of Life every Eros Day when the Planetoid 433 Eros is closest to Earth. Even agnostics will celebrate God or the Goddess, if a good party is involved.
Then there's Kabbalah, Gnosis and more, too much more to go into, even in this endless bloggamy. We are expanding our sense of sexuality and spirituality as we learn about each other's cultures, as the global village grows smaller and people with odd cultural fetishes, whether for putting women in burqas or putting implants in women, seem less and less odd and more and more just like people we know.
Fetish: Sex or God?
A fetish is a thing – a boot, a breast, a burqa, a Bible – or an action – watching, being watching, spanking, being spanked — or a concept — fame, money, love, the Holy Grail – that the fetishist invests with great power, sometimes with great sexual power, sometimes with great religious power, sometimes both.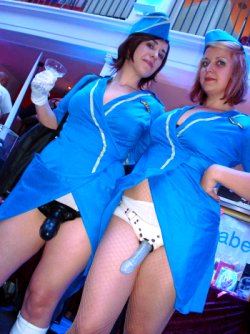 Strap-On Stewardesses from Babeland at LOVE LA Photo: . Eric Emmanual
The sexual fetishist objectifies, glorifies and downright deifies the object, body part, behavior or concept, above and beyond any mere human being. Take the foot fetishist. For him–or her, but usually him–a beautiful foot is the Foot of the Goddess. In fact, the foot itself is the Goddess. It is a kind of idol worship, an objectification of God, similar to the way a superstitious child strokes a rabbit's foot or a fundamentalist treats a Bible or Koran as God incarnated into The Word.
Why Did God Create the Clitoris?
When forced to classify my deepest personal religious beliefs, I must confess I'm a devout agnostic. I just don't know. I don't believe anyone knows "for sure" what God or Goddess or multiples are up in "heaven" or "all around us" or even "within us." We don't even know if He, She, It or They EXIST in objective reality. Saying "God is in your heart" is subterfuge, unless God is a pacemaker, or just an idea.
But IF there is a God, Goddess, holy Board of Directors or some kind of divine Force of Nature, I believe that He, She, It or They created human sexuality and made it pleasurable for a reason, not just to "be fruitful and multiply," (Genesis 9:1) but to relax, heal pain, have fun and physically express spiritual unity. Why else did God or nature create the clitoris, a part of the female body that has no function whatsoever except to experience pleasure? Biologically speaking, it's quite possible that the clitoris is just an evolutionary vestige of the penis with no reproductive purpose, with no known purpose at all except pleasure. If there is an all-powerful divinity of any sort, it seems to me that He, She, It or They created pleasure sex for us to enjoy.
AMOR VS ROMA
There has always been something about the nature of sex that subverts institutionalized religion. Religion is about maintaining a status quo, a reverence for tradition, For God, for Country and for Yale. That's all very nice, but too much reverence spoils the sex. Sex overthrows the status quo, whether it's for procreation or recreation. Sex is change.
In medieval times, the songs of the European troubadours virtually divinized erotic love between human ladies and gentlemen. This powerful, passionate love was soon seen by the Roman Catholic Church as competition for the affections of the people. The French word for love, AMOR, spelt backwards is ROMA, the Roman Catholic Church. Talk about Sex & God being at odds.
The Church was not amused by the lady-worshipping troubadours. If erotic love was not a sin, but the key to the meaning of life, if gentlemen worshipped ladies through song, who would worship the Lord at Church? The conflict between love and Church was so serious that crusades were fought over it. The Albigensian Crusade of 1209 (the only Crusade by Christians against Christians), one of Europe's most violent crusades, was launched by Pope Innocent III against the troubadour culture of southern France.
Despite the Church's brutal condemnation of love's pleasures, the legacy of the medieval troubadours and trobaritzes has lived on, and their spiritual, courteous, passionate approach to sexuality permeates my 10 Commandments of Pleasure, as well as well as much of our culture of love.
One popular modern interpretation of the "Holy Grail" portrayed by the troubadors as a beautiful chalice, is that it is the womb, or even the holy G-Spot within a woman.
Spirituality + Sexuality = Love
"The spiritualization of sexuality is called love," said Frederick Nietzche in The Twilight of the Idols, "It is a great triumph over Christianity." Not to mention every other organized religion.
Sex is my obsession, and love is my religion. Sometimes I'm not sure if I believe in God. But I always believe in Love. I know love exists, because I can see it in my lover's eyes, I can hear it in his voice, I can feel it in his arms, I can smell it on the back of his neck, and I can taste love in his kiss, as I have for many years. I love the physicality of love as well as the spirituality; love gives me faith, breaks down the agnostic in me, and makes of me, against all odds, a true believer.
But my belief in love goes beyond the physical. I believe the more love there is in the world, the less violence. And I'm not just talking here about love of humankind. That's a wonderful, very important kind of "altruistic" love, but it can only go so far because it's not passionate (and who the hell wants to go to bed with all of humankind?). Violence is passionate. It can only be defeated by an equally passionate, powerful force like romantic erotic love.
Pocket Rockets for The Bonobo Way
And so we come to the Make-Love-Not-War bonobo chimpanzees. As cows are sacred to Hindus, so bonobos are sacred to Pleasure Sexualists and Ethical Hedonists like me. I'm not about to explain bonobos in this bloggamy, so learn all about them at Block Bonobo Foundation, and join our new community, BonoboWay, while you're swinging from site to site.
The Bonobo Way is part of a much larger movement of people who find spirituality in nature which can be seen as a kind of Goddess, Mother Nature. Of course, sex is a big beautiful vibrant part of nature. Sexual diversity is everywhere in nature. With their pansensuality, bonobos are fantastic examples of sexual diversity, as well as spirituality. The fact that humans face each other in sex is often touted as one reason our sexuality is more spiritual than other animals. But bonobos face each other in sex as often as humans do. Copulating bonobos often look deeply into each other's eyes, like tantric sex practitioners, or two people very much in love. Relative to other apes, bonobos live a life of peace through pleasure, using sex not just for procreation, but for recreation and to diffuse violent tension. Bonobos engage in many types of pleasure sex, and thus far, have never been seen killing one another in the wild or captivity (unlike common chimps, gorillas and humans). Now if that's not a spiritual function for sex, I don't know what is.
Speaking of Peace through Pleasure… Besides my pearls of sex-fun-wisdom, I will also continue my time-honored tradition of bringing the Yalies Doc Johnson Pocket Rockets — the Erotic Answer to the Patriot Missile. Small, can fit in your purse or glove compartment, but gets the job done. No Exploding Ordnance, Just Exploding Orgasms! Whoever our next President may be, if he or she sends Pocket Rockets to the Middle East instead of the other kind of rockets, we'll win them over in a Baghdad second.
Persian Valentine's Day
Speaking of Sex & God, the day I will be speaking on Sex & God at Yale, February 17 happens to be Persian Valentine's Day, called Sepandarmazgan, said to have been first honored in the Great Persian Empire way back in the 20th century BCE. Despite government restrictions, Persian men and women still celebrate the holiday with gifts and special romantic rendezvous.
Dawn Eden: Born Again Virgin
After my talk at the Saybrook Master's Tea, we'll have to sprint over to Yale's Harkness Hall for a panel on essentially the same subject "Sex & Spirituality." Scheduled to be on the panel are performance artist Stevie Jay, media psychologist Dr. Judy Kuriansky, Rabbi James Ponet from the Slifka Center, and another chaplain or two (they're trying to get a Muslim or a Hindu, or another Christian, because once again, as in much of academia, we Jews are over-represented). Thus far, my most "interesting" fellow panelist seems to be a devout Catholic with Born Again Christian fervor who used to be a Jewish rock 'n roll journalist for the New York Post named Dawn Eden. Besides touring the country speaking at churches and colleges about the Virtues of Chastity and trying to stop college campuses from presenting The Vagina Monologues because it "reduces women to their anatomy" (Betty Dodson's gripe was that it should have been called "The Vulva Monologues because the vulva is a woman's pleasure sex center, while her vagina is just her reproductive canal), Ms. Eden has penned a best-selling book about saving sex for marriage called The Thrill of the Chaste: Finding Fulfillment While Keeping Your Clothes On.
There's nothing wrong with keeping your clothes on while you are engaged in dating-for-marriage. It can be very exciting. One of the chapters in my 10 Commandments of Pleasure (under Lady's Commandment #5: Thou Shalt Excite Him) is "How To Turn A Man On Without Taking Your Clothes Off." I managed to keep my own clothes on for six months of dating my husband (and we'd been platonic friends for six years prior to that) before we started having sex, then about a year later, we got married. One of my tricks was stapling my belts. Kinky, huh? And it worked; it's been over 20 years now, and we're still trying to get each other's clothes of. Though now it's pretty easy, the ardor continues to burn, in some ways hotter than ever, and I attribute some of the constantly simmering heat to those six months of intensive teasing.
Teasing is seductive chastity. Men need to be teased because it makes them slow down. Women need to be teased because it makes us come around.
From what I've read in the blogosphere about Ms. Eden's version of keeping your clothes on, it's not a tease; it's a moral duty. And the clothes mustn't come off until the wedding night. Yikes! Weddings are stressful enough without worrying about having sex for the first time that night! And so much for determining sexual compatibility before committing your lives to each other.
What is so righteous about repression? I know it's all the rage in the Faith-Based set, but when it comes to Abstinence, I prefer Absinthe.
Here's an even more sobering aspect to Edenic chastity: you're not supposed to masturbate. Or if you do, you must regret it and confess it to a priest. I'm fantasizing about giving Ms. Eden a Pocket Rocket, whispering that it's great for back pain. It would be an act of Christian charity. At least, her priest would appreciate it, come confession time.
Ever the lady, Ms. Eden won't confess to her previous sexual exploits in the rock 'n roll world, at least not in public. But one gets the sense that after years in that world, she got sexually burned out. Sort of like St. Augustine who certainly sowed his wild oats in his youth with a young woman his wealthy mother disapproved of. didn't start being chaste. When Mom cut him off, the love affair went sour. He was middle-aged, depressed, burned out on sex, and he found serenity in chastity, which would be fine for him, except he proclaimed the celibacy the only spiritual state for everyone.
I think I understand, at least to a certain extent. One of the reasons that I settled down and got married was that I was burned out on the sexual circus that my life had been in my 20s. But I didn't then attempt to run the circus out of town for the next generations. Of course, thanks to the Speakeasy, my life has become even more of a sexual circus than ever. And Ms. Eden has joined the Church with a capital C. Plus Ça Change, Plus C'est La Même Chose.
Next Sunday, like Sex and God, will we be at odds? From what I gather, Ms. Eden googles her name quite a bit, so it's very possible that she'll read this blog before we meet. I just want to say: Greetings! Even though my philosophy of Sex and Spirituality is pretty different from yours, I'm looking forward to meeting you! You seem like a fascinating woman, and hey, as long as it doesn't resort to force, chastity does have its charms. There's that tease factor!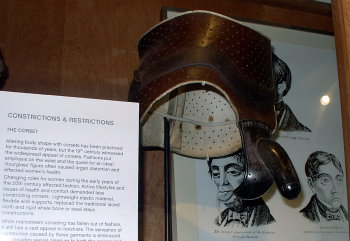 Anti-Onanism Device, Rainal Freres, Paris; ca. 1890, New York Museum of Sex
So I am going to try to have an open mind. Maybe we'll get along great on the panel and share a cup at Mory's afterwards. Maybe I'll wind up introducing you to you future husband (I do know a few nice Catholic guys). Maybe you'll be my next Venus on Eros Day. The naked born again virgin Mother of God. Ha! I love it!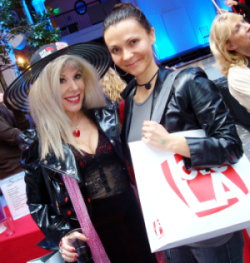 With Dorota at LOVE LA . Photo: Eric Emmanual
Hannah in Babeland.
Assuming we survive our East Coast Inquistion, we'll be coming back just in time to join Dorota Skrzpek (remember her from Eros Day Ecstasy on The Bondage Cross?) for the launch of her new book "Sex, Life & Hannah." I'll be on a panel with a bunch of sexperts, media and sociological types, none of whom (I don't think) are born-again virgins. So you bet we'll all PARTY afterwards, and you can join us FREE for the panel and the party Wednesday night, February 20, 7 pm at Babeland on 7007 Melrose near La Brea in West Hollywood..
LUST ET VERITAS
And if chastity belts are too bulky for you, check out our hot new LUST ET VERITAS Thongs (a portion of all proceeds goes to help support efforts to save the highly endangered bonobos). T-shirts too!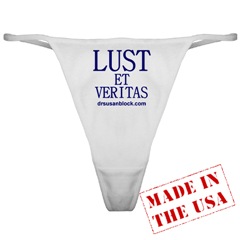 Amen. Awomen. Bulldog, Bulldog, Bow Wow Wow! Boola-Boola Bootie Call!For God, For Sex, And For Yale! Happy Lupercalia!
---
Explore DrSusanBlock.com
Need to talk? Sext? Webcam? Do it here. Have you watched the show? No? Feel the sex. Don't miss the Forbidden Photographs—Hot Stuff, look at them closely here. Join our private social media Society. Join us live in studio 😊. Go shopping. Gift shop or The Market Place. DrSusanBlock.tv, real sex TV at your toe tips. Sex Clips Anyone? FASHION, we have fashion! We also have politics. Politics? Have you Read the book? No? How about the Speakeasy Journal? Click here. Ok, how about some free sex advice?
---
---