Spanksgiving Appetizer with "Fetus Nation"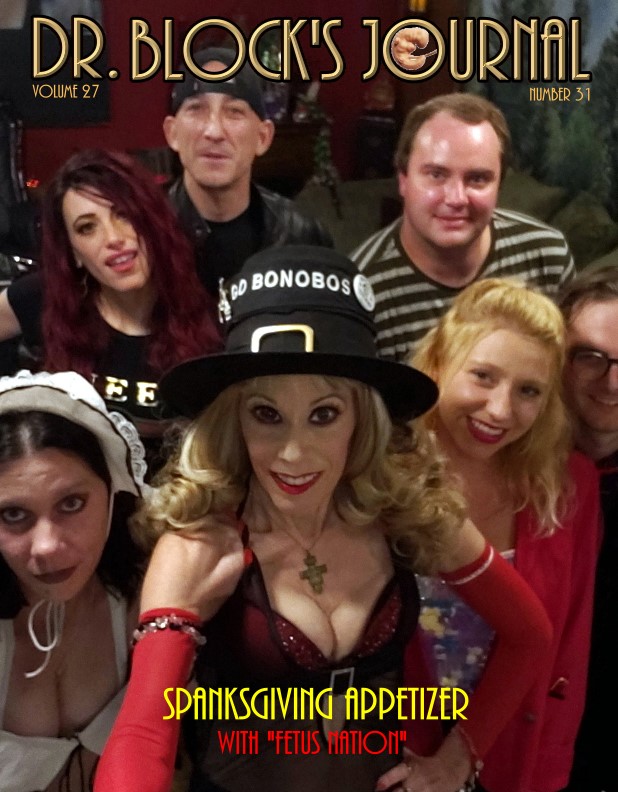 Length 01:38:59 Date: Nov. 23rd, 2019
by Dr. Susan Block.
With a drum roll of smacks on a Pilgrim's bottom, we ring in the sacred Week of Spanksgiving 2019 at the little Love Church of the Bonobo Way in the village of Bonoboville.
Season's Beatings, Brothers and Sisters, Lovers and Sinners, Puritans and Libertines!
As it's Thanksgiving, we also chow down.
This is a very oral show.
Though instead of the traditional turkey and indigestible corn, we lick funfetti frosting off perky nipples in an orgy of sugar, warm flesh and bold, flavorful ideas.
After all, what's a holiday feast without a little provocative conversation?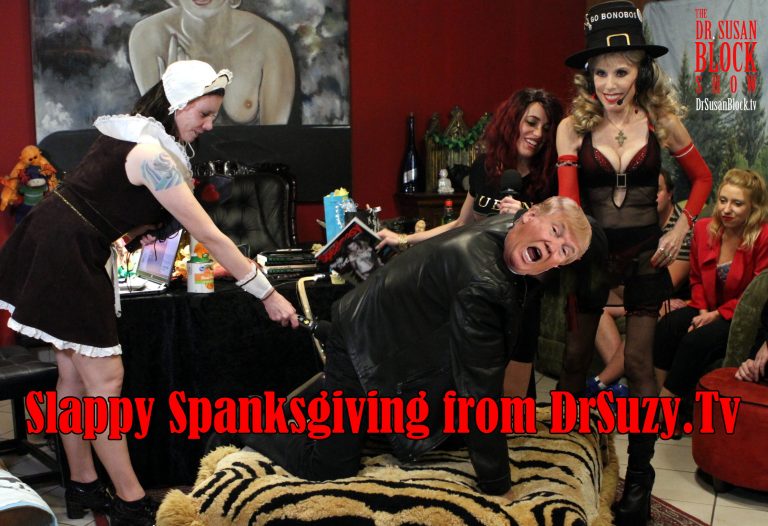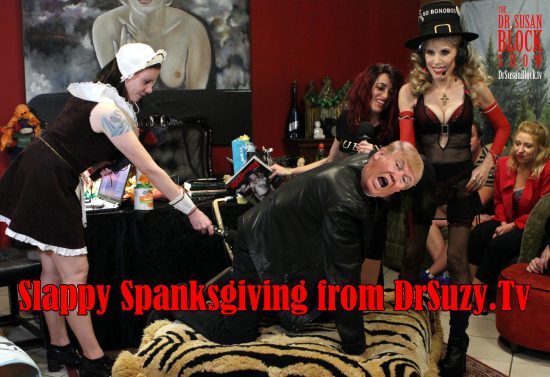 So it's also a very aural show, exploring juicy ideas about sex, religion, abortion, cinema, satire, the Supreme Court, the impeachable Presidunce and the Bonobo Way.
The FemDom & the Filmmakers
We are blessed with a fantastic array of guests, including the return to DrSuzy.Tv of the marvelous Madam Raven Rae, celebrating her birthday and defending her title as "Sexiest Domme" in the SUZY awards, with her new partner/switch/sub, the amiable Kit.
Also joining us for his virgin voyage on the Good Ship Bonoboville is Drew Dammron, the director and star of "Fetus Nation," a new short fantasy satire film that's making the rounds of film festivals, and Ella Glabicki, the actress who plays "the mother" in "Fetus Nation," along with Ella's boyfriend, Joey Povinelli.
Our very own Sunshine is also in "Fetus Nation," playing a dirt-encrusted hillbilly with a fetus fetish.
In keeping with our Spanksgiving theme on this show, Sunshine is dressed as a pilgrim.
Photo 1: Sunshine McWane. Photo 2: Slick Rick.  Photo 3: Bianca.  Photo 4: Stuart Becker
A very sexy pilgrim.
I personally do not go full pilgrim for this show. But I don a black pilgrim's hat with a buckle in the front.
Between the hat, the pilgrim-ish platform boots with stiletto heels and buckle-under-the-boobs black slip, I feel like a cross between a BDSM Mistress and a leprechaun.
It helps me to rise above my Climate Change-generated congestion and deliver my opening like William Branford of Plymouth Colony signing a soon-to-be-broken peace treaty with Massasoit of the Wampanoags.
And did I mention spanking?
Puritan Punishments
Yes indeed, Brothers and Sisters, Lovers and Sinners, on Thanksgiving, let us give thanks, and on Spanksgiving, let us give spanks. Let us spank away the hate, the greed and the fear that divide us, and let us practice the Bonobo Way of peace through pleasure… with a little spanking (consensual adults only, of course).  And let us spank our hands together across a nice warm willing bottom, singing "Oh God!" or "Goddess!" or "Bringing in the Sheaves" in rapture. And let us say Amen and Awomen. Praise be to the power and glory of spanking.
It's our duty to spank booty on Spanksgiving!
Don't spank helpless children. Do spank consenting adults.


Consent aside, it's much more likely that our Pilgrim ancestors practiced Spanksgiving than the mythical love-in with cordial Native Americans that we call Thanksgiving. Those Pilgrims and the Puritans who came after them were into Punishment with a capital P.
The pious Puritans relished punishing the Native Americans and each other.
They were especially keen on punishments for sexual sins, and they often punished each other in sadistic, sexually humiliating ways, like publicly flogging transgressors while they were shackled in stocks as passersby threw rotten fruit at them.
This was more than just a low point in American punitive history; it's the basis for the so-called "Puritanical" attitude that flows from those first settlers on Plymouth rock right up to the sexual hypocrites of modern Evangelism.
Trump Turkey & Nunes Cow
Speaking of punishment, it's been another long, punishing week of Impeachment Hearings, every witness proving that Trump was trying his Trumpiest to get a personal bribe, a little "baksheesh," a tip, a political favor, in exchange for the release of U.S. aid.
This is not the worst thing he's done by far. It's not even close to caging migrant children, Trump Crime Family nepotism and emoluments, signing SESTA/FOSTA, inciting violence from the craziest of his crazed cult of Trumpsters, denying Climate Change, making the 1% richer than rich with insane tax cuts, lying as often as he opens his big mackerel-like mouth.
This is why we keep our tRump Voodoo Doll under gag order with a dildo or, in the case of this show, an ear of corn.
So no, it's nowhere near the worst of tRump, but it's a microcosm of his malignant narcissism and venal criminality.
Moreover, it's impeachable. It's also, despite the tedium, occasionally quite comical, especially with tRump's sourpussed henchman Devin Nunes the Cow chewing the Republican cud getting caught with his udders out in Ukraine, spending $57,000 of taxpayers' money while trying to dig up dirt on the Bidens for the Trumpus.
It's a shitstorm—or a methane cow fart storm.
Between Nunes Cow and Trump Turkey, it'll give a caring citizen a heart attack.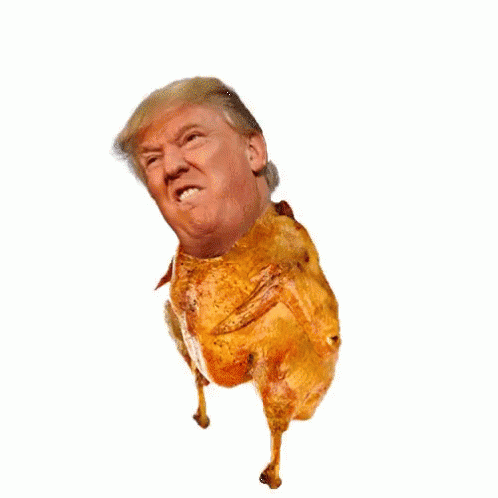 But there's hope in the hearings, as I say at the opening of this show. The problem is that most Trumpsters don't watch the hearings. They're too busy Keeping Up with the Kardashians and Wrestle Mania.


So we don't know where impeachment will go.
It's just seems like the right thing to do.
And that makes it something to celebrate!
So this "Spanksgiving Appetizer" does double-duty as our eighth great Impeachment Party.
It's another excuse to feed each other sweet peaches, dripping with hope.
Not that the Democrats are heroes; most are corporate shills and military fetishists allergic to socialism, sexual freedom or anything that actually helps regular people.
Nevertheless, it's great that they're finally holding a hearing into one of Trump's multiple crimes.


Though the Republicans aren't treating it like a hearing. They're not listening—nor are they actually hearing anything—except to game the witness. Indeed, the whole process is more like a football game (or a Gym Jordan wrestling match) than a "hearing," and they'll fight for their team to win even if its plays are criminal.
Yalies Storm Football to Protest Climate Change
Speaking of football, the boring old pre-Thanksgiving Yale/Harvard football game has suddenly become exciting—for this non-football fan anyway—as the day of this show, a coalition of Yale and Harvard students stormed the halftime field to protest Ivy League complicity in Climate Catastrophe.
In solidarity, I wear my Yale Bulldog thong on this show, proud of my alma mater's new social consciousness.
It must be lucky because Yale won the game!
Go Bulldogs! Go Bonobos for Climate Change ACTION.
Wonder if they'll get results and Yale will divest of fossil fuel assets.
It's an important issue for Election 2020; will we piss away these last few years that we could possibly destroy human life on Earth… or not?
America's Fetus Fetish
In the midst of impending Climate Catastrophe, while some are working to reduce our carbon footprint, others work to increase it with more babies, more consumers, more polluters, more war, more gas-guzzling activity and more restrictions on sexuality, especially female sexuality.
With states passing near-total bans on abortion and a conservative Supreme Court majority poised to ravage Roe v. Wade, reproductive rights are a major issue in the 2020 campaign.
 In Alabama, after a pregnant woman was shot in the stomach during an argument, she was charged with manslaughter of the fetus!
I'm an Anybody-But-Trump Gal (well, I better amend that to not Kanye or Joel Osteen either), but it would be nice to have someone fighting enthusiastically for women's sexual rights.
And that's exactly what Bernie Sanders is doing. "If there's ever a time in American history where the men of this country must stand with the women, this is the moment," he said at the debate. "And I get very tired of hearing the hypocrisy from conservatives who say, 'Get the government off our backs, we want small government.' Well, if you want to get the government out of the backs of the American people, then understand that it is women who control their own bodies, not politicians."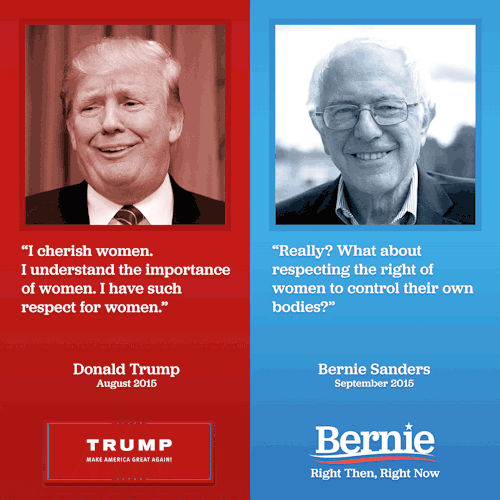 Which brings up the questions: Is it "life" that "pro-life" supporters really care about… or something else? They don't seem to care about children once they're born: starving children, abused children, caged children or dead children killed in mass shootings.
They care about fetuses!
They also care about their big guns, compensating for their small hands and tiny penises, in that ammosexual way.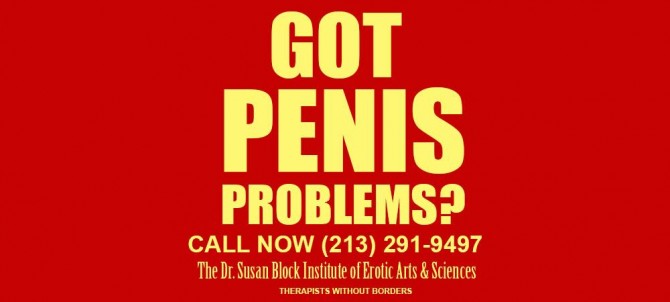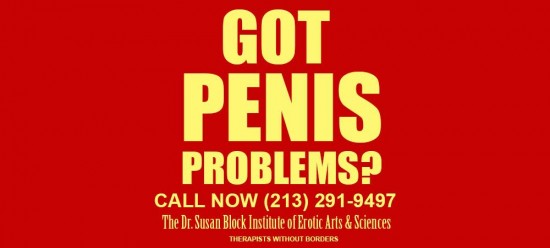 But do some of them have a "fetus fetish"?
Many are just cynical hypocritical opportunists, of course. Here's looking at you, Kanye and Joel. Jesus is King of the Tax Cuts.
But some Pro-Lifers—the wild-eyed faithful living on opioids, meth and Chick Fil-A bigot sandwiches— do appear to have a Fetus Fetish; that is, an erotic obsession with the unborn.  It's like they're so repressed when it comes to good old honest sex, that they get aroused by the fetus.
I'm not just talking about people who are turned on by pregnant or lactating women, though that's certainly a distinct genre of the "mommy" fetish.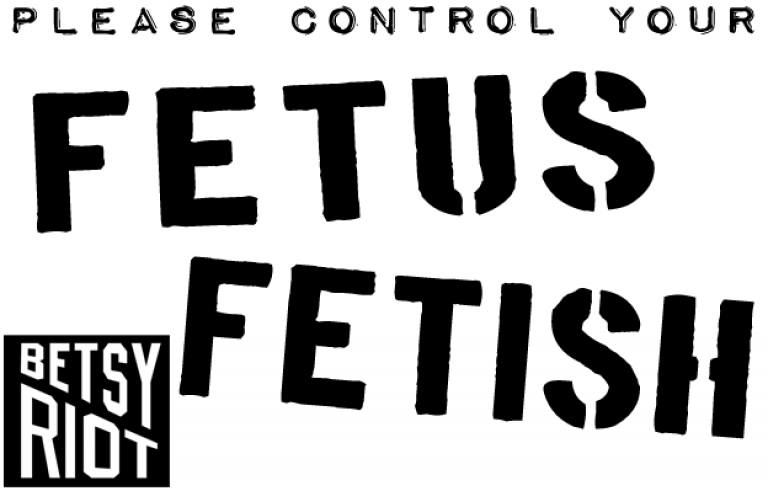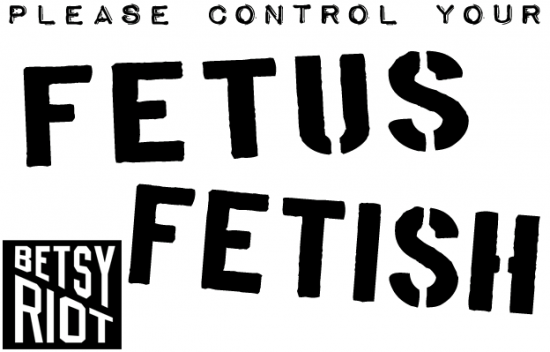 This is more of a Puritanical passion combined with intense erotic adoration of the unborn and a willful disregard of the pregnant woman as anything but a vessel for the sacred fetishized fetus.
"Fetus Nation," the Movie

It's a disturbing and fascinating subject which we explore on this show with the "Fetus Nation" filmmakers.
Drew got the idea to make "Fetus Nation" during the infamous Kavanaugh hearings.
Though Drew's personal politics are pro-choice, his highly stylized short film explores the complexities involved in getting an abortion, sending up stereotypes from both pro-choice and the pro-life points of view.
We play an excerpt that begins as our heroine, "The Mother," played by Ella Glabicki, is recovering from a late-term back alley abortion given to her by a goofy, greedy Groucho Marx-ish doctor, played by Edward Mehler, who leaves the overgrown "fetus" on the table before being whacked by a Bible-thumping Puritan.
We also see a tour de force performance by our own Sunshine McWane as a fetus-fetishizing hillbilly woman, marching around in a trance with other fetus cultists, singing "We love fetuses, we love fetuses, derp-de-derp-de-derp! Derp-de-derp-de-derp!" as she clutches the bloody plastic fetus prop with maternal ardor.
Considering the fact that "Fetus Nation" is currently not available for viewing anywhere and there is no trailer(!), this excerpt is the only chance you have to see a portion of the film; listen above or watch below.
Drew brings the fetus in-studio, and yes, it's kind of gross, but no, it's not a real fetus. It's a prop he picked it up at fetus adoption agency, that is, the aptly named fake body part outlet of Dapper Cadaver.
Sunshine gets that other-worldly look in her eyes as she cradles the dapper little fetus cadaver, with its long, ropey, umbilical cord, in her arms.
Photos 1-2: Slick Rick.  Photo 3: Selfie.  Photo 4: Bianca
To put things into some artistic, historic, perverse context, I show the cover of "Forbidden Photographs" by Charles Gatewood (Capt'n Max published the original first edition) featuring a striking black and white photograph of a real fetus sporting a "heart" tattooed by the notorious Spider Web, 1970s tattoo artist to the stars.
 After we show the excerpt, Ella talks about how much she enjoyed playing the Mother in "Fetus Nation," her first cinematic starring role.
Though it didn't change her already pro-choice politics, it did make her more aware of the emotional complexities and "second thoughts" that can be involved in getting an abortion.
Photos 1-2: Stu Becker. Photo 3: Selfie
Her boyfriend Joey says being in the film had the extra benefit of making her slightly more active in bed.
No doubt, acting is usually an aphrodisiac.


After a day of ardent emoting, the body, mind and soul are often primed for orgasmic release, something spouses and lovers would do well to take advantage of!
Ella likes being child-free at the moment, but acknowledges that she might change her mind in 10 years, when she's 35.
That idea strikes Madam Raven Rae as too old to start having kids.
Different women are ready for biological motherhood at different times, and some are never "ready" (thinking of myself right now); all the more reason they shouldn't be forced by the state to give birth to unwanted little consumer/polluters.


Both Drew and Ella grew up around Amish people in rural Pennsylvania. The Amish are so strict in most regards, and yet they let their children run around barefoot until they're ten or twelve, so in some ways, they're more free, organic and in touch with the Earth.
Drew not only wrote, directed and produced "Fetus Nation"; he co-stars as the "grown" fetus with a shaved head and a very bad attitude.
Even though we're pretty much all pro-choice (unless there's a pro-lifer lurking on set, not saying anything), we get into a lively discussion about abortion politics and Puritanism, especially appropriate to the Thanksgiving/Spanksgiving spirit.
Happy Birthday Madam Raven Rae!
We're also catching up with the stunning, striking, commanding and charming Madam Raven Rae, three-time Suzy Award winner for "Sexiest Domme," here to defend her title, and perhaps pick up another category.
Besides being a MILF and a world-class FemDom, Madam Raven Rae is also an artist, photographer, foot fetish queen, spanking mistress and leading DomCon FemDom.
AND she is featured in our new SPANK 'n' ART Speakeasy Journal in a scene from two Spanksgivings ago when we spanked and dildo-stuffed the Trump turkey.
She's been through a lot over the past year or so, between being evacuated from her home in the midst of raging fires of So Cal (for which she, along with thousands, is suing PG&E) and losing a lot of her possessions to smoke damage.
But she looks sexier than ever, as well as happy with her new friend/submissive/switch Kit whose shoulder serves as my boot rest while he rubs his Mistress' pretty French-pedicured feet.
It's her birthday, after all, but any day's a good day to spoil the "Queen of Everything."
Kit seems cool, and he's been a fan of the show since our HBO days, so we know he's got good taste.
We're all having so much fun with each other, we forget (again) to invite people to call, but a call comes in from our old friend, political activist and three-time SUZY award winner Chris Gagliardi who catches us up on his life, including a tragic death in his family, his progress at school and his anti-Trump political endeavors, including developing an online manifesto for his fellow travelers on the autism spectrum.
Chris is busy!
Photo 1: Slick Rick.  Photos 2-4: Bianca
As we're chatting with Chris, in walks Pilgrim Sunshine with Madam Raven Rae's birthday cake, the candles flickering festively on a collection of rainbow-sprinkled funfetti cupcakes.
"Funfetti" isn't just fun; it's Madam's favorite flavor.
Like a pro, Chris warbles "Happy Birthday" right over the phone in his very melodious baritone.
Then, with panache, Madam Raven Rae puts her luscious lips together and blows.
Happy Birthday Dear Madam, Happy Birthday to Yoooou!
Birthday Spanksgiving
But this is not *just* a birthday; it's almost Spanksgiving.
Both occasions are actually good opportunities to give spankings.
Of course, Madam RR will give *her* birthday spanking to someone else.
And who better to spank for Spanksgiving than a naughty Pilgrim?
First, Madam Raven Rae lifts Sunshine's voluminous faux Pilgrim skirt.
Then she plays butt-bongo on her bottom.
Sunshine's fellow "Fetish Nation" cast members look on with avid curiosity.
However, when I offer them the opportunity to spank or be spanked for Spanksgiving, they politely decline.  
Like most Pilgrims, they prefer to be voyeurs!
Though Kit volunteers to be spanked, and he likes it "hard."
Kit has a tougher ass than our sensitive Pilgrim Sunshine, plus he keeps his pants on.


Madam Raven Rae wallops him with a SPANK 'n' ART, then a riding crop and a paddle, but it's no more than a tickle to Kit.

Funfetti Frosted Nips
Then it's time for a different kind of licking.
Let them eat cake!
The Birthday Madam gets the first bite, of course… or first licks.
Photos 1-2: Slick Rick.  Photo 3: Bianca
Because this is Bonoboville, she eats her cake from Sunshine's nipples.
Both nipples. No skimping for our Madam.
Sunshine exclaims that Madam Raven Rae is the "best nipple licker" yet, and between other birthdays and Bonoboville Communion, she's had a few.
We might have to give our "Sexiest Domme" another SUZY award.
She certainly does a thorough job of licking up every funfetti rainbow sprinkle.
Then it's time to wind up the show, though we extend the Impeachment Party.
Photo 1: Slick Rick. Photo 2: Selfie.  Photo 3-4: Bianca.

After the live broadcast, the Birthday Queen opens her presents.
Being a true Domme, she especially appreciates a little "Revenge" game I give her.
From what I know she's been through this past year, it's seems the perfect gift.
Peaches all around!
Birthday Splosh
Then it's time for champagne and Capt'n Max's perfect pasta.
Everybody wants the recipe, though no one can make it like Max.
But what about birthday cake for me and Sunshine?
Photos 1, 4, 5: Harry Sapien.  Photo 2: Sunshine McWane.  Photo 3: Selfie
Upon hearing that the people are hungry, the benevolent Birthday Queen and Goddess of Spanksgiving luxuriously leans back on the tiger print sheepskin rug, thereby turning it from a punishment platform to an altar for worshiping her sacred flesh, with frosting.

Photos: Harry Sapien
Yum!
She stretches out her long, athletic, bare legs, hovering magisterially over her birthday cupcakes.
Photos: Harry Sapien
Then she graciously doffs her top to reveal her perky boobs.
Feeling like a pastry chef, I apply the famed funfetti frosting from the cupcakes to both delectable nipples.
Actually, I guess I'm more of a "Pasty Chef" than a Pastry Chef.


Then Sunshine and I each take a frosted breast of Madam, and we chow down like starved Pilgrims at the first Thanksgiving.
We do this in the most sensual, worshipful and—dare I say—thankful way.
Yum, Yum, Yum!
Sunshine is so inspired, she ties her Pilgrim bonnet around Madam Raven Rae's head.
Then Madam really is a human Thanksgiving.
It's certainly delicious foreplay for my private Spanksgiving with Capt'n Max.
That and the steroids (prescribed to combat the congestion, but also make me a little horny) make for great holiday conjugal relations.
Happy Thanksgiving Brothers and Sisters!
Don't overeat, and don't skimp on the orgasms.


See you on Spanksgiving and Impeachment Party #9 next Saturday.
© November 24, 2019. Susan Block, Ph.D., a.k.a. "Dr. Suzy," is a world renowned LA sex therapist, author of The Bonobo Way: The Evolution of Peace through Pleasure and horny housewife, occasionally seen on HBO and other channels. For speaking engagements, call 213-291-9497.