Sex and Death with Tera Patrick, Joslyn James and Girls and Corpses
Newsletter Of The Dr Susan Block Institute

This Saturday Night, August 6th on The Dr. Susan Block Show


| | | | | |
| --- | --- | --- | --- | --- |
| | | | | |
| | | | | |
| --- | --- | --- | --- | --- |
| | | | | |
This Saturday night's live broadcast of The Dr. Susan Block Show celebrates the publication of the new Girls and Corpses magazine featuring an interview with yours truly about sex, death and squirting.  Joining us in the "Womb Room" will be adult superstar/author Tera Patrick, adult superstar and Tiger Woods' ex-mistress Joslyn James (both Girls and Corpses cover girls) , Girls and Corpses "Deaditor-in-Chief" Robert "Corpsy" Rhine, iconic music producer Kim Fowley (who has willed his future cadaver to G&C and will showcase his new band Sinister Mass during the afterparty), "perverted elf vixen" and G&C corpsette Sasha Sweet, and erotic body-caster James Spinner.  This show will also be filmed for Swedish Kanal 5, where we will be featured in a 5-part miniseries on Sex in America.
Want to Join Our In-Studio Audience & Erotic Afterlife Party for "Sex & Death with Girls & Corpses" ?
RSVP Here or Call 213.670.0066
Feel Free to Call Anytime. Someone is Always Here for You
Doors Open @ 9:30pm ~ Live Show Starts @ 10:30pm ~ After-Party @ Midnite!
Can't Be Here In the Flesh?
Watch Us Live onDrSusanBlock.tv !

Click Here to Listen Free
Call In Live This Saturday Night: 1.866.289.7068
Talk to Dr. Suzy & Her Guests. Ask a Question, Make a Comment, Share a Fantasy, Talk about Sex & Death!
Want to Join Us In-Studio This Saturday? RSVP Here or Call 213.670.0066


Want to Go to the G&C Party In Style with the Bonobo Gang in
Dr. Suzy's Private Presidential Motor Coach (formerly Obama's)?

click here or call 213.670.0066

Get Ready for This Saturday's Show with Girls & Corpses First Appearance on DrSusanBlock.tv

Still Not Sure If You Should Join DrSusanBlock.TV ? READ THIS RAVE REVIEW



"DrSusanBlock.tv is the real deal…This is a crazy circus that you can get off to and learn from. Dr. Susan Block is one of the world's foremost experts on sexual health and she prefers to present her knowledge in a unique way that draws viewers and listeners in to make them a part of the action. This content will actually improve your sex life! I was blown away by the diversity offered. This is one of the best porn values that I have ever seen…Very nice!"
AND THIS ONE
"Dr Suzy has created a new level of awesome.. horny, sex educational, very entertaining!"
Proceeds go to help save the highly endangered "make love not war chimpanzees from extinction, supporting our "adopted" bonobos at Lola ya Bonobo and other bonobo conservation programs in Congo, and to promote the Bonobo Way of peace through pleasure around the world

Need to Talk…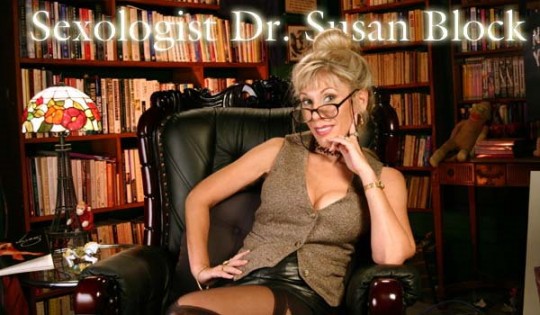 …About Something You Can't Talk About With Anyone Else?
You Can Talk To Us.
Call 213.291.9497


FOR RECORDED INFORMATION
Call 213.291.9497 for information
Need to Talk About Cheating?
Are you currently engaged in a secret sexual affair? Or maybe you're just curious, seriously considering extra-marital sex, trolling Ashley Madison and other married dating sites, but it hasn't happened…yet.  Then again, perhaps you'd never actually do it, but you can't help fantasizing about it.  Or is it the other way around: Do you think that your spouse is cheating on you?  Are you sure? How do you feel about it? Devastated? Jealous? Enraged?  Excited? Aroused? Confused? Need to talk about your feelings?  Need help figuring out what to do, if anything?
Call the Cheating Phone Sex Therapists of the Block Institute anytime 24/7 at 213.670.0066

HOT NEW BLOGGAMY!
A MIDSUMMER NIGHT'S WET DREAM
Squirting, Cum Drunk, Über Milfs

Enter the Enchanted Forest of female ejaculation with the Three Squirting Graces in this summer hot, soaking wet, slightly Shakespearean , sparkling, shooting…Read More
Fly Up to Dr. Suzy's Shopping Heaven!
Aphrodisiacs, Toys, Books, Erotic Art, 'Forbidden Panties,' and More!
| | | |
| --- | --- | --- |
| | | |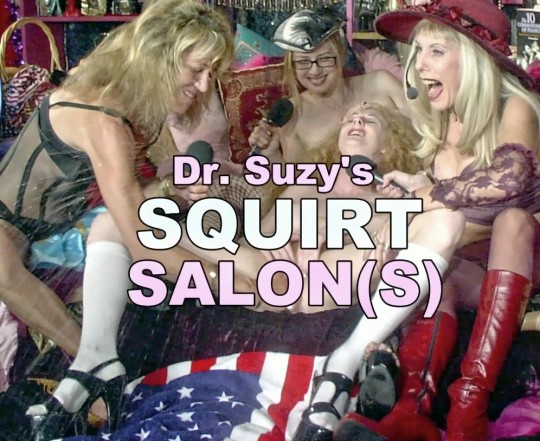 Activate those hard-to-reach places with our P-Spot/G-Spot Stimulator!
Thou shalt worship thy lover and read…
"I wouldn't be where I am today without reading your book. It should be required reading for girls in school." ~Deauxma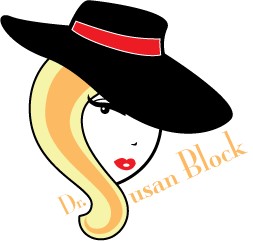 WANTED(Isn't it Nice to Be Wanted?)
Volunteer Photographers, Videographers and Phone Screeners Wanted for Our Exciting Saturday Night Shows. Be Part of the Magic on Saturday nights at Dr. Suzy's Speakeasy! Make a Difference! Click Here
All Aboard: Dr. Susan Block's Summer Yacht Party! Click Here
Want to Rent The Speakeasy for a film shoot, party or special event?Click Here
Invest in Eco-Sex Toys: Click Here
Be a Star! Wanted: Saturday Nite On-Camera Assistant. Click Here

Exciting Business Opportunity in the Telephone Sex Therapy field Minimum Investment: $15,000. Click Here
Call 213.670.0066 anytime for information about anything

Make Like Bonobos, Not Baboons!
Make Love, Not War.
Make Love to Someone You Love Tonight, Even If That Someone Is You.
I LOVE YOU
Peace through Pleasure
AMEN * AWOMEN
x S
DrSuzy