Marry the Heir to the British Throne or Manage a Castle in Downtown LA ?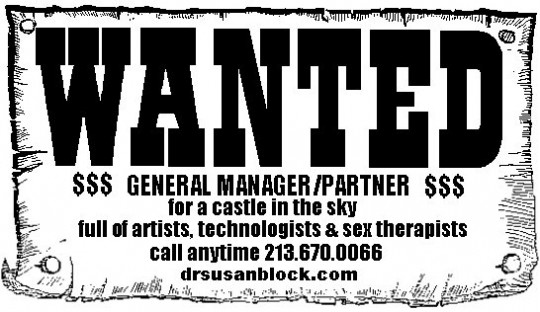 Do you give good phone? Are you fast-thinking? Flexible? Detail-oriented, organized, good with numbers and good with people? Charming? Relatively fearless?  Nonjudgmental?  Are you a "switch" on the job?  That is, can you give and take orders well?  Can you wear a thousand different hats without losing your head?  Do you like to work hard and make a difference in people's lives?  Do you like the idea of helping people deal with their sexuality?  Can you change course on a dime or a speck of dust?  Can you party hard or at least tolerate others doing so around you? Can you write? Can you really write?  Computer and Internet savvy?  Can you work WordPress, Photoshop or Twitter?  Are you politically incorrect? Do you have passion for life? Do you like combining business with pleasure?  Are you different than most? Are you looking for a long-term relationship? Are you willing and able to make a commitment?  Would you like another career? Are you ready for real change?  Are you ready to grow? Are you ready to move?  Are you ready to start now?
If all of your answers to the above questions are "yes!"  have we got a position for you!  If you're ready to assume the position of Live-In General Manager of  the Institute and Speakeasy's eclectic community of therapists, artists, sexologists and technologists in our 14,000 square foot penthouse castle in the balmy skies of Downtown LA, please answer our Craigslist ad NOW!  We also placed it on our own Classifieds section, so if the previous link gets flagged by CL, click here.
Speaking of castles…Despite snubbing Pr. Lobkowicz (Prince of Prague, Duke of Melnick) and me, as well as the Obamas and Julian Assange, by not inviting any of us to the royal wedding, I must confess I love Kate Middleton's taste in hats, which is the closest thing to a crown a chic princess can wear without looking like, well, the Queen of England.
The  see-through dress Kate wore that turned Pr. William Arthur Philip Louis Windsor's royal heart from chaste friendship to animal lust is also quite fetching; indeed, this skimpy piece of cloth fetched £65,000 on the auction block.  The new fashion princess who became a real princess has a standing invitation to appear on my show if and when Wills acts out the 21st century equivalent of imagining himself to be a tampon in his mistress' royal chamber (No,  Pr. Charles, you'll never live that down).
But enough wind in the Windsors! If you've read this far, you obviously need a life.  And if you fit the bill above, we'd love to meet you.  So answer the ad already, stop living vicariously through people you don't know and start living the dream.