A Very Necro Easter Eve: Girls & Corpses, Jesus & Bacchus, Sex & Death
On the Eve of Easter Sunday, when Jesus Christ is said to have "risen" from the dead, The Dr. Susan Block Show will examine the eroticism and comedy of life's rather close relationship with death on A Very Necro Easter Eve featuring the sexy ladies and creepy cadavers of the fabulous and freaky Girls and Corpses.
Joining me in the Womb Room broadcast studio will be  Girls and Corpses "Deaditor-in-Chief" Robert "Corpsy" Rhine, along with a bevy of Corpsettes–including Chastity Lynn (in her Second Coming on RadioSUZY1), Sasha Sweet and Sarah Peachez–teasing us with promises of bringing their macabre cadaver companions, a clear body/makeout bag and other necrophiliac oddities. Also in attendance at this Live-Nude-Girls-meets-Dead-Zombie-Messiah show will be artistic bondage gear maker Sex & Metal (in their second appearance on the show). This potentially heart-stopping show will air live this Saturday night, April 23, 2011, 10:30pm-Midnight PST.  And I must say I'm looking forward to enjoying our own Commedia Erotica resurrection this Easter Even with our posthumously notorious guests.   RSVP here to join us in-studio, or call 213.670.0066 anytime 24/7 for more information.
On Easter, Jesus is said to have ascended to heaven with a brief stopover among the living on earth where he was passionately greeted by Mary Magdalene; we don't know if she was Christ's wife, but she was undoubtedly the First Easter Bunny, and you might say she was a Biblical "Corpsette."
Jesus is not the only God to rise up from the dead in spring (and neither are the Corpsettes).  According to Greek mythology, spring is when the hauntingly beautiful Goddess Persephone (Proserpina to the Romans) rises up from the bowels of hell, where her bad boy husband Hades (Pluto) keeps her all winter long. As the flowers bloom, Persephone comes through Eleusis to rejoin her Mother Demeter (Ceres), fair-haired fertility Goddess of the Earth, who is so ecstatic to embrace the fruit of Her loins that She showers the world in spring! And everybody gets Spring Fever.   Or, as we often refer to it during our Spring Bacchanals: Primavera Erotica. Spring is mating time, dating time, time to fly with the birds and the bees through the flowers and the trees, all buzzing and chirping and blooming and dripping with fecundity and opportunity.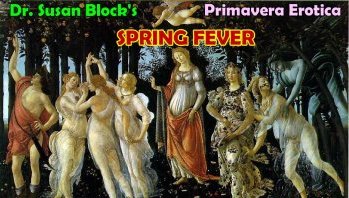 In spring, all religions of the world celebrate some sort of vital faith-affirming holiday of resurrection, renewal and return from death, both complementing and contradicting the season's natural blooming eroticism, just like a Corpsette embracing a corpse. Though the forces of sex and God (at least, the monotheistic Gods) are usually quite at odds, sexuality and spirituality are, in many ways, opposite sides of the same Easter Egg. The mystical experience and the erotic experience are the most intense in human life; both connect desire with awe, love, anguish, ecstasy, terror, pain and extreme logic-defying pleasure.
At their most sublime, both religious and sexual feelings are intense passions beyond reason. The word "passion" comes from the Latin "passio" which means "to suffer." We suffer for love as we suffer for God. Religious mystics love God with a passion that can be feverishly erotic, and to whom do most lovers call out in the throes of the "little death"? God, baby, God, baby, God….
But which God are we really calling? Are we calling for the God of Abraham, Isaac and Jacob when we come like that? Are we calling for Jesus? Allah? Eros? Perhaps we are calling for Bacchus….
And so we come to Bacchus (Dionysus to the Greeks), another powerful charismatic God of spring. In fact, the Dionysia of ancient Greece, when Aeschylus, Sophocles and Euripedes would present their tragedies and Aristophanes mounted his comedies, began every spring on the 24th of March which just happens to be Easter Sunday this year. These were the public Dionysia. But there were also unofficial Dionysian festivals, orgies and terrifying, ecstatic rituals, that Euripedes wrote about in The Bacchae, which is said to have left a corpse or two (usually animals, though sometimes human) in the remains of the after-party.
As the Lord of Spring, Bacchus/Dionysus is also the God of fertility, wine, and ecstasy, and his festivals and cults were extremely popular throughout much of the ancient world. A complex deity, Dionysus played at least two different roles in Greek mythology and culture. As a god of fertility, he was closely linked with crops and the changing of the seasons. As the god of wine and ecstasy, he was the lord of orgies and revolution, associated with wildness, intoxication and unrestrained sexuality.
Like another God of spring, Bacchus/Dionysus has a divine Father, Jupiter or Zeus, King of the Gods, and a mortal "virgin" mother Semele. Zeus' fiercely jealous wife Hera disguises Herself in human form, then befriends and convinces Semele to ask her Lover-God to reveal Himself in all His glory to her. Zeus begs Semele not to ask for this, but she insists, and He reveals Himself in a glorious lightning bolt that incinerates poor Semele who is pregnant with Dionysus.  Just before the divine fetus is incinerated along with His hapless mom, Zeus snatches Him up. Squeamish translations say Zeus sews little Dionysus into His "thigh," though the original Greek says says He inserts the fetus into His own royal balls. Thus, Dionysus is reborn through His Heavenly Father's testicles as a testament to His divinity. Furious, Hera convinces the Titans to tear the child limb from limb. Zeus manages to shoo the Titans away with thunderbolts, but not before they have torn Dionysus to pieces and eaten all the yummy bits, except His heart. Dionysus' divine heart is all His Father needs to recreate the Son who is, miracle of miracles, "born again" in the spring.
Beyond the resurrection theme, there are many intriguing ways in which Dionysus/Bacchus eerily foreshadows Jesus Christ:
Both Gods are great liberators of the common people.
Both Gods miraculously heal the sick.
Both Gods have human "virgin" mothers and divine heavenly Fathers.
Both Gods are intimately connected with wine.
Both Gods are androgynous, with many feminine characteristics, such as long hair and peaceful loving natures, but both are stronger than any man, and flare with potent anger when crossed.
Both Gods have many passionate, prominent female followers and treat women as equals (unusual for their times).
Both Gods live among humans on earth as well as in heaven or Mount Olympus.
Both Gods are Gods of The People, not the Elites who are threatened by and opposed to Their Holy Egalitarianism.
Both Gods preach that the Kingdom of Heaven is within you.
Both Gods seduce you, saying that "Heavenly ecstasy is yours to enjoy if only you follow Me."
Both Gods are revolutionaries, overturning the status quo.
Both Gods were especially adorable babies.
Both Gods die terrible bloody deaths, suffering for the sake of humanity, and both are reborn in Spring.
Both Gods have, in a sense, their "flesh and blood" eaten and drunk by others.
Both Gods are extremely sexy and charismatic.
And that's just the beginning. So, if Bacchus/Dionysus is so much like Jesus, why not have a Christian Bacchanal? Why not indeed. Why is the idea so utterly ludicrous to our ears? Well, there are many reasons, but essentially we don't hold Christian Bacchanals because the Christian Church managed to succeed with the elite classes on a massive scale like the Temples of Bacchus and the Festivals of Dionysus never did. The Church became the Elites, as Barbara Ehrenreich so astutely points out in her book "Dancing in the Streets: A History of Collective Joy," and the passionate ecstatic essence of Dionysus/Bacchus/Jesus was repressed, oppressed and then, for the most part, lost. This is why so many of us need to reach beyond the Church, back to Bacchus and Dionysus to find the ecstatic essence that may have once been the power of Jesus before His divine whitewashing by the Church. Besides, it's a good excuse for a jammin' Easter Eve Show and after-party!
Of course, even the old, loving, somewhat sensuous Jesus of the Gospels wasn't as kinky as Dionysus, a wild and crazy pansexualist of a God, if ever there was one. Maybe it had to do with His upbringing. After His second rebirth, Father Zeus gave the baby Dionysus over to Hermes who proceeded to crossdress the child, raising Him as a girl to confuse Hera's murderous eyes. Thus, Dionysus became an androgynous God, attracted and attractive to both men and women.
Consider the raunchy though touching tale of Prosymnus, a shepherd living near the reputedly bottomless Alcyonian Lake. When Dionysus went to Hades to rescue His mother Semele from death, Prosymnus guided him to the entrance by rowing him to the middle of the lake. Prosymnus demanded and was granted a reward for this service: the right to make love to Dionysus. However, when Dionysus returned to earth by a different route, He found that Prosymnus had meanwhile died. Dionysus kept his promise by carving a piece of fig wood into the shape of a phallus (i.e., a dildo) and inserting it into his anus, ritually penetrating himself, while seated on the tomb of Prosymnus. This was given as an explanation for the presence of a fig-wood phallus among the secret objects revealed in the course of the mysteries of Dionysus. Undoubtedly, one of the mysteries revealed to initiates is the revolutionary ecstasy of a man finding his P-spot. Since Pan was a frequent consort of Dionysus, you could call it his "Pan Spot."
Both Pan/Faunus and Dionysus/Bacchus are often depicted with horns on their heads; could this be the origin of the term "horny"? Pan, Lord of the Satyrs, is usually shown as a half man/half goat hybrid. Clever Medieval Christian PR guys working diligently to further their cause of controlling the horny populace, took that once joyous one-with-nature image and turned it into Satan, the Christian Devil. Perhaps this Easter weekend, we should take it back.
And rise up from the dead with some cute Corpsettes!  Tune in live this Saturday night….