KEGEL KARATE: How One Woman Learned to Destroy Her Molester with the Power of Her Own Pleasure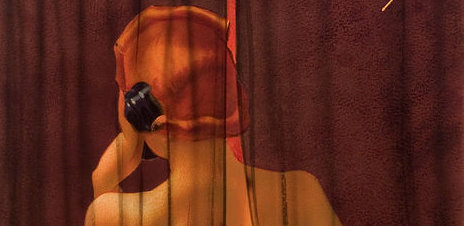 Natalie called me in tears. She was frustrated, drained and demoralized. Try as she might, whether she masturbated or made love, she couldn't have an orgasm. She'd get close, but whenever she felt her erotic tension edging toward blissful release, an awful face appeared like a demonic planet rising over the horizon of her soul, paralyzing her body and brain. It was a face she knew well—the smiling, sinister face of her molester.
This wasn't my first session with Natalie. A year had passed since we'd last talked. The first time she called me, she was a 34-year-old school psychologist who loved her work, family and friends. But Natalie kept her sex life tucked away in a drawer never to be opened. The problem, as I saw it, was that the drawer was now caving in from the strain of what it held inside, causing the whole credenza of her life to collapse.
Not only had Natalie never had an orgasm, but she hadn't touched herself or anyone else in 14 years. What she lacked in sexual fulfillment, she filled in—literally—with comfort food. At 5'7", she tipped the scale at 250 pounds. When I asked her what was holding her back in bed and pushing her into the refrigerator, she assured me that she hadn't always been obese, quite the contrary. When she was a young girl, between 8-12 years old, she was stringbean-skinny, a promising gymnast. Then her body changed, and so did her life.
"Gymnastics can be very intense," I reaffirmed. Then the story of Natalie's coach tumbled out of her drawer. He was her guru, a close friend of the family, a member of her church, her trusted mentor—and her molester. He betrayed her trust by seducing her with promises of Olympic glory, molding her young body both for the balance beam and his own selfish erotic desires. At first, she loved him, and then she hated him. Now all these years later, she couldn't get him out of her mind.
At least, she did get him out of her life. Actually, he moved to another state and they lost contact by the time she was 13. She grew out of gymnastics both mentally and physically. She went into therapy and managed to engage in sexual encounters with a few guys her age when she was 17-20, though she never experienced orgasm. Frustrated and fed up with sex, she focused on her education and achieved her dream of becoming a school psychologist, helping high schoolers communicate about issues that she herself kept hidden in that locked-up emotional drawer. She compensated for the lack of carnal pleasure in her life by overeating, devouring all the delicious junk that had been on her coach's forbidden list.
But Natalie didn't need a reminder from me to lose weight. Not at that moment anyway. What Natalie needed was to come. 
No doubt, she needed a lot of help in other related areas, but learning to experience the sweet release of orgasm would go a long way toward relaxing her stress and boosting her sexual self-esteem. Orgasm was something I figured I could teach her relatively quickly through masturbation—the easiest most direct route to most women's first orgasm. Natalie let me know right off the bat that she didn't like touching herself; her devout Christian parents labeled masturbation "voodoo." But she agreed to try it with me on the phone, grateful that I didn't demand that she come into my office or require her to do it as "homework," i.e., completely on her own.
When she confided she felt pretty dry "down there," I suggested she get some lubricant. All she could find was a jar of face cream. I told her to keep it handy as she turned the lights down low and settled into bed with the phone receiver crooked awkwardly between her neck and left shoulder. I said (maybe a little testily) that she should get herself a telephone headset and better lube (extra virgin coconut oil being my favorite), if we were ever going to do this again. Then I took Natalie through a standard deep-breathing exercise, instructing her to inhale through her nose as she imagined filling up her pelvis like a pitcher and exhale through her mouth as she pretended to empty her pelvis/pitcher. Around the fifth breath, I told her to touch herself, letting her hands glide all over her body, eventually focusing on her genitals, lubing up with a little face cream for the tender parts. She responded especially well to the Kegel muscle exercise, as I taught her how to squeeze and release these internal muscles (aka the PC or pubococcygeus muscles that contract and let go during orgasm). She breathed in and out in dutiful rhythm to my voice, caressing her clitoris and labia as I instructed. Actually, I don't know if she did exactly as I instructed since I wasn't watching her. But I could hear her breathing turned into sighing and moaning, so I knew she was learning her lesson well. Natalie was a good student in and out of the classroom, after all. But just as it is with many women, no one had ever taught Natalie to give herself pleasure.
I didn't even delve into fantasy, preferring to stay with the reality of her body, which she had taken to ignoring or sedating with heavy food. The more focused the physical activity I suggested—pinching her clitoral hood, tugging on her labia, crooking her two fingers into a "come hither" gesture against her G-spot, twisting her nipples—the more deeply I heard her breathe into pleasure, relaxing her defenses and waking up her senses. Within a few minutes, she was sighing and crying out with the erotic eureka of her first orgasm. What a glorious moment for both of us.
When she called me back a week later, Natalie sounded like a new woman. She couldn't believe all the fun she'd been missing all these years. I asked her how her self-pleasure sessions were going, and she snorted that she hadn't masturbated since last we spoke. But she was doing yoga again, eating more sensibly, wearing make-up, shopping for lingerie and feeling much better about herself. She was also flirting with men at the coffee shop, the gas station and in the office. And she'd already had someone send her flowers! Was she moving too fast? Making up for lost time? Maybe so, but she was ecstatic, and though I cautioned her to take it slow, I couldn't and wouldn't rain on this parade of lust unfurling from her first orgasm. The long-locked drawers of her sexuality were finally opening up.
Despite our mutual euphoria, we managed to lay out a diet, exercise and erotic exploration plan during this second session. I included regular masturbation in the plan; after all, hadn't it given her the great gift of her first orgasm? But Natalie laughed derisively at the idea. After these 14 lonely years of self-imposed abstinence, she wanted a man. Did she agree with her parents that self-pleasure was "voodoo"? Of course not. She just wasn't "comfortable" with it. She promised she would try, but she seemed to be placating me.
Then Natalie missed her next scheduled session. A year passed. And now here she was, in tears, on my phone. She sniffed that she'd been swamped since last we spoke. Work was busier than ever, and she had just received an excellence award from the school district. Sex was also keeping her busy; she'd been erotically involved with several men over the past year, none of whom were "relationship material." One of her lovers was her married supervisor at the high school where she was a psychologist. She felt embarrassed about her promiscuity, particularly the affair with her boss which she had initiated.
I agreed Natalie might not have made the wisest choices, especially if a serious monogamous relationship was truly her goal. But I also assured her there was nothing wrong with not wanting a relationship or exploring sex with different people, though the boss was a dangerous selection. We talked about the philosopher Georges Bataille's belief in the treacherous allure of transgressive sex, and how she was playing with fire. But, to her credit, at least she was out there playing, instead of staying home alone, burying herself in an early grave of mac and cheese.  She agreed and informed me, sheepish pride shining through her tears, that she had lost 55 pounds! Apparently, Natalie had either followed our diet or all the illicit sex and intrigue was keeping her out of the fridge. Despite her obvious problems regarding her choice of lovers, I was proud of Natalie.
However, she wasn't having orgasms with any of her lovers. And Natalie refused to masturbate; at least, she wouldn't do it on her own. That's why she was calling me, she explained. Always the bright student, she added that she had purchased a headset and a jar of coconut oil. "Extra-virgin," she teased in a sultry voice. She acknowledged that self-pleasure had been the key to that first orgasm she'd experienced over the phone with me the year before. But when she tried it herself, it made her feel "weird." She'd gotten farther with her lovers, especially her darling boss with whom she made love whenever they could find the opportunity. Sometimes, during sex, she'd feel every pore in her body opening up to him, putting her on the verge of an orgasm even bigger than the one she'd had with me over the phone. Then that awful face would appear like a projection on the white wall of her mind.
So she'd stop. That is, she'd either find a way to curtail the sex or she'd let herself go numb as her lover "finished."
When I asked Natalie how her relationship with her boss resembled what she had with her former gymnastics coach, she replied, "They're totally different." While her coach had been short, aggressive, confident and always initiated their sexual encounters, her boss was tall, shy, self-effacing and never approached her, though he didn't rebuff her advances. When I clarified that I didn't mean their looks or personality, but her relationships with them, the old school bell clanged in her head. With both men, she had two parallel connections: a public, socially-sanctioned, mentoring relationship and a secret, extremely illicit, sexual affair. And with both, she experienced the same intoxicating feeling of being "utterly vulnerable, yet taken care of."
The big difference was that, now, Natalie was a consenting adult having sex with other consenting adults, instead of a helpless minor. But once again, she was engaging in risky behavior that made her feel ashamed. And once again, she couldn't come. Yet now she could clearly see that the enemy of her orgasm had a face, the face of her molester.
 "I don't want to look at him!" Natalie wailed. Of course, she didn't. Who would? Yet unwanted thoughts and images often stick in our minds, and the more we wish them away, the stickier they get.
Every situation and individual is different, but often, the healthiest thing to do with these undesirable feelings and sticky, transgressive fantasies is to accept them. In other words, if you can see them for what they are—scary, kinky, disturbing but arousing movies playing in the Erotic Theater of the Mind—then you can explore them, analyze them, role-play them and be grateful they're not real. Then maybe you can get on with the business of living life and enjoying sex.
But I couldn't ask Natalie to simply accept this creep's presence in the erotic theater of her mind. It was bad enough that he had molested her body as a young girl. I couldn't just let the guy kidnap her brain as an adult. I couldn't let him steal her orgasm. On the other hand, this wasn't my brain, it was hers, and it didn't look like she was going to be able to have another orgasm without him in it. She had to accept his presence in the erotic theater of her mind. But it was her theater. So what could she do with him?
"I want to break his face!" I heard her cry.
"Actually, that's not a bad idea," I found myself agreeing. Then I quickly considered how she might go about doing just that in a way that released her anger as it aided her orgasm. It was a good thing she'd gotten the headset because breaking this dude's face would definitely take two hands.
But before I let her leap into the fantasy boxing ring with The Face, I figured we should stack the odds in her favor with some moral support. I asked her to describe the man of her dreams. Tears dissolving, she started chattering like one of the schoolgirls she counsels. "He should be well-groomed, professional, about 6'2", slim, dressed up in a tie, nice jeans, cowboy boots, with wavy brown hair, brown eyes, a great smile and a moustache—more young Tom Selleck than Sacha Baron Cohen."  Wow, I sure didn't have to ask her to get specific. Dream Guy—who we took to calling Tom—was decidedly different from both the old coach (blonde, blue-eyed and short) and the new boss (bald, grey-eyed and badly dressed), neither of whom sported moustaches.
With our Commedia Erotica characters cast, we were ready to turn the lights down low and enter her erotic theater. "It's voodoo time," I teased. Natalie giggled and agreed a little voodoo might be just what the witchdoctor ordered.
Though she claimed she hadn't masturbated since our last session, she remembered how to do her Kegels. "I guess it's like riding a bicycle," she observed slyly. And she'd improved her deep-breathing through practicing yoga. I told her to lie flat and tense her extremities—hands, feet, arms, legs, chest, buttocks and belly—as she inhaled, relaxing on the exhale. This exercise helps most people unwind and get into the sensuous mood, and Natalie was no exception. But how far could she go?
"Tell me as soon as you see it," I said just before starting her on her Kegels. I heard her sighing sweetly as she squeezed and released her most intimate muscles, dipping her digits in the coconut oil, drizzling it on her aching genitals and gently rubbing it in, letting her fingers do the walking while I did the talking. Then suddenly she was crying, "He's there! Oh my God, there he is!"
"All right," I said. "Now you break his face, just like you want to do."
"Huh?" She was understandably perplexed. "How?"
I wasn't exactly sure how to answer that question, but went with my instincts and her talent. "Take a deep breath and squeeze your PC muscles right around his face until you feel it shatter…"
"Um…Really?"
I didn't blame her for thinking I was nuts, but sometimes that's what it takes. "Yes, really. I want you to see his face. Do you see it?"
"Yes…ohh…"
"Now crunch your Kegels, break his face into a million pieces…"
"O…K…"
"And release. Really release."
"Mmmm…."
"Now it's Tom's face you see. Look into his big brown eyes. Feel his lips on your lips, his soft sexy moustache, his fresh breath, his hot tongue…"
I heard Natalie giggle and sigh, and I giggled and sighed along with her, telling her to relax her PCs but keep touching her clit, rubbing it into a circle of sweet pleasure. After a few deep breathes, she was crying again, "Oh no, he's back!"
 "Ok, that's ok, we knew he'd be back. You can't knock him out with one punch—or crunch. So get back in there, breathe deep and contract that Kegel! Break his face!"
"Ooooh!"
I felt like a martial arts instructor in "Kegel Karate," a kinky new sitcom. And it might sound silly, especially to Tom Selleck detractors, but for Natalie, it really worked. She squeezed and released and squeezed some more and broke her molester's face into a gigantic, drawer-shattering orgasm.
In the afterglow, we agreed she needed to practice more of that voodoo masturbation, wind down the boss affair and find herself a Tom of her own. Only time will tell what will happen on all those fronts or what else will come out of her drawers. But one thing we know right now: Natalie has a weapon to fight back and break the face of her oppressor. And it feels good to use it! In fact, it feels downright orgasmic.
---
Explore DrSusanBlock.com
Need to talk? Sext? Webcam? Do it here. Have you watched the show? No? Feel the sex. Don't miss the Forbidden Photographs—Hot Stuff, look at them closely here. Join our private social media Society. Join us live in studio 😊. Go shopping. Gift shop or The Market Place. DrSusanBlock.tv, real sex TV at your toe tips. Sex Clips Anyone? FASHION, we have fashion! We also have politics. Politics? Have you Read the book? No? How about the Speakeasy Journal? Click here. Ok, how about some free sex advice?
---
---