I'm Dreaming of a Wet Christmas…
This just in from female ejaculation expert and editor of Squirting Truth, Rebecca M. Ellis:
"'Dr. Susan Block's Squirt Salon' is excellent. I had heard it was, and I wasn't disappointed. I am terrified of snakes, so it took me a while to get past that little critter :) Otherwise, just Dr. Block's knowledge of this topic amazed me. I was very impressed. Snake or no snake, Dr. Susan Block is a phenomenal woman."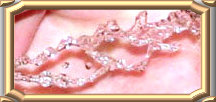 Feeling just phenomenal, we have added Ms. Ellis' review to the other raves already posted on the Squirt Salon page. If you're Dreaming of a Wet Christmas, order it now before the XXXmas rush. And don't worry, you don't need a snake to squirt. Though a good G-spot stimulator helps. If you've already got the DVD, you might want to browse through some of the exquisite hot spot-stimulating (good for the G or the P-spot) stocking stuffers on our Holiday Gift Page, or surprise your proud (male or female) ejaculating lover with a "Squirt for Peace" T-Shirt.
Think this is all wet? The female ejaculation phenomenon is flooding the world, gushing through the dikes of repression, and soaking a sheet near you. To read up on the subject, go to our Squirting Index.
---
Explore DrSusanBlock.com
Need to talk? Sext? Webcam? Do it here. Have you watched the show? No? Feel the sex. Don't miss the Forbidden Photographs—Hot Stuff, look at them closely here. Join our private social media Society. Join us live in studio 😊. Go shopping. Gift shop or The Market Place. DrSusanBlock.tv, real sex TV at your toe tips. Sex Clips Anyone? FASHION, we have fashion! We also have politics. Politics? Have you Read the book? No? How about the Speakeasy Journal? Click here. Ok, how about some free sex advice?
---
---