BEDSIDE CHAT 5 with HYAPATIA LEE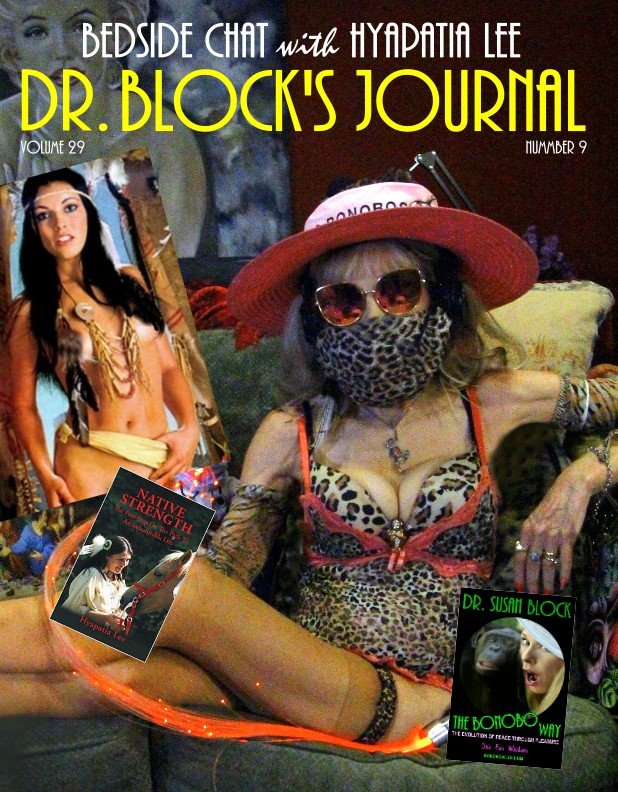 Length 1:28:17 Date: Apr. 25, 2020
by Dr. Susan Block.
My 5th Bedside Chat of the Coronapocalypse features one of adult film history's greatest stars, now a Native Cherokee healer, the amazing Hyapatia Lee.
Inspired by FDR's Fireside Chats of the Great Depression, these Bedside Chats aim to "comfort the afflicted and afflict the comfortable" (with a hat tip to Finley Peter Dunne) in another time of tremendous turmoil in America.
Everyone in Bonoboville is rocking a mask; some have on two masks.
Getting in touch with my feline animal nature, I wear a cheetah-print, homemade, bandana mask to match my lingerie.
Sunshine McWane, Capt'n Max and most of the crew go with classical surgical style masks, though there are a couple of homemade beauties.
We are Creatures of the Mask.
It's almost to the point where showing the mouth and nose in public are as taboo as the cock and balls.
Well, not quite… not yet.
Photos 1 & 3: Selfies.  Photos 2, 4, 5, 6, 7: Harry Sapien
Meanwhile, the death count rises higher per capita in America than any other country. The Trumpus finally found something he could "Be Best" at. Is this his 50th birthday present for Melania?
The Coronavirus is bad enough. Exacerbated by the Trump Virus, it could kill us all.

"How about Lysol Jell-O Shots provided free in your Vegas hotel room minibar?"

Jim Jones told people to drink poisoned Kool-Aid. Now the Trumpus tells people to inject Clorox into their lungs.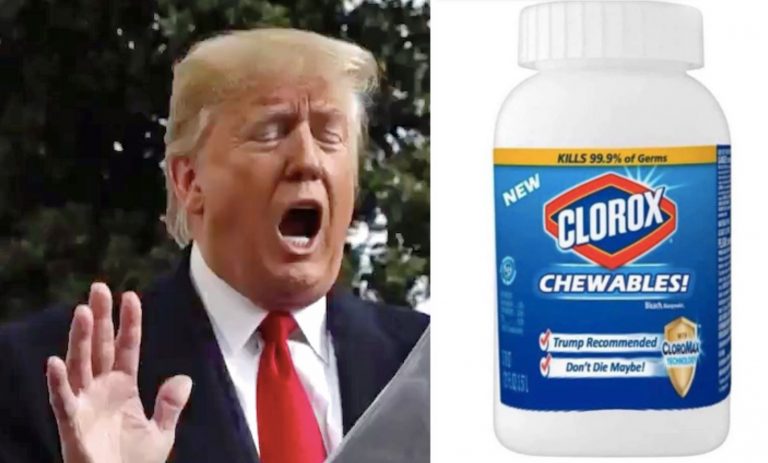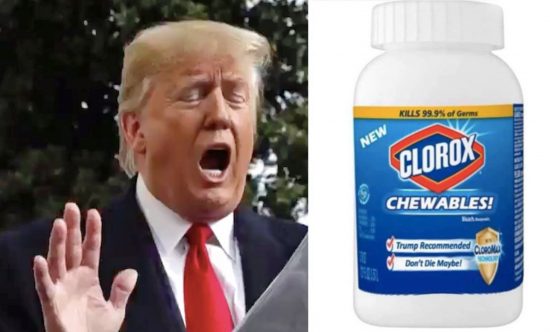 When the experts quickly extinguish his *idea* like a dumpster fire, and everyone else mocks him, he says he was using "sarcasm."
Sure Donny. You meant to sell us on Clorox Chewables in mint and fruit flavors. Maybe shove a Mr. Clean up your ass? Or Draino down your throat? "Try it. What do you have to lose?" croons the death-dealing Carnival Barker-in-Chief.
How about Lysol Jell-O Shots provided free in your Vegas hotel room minibar courtesy of loony Las Vegas Mayor Carolyn Goodman opening up Sin City to all sinners, comers and dumb-and-dumbers?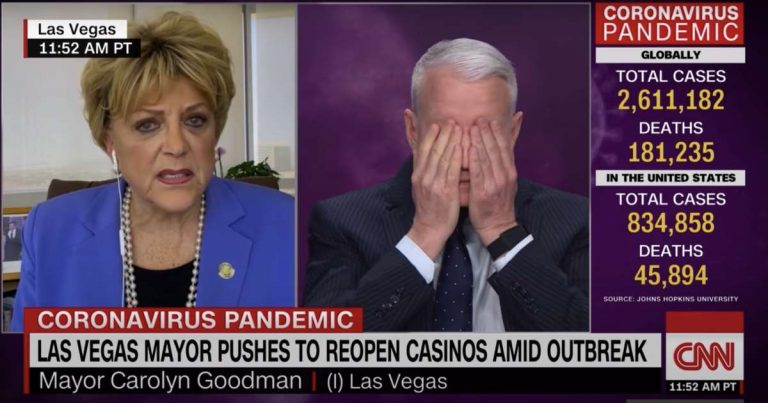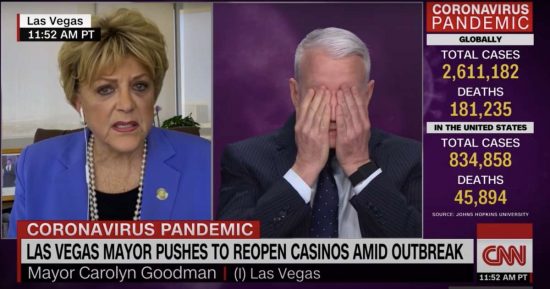 Though she personally will not be on the casino floor welcoming the brave gamblers she's inviting to play an exciting game of Russian roulette, explaining "I have a family" (as if nobody else does) to Anderson Cooper, whose face hits the palm on that one.
Is America opening up or dying down? An edgy dread is in the air, mixed with bits of hope, punctuated by real people actually dying… sometimes people we know.
They say, "Everything that happens in Vegas stays in Vegas," but I don't think Corona got the memo.
Hyapatia Lee, Cherokee Blessed Woman
Seems like a good time to give our brains a break that's also an enlightening life lesson.
Seems like a great time to have a Bedside Chat with a very special woman, a shining star in several different fields, a survivor, a thriver, an entertainer and an inspiration.
Hyapatia Lee is a Native American spiritual guide, three-quarters Cherokee and honored with the title, "Cherokee Blessed Woman."
For decades, she studied with medicine men and women around the world, serving as the Blessed Woman for the Lost River Band of the Cherokees where she conducted healing ceremonies, sweat lodges, taught the Cherokee language and her Native Strength alternative to contemporary mental health care.
A prolific author, she's also written a series of Native Strength books, including The First Step on the Path to an Indomitable Life.
Hyapatia Lee, Porn Legend
But you might know Hyapatia Lee from a different side of her multi-faceted life, and that would be her iconic career as one of the most popular, beautiful and creative adult stars ever to grace a cinematic bed.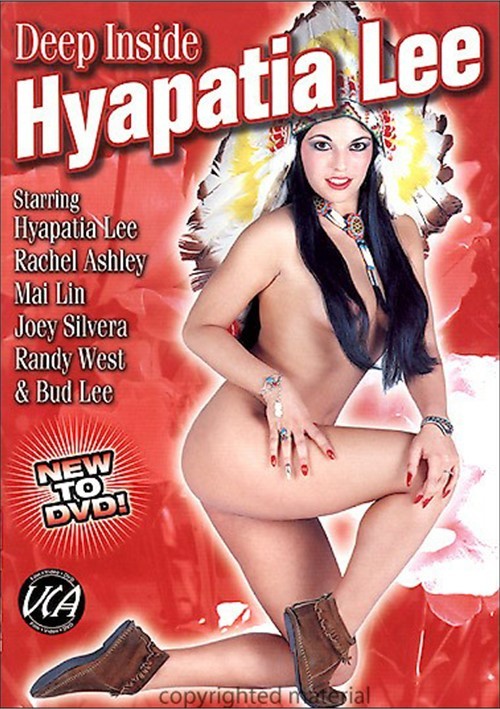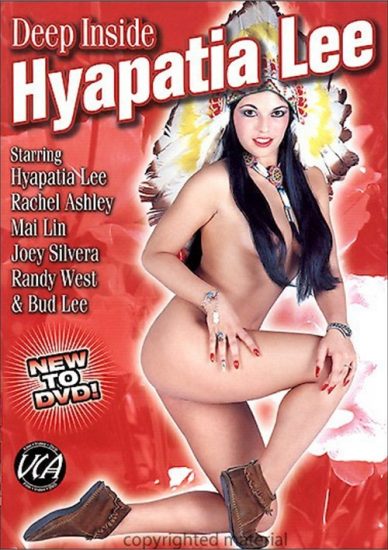 An "exotic" alternative to the more conventional porno blonde, Hyapatia entered the adult industry in the early 1980s, towards the end of the Golden Age of Porn, when the whole genre was pivoting from movie theaters to home video releases.
Those were the last glory years when adult films were pretty much like other Hollywood films, but with a little something extra: explicit hardcore sex.
Inducted into the AVN and XRCO Halls of Fame and given the Free Speech Coalition's Lifetime Achievement award, among other accolades, Hypatia Lee may have left the adult industry in the early 1990s, but she will forever be a legend in the world of cinematic sex.

"When 12-year-old Vicky told her Baptist minister about her stepfather's abuse, he said, 'Let's pray for your forgiveness'"

We're all excited and delighted to have this fascinating woman join us via Skype from her home, sheltering-in-place, in Colorado.
I actually had the pleasure of meeting Hyapatia in the late 1980s when she filmed an interview or a scene with Geraldo Rivera (most recently dragged for defending tRump's claim of sarcasm for those disinfectant injection comments) at my office.
I hadn't seen much porn at that time, but I knew who Hyapatia Lee was, and I was very impressed by how down-to-earth and sweet this gorgeous celebrity was to little old unknown me.
A Difficult, Abusive Childhood
We begin our Bedside Chat with a discussion of her mellifluous name, "Hyapatia," spelled with an "a," to respectfully differentiate herself from her namesake, Hypatia, the great pagan philosopher of Alexandria.
Personally, I think the original Hypatia, one of the first female theorists in Western history, would have reciprocated the respect. In choosing the appellation, young Vicky Lynch (Lee's birth name) identified with the ancient Egyptian philosopher's unflagging pursuit of truth and her rise to the heights of academic honor in a patriarchal world, as well as with her horrific end: gang-murdered by a Christian mob.
Fortunately, Hyapatia is very much alive.
However, over the course of her life, she too has been abused and misused by a Christian, patriarchal, sex-denigrating system, for being a practicing Cherokee, for being a sex worker and just for being a pretty young girl trying to grow up in the house of her violent stepfather and often negligent mother.
When 12-year-old Vicky told her Baptist minister about her stepfather's abuse, he said, "Let's pray for your forgiveness" (italics mine). That was the last straw. She fled that evil stepfather for her Cherokee grandmother who taught her about Native American beliefs and practices, kept "secret" because in those days, it was illegal to practice Native religions. Though Vicky's mother had thoroughly assimilated to the Western system, her grandmother put her in touch with the old ways that gave her the "Native Strength" to soar like an eagle out of depression and obscurity and into the hearts of millions.


Around that time, Vicky was diagnosed with multiple personalities, aka Dissociative Identity Disorder, but she has since rejected that diagnosis. Everyone has different sides to themselves, she reasons; different masks we put on and take off, out of fear, shame or in reaction to abuse.
We chat about the masks that we wear in society, both physical and metaphorical.
Physical masks being part of our common costume nowadays, Hyapatia talks about the sacred Mayan masks that endow the wearers with divine powers.
Hopefully, the masks we're wearing have such magical abilities; to protect ourselves from COVID-19, we need all the divine power we can get.
Whereupon I pull out my paper Mayan mask which I just so happen to have tucked into the couch (courtesy of Agwa di Bolivia Herbal Coca Leaf Liqueur), much to Hyapatia's delight.
Whether used for protection, conjuring or just roleplay, masks are inherently theatrical. Growing up under the specter of abuse, Hyapatia found refuge in theater, music and dancing, where she excelled. She even started a band—W4IK—and released 2 albums.

"'In the Native American tradition, sex sits at the center of the Medicine Wheel… Sex was seen as beautiful and not something that caused shame.'"

She found fame—or maybe fame found her—when she won the title of Miss Nude Galaxy—twice. Each time, adult film producers invited her to make a movie. Though she declined at first, she eventually accepted and soon became an international adult film sensation.
When asked for her best memories of working in the adult industry, she sings the praises of adult impresario Harry Mohney (who happens to own the Las Vegas Erotic Museum where I received my honorary Ph.D. from the Institute for the Advanced Study of Human Sexuality) with whom she worked via his Caribbean Films company in her first years, starting with The Young Like It Hot.
Her last years provided her "worst" memories.
Listen to the show above or watch below to hear Hyapatia tell it like it was working for Vivid Video.
Suffice to say this lady does not pull her punches!
Though her feelings about working in porn are pretty mixed, she's not ashamed of what she did or who she is.
In Native Strength, she writes, "In the Native American tradition, sex sits at the center of the Medicine Wheel… sex between two or more consenting adults was understood to be part of the human experience. Sex was seen as beautiful and not something that caused shame."
She also notes that for thousands of years before Gay Pride Parades, Native American cultures have treated "two spirit people" (whom we might call trans or gender-fluid individuals) with compassion and respect.
Ribald Tales of Canterbury
Hyapatia's biggest adult film was one of the most extravagant and expensive ever made, The Ribald Tales of Canterbury which she wrote (along with Geoffrey Chaucer, the original author of The Canterbury Tales), and starred in as the Hostess.
It's a tour de force performance with lavish costumes on loan from Universal Studios, a witty script that I'm sure ol' Geoff would be proud to co-write, not-bad acting, compelling character development and hot explicit sex.
Plus lots of natural bush.
What do you expect in Medieval England—or early 80s America?
Something for everyone, you might say.  Yet this type of elaborate film is a dinosaur.
We show a clip from The Ribald Tales of Canterbury featuring Hostess Hyapatia telling the erotic tale of a Gypsy dancer (also played by Hyapatia), in love with two brothers, who makes a deal with the Devil to be with both.
It may not be Casablanca, but Hyapatia's screen presence is utterly captivating, her lust for the Gypsy brothers wholly believable, yet also very funny, and she even plays the violin—exquisitely!

"'The more greedy people become and the more crowded our living conditions are, the more diseases we find ourselves suffering from.'"

She's acted in a few "mainstream" films, such as Killing Obsession (where she plays a sex worker who gets murdered) and in the TV series Gigolos.
But her adult oeuvre is what will live on into moviemaking eternity.
Hyapatia is also featured in one of the most famous issues of Penthouse Magazine (the one that "Miss America 1994" Vanessa Williams was in).
Hyapatia Lee in Penthouse. Photos: Bob Guccione
Her gorgeous, glamorous photos were shot by the master himself, Bob Guccione, whom Max worked with back in the day, and whom she declares to be her favorite photographer.
Rebellion of the Animals
Hyapatia's current work might not be as sensational as her porn career, but it is deeply relevant to our diseased and uneasy times.
Listen above, watch below or read her book to discover the overlapping meanings of Native Strength.
One of the stories Hyapatia tells that rings truer than ever in the Coronapocalypse is "The Rebellion of the Animals."
"You may have noticed the more greedy people become and the more crowded our living conditions are, the more diseases we find ourselves suffering from," she explains.
If we didn't notice this before, we sure do now!
According to this ancient Native American myth, the nonhuman animals—angry that humans are hunting them for sport and greed, not just for need—gather together to devise a scheme to get back at (and slow down) humanity by giving us the curse of disease.
With most experts agreeing that Coronavirus comes from nonhuman animal transmission to humans—and with quarantine reducing pollution levels that bring the birds, bees, monkeys and dophins back to areas formerly inhabited by humans only—this doesn't seem like such a "myth."
The other part of the story describes how the plants then get together to help humans combat these diseases with cures that can be found in their leaves, roots, seeds and flowers.
So, whether we find a vaccine in the laboratory or the jungle, there's hope!


Speaking of nonhuman animals, we talk about our favorites. Of course, mine are bonobos, and I'm pleased to hear that Hyapatia loves bonobos too.
But she also has special affection for the deer and rabbits that visit her property, as well as horses, like the late great stallion on the cover of Native Strength.
In terms of plants, she's a big advocate of the benefits of cannabis and a writer for High Times.

"It's a power grab, a land grab and a typical Trumpus casino grab."

Times have been tough for Native Americans since Columbus accidentally bumped into the place they called "Turtle Island."
In some ways, with greater awareness, things have gotten better lately. But they've also gotten worse.
Recently, the tRump administration revoked reservation status of Mashpee Wampanoag Tribe for more than 300 acres in Cape Cod, Massachusetts, destroying the tribal infrastructure in the middle of the Coronavirus pandemic.
It's a terrible bully move against a tribe that has lived on that land for over 12,000 years and happened to be the first Native Americans to encounter the Pilgrims, providing them with food for the first Thanksgiving and much more that made the difference between survival and annihilation for those Mayflower sailors who went onto practically annihilate their Native benefactors.
It's a power grab, a land grab and a typical Trumpus casino grab, since the Mashpee Wampanoag tribe had plans for a big casino that would compete with Rhode Island casinos that are all up inside tRump's noxious rump.
Hyapatia and I agree that this Presidunce is bad for Natives and just about every other American, except maybe a few greedy billionaires, ammosexuals, Confederate flag-wavers and Purell price gougers.
In so many ways, I feel like Hyapatia and I are soul sisters. I could chat with her about sexuality and spirituality for hours, and our 90 minutes together flies by like 90 seconds.
There is still so much I'd like to chat about with her. Sunshine too, since they were both feature dancing in Guam where Hyapatia also encountered some of her Native medicine teachers.
Well, she'll just have to join us again soon for another Bedside Chat!
Thank you for sharing your beauty, grace and wisdom with us, Hyapatia Lee.
Biggest Buns in Sin City
Next we pivot to Vegas where we hook up with camgal and "100% Italian" MiLF (though she doesn't actually speak Italian), Isabella Caracci.
A native of Wilmington, Delaware (home of my first serious boyfriend), Isabella has been camming for over a decade.
When I ask her specialty, she turns around slowly, lifts up her black dress and shows off her immense buttocks.
Seriously, folks, I don't mean to get too objectifying here, but that's one huge ass, proportionately speaking.
Interesting shape too. Not to everyone's taste, of course, but in these days of porno niche-marketing, she can shake that money maker like a slot machine.
Speaking of the slots, no, Bella is not on board with Vegas Mayor Carolyn Goldman's determination to "open" Vegas for all kinds of COVID-19 spreading business.
Or let's just say when Vegas opens, Bella will be self-quarantining in her room (which she pretty much did before the Coronapocalypse anyway), showing off that tremendous posterior for her cam customers.
And speaking of camming, get ready for Masturbation Month, Brothers and Sisters…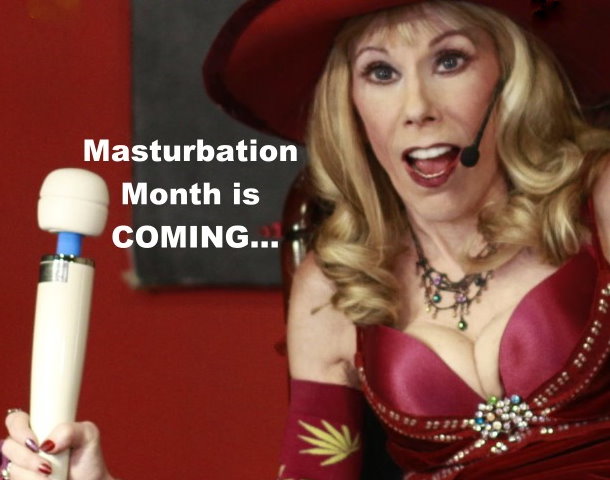 It's coming!
Bonoboville Communion with Clorox
Just a teensy bit high on Corona beer (which doesn't transmit or cure you of the Coronavirus, though don't be surprised if the Trumpus touts it on his next press conference), Sunshine comes up with the bright idea of doing Bonoboville Communion and Waterboarding, Bonobo-Style with Clorox shots.
Photos: Harry Sapien
Clorox shots?
From his COVID-19 bully pulpit, the Presidunce is telling us to inject disinfectant, so why not drink it?
Since we're physical-distancing, we can't lick the sacred Himalayan Pink Communion Salt off each other's altars (breasts).
So, we just lick our own.
Joining us from Vegas, Bella pulls out her bountiful boobs.
Though compared to her voluminous butt, they're downright petite.
Then it's time for Waterboarding, Bonobo-Style with… Clorox?
Clorox is clear like water, which is what we're really drinking…
Or is it vodka?
Whatever it is, we survive.
And thrive!
RIP Dorothy Block Adelstein
Before we go, I say good-bye to my dear cousin Dorothy Block Adelstein who passed away in New York on the morning of this broadcast after a long and painful struggle with cancer.
Though she didn't die of the Coronavirus, due to the pandemic, our family—like thousands of American families—can't give her a funeral.
We can only say good-bye in private and virtual memorials.
What a beautiful, smart, spiritual, sexy, vivacious, vibrant human being Dorothy was during her all-too-short time on Earth, a good friend, great mother, wonderful dancer and a sharp wit, delighting us all with her charm and kindness.
Until we meet again, wherever you are, dear Dot, I love you.
After-Show Love

The love flows on throughout the little village of Bonoboville in quarantine and into the masked and somewhat muted after-party.
After all, you can't really eat, drink or kiss through a mask, let alone have a decent orgy.
Ana and Miguel makes some luscious pasta and fresh hummus, and the Corona beer flows freely.
Photos 2,3,5: Sunshine McWane.  Photo 4: Harry Sapien
We're not exemplary mask wearers, putting them on, then taking them off to grab a bite or a sip, then putting them back on again.
Well, we're trying!
At least, I have there's one person I can kiss and touch, my darling hubby of 28 years, my witness, Prince, butler, collaborator and best friend, Capt'n Max.
As our masks fall away, revealing our true faces of infinite bonoboesque love…


We collapse orgasmically into each other's disinfected arms, cannabis-colored visions of Canterbury dancing in our heads to the haunting tune of a Gypsy fiddle.
Then off we drift into dreams of being nonhuman animals, great steeds galloping together through heavenly meadows filled with fragrant, healing plants and supremely intelligent wildflowers.
Photos: Selfies
© April 25, 2020 Susan Block, Ph.D., a.k.a. "Dr. Suzy," is a world renowned LA sex therapist, author of The Bonobo Way: The Evolution of Peace through Pleasure and horny housewife, occasionally seen on HBO and other channels. For speaking engagements, call 213-291-9497.