Hot & Bothered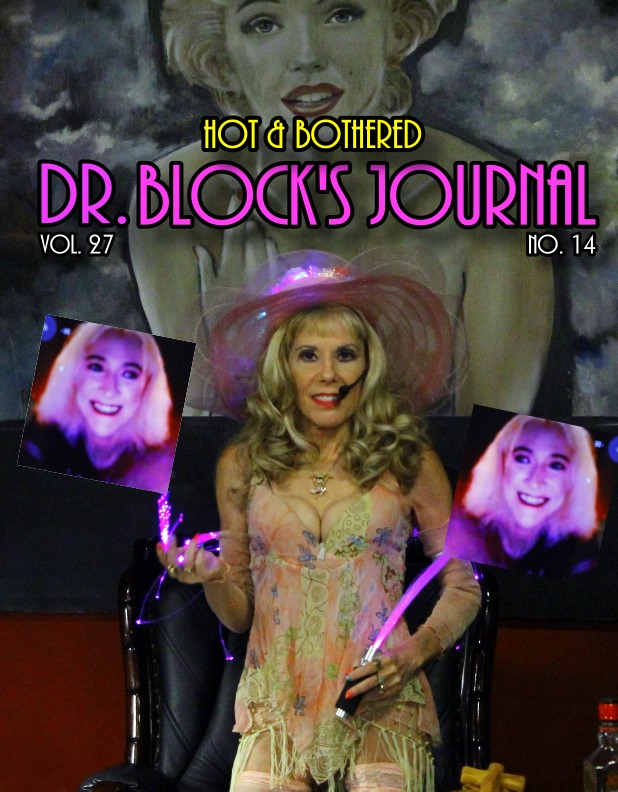 Length 01:41:47 Date: July 20th, 2019
We title this show before it starts, but the name fits, albeit in a different way than we first imagine.
Actually, my able assistant Sunshine McWane comes up with the name. I come up with "Hot & Intimate" because we're having a heat wave, and we don't have guests, so it feels hot and intimate.
"Oh yeah, 'Hot & Intimate' sounds great," says Sunshine. "But how about 'Hot & Bothered'?"
PHOTO 1: BIANCA.  PHOTOS 2-3: HARRY SAPIEN.  PHOTO 4: SELFIE
Since I'm not really attached to my own ideas, and I like that name even better, "Hot & Bothered" it is.


Yes indeed, it's been a hot week, and though much of the rest of the country is expected to cool off as I write this, LA is supposed to get even hotter. So as the heat bakes our buns and muddy waters flood New Orleans, I'll  just throw a couple of words, like wieners on the fire:
Climate. Change.
We've been leading up to this since the advent of farming, or at least capitalism, but I give the current Presidunce a good ball-spanking and face-slapping for his awful environmental policies, not to mention the latest fascist racist rapist garbage coming out of his shithole mouth (that we keep gagged with a penis pacifier). How about we "Send HIM Back"… to Queens, or maybe Germany where the Drumpfs are from?

I'm pretty hot and bothered about all of this. Although, Capt'n Max is hotter, quite literally. He's always about 5-10 degrees warmer than me. In winter, I call him Heater Boy. In this hot and bothered summer, he's a wildfire.
Good thing I'm a pyrophiliac.
Goddess Phoenix's Kink-Classy Housewarming
On Friday, we left the rising steam of Bonoboville for cooler Western climes.
Luzer drove us across the Valley in his spiffy new house on wheels, aka the Bonoboville Mobile Unit, to the fresh ocean breezes and nice cool pool of Goddess Phoenix's housewarming.
What a charming place!

And what a lovely party, featuring naked FemDoms frolicking in and out of a giant blow-up unicorn floating in the pool, served by subservient houseboys in white leather collars.
Within less than a month, Goddess Phoenix has turned this house into a home fit for a Goddess, fixing it up with loving care, feminine touches, kinky flourishes and exquisite taste.
This Goddess is a real-life Wonder Woman, with a special Wonder Woman corner of one of her rooms to show it off.
Now she can now add "Heavenly Homemaker" to her long list of Glamazon Goddess achievements, including three SUZY awards for "Most Dazzling Domme."
Color me impressed!

After all, we moved into the new Bonoboville a few months ago, but we're nowhere near unpacked, let alone set up, and my wardrobe is still in the studio being used as a wall!
As a housewarming gift we gave Goddess Phoenix a big bottle of chocolate wine which proved to be a great social lubricant among the FemDoms.
We also threw in an extra copy of the NEW Speakeasy Journal: Spank 'n' Art.
Yes, we already gave her one at DomCon.
But a Goddess can always use two (one for the library and one for the coffee table), especially since she's featured in over a dozen photos.
All in all, it was a delightful afternoon, great foreplay for an even more delightful night with my Captain.
Facebook Free Speech Victory
A few orgasms and cups of coffee later, it's showtime!
With no in-studio guest and with a Facebook "friend" I've never met letting me know she'd like to call in on the show, we do our first Skype webcam call in the new Bonoboville.
I "met" the amazing Gail Stairs on Facebook through that SUZY-award-winning "Most Bonobo Couple" of bonobo couples, Danièle Watts and Chef Be*Live.
Speaking of which, I'm pleased to report a small but pleasant victory for Free Speech on "The Face," as Max calls it.  On Thursday, Facebook took down my post for last week's Bastille Day show with Danièle and Be*Live AND locked me up for three days in Facebook Jail… with no bail.
I "appealed," of course, but not with much hope; I've appealed Facebook censorship in the past and gotten nowhere; no answers, no questions, just the implied, "Shut up and do your time, slut!"


So, imagine my astonished elation when, after less than 24 hours, The Face smiled upon lil ol' slutty me and reversed its decision to censor, put the post back up and let me out of jail back into Faceville.
They even apologized! "We're sorry we got this wrong," they said. Wow. Sometimes justice really does prevail… even in a place like The Face!
The Fabulous Gail Stairs
Back to our first Skype caller in the new Bonoboville: an acrobat, singer, model, comedienne, writer, director producer of her own TV show with the twinkliest twinkle in her eye and the springiest spring in her step, Gail Stairs is a multi-talented, sapiosexual Renaissance Woman with charm to spare, boasting a wide range of accomplishments, including being the first female comic to air original content on Adult Swim.
Though I'd connected with Gail in Faceville, often enjoying her sweet comments and quirky posts in Dr. Suzy's Speakeasy, especially her comically edited acrobatic clips, I'd never met her nor even spoken to her in "real life." In this show, not only do I speak with Gail, I virtually fill my whole show with her: her beauty, her pain, her stories, her contortions, her pleasures and her problems all pour through the screen, stream through the studio and permeate the broadcast.
PHOTO 1: BIANCA.  PHOTOS 2-4: VIDEO FRAMES
This may not be the wisest approach for either my show or Gail's well-being, but it's just how it flows.  It's certainly not what I planned. But the best-laid plans may not get you laid the way that you planned.  I've been saying that for over two decades, but I guess I'm still trying to learn the lesson.
Gail's remarkable physical contortions are just a prelude to the twisted, intertwined issues of her often painful love life. If you like relationship drama mixed with sex talk, you'll love this show!
As it turns out, our title, "Hot & Bothered," was prophetic.


In this age of #MeToo, many women are calling out their rapists, as well they should, and Gail calls out at least two of hers. Good for her! The problem is that one of her sexual "goals" is to climax during sex with her lover(s), and the last man she had orgasms with was one of her rapists… who also broke her nose (!).
PHOTOS: BIANCA
At least, that's one of the problems. There are others, some of which she describes in vivid detail, but most of which we don't even touch, because we just don't have time.
My problem is that I try to help her solve her problems, and some problems just can't be solved. Moreover, sometimes people don't really want to solve their problems; they just want to vent about them. Many comics love and practically nurture the pain in their lives because it's one of their greatest sources of humor.
Nevertheless, I try talking with her about various issues, such as the difficult subject of rape fantasies, which I happen to have been interviewed about last month for Aeon and which I'll be talking about on NPR (WBUR) next week (to air in August). This resonates with Gail, but only for a few seconds before she's onto something else like a quick-silver dancer.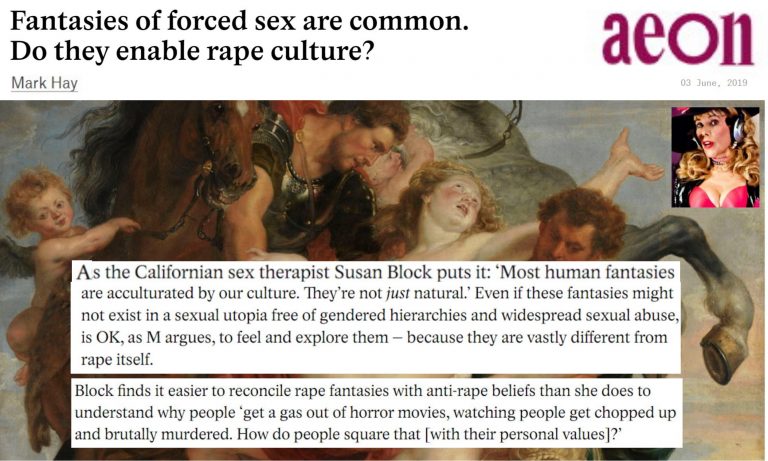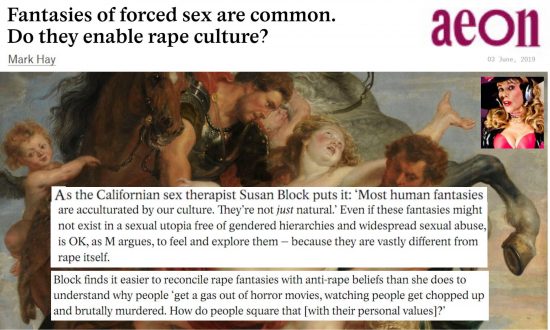 She says she wants physical "tools" to help her climax with her current boyfriend whom she loves, but she can't trust (he cheats a bit here and there; absence makes the heart go wander) and who doesn't spend much time with her (he's got a high-powered comedy career). But every suggestion (kegel muscles, masturbating before (or during) sex, deep tantric breathing, etc.), either she's already tried, and it didn't work, or she doesn't fine it appealing.
Perhaps the ideas she rejects have the most potential. For instance, when I suggest she use a vibrator with her lover to help her have an orgasm during sex with him, she hesitates, then proclaims, with great passion and conviction, "it's dirty!"
I hear this often, of course, but I always find "dirty" to be an odd adjective for good clean sex toys. Unless someone is practicing poor hygiene, it's usually the result of religious sexual abuse.


Sure enough, when I ask Gail what religion she was raised in, she intones with the almost 2000-year weight of the papacy, "Catholic," as though she was brought up to be the Virgin Mary herself. Apparently, this was not just your easy-going Church-on-Christmas, Hats-on-Easter Catholic upbringing, but strict, sex-negative, slut-shaming, Catechismal abuse.
With that revelation from Sister Gail, it feels like the whole Bonoboville crew exclaims, "ah hah!"  On the Facebook feed, Don writes, "Catholic…shoulda known." Now the orgasmic sex with the jerk who broke her nose, inability to climax with the somewhat nice (but cheating) guy, and calling a vibrator "dirty" all make sense. At least, on the Catholic level of Immaculate Conception and walking on water, it makes sense.
Not to dump on Catholicism specifically. Other branches of Christianity, Judaism, Islam, Hinduism and Buddhism all have their nonsensical, slut-shaming sex-negativity. Even the pagan religions have their issues. But Catholicism takes an extra step, sanctifying and attempting to enforce a culture of celibacy, causing all kinds of problems from priestly sexual abuse of altar boys to bright young women making masochistic sexual choices in life, desperately trying to fit their round peg into an impossibly square hole.


Gail appears to resonate to this approach, as well as insights from Sunshine, a fellow comedienne (winner of the 2019 SUZY award for "Best Comedienne," which I had planned to present to her this show, but we're so busy with Gail, there's no time!), and from Max, who also grew up Catholic in New Jersey and knows a thing or two about sexual oppression.
PHOTOS 1 & 4: BIANCA.  PHOTOS 2, 3 & 5: HARRY SAPIEN
However, just after every "breakthrough," there's an issue that pops up like an obstacle course. Maybe she's less interested in being "healed" than telling her story (which in and of itself can be healing). I adore Sister Gail.  But as I tell her on this show, I can understand why her current boyfriend, even though he loves her to pieces, needs his break time. I'm sorry I say that; it's not very bonobo or therapeutic.



Then again, maybe that's just the challenge of "healing" a wildly creative, strong-minded, mercurial, Catholic-raised and complicated woman within a 75-minute conversation, much of which, she says, she can't even hear.  I can hear her pretty loud and clear, though sometimes we talk over each other. Well, it's our first Skype call in the new studio, and there are still a few kinks—not the fun kind—to work out.
"Hot & Bothered"… but not in melt-down!

Bonoboville Communion
After the show, I demonstrate my suggestion that Gail creatively transform some of the sex-negative Catholic stories and rituals of her youth into something sex-positive and fun.
Here in Bonoboville, that means Bonoboville Communion and Waterboarding, Bonobo-Style with Agwa de Bolivia Herbal Coca Leaf Liqueur.
First, Sunshine is my Altar Girl.
PHOTOS: UNSCENE ABE
Then I am hers.
Sunshine was raised Baptist, not Catholic, and not in a very religious household.
PHOTOS: ABE BONOBO
Nevertheless, she says she feels "healed" by our Communion. Whether she *really* is healed or not, I certainly am!
PHOTOS: UNSCENE ABE
Then she plops her bodacious tatas on my head.
Instead of the "laying on of hands," we have "the laying on of boobs"… an interesting addition to our usual ritual.
Bonoboville Communion is always evolving with the times and the people who practice it, as any ritual should… and as, sadly, most religious rituals don't.
"Hot & Bothered" no more, I'm feeling cool and relaxed, ready for love with the Captain of My Heart and, though I don't pray, I do hope for orgasms, success, love and happiness for the ever-marvelous Gail Stairs.

Even if it involves climbing up and down the Stairs a thousand times, Gail deserves the best!

© July 20, 2019. Susan Block, Ph.D., a.k.a. "Dr. Suzy," is a world renowned LA sex therapist, author of The Bonobo Way: The Evolution of Peace through Pleasure and horny housewife, occasionally seen on HBO and other channels. For speaking engagements, call 310-568-0066.