Hoop Magic in the Trumpocalypse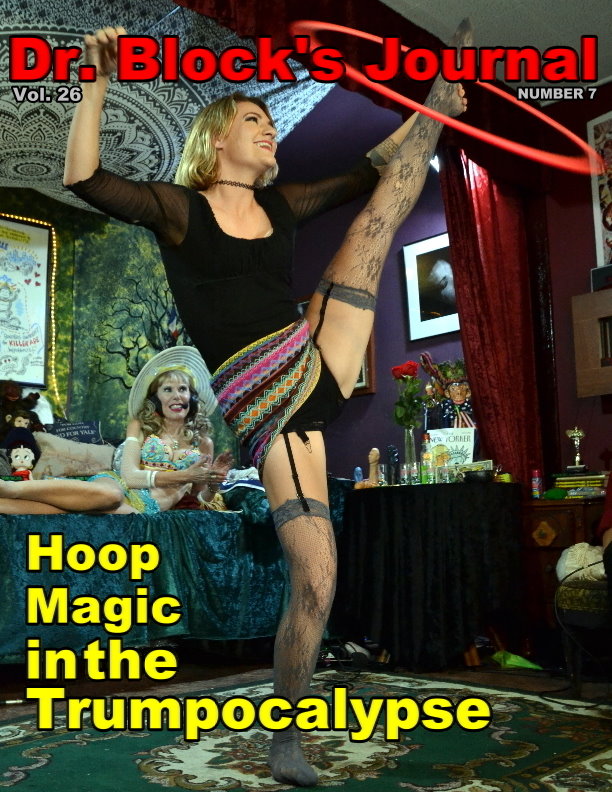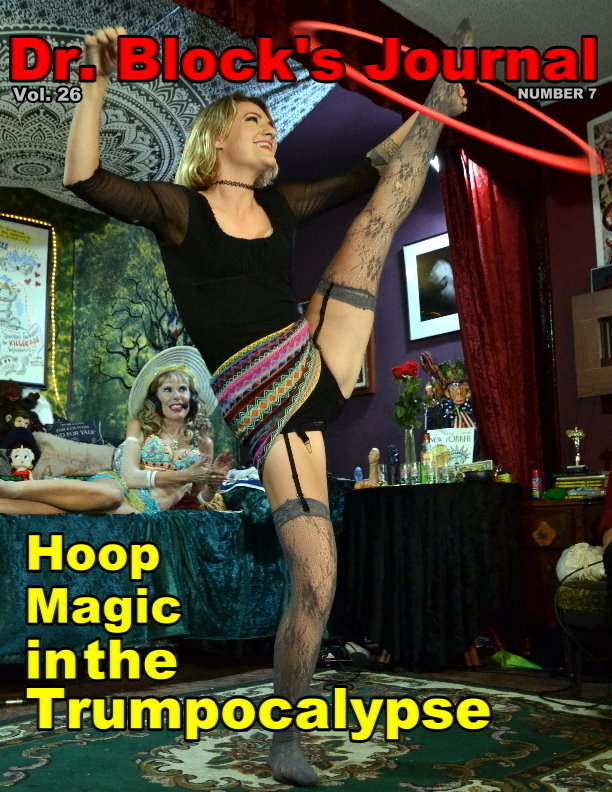 Length 01:39:23 Date: August 19, 2017
Surviving the Trumpocalypse, without losing your marbles or your morals, or falling victim to Post-Trump Sex Disorder, involves a balance of engagement and escape.
We explore both on this show, engaging in a stimulating discussion of the real and "fake" news as well as escaping from that disturbing, discombobulating cauldron of dystopian disinformation with some excellent entertainment in the realms of hooping, magic, breast therapy and erotic romance.
PHOTOS 1 & 3: ABE BONOBO.  PHOTO 2: KZP PHOTOGRAPHY
Bannon Cannon Fired
Yes indeed, brothers and sisters, politicians and magicians: things are even crazier and Nazi-er now than last Saturday. Nazis of America are on the march, or trying to, though they're always outnumbered by the anti-Nazis—because who wouldn't want to march against Nazis besides a Nazi?
Meanwhile, Adolf Trump is exploding with White Rage, which makes him feel good, so we hear from his aids, kind of like a toxic ejaculation.
In White House Survivor news, Steve Bannon is Off the Island! I suppose it's a victory for the Resistance, but it's hard to celebrate these days. Trump has now taken off the mask to reveal his Hitler mustache, showing himself to be at least as racist as Stephen Bannon, so he doesn't need him anymore. Now that's scary.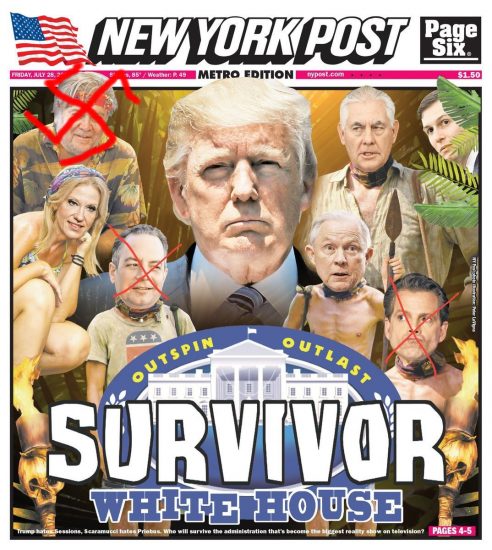 So, the Bannon Cannon has been FIRED. This means he can really go fuck himself; after all, according to the Mooch, Bannon can already suck himself. Now that he's out of a job (though he's got his old one at Breitbart), he'll have time to do more of both. Is that what he means by now he can "get my hands on my weapons"? Apparently, he shares his former boss' interest in Golden Showers, since he took great glee in telling the American Prospect that his enemies in the White House are "wetting themselves."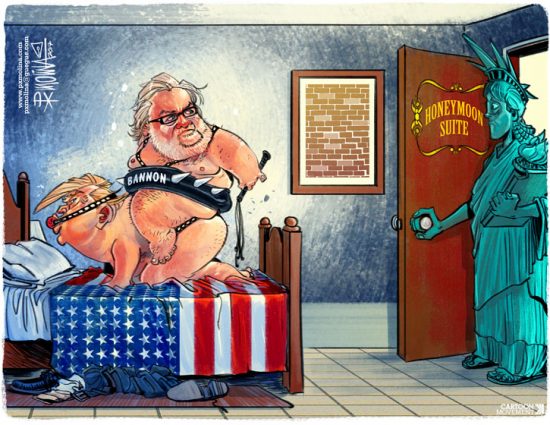 Not that Bannon is the only toxic racist in the White House. In fact, why don't we just rename it the White Supremacist House? And we could erect a statue of Robert E. Lee in the Rose Garden, right next to a gold bust of Adolf Trump in a pointy white hat….
The question is: Can we survive Survivor White House?

Prison: New Jim Crow
KKK Imperial Wizard Trump apparently hasn't yet gotten Frederick Douglass' memo that we don't have slavery in America anymore. At least, not legally.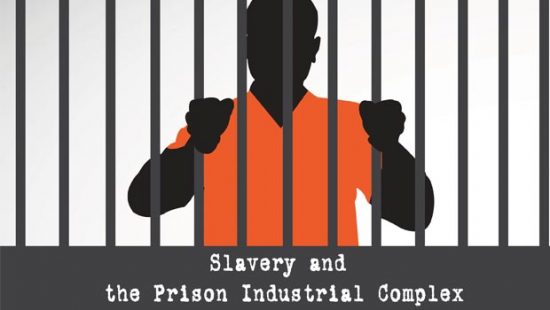 Then again, we do have the Prison-Industrial Complex (PIC), the "New Jim Crow," and it is perfectly legal; in fact, it's part of our legal system. The PIC also includes more and more private prisons, eerily similar to the old plantations. Next to the MIC (Military-Industrial Complex), the PIC is one of America's biggest growth industries. For that, we can thank folks like good old Confederate Comrade Jeff, that is, the KKK-loving, marijuana-hating, police-brutality-enabling servant of the Prison-Industrial-Complex, U.S. Attorney General Jefferson Beauregard Sessions, Goblin Prince of the Trumpocalypse and the new Jim Crow chief enforcer.
And then there are all the lesser enforcers, aka the police. As we all know, American police love to arrest protestors (if they don't kill you first)… except, of course, in Charlottesville, when those protestors are neo-Nazis and the KKK.
Only half a dozen, including the cowardly Nazi driving the car that killed Heather Heyer, were arrested in Charlottesville, despite the fact that there were numerous attacks, brawls and other violations that we could see on the multiple videos taken at the scene.
Basically, the police just stood there or marched around in their Robocop gear, protecting no one, except each other and that Robert E. Lee statue.  Were they following orders not to interfere in the microcosm of the Civil War raging before their eyes?
In the Bunker with the Crying Nazi
Yes indeed, it's been a week filled with disturbing images and embarrassing presidential outbursts. Fortunately, in a sick way indicative of our ADHD Internet Age, there has been some comic relief in the viral video of the Crying Nazi. In this tour de force monologue to his phone and his fans, the big tough-talking, proudly violent neo-Nazi schmendrick, Christopher Cantwell, who showed off his guns and his unequivocal desire to hurt and kill people on Vice/HBO, breaks down into a blubbering, cowardly, cowering sissy (no offense to other sissies who are, by and large, not Nazis) before the highly amused but horrified eyes of the world.
Of course, among other issues, the Crying Nazi is sexually frustrated, with a cuckold. "The president let a Jew steal his daughter," he complains bitterly, as if Ivanka should have been his (or at least someone "white" like him), so he feels he's been cucked. This is the voice of Trump's base… crying out in the darkness for justice.
You can see the Crying Nazi "In the Bunker," a progressive political podcast that one of this show's guests, Rick Beatty, co-hosts with Jody Hamilton. Congenial and astute, Rick helps us try to make sense of the madness that has inflamed the country since "The Fire & Fury of the Tiki Torches" (my article in Counterpunch), though it has been smoldering beneath the surface of American culture for a long time. Indeed, since Europeans first started massacring Native Americans, stealing their land and then hauling Africans over to the "New World" to help them farm it in slavery, killing has been an all-American pastime.
Just about every U.S. President has been a killer, a Commander-in-Chief of killers at home and abroad of mostly brown-skinned people. Even our fabulous, sexy, "first black president" Obama (whom I not-so-secretly adore)—with his killer drones and his mysterious murder of his almost-the-same-name bro, Osama—was a killer.
George W. Bush wasn't so sexy (to me anyway), and he was a super-killer, slaughtering the most human beings and other life forms in recent decades, mainly in Iraq. He did this in a way that was so horrific, so absolutely in the pocket of the Cheney-Halliburton Oligarchy, that he was almost as bad as Trump. Actually, when you consider what he did, he was worse than Trump… so far.

Trump just makes it all so obvious, so in-your-face ugly and utterly unsexy; his own wife can't seem to stand holding his hand. The only people who will grasp his gross short fingers are Macron (whose ratings, since that Bastille Day bromance fest, have fallen almost as low as Trump's) and Putin (a distinct liability due to a crazy little thing called Russiagate). No wonder the big baboon is in a white-hot rage of desperate, narcissistic-beyond-compare, and yes, sexual frustration and constant thirst for affection. Somebody, give him a golden shower!

Thank Goddess, Trumpty Dumpty too inept to get much done. But he's awful and gets awfuller by the week. Those of you who watch me beat up his effigy (either a person or a penis pillow, depending on the show) every Saturday night know that I'd like this rotting pumpkin of a Trumpkin to be made into a pie. No violence please (we're bonobos), but whatever else it might take–removal for insanity, impeachment for criminal activity, force him to resign, or just gently but firmly forklift the bastard out of office like a Confederate statue. After his appalling press conference, it does seem like lots more people—Republicans even—agree with me. It's being floated as a probability that he will not finish his term. My two cents is bet on him resigning. So is Rick's.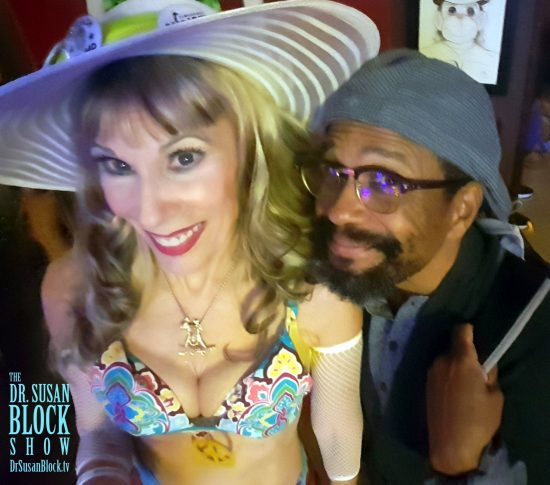 But then what? Mike Pence and Paul Ryan (next in line for the Presidency) are also awful. They are, in a way, more awful because their awfulness is not so obvious, and they would probably have an easier time activating much of the truly awful GOP plutocratic agenda, which is—and I'm proud to show my so-called "identity politics" here—really bad for women's health and freedom.
Escape through the Hoop
Speaking of which, my featured guest on this show shows off women's health and freedom at its finest.
We got a taste of hoop dancer Shelbi Mullen's talents in "Summer Magic," but this time Shelbi really wows the Womb Room with a complete routine of hulas, splits, whirls and twirls created just for us.
She's also looking sexier than ever in a tiny miniskirt, garters and thigh highs.
It's great to see how Shelbi has honed her hooping skills and developed her performance panache since our previous encounter.
This is the second part of my two-part prescription for surviving the Trumpocalypse without losing your marbles, morals or libido: ESCAPE.
Watching Shelbi hoop-dance is a wonderful way to escape political reality into a delightful fantasy of bright, colorful swirling circles of life.
But actual hooping yourself is even better. Shelbi inspires me to try my hand—and hips—at hula-hooping along with her in the after-party. It's a great form of "Meditation in Action"—yes, like the title of the book by my late teacher, Chogyam Trungpa Rinpoche—and more fun than yoga. Got Post-Trump Sex Disorder? Take up hula-hooping! Try hooping before sex.
Too lazy to hoop? Watch Shelbi…
Shelbi's a real-life Wonder Woman. She could wear a WW costume and hoop with a rope, aka a Golden Lasso of Truth.  Speaking of the FemDom Amazon Princess, our Wonder Woman interview with Professor Linda is now online for your free viewing pleasure.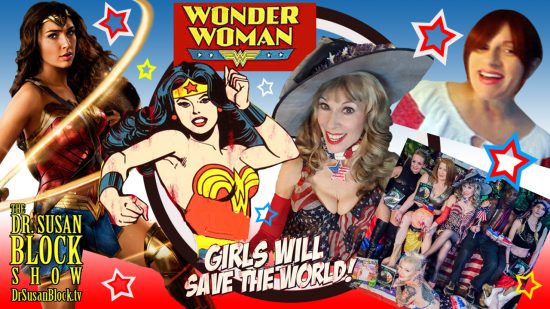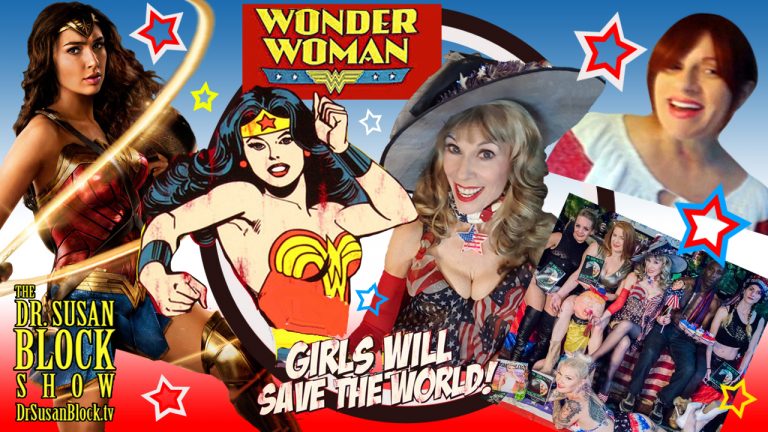 The Magic is Back
Shelbi brings back her man Jack Murdock (Jack brought her last time), and the Magic of Murdock returns to the Womb Room with some new tricks. Jack also takes our stressed-out minds off the political madness as we watch this engaging sleight-of-hand master work his magic, as we wonder with every move, "How'd he do that?"

Also performing "sleight-of-mouth," Jack appears to swallow three very sharp razor blades. Appointed as impromptu assistant, I then pull out the blades from his amazingly unbloodied mouth on a string of floss, using an instrument that looks like a cross between a forceps and a giant roach clip.

This impresses Gypsy Bonobo, also a nurse and pot connoisseur, when she is not wearing her hat as one of our most popular therapists at the Dr. Susan Block Institute. The Gyps is looking very sexy this show in an upswept hairdo and a strapless red bra, and even better when she takes it off (the bra, not the hairdo).
Jack and Shelbi are so cute together. He's teaching her magic, and she's teaching him to hoop!  The three of us get a whole lot of hoopla going on in the after-party.
Couples Communion
This show's Bonoboville Communion includes our spiffy new Agwa shot glasses. It also happens to incorporate two loving couples. Interestingly, both men are wearing vests and ties, giving the proceedings a dapper, sartorial—in addition to the usual sapiosexual—effect.
Couple #1 is Nori and Rachel, perennial favorites on DrSuzy.Tv.  I start out by devilishly putting Nori on the spot, asking him, as a former U.S. Airforce man, how he feels about the current political situation. At first, he says he'll "pass" on talking about any of this. Does this mean that the rumor that Nori is a CIA operative is true? Nah, then he'd have a more slippery, canned answer to my question.
After a little coaxing and teasing, Nori opens up and does actually answer, proving that he is definitely not CIA, though we're not ruling out KGB. This provokes further discussion with Capt'n Max and Rick about the gazillion atrocities of the U.S. Military-Industrial Complex and the abject national embarrassment that is Trump.
When I ask Rachel her views, she says she avoids watching the news. Definitely CIA.
Then we indulge ourselves in the great political escape, spiritual ritual and erotic adventure that is Bonoboville Communion. Rachel agrees to be the first Altar Girl, and with one elegant move, she pulls off her dress, revealing herself to be completely nude, except for a lovely, lacy, summery, multi-colored thong. She and Nori kiss passionately, and the Womb Rooms swoons with romance.
Then he licks the sacred salt from her breasts, and takes his Waterboarding, Bonobo-Style, like a good POW. Though we already got him to talk…
Couple #2 is, of course, the Hoopster and the Magician. Last time, Jack licked Communion from Shelbi's neck. This time, it's Shelbi's turn. She slurps up her sacred salt with great gusto from her Magic Man's sexy chest, then takes her Waterboarding, Bonobo-Style like an angel. "Tastes good!" she pronounces. Agwa is ambrosia for bonobo sapiens.
Speaking of which, Shelbi and Jack are reading a few pages of The Bonobo Way every night before bedtime. Wish I could say the same for Melania and the Donald…
Hip Hop Hoop
Closing the show is Ikkor the Wolf singing "We Are One" because in the Trumpocalypse, as the Nazis and the plutocrats try to divide us, we need to remember this fact, which is not an "alternative fact," but rather a scientific and spiritual fact.
We are all biologically and emotionally connected to each other and every living thing in the world. Most of us can only deeply perceive this fact when we are drugged or dying or having great sex. But whether we perceive it or not, whether we are racist and hateful or not, this fact is always there, living and breathing with us and through us.
There is only one race: The human race. We are one.
I ask Shelbi to hoop-dance as Ikkor raps, and they make Hoop Hip-Hop, or Hip-Hop Hoop, together. It's a sensational performance that simultaneously engages us in the relevance of Ikkor's message to current events, and allows us to escape through his sexy voice, the rhythm and Shelbi's Hip-Hop popping hoop-dance.
So we manage to engage and escape in one Hip-Hop Hoop.
After-Party Circus
Shelbi, Jack and I hoop through the after-party, which percolates along on this intimate, sultry summer night at the bar.
Shelbi's LED-lit hula-hoop is a real dazzler in the dark. She spins a galaxy of dreams to escape the nightmare.

She graciously tries to teach me a few new moves, though I mainly stick to the tried-and-true hula shimmy I've been doing since I was a kid.
Well, at least I can still do it, which is more than some MILFs at my advanced age can say.

PHOTOS: ABE BONOBO
Then Del Rey Bonobo gets in on the act, juggling his glow-in-the-dark balls (not his testicles, you sex addicts, his juggling balls), and even hooping while juggling!
It's the Bonoboville Circus under the Big Top of palm trees and stars.
PHOTOS 1 & 3: ABE BONOBO.  PHOTO 2: CHRISTINE DUPREE. PHOTO 4: SELFIE
Hooping is also great foreplay for "regular sex," as Capt'n Max and I discover (yet again!) after the after-party.
Life is good in Bonoboville… at least, for the moment.
Though my neurotic mind can't help but consider the people of Weimar Berlin, who had such a grand kinky time before the Nazis swept in and the darkness descended.
That won't happen to our grand kinky time… will it?
Addendum: Just took a peek at the solar eclipse. Wow, what a trip, reminding us that we are one on this planet, sharing a common origin in the stars. In my underslept haze, it kind of looks like a sideways cosmic smile. Are the Gods and Goddesses of the Sun and the Moon looking down and laughing at us? I wouldn't blame them a bit…. especially since our Kakistocrat-in-Chief did the one thing scientists tell you not to do during a solar eclipse: He looked into the sun.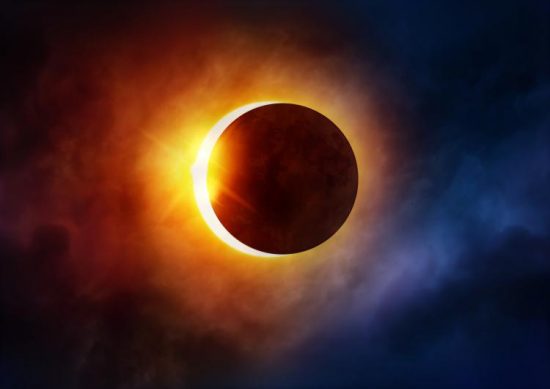 Thanks to Our Volunteers: Videographers: Omar Gomez, Godchild, Michael Sullivan; Photographers – Christine Dupree, Jun Tao, KZP, Jux Lii; On-Campus Bonobos – Abe Perez, Del Rey, Gypsy Bonobo, Harry Sapien, Jacquie Blu, Johnny Jungle, MarsFX, Clemmy Cockatoo, Ana & Miguel. 
© Aug. 20, 2017. Susan Block, Ph.D., a.k.a. "Dr. Suzy," is a world renowned LA sex therapist, author of The Bonobo Way: The Evolution of Peace through Pleasure and horny housewife, occasionally seen on HBO and other channels. For speaking engagements, call 310-568-0066.