Orgasmic Halloween 2015 Kink Month Climax in BOOnoBOOville!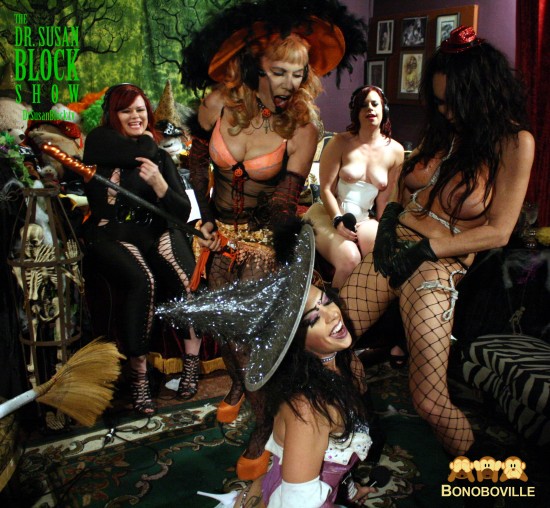 WITCHCRAFT
Length 1:53:27 Date: October 31, 2015
As nights grow long from the witch's hex, let us enter the realm of scary sex… whereupon our congregation of bonobo brothers & sisters is transformed into a convocation of sexy witches and hot bitches, tranced-out tramps and curvaceous vamps, all of us gathered together in the Womb Room for the magical, orgasmical, singing, dancing, delightfully debauched, vibrating, broom-flying, Sybian-riding screaming climaxXx of Kink Month 2015 and another high-flying, frighteningly hot Halloweeeeeen in BOOnoBOOville.
BOO! This impactful exclamation ranges in meaning from the creepy moan of a ghost to an affectionate name for a lover. "Boo" is also the first syllable of "boo-ty," which brings us to our surprise featured guests for Halloween 2015 in BOOnoBOOville, the queens of big boo-ty, or to be even more specific (and politically incorrect) "whooty" ("white girls with booty"): Marcy Diamond and Virgo Peridot.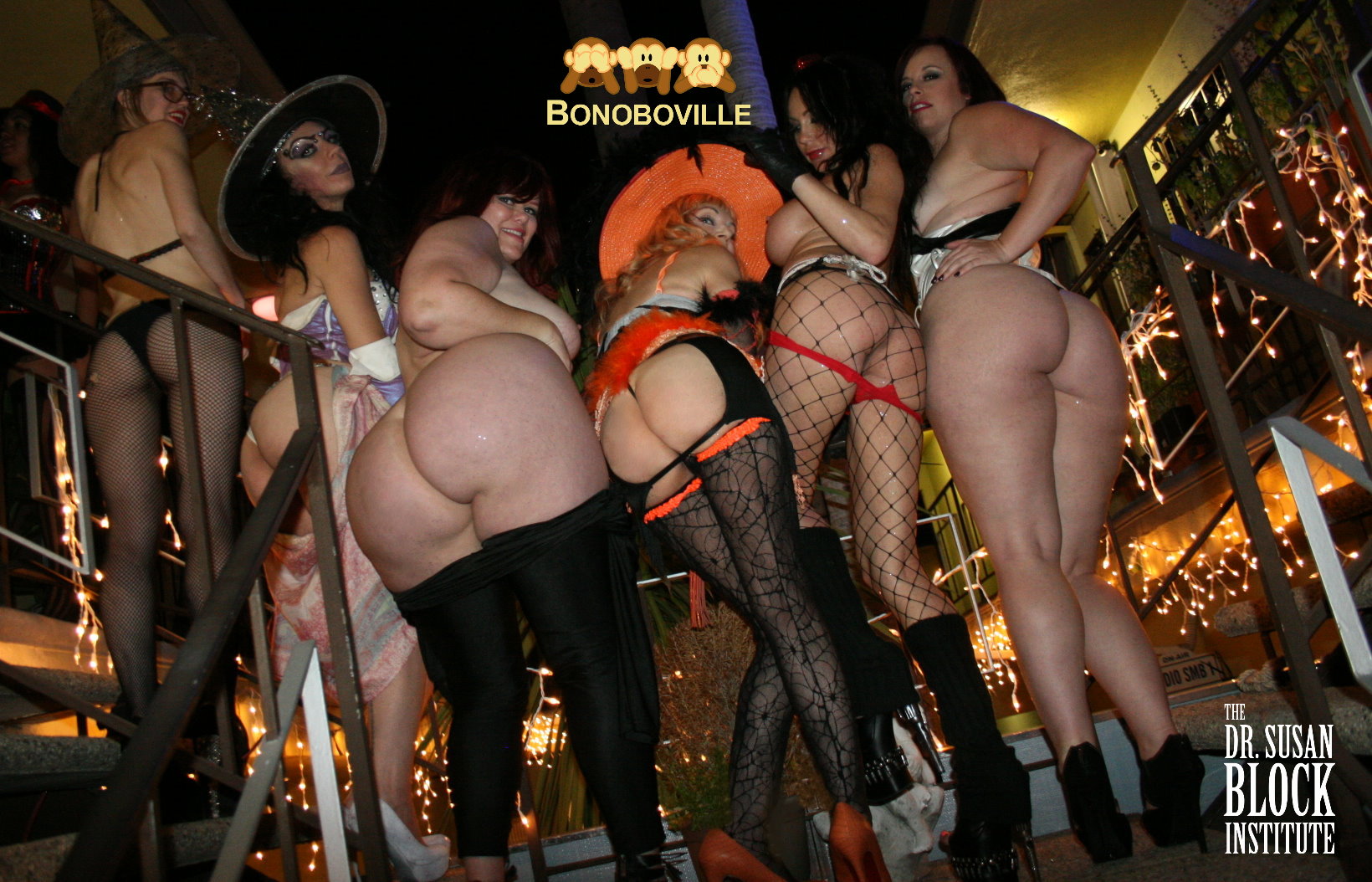 BOO-ty in BOOnoBOOville. Photo: L'erotique
Marcy has come a long way since her maiden voyage on DrSuzy.Tv when she joined us via Skype from Miami, having dumped the disapproving boyfriend and other sources of kink-negativity along her path to BBW (big beautiful woman) porn-stardom. As her first appearance was Masturbation Month ClimaxXxx 2013, its fitting that she joins us now for Kink Month ClimaxXx 2015. Indeed, Marcy provides the opening climax of the night—her first orgasm in two weeks!—on a magnificent, stripped naked, BOO-ty-bouncing Sybian ride, which is also her maiden voyage on this magical machine.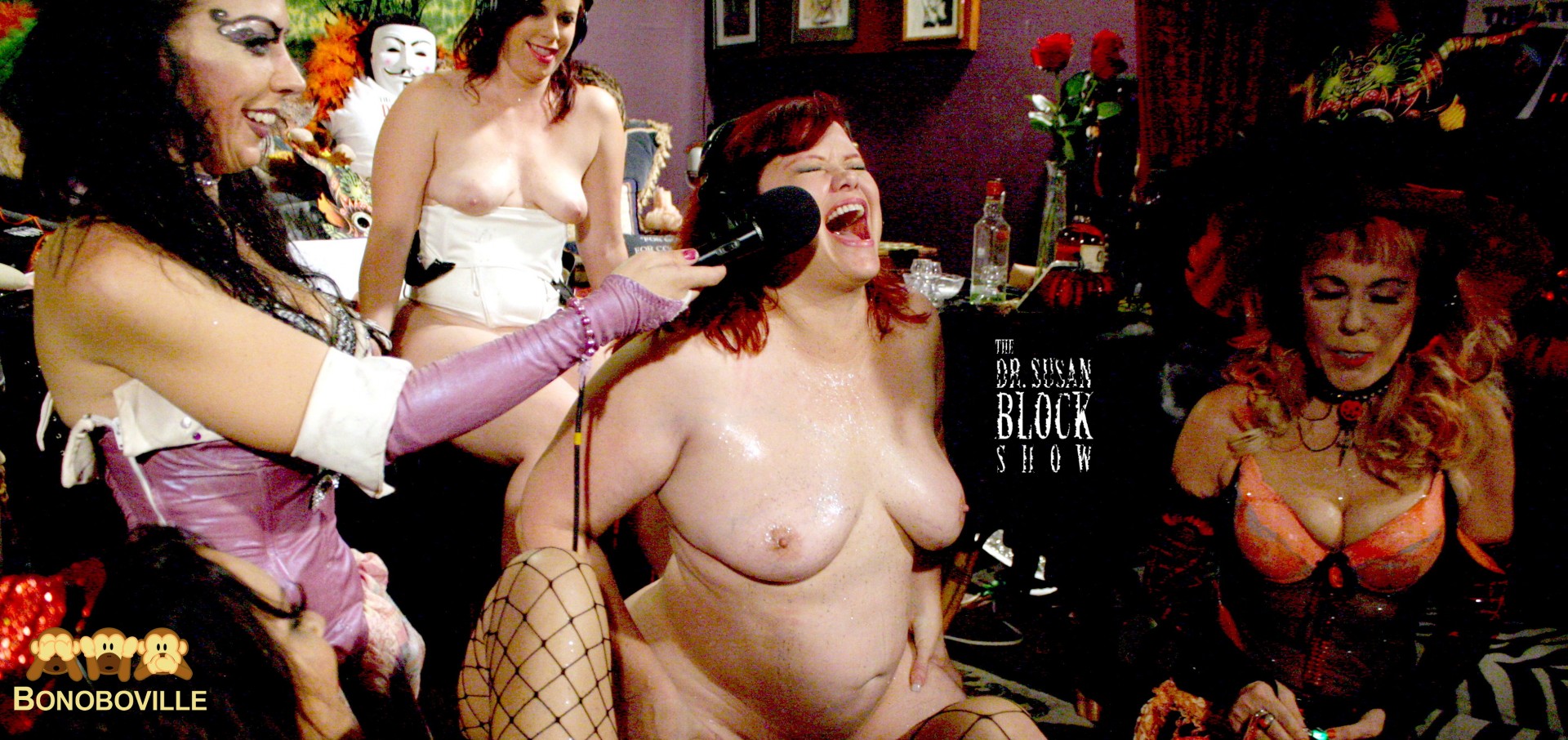 Marcy Diamond rides the Sybian on DrSuzy.Tv. Photo: Ono Bo
Another first: her friend and fellow BBW Virgo Peridot touches a snake—scary! But it's not Virgo's virgin time on the Sybian which she straddles reverse cowgirl-style, all the better to view her big beautiful boo-tay, as we book–spank her with The Bonobo Way, jiggling her Rubenesque ass-ets in uncanny rhythm to the music (Jessica Shores' "Do The Miley Cyrus") and the cheers of the crazily-costumed Speakeasy crowd as she comes. We haven't had such a whacky Jill-Off Halloween since The Night of the Masturbating Dead.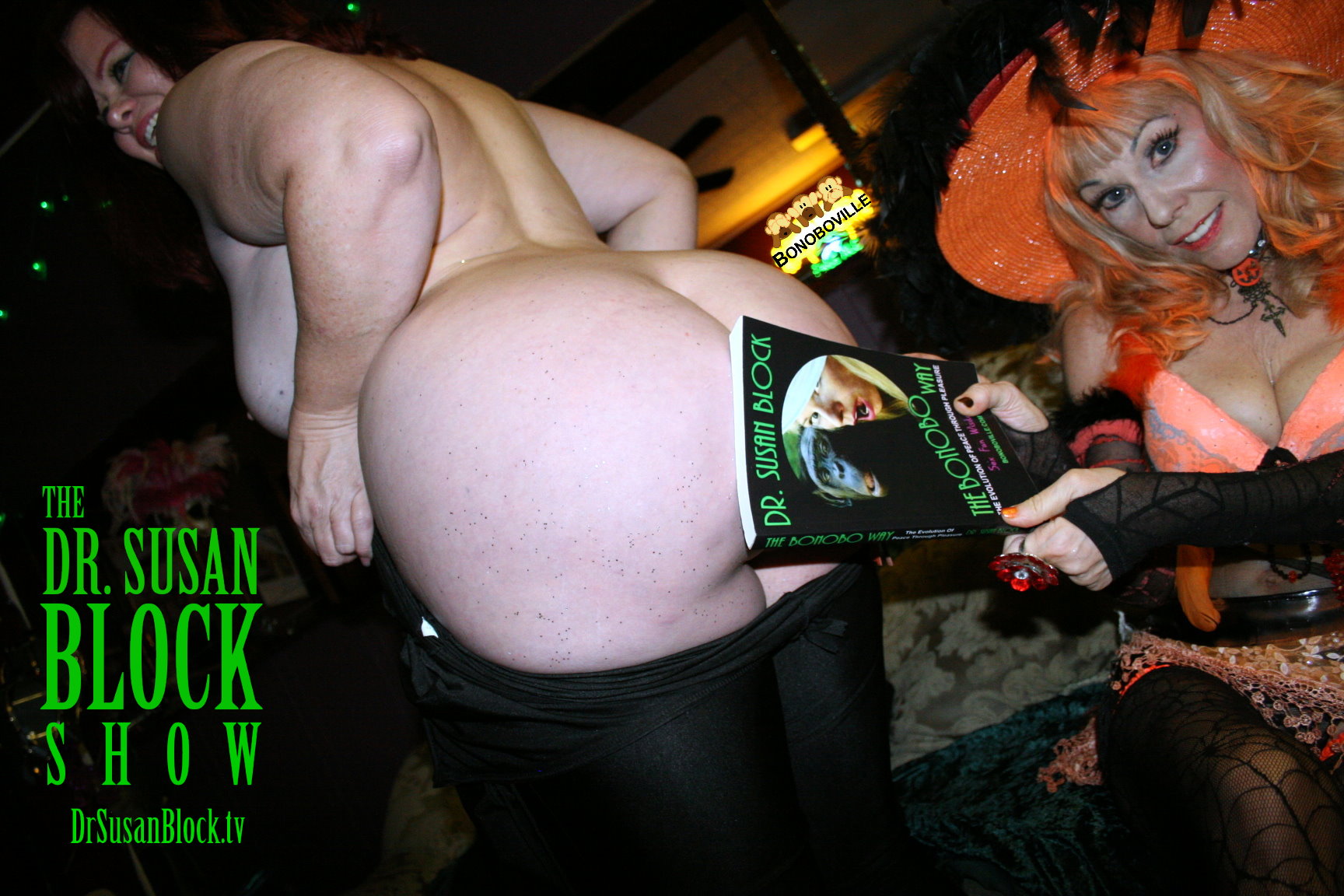 Book-Spanking the Bonoboesque & Rubenesque (36C-30-51) Marcy Diamond. Photo: L'erotique
I should credit much of this delicious debauchery to the spirit(s) of Bonoboville Communion with both Ron de Jeremy rum (for the porn stars) and Agwa Coca Leaf Liqueur (for the rest of us). Some go bobbing for apples; we go bobbing for salty nipples. There are many ways to celebrate the rites of "Satan's Birthday," as some Bible Belters like to call All Hallows Eve. Makes sense that Satan is a Scorpio…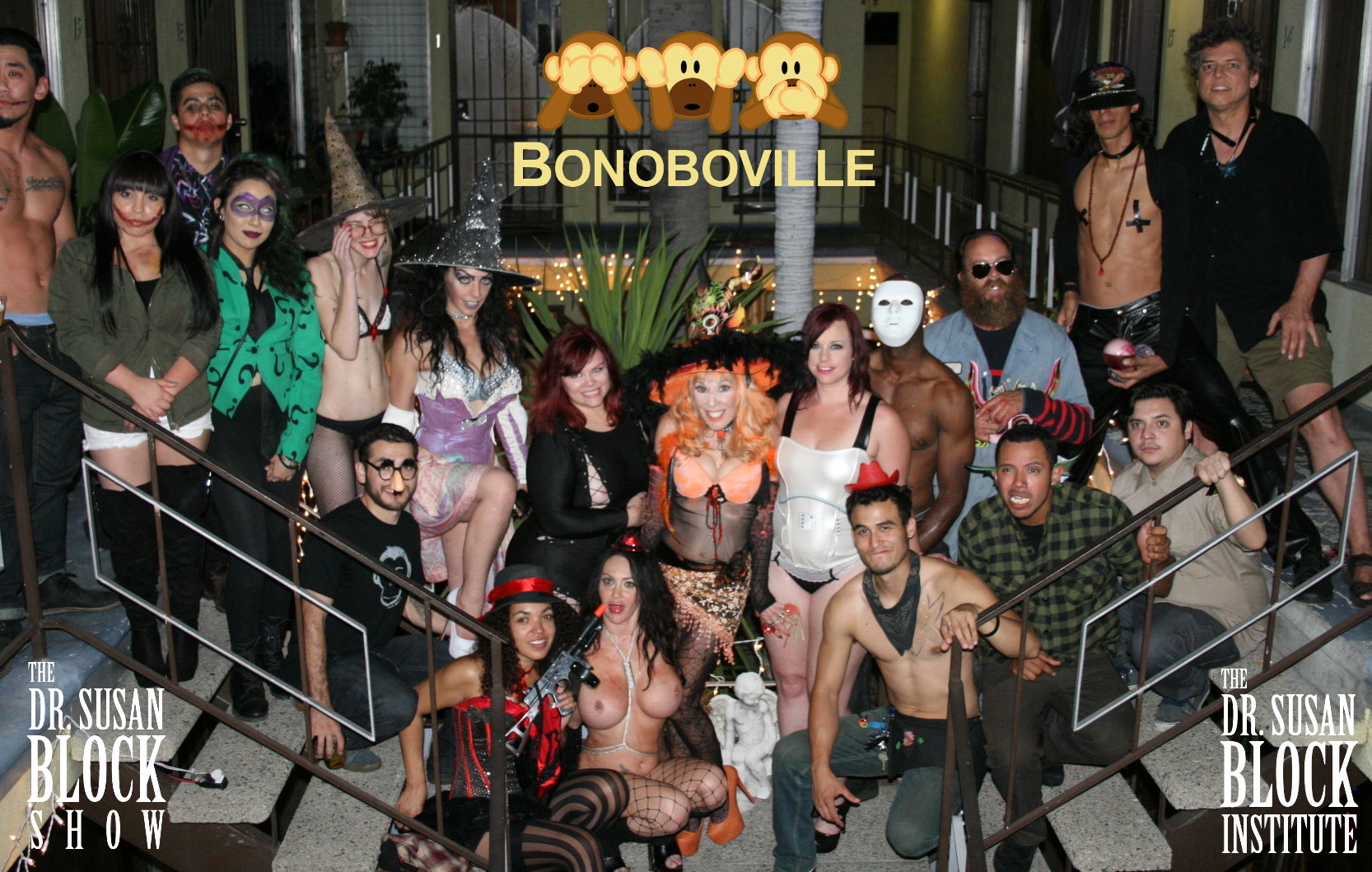 Halloween 2015 at the Block Institute. Photo: L'erotique
Lest you think our Halloween is all devilish decadence, jiggling naked woman-flesh and ghoulish twerking, we also partake in more wholesome entertainments, opening the show with a choral reading of our traditional "Scary Sex" Halloween Poem. DrSuzy.Tv show producer Biz Bonobo also performs a rousing rendition of her signature song, "Are You Still Dying?" and Bonobo Rose (now a phone therapist with the Institute!), costumed as a "star," sings "Earned It" a cappella from 50 Shades. Bonoboville's got talent!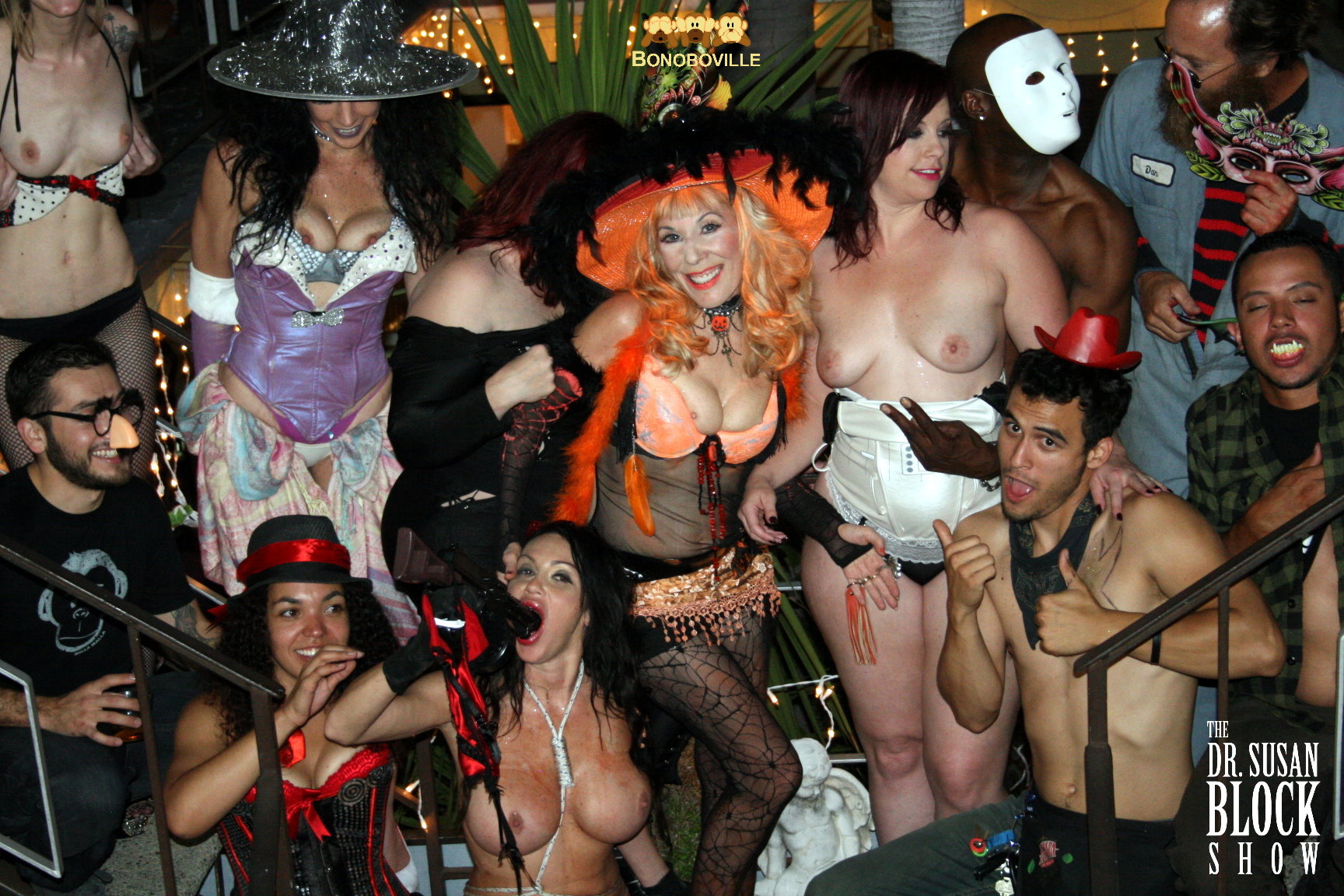 Debauched Masquerade. Photo: L'erotique
Speaking of which, Dayton Rains—Institute webcam, sext and phone therapist—shows her unique talent for masquerade, concealing her pretty face in an ugly mask, a noose around her neck (don't try this at home), fishnets, fake blood, nipple tape and not much else, and is, as usual, overflowing with erotic tricks and treats. Agile as an acrobat, she slinks and somersaults from bed to rug to chair to Sybian, going down on several yonis, including mine(!), and squirting silvery sparkles from her own multi-talented twat. Pretty soon, we are all covered in fairy dust and pheromones.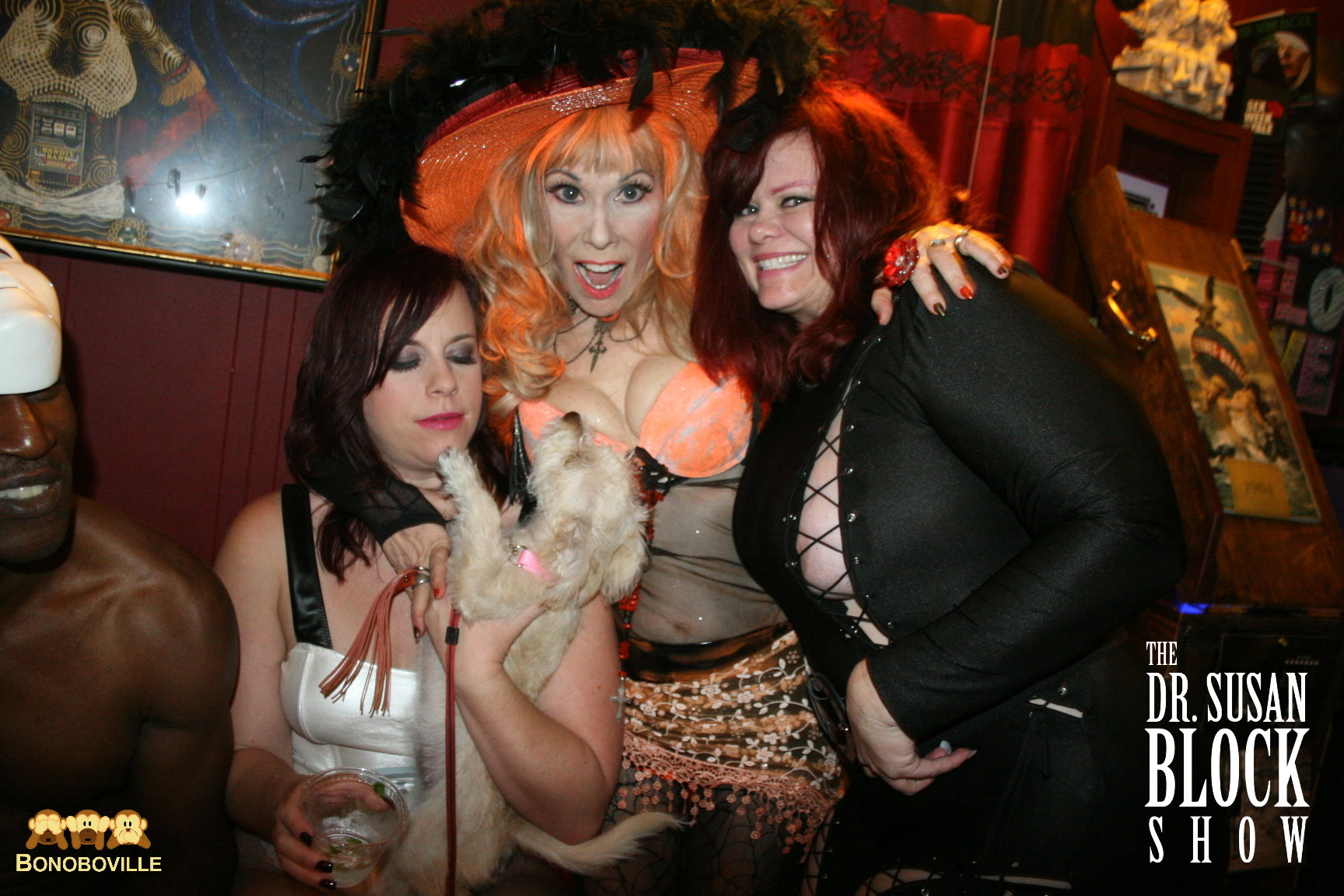 Yenta Goes Wild. Photo: L'erotique
The debauchery and comradery continue into the after-party until even the ghosts are getting it on. From across a crowded Speakeasy, I spot Capt'n Max as Superman, my Superman, and on the wings of communal ecstasy we fly away to our own private Kink Month climaxXx.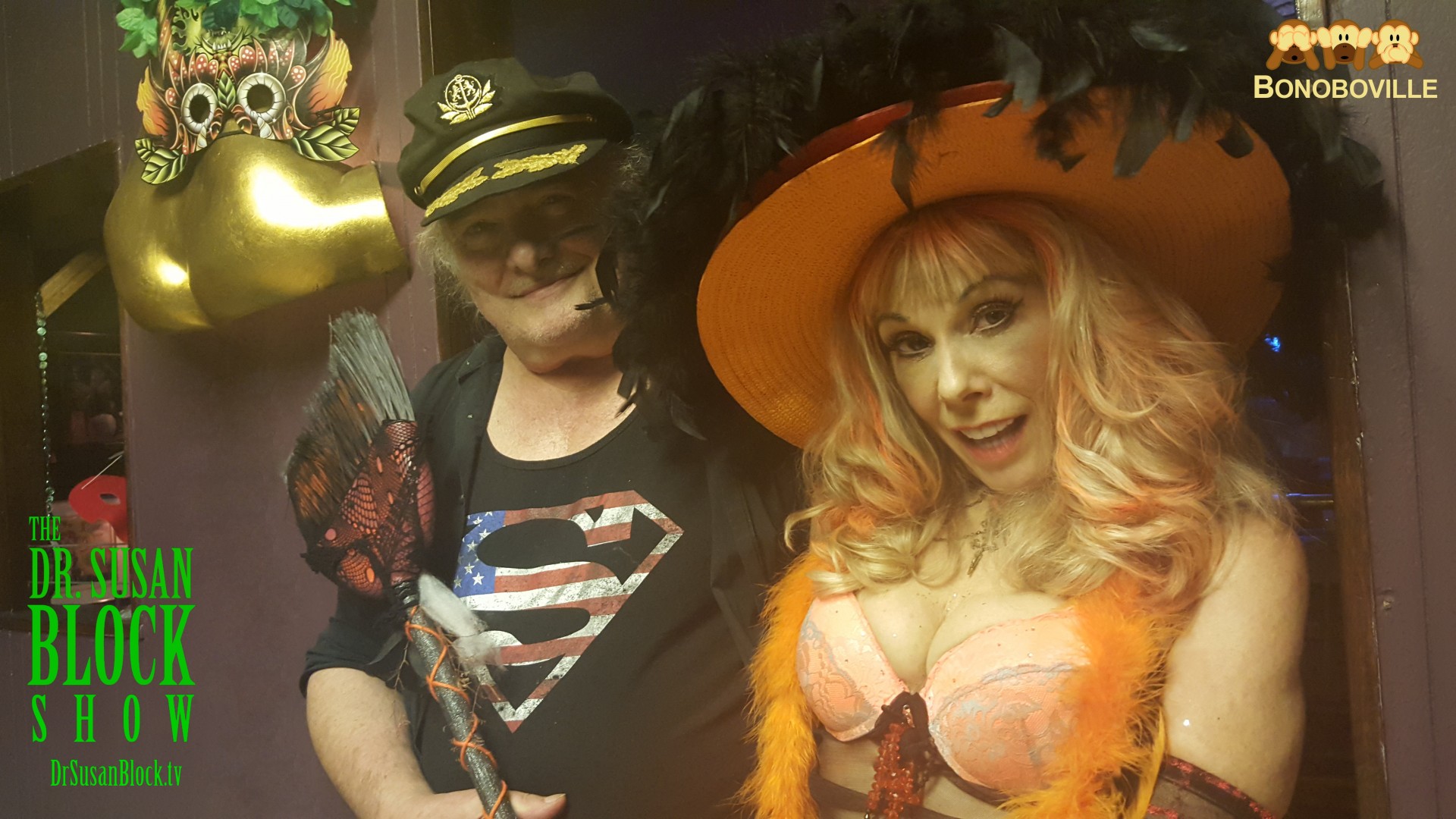 Lois Lane's a witch! Photo: Unscene Abe
Next Saturday: Don't miss Capt'n Max's birthday with very special guests Silky and Luc, plus (can you believe it's been a year since the hottest book launch ever?) the one-year anniversary of The Bonobo Way!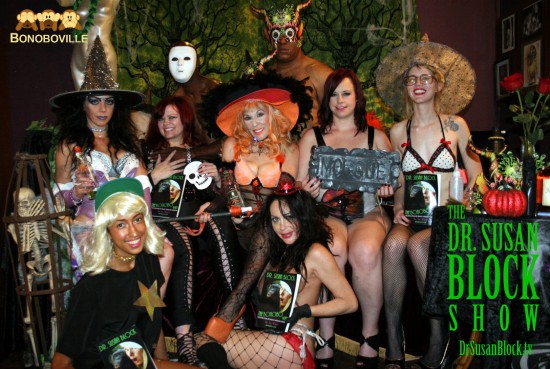 Halloween 2015: Bonobo Rose, Dayton Rains. Row 2: Biz Bonobo with Agwa, Marcy Diamond with The Bonobo Way, Dr. Susan Block with Ron de Jeremy Rum, Virgo Peridot, Ono Bonobo. Row 3: Ikkor the Wolf, Mike. Photo: L'Erotique
© November 1, 2015. Susan Block, Ph.D., a.k.a. "Dr. Suzy," is a world renowned LA sex therapist, author of The Bonobo Way: The Evolution of Peace through Pleasure and horny housewife, occasionally seen on HBO and other channels. For speaking engagements, call 310-568-0066.
---
Explore DrSusanBlock.com
Need to talk? Sext? Webcam? Do it here. Have you watched the show? No? Feel the sex. Don't miss the Forbidden Photographs—Hot Stuff, look at them closely here. Join our private social media Society. Join us live in studio 😊. Go shopping. Gift shop or The Market Place. DrSusanBlock.tv, real sex TV at your toe tips. Sex Clips Anyone? FASHION, we have fashion! We also have politics. Politics? Have you Read the book? No? How about the Speakeasy Journal? Click here. Ok, how about some free sex advice?
---