Golden Streams
Ah, the Golden Water of Life, water that flows freely, shoots majestically and trickles daintily, sun-colored waters that sparkle in the light, tinkle in the porcelain bowl and melt in the mouth of the thirsty connoisseur, water that heals, arouses and offends and humliates, water that can feel truly orgasmic in its release, especially after you've held it in a little while.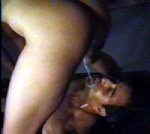 We all do it, and yet it is something special, secretive, something we almost always do in private. We do it in a closet, in a stall, in a sanctuary or behind a tree. Some say its just waste. Others long to take a taste.
And what do we call it? "Peeing" sounds childish, but "pissing" is rather crude. "Taking a whiz" is so casual, but "urophilia," "urolagnia" and even "urination" are so coldly clinical. Kinky terms are more playful: "Golden Showers," "Water Sports," "Wetting," "Sprinkles." One of my own golden retrievers likes to call my urine "Chateau Block," especially after I've been drinking champagne. I like the term "Water of Life." To differentiate it from it's cousin, Female Ejaculation (Holy Water), I call it the Golden Water of Life.
Unlike squirting, peeing is not at all esoteric. Everybody does it. There is no special technique to learn, except, perhaps, how to relax so you can piss in front of someone. Is the Golden Shower fetish something new? Not at all. People have been looking at, touching and drinking urine probably for almost as long as people have been urinating. Urine has proven healing properties. The yellower your nectar, the more vitamins reside within it. Yogis and other health nuts drink a glass of their own "juice" every morning for that extra vitamin-rich boost. And no less an authority than Madonna has said that peeing on the feet heals athlete's foot.
We've got an always increasing variety of Squirting Clips in Clip-O-Rama, but until recently no Golden Shower Clips. We do have a couple of fun golden shower scenes in the Squirt Salon, but that's mainly to show the difference between squirting and peeing. Our two brand new clips are true "Golden Rhapsodies," really focusing on the pleasure of peeing on or for someone who genuinely enjoys it for both sensuous and submissive reasons.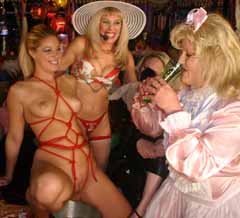 First, we have Margo Sorell's "Golden Hollie Wood Tie-Up" from the "Dommes & Hollie" show. It features Ms. Genevieve's very first appearance on the show, and she looks fabulously voluptuous in a black latex corset and gown. This is also Hollie Wood's first time on the show, and soon enough Annie Body is lending Ms. Gen a bright red rope with which she expertly ties Hollie's beautiful naked body into bondage. It isn't long before Hollie has to pee, which she does – radiantly – into a large glass over a bucket. An audience member named Sissy Maid (also first time on the show!) volunteers to drink Hollie's nectar, and she drinks, first the whole glass and then the whole bucket(!) with great relish as Hollie beams with satisfaction. It's a beautiful sparkling scene, and now you can see the stream or get the download.
While Margo's clip is pretty much of an all-girl affair, Victor's new golden shower clip, "Shayna Pees on Brother Love," has more testosterone. Those of you who have seen Victor's other clips of the vivacious 19-year-old German Squirting Princess Shayna Knight from our "Squirt Crazy" show (squirting vaginally as well as anally), know that it would be entertaining and arousing to watch Shayna making wienershnitzel, so watching her pee is lots of fun. Her "victim," Brother Love, is fun too. If you've seen him in Victor's Extreme Fetish clip "I Get A Kick Out of You," know that he is a brave young man. After being on the (consensual) receiving end of several hard swift kicks in the family jewels from Kathy, Shayna's hot honey-hued stream is his reward. First she gives it to him straight in the mouth, then an all-over-body waterfall.
If you're into golden showers, you're probably already off into the clips and not reading this bloggamy anymore. If not, you're might be wondering what's wrong with these people. Nothing is necessarily wrong with them. Some people just like to be peed on, either on the face, genitals, other body part, or directly into the mouth. They may or may not like the taste of the urine. They may or may not have submissive tendencies, enjoying the humiliation of being "pissed upon" or "forced" to imbibe. Others don't find receiving a golden shower to be degrading in the least; they just enjoy the warm wet intimacy of sharing their lover's living waters. Some like the taboo nature of indulging in the Yellow Peril, the rush of playing water sports. Some feel it is an elixir of health and sensuality, others a symbol of enticing shame. Some like to watch people pee, others like to pee in front of people, or on people, or into their mouths, or into a flute for them to drink like champagne. Others just like to pee. Actually, almost everybody likes to pee.
I love it. I'm not really into being peed on, but I do enjoy peeing on or into the mouths of others who appreciate my Golden Waters of Life. And when I've been holding it in a long time, squeezing that pubbococcygeus muscle, and then I release it in a gush, it can feel as good as an orgasm, or a female ejaculation, sometimes even better. The sound of pissing can also be very erotic, especially during phone sex. H loves to hear me tinkling into his earphones; it's like I'm piddling all over his head.
One of the greatest, most profound pees of my life occurred in the hospital shortly after my recent near-death experience. Can a pee be profound? This one was. It was early one morning, and though I was off the breathing tube, I was barely mobile. With considerable help from the nurse, I had just managed to sit up in a chair to eat an egg when I burst into tears out of pain, exhaustion and the thought that I might "always be like this." In that moment, a tall angelic-looking man with bright blue eyes and a white lab coat appeared before me. He asked me how I felt, and I said "incredibly weak," to which he said, "but the fact is you're incredibly strong." That made me laugh, weakly. Then he asked me if I'd like to have my "foley" removed. I was so out of touch with my sick bloated body, I barely realized that I had been urinating through a catheter for over two weeks. But I knew enough to say "Yes, Doctor." A half hour later, the nurse yanked the foley catheter out of my urethra, and it felt like she had broken the chains of my slavery. She helped me up (still an arduous process) and onto the commode, and I took my first natural whiz in over two weeks. Let me tell you, it was absolute heaven – better than most orgasms – to feel the Golden Water of Life free-flowing from my urethra, sensuously licking my vulva and tinkling merrily into the commode. Wiping was also fun.
Okay, so that might not be so sexy to some of you, but it was a sexual revelation for me. Then again, maybe you've had your own Golden Moments. Or maybe now you'll have some…
Or maybe you just like to watch. Even if you're weirded out by profound piddling or the idea of being urinated on, you might be surprised at how much you enjoy the sheer sparkling release of watching these two lovely ladies taking a nice long luxurious peepee.