Eros Day is Coming…1/20/07!
Whew! The Judeo-Christian holidays are over, so stash that menorah, take down the tree and vent to your therapist about all the Judeo-Christian trauma your family put you through this year.
But don't lose your holiday cheer! We're still in the midst of the Pagan Holiday Party Season, also known as the "111 Days of Bacchanalian Pleasure Sex," starting with Halloween Weekend, partying on down through Thanksgiving, Christmas, Saturnalia, Dionysia, Sun Birth Day, Hanukkah, Kwaanza, New Year's, Eros Day, Mardi Gras and ending the day after Valentine's Day. During these 111 days, which are the coldest and darkest of the year, we light fires, celebrate life, spread warmth and give each other orgasms and other gifts of joy. Peace through Partying!
The climax of the Pagan Holiday Season is Eros Day, which we are about to celebrate on Saturday night, January 20th, 2007. Mark your calendar: Eros Day is coming! The planetoid is spinning closer, the special guests are getting excited, the partiers are making their reservations, and the gods and goddesses are winking, flashing, spreading their wings and shaking their immortal booties in aroused anticipation.
What is Eros Day?
Eros Day is a holiday that celebrates passionate love and sexuality. On Eros Day, we honor Eros, who is both a great and powerful God, according to classical mythology, and a little phallic planetoid, according to modern astronomy, as well as the Spirit of Eros, the idea of love and eroticism. The holiday of Eros Day is celebrated annually on or around January 22, when the planetoid 433 Eros is closest to Earth. Dr. Suzy's Speakeasy is the primary temple of Eros Day celebration. We always celebrate Eros Day on the Saturday closest to January 22. This year, that will be January 20th.
Ancient Origins
Celebrations of Eros, the God of Love and Life, were held in Ancient Greece perhaps as far back as 1800 BCE, most notably in Thespiae, as part of the Eleusinian Mysteries and in Athens where Eros shared a popular cult with his mother Aphrodite. These erotic ceremonies and ritual gatherings continued until ca. 390 AD when Roman Christian Emperor Theodosius forbade the practice of all other religions except Christianity under penalty of death. Ancient Festivals of Eros shared many similarities with the modern holiday of Eros Day, most notably a ritual coming together of people wishing to express their appreciation of and desire for the principles of love and lust in their lives. However, these early revels did not necessarily take place on or around January 22, as the planetoid 433 Eros had not yet been discovered by astronomers.
Modern Origins
The modern holiday of Eros Day originated in the mind of our longtime friend, Italian filmmaker, author and classicist Alberto Ferro, a.k.a. Lasse Braun. A devotee of Eros the God of Love and Life, when Lasse first learned about the planetoid 433 Eros and its January 22 proximity to Earth, he began honoring that date, though only by himself or with a girlfriend or two. At the turn of the millennium, Lasse introduced the idea of Eros Day to me, and together, we held the first communal celebration of Eros Day on January 22, 2000, with about 60 participants. Since that fateful night, Block Studios has celebrated Eros Day every year on the Saturday night closest to January 22, with anywhere from 10-300 people participating in person, while hundreds of thousands have shared in the festivities online. Eros Day, usually the biggest annual event at Block Studios, is known for its high orgiastic revelry. Porn stars, professors, artists, musicians, swingers and scientists come from all over the world to participate in this "Classical Tribal Astrophysical Celebration of Love, Lust & Blue Values." Participants wear togas, spacesuits, lingerie, tribal fetish wear, clown costumes or nothing at all. After I welcome the guests and explains the holiday to the uninitiated, there are various entertainments, music, art presentations, political satire and dancing, as well as sexual performances, from tantric rituals to spontaneous expressions of lust. Often, the Eros Day Prayer is recited as phallic candles are lit and held high by nude celebrants. In recent years, female ejaculation has been a popular form of expression of the "Spirit of Eros Day."
Meaning of Eros on Eros Day
In the context of Eros Day, Eros is classical, astronomical and spiritual.
Eros the God
The Classical Eros, according to Hesiod's Theogony, written around 800 BCE, is one of the four original Creators of the Universe, all of whom emerged from Chaos. The other three are Gaia the Earth Goddess, Uranus the Sky God, and Tartarus the God of the Dead. The fourth Great Creator is Eros, God of Life, Love and Sex. Eros blows the Breath of Life into all creatures, even the Gods. This is what I call "The Original Blow-Job."
In other Greco-Roman myths, Eros is portrayed in more human form, a handsome, sexy, mischievous teenager with large wings and a potent quiver of arrows to pierce the hearts of paramours with desire. His closest relationship is with his beautiful mother Aphrodite, Venus to the Romans, Goddess of Love, Sex and Beauty. This more human Eros also becomes the husband of Psyche, Goddess of the Soul. Eros' father is uncertain, in keeping with his swinging character; it could have been Zeus, Ares or Hermes or any one of his mother's many lovers. Eros becomes Amor in Rome, and later, Cupid. Even later, Cupid is portrayed as a cuddly little angel, or a troop of cuddly little angels who fly around shooting their arrows of desire into the hearts of people everywhere to make them fall in love. These little angels even manage to make their way into the heart of Christianity through Valentine's Day and other images of romance.
Representations of Eros as the original life force, the naughty young man with wings, and sweet loveable "Eros Angels" of all genders abound on Eros Day. Though there is always one official "Eros" and "Aphrodite" for the night, there are many unofficial Eroses cavorting in wings and Aphrodites dancing nude in the celebrations. Other revelers dress up and portray other Greco-Roman Gods and Goddesses, such as Artemis/Diana, Zeus/Jupiter, Proserpina/Persephone, Hermes/Mercury, Dionysus/Bacchus, Thanatos (Death) and Pan.
Eros the Planetoid
Eros Day celebrates the proximity of the planetoid 433 Eros to Earth. A planetoid is bigger than an asteroid, but smaller than a planet. The Planetoid 433 Eros was discovered by Carl Gustav Witt in 1898. It measures 25.3 by 9.1 by 8.8 miles, is shaped like a curved penis (though astronomers usually say it is shaped like a banana or a peanut), and spins on its own axis. It is especially intriguing to astronomers because, despite its large elliptical orbit, it comes closer to the Earth than any other body of comparable size, except the moon. 433 Eros is also one of the most elongated asteroid/planetoids in our solar system, the better to penetrate our hearts. A few years ago, NASA's NEAR spacecraft made astronomical history when it swung into orbit around this little dildo-shaped planetoid, taking photos and movies of Eros in space, some of which reveal a heart-shaped depression about three miles long. Every year, around January 22, the Planetoid 433 Eros is at its closest distance to the Earth and its energy is strongest; this is when Eros Day is celebrated at the Block Institute and around the world.
Spirit of Eros
In addition to Eros the God and Eros the Planetoid, Eros Day celebrates the Spirit of Eros, an essential human drive that Sigmund Freud referred to as the libido. The idea, feeling or "Spirit" of Eros is our inherently libidinous drive to mate, to create, to produce and construct, as opposed to Thanatos, the Spirit of Death and the desire to destroy.
Eros Day Stars and Celebrations
The Stars of Eros Day are the people who play Eros and Eros' Mother and Lover, Aphrodite (Venus). These people may be porn stars, schoolteachers, comics or models. Every Eros and Aphrodite displays different talents and personalities. They might sing or dance or ejaculate "holy water." The only requirement for both Eros and Aphrodite is that they be completely nude throughout the celebration, except for a pair of wings (Eros) and a gold belt (Aphrodite). Following is a list of former Eros Days, including the people who have played Eros and Aphrodite at the Dr. Susan Block Institute:
2000: The First Eros Day
On this first Eros Day, Braun explained the meaning of Eros Day to Block and the guests on her show. Spontaneously, Block cast her guest adult actress and former Playboy centerfold Teri Weigel as Aphrodite and her husband Murrill Maglio as Eros. They performed an Olympian-style sex scene on the bondage cross surrounded by candle-holding Eros Day celebrants reciting the Eros Day prayer. Braun and Block co-directed the DVD about Eros Day 2000, the first official public Eros Day celebration.
2001: Eros Day Passion Play: Story of Eros & Psyche
Norman Alexander Gibbs (one of "Jive Brother" stars of the movie Airplane) played Eros and Elizabeth Smith (then a sergeant in the U.S. Army]]) played Aphrodite in Block's Commedia dell'Arte-style Passion Play of The Story of Eros and Psyche, featuring Kim Mendoza as Psyche and Lasse Braun as himself: "Eros Man."
2002: Intimate Eros Day
This was the smallest Eros Day, with only Eros (Russell Johnson) and Aphrodite (Keisha) in the studio with Block and the tech crew. The lack of a crowd focused attention on Eros and Aphrodite whom Block directed in an intensely passionate sex scene. Braun joined the intimate celebration by phone from Rome.
2003: Eros Carnaval
Eros Day 2003 marked the return to large Eros Day parties, and featured, among other festivities, the Wedding]] of Laura Moore and Jared Hoffen, performed by Block, a Universal Life Church minister. Braun joined the festivities by phone again. Eros is portrayed by two men, Elisha and Geoff, the Black and White Eroses. Actress Sara Sue Robertson played Aphrodite, wrapping and unwrapping herself in the American flag, starting an Eros Day tradition of erotic political satire.
2004: Eros Day Parade
Singer and composer Regan, a.k.a. Mistress Selena Minx, reigned over the Eros Day Parade as Aphrodite, with Caddy as her frisky but devoted Eros. A large variety of erotic characters perform for Eros and Aphrodite who sit with Block on her bed, reviewing their artistic and erotic talents. A highlight was Regan as Aphrodite playing her harp in the nude.
2005: Eros Day Counter-Inaugural BALL
Big D and Leila Swan, both stars of Dr. Suzy's Squirt Salon, played Eros and Aphrodite at the Eros Day Counter-Inaugural BALL, held on the same weekend as the United States Presidential Inauguration of George W. Bush, which Block's Eros Day Ball presented as the inauguration of Thanatos, spanking and mock-torturing celebrants wearing Bush and Cheney masks. The Eros Day Ball was also an art opening for the erotic works of [[Jirayr H. Zorthian, featuring classical nude dances of the Nymphs of Zorbacchus. D and Swan made love practically all night long in Block's bed as various celebrants joined or watched them. Swan initiated an Aphrodite tradition of [[female ejaculation, allowing some celebrants to drink of her "holy water."
2006: Eros Day Circus of Sex
This was the biggest celebration thus far, with about 150 celebrants. Like a three-ring circus, there were almost always several events going on simultaneously, including clowning, erotic performance art, body-painting, female ejaculation, hula-hooping, drumming, spanking and bondage play. Adult actress and another star of "Dr. Suzy's Squirt Salon," Annie Body starred as Aphrodite with Brad Baldwin as Eros.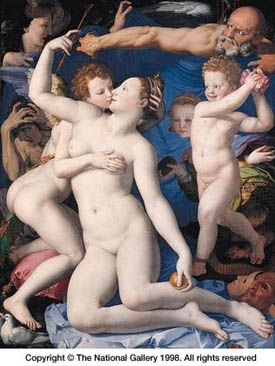 Who will be Eros and Aphrodite at Eros Day 2007? We don't know yet! In fact, we are now looking around to see who will reign as God and Goddess of Love, Lust and Life on Eros Day. Do you want to be Eros or Aphrodite? Do you think you've got what it takes? For a description of what we're looking for, check out the Eros Day news brief in Eros-Zine, or just read on…
Eros "Requirements":
Requirement #1: You must be male, over 18, and in good health.
Requirement #2: You must be sexy. How do you know if you're sexy? Well, if you think you're sexy, that's a start.
Requirement #3: You must be fairly uninhibited. To be more specific, you must be naked throughout most of the night, except for a pair of wings. We will provide the wings. As Eros, you may also get opportunities to have sex on Eros Day(!), maybe lots of sex. Most former Eroses have. But, of course, we can't and won't guarantee that. You should just be prepared to go with the flow.
Requirement #4: You should be in good shape. No, you don't have to be Adonis; you have to be Eros! Remember: Nude most of the night. And it's a fairly long night.
Requirement #5: You should be mentally stable. We don't want no drama! No sickos, no big babies, no last-minute freak-outs or cancellations, no sociopathic tendencies, no incapacitating insecurities, no nonsense, PLEASE.
Requirement #6: You should be here in the LA area, and ready for action Saturday night, January 20th, 2007.
Aphrodite (also called Venus) "Requirements":
These are pretty much the same as Eros, except you must be female, and you don't wear wings, but you do wear a gold belt and a crown.
Eros Day is a benefit for the highly endangered "Make Love, Not War" bonobos. We do not pay Eros, Aphrodite or any of our other Eros Day deities, performers or staff; these are all volunteer positions. But we do give you lots of publicity, a chance to shine, and a super great unforgettable evening.
If you'd like to audition for the role of Eros or Aphrodite on Eros Day, please email eros@blockbooks.com.
On the other hand, if you don't necessarily want the glory and responsibility of being a God or Goddess, but you'd just like to join us for an orgiastic ecstatic classical astrophysical celebration and one of the coolest parties you've ever attended, make your Eros Day Reservations now…
---
Explore DrSusanBlock.com
Need to talk? Sext? Webcam? Do it here. Have you watched the show? No? Feel the sex. Don't miss the Forbidden Photographs—Hot Stuff, look at them closely here. Join our private social media Society. Join us live in studio 😊. Go shopping. Gift shop or The Market Place. DrSusanBlock.tv, real sex TV at your toe tips. Sex Clips Anyone? FASHION, we have fashion! We also have politics. Politics? Have you Read the book? No? How about the Speakeasy Journal? Click here. Ok, how about some free sex advice?
---
---