Girls, Gore, Scary Sex & More
Newsletter Of The Dr Susan Block Institute

THIS Saturday, October 22nd

on The Dr. Susan Block Show
Celebrate the Erotic Exotic Halloween Season with


HOT GIRLS & GORE GALORE!
featuring G4 comedian and FetishVil creator Chris Gore, sexy sword swallowing siren Brianna Belladonna, adult starlet Jacky Joy, sultry seductress Sophia Jade, erotic cinematographer Mr. E & the return (from the dead) of Corpsy along with one or two of his cutest GirlsNCorpses Corpsettes
Want to Join our In-Studio Audience of the Show AND Erotic After-Party?
RSVP Here or Call 213.670.0066
Call Anytime. Someone is Always Here 24/7 to Take Your Call
Doors Open @ 9:30pm ~ Show Starts @ 10:30pm ~ After-Party @ Midnite!
Can't Be Here In the Flesh? Watch Us Live on DrSusanBlock.tv or Listen Free on RadioSUZY1 ~ Call In Live 10:30p-Midnite PT: 1.866.289.7068
Ask a Question, Tell a Story, Make a Comment, Share a Fantasy, Talk with Dr. Suzy & Guests!
Not Yet Sure if You Want to Watch? Read This New Rave Review


"Dr Susan Block is genuinely one of the most fascinating and interesting people in the adult industry…Her thoughtful and analytical approach [to sex] is a breath of fresh air…But her site is a genuine delight all by itself…Everyone here is clearly having a blast, as you would expect from a lady who advocates ethical fun and hedonism in sex. This site is a perfect microcosm of those views, and a fascinating experience…Dr Susan Block is…about as close to being 'important' as an internet porn site could possibly hope to be.  As likely to appeal to people simply looking for a really wild time with live shows and recorded content as it is to those looking for a more cerebral approach to porn, this is a truly wonderful site from a thoroughly admirable personality."
Take the Free Tour of DrSusanBlock.tv


Ready for an Erotic Halloween?  Read
THE ALCHEMY of SCARY SEX

+  "Scary Sex: A Halloween Poem"

NEED to TALK…
About Something You Can't Talk About With Anyone Else?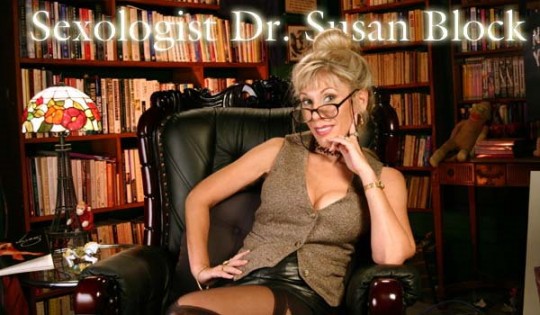 EXPERIENCE TELEPHONE SEX THERAPY
You Can Talk To Us.

Call 213.291.9497
What Can We Talk About?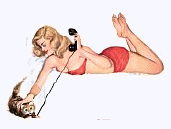 CLICK HERE TO FIND OUT
For Recorded Information, Call 213.291.9497
To Talk or Cam with a Sex Therapist Right Now, Call 213.670.0066
Want to Talk about Scary Sex or Roleplay a Frighteningly Hot Sexual Fantasy? Try Taboo Phone Sex Therapy
Want to See Your Therapist?  Experience Webcam Sex Therapy


Hot New Show Blog on Our Awesome NEW Bloggamy!
Check out our exciting new format! It's now in "beta," and a lot is still missing from that disastrous crash.  But we're loving the new format!  Let us know what you think and please tell us when you find broken links & missing stuff :)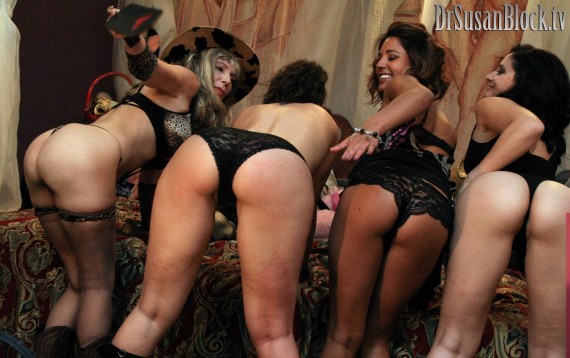 See the Free PGish Pix from Filly Girls

Get Ready for Sex Week at Yale February 4-14, 2012!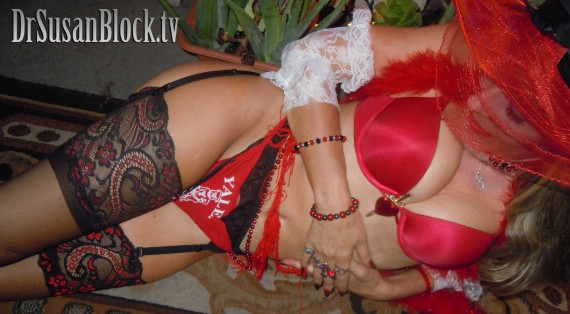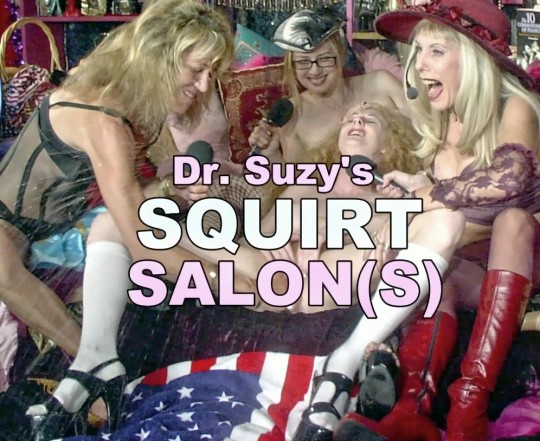 Thou shalt worship thy lover and read…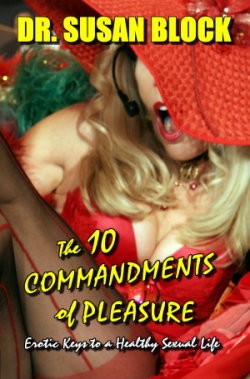 Now Available on Kindle!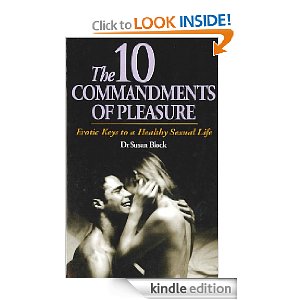 WANTED (Isn't it Nice to Be Wanted?)
HELP US WITH DATA RECOVERY!!!
Yes, we are recovering and rebuilding, but its a long, difficult process!  Much of the years of blog and show data we lost appears to be unrecoverable, even by some of the top recovery experts in the country :( So we are rebuilding the sites piece by piece, always trying to improve your webviewing experience (check out the new bloggamy format) as we rebuild.  If you think you can help us in any way, email datarecovery@blockbooks.com or call 213.670.0066 and ask for Nori
Volunteer Photographers, Videographers and Phone Screeners Wanted for Our Exciting Saturday Night Shows. Be Part of the Magic on Saturday nights at Dr. Suzy's Speakeasy! Make a Difference! Email cam@blockbooks.com or call 213.670.0066 and ask for Mar.
Want to Rent The Speakeasy for a film shoot, party or special event? Email shoot@blockbooks.com or call 213.670.0066 and ask for David.
Exciting Business Opportunities in the Telephone Sex Therapy field! Minimum Investment: $15,000. Email biz@blockbooks.com or call 213.670.0066 and ask for David.
WANT TO GET US SOMETHING SEXY, FUN, USEFUL or AWESOME?
Browse Our Amazon Wishlist

Or just join DrSusanBlock.tv & help us thrive as you expand your erotic horizons..



STILL Not Sure If You Should Join ? Read More Rave Reviews…
"Dr Suzy has created a new level of awesome…horny, sex educational, very entertaining!" All HD Review
"…Brilliant, absolutely brilliant…I'm just amazed! I've been doing reviews for many years…and this is the first installment I've ever done like this…Dr Suzy carries on a show that explores sex from the deepest depth, nothing is taboo, nothing is censored, and the points brought out are more than intelligent, they're insightful and right on the money…I've never seen anything so "out there," so different from even the most bizarre things I've witnessed before, because this is the uninhibited good time of souls meeting sex…and it's outrageous, unbelievable and spectacular!" TPI
"Dr. Susan Block is a ravishing sex therapist…whose scenes have a dreamlike quality that instill a devil-may-care attitude, make you want to cast off your inhibitions & join in on what looks like a hot load of fun." Rabbit Reviews
"DrSusanBlock.tv is the real deal…This is a crazy circus that you can get off to and learn from. This content will actually improve your sex life! I was blown away by the diversity offered…Very nice!" FreeOnes
"DrSusanBlock.tv is a sexual circus where nothing is taboo and everything is encouraged (as long as it's legal and no one gets hurt)….I have been to one of Dr. Suzy's shows and believe me your mind will be blown!" MPL
"A wonderful treat for fans!" Jane's Guide
A portion of all proceeds go to help save the highly endangered "make love not war chimpanzees from extinction, supporting our "adopted" bonobos at Lola ya Bonobo and other bonobo conservation programs in Congo, and to promote the Bonobo Way of peace through pleasure around the world

Make Like Bonobos, Not Baboons! Make Love, Not War.
Make Love to Someone You Love Tonight, Even If That Someone Is You.
I LOVE YOU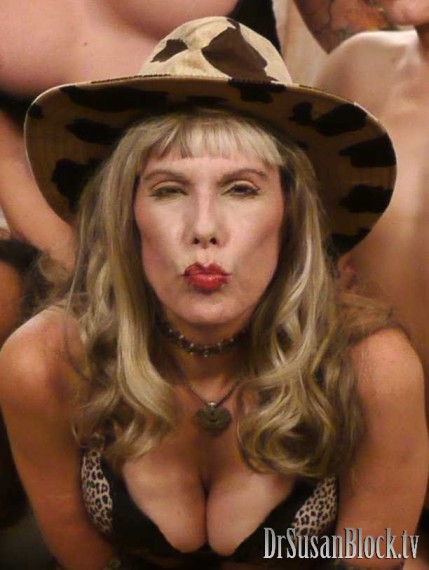 Peace through Pleasure
OCCUPY WALL STREET! OCCUPY LA! OCCUPY YOUR WORLD!
You Occupy My Heart
AMEN * AWOMEN
x S
DrSuzy