The Rosy Politician & the Rubber Goddess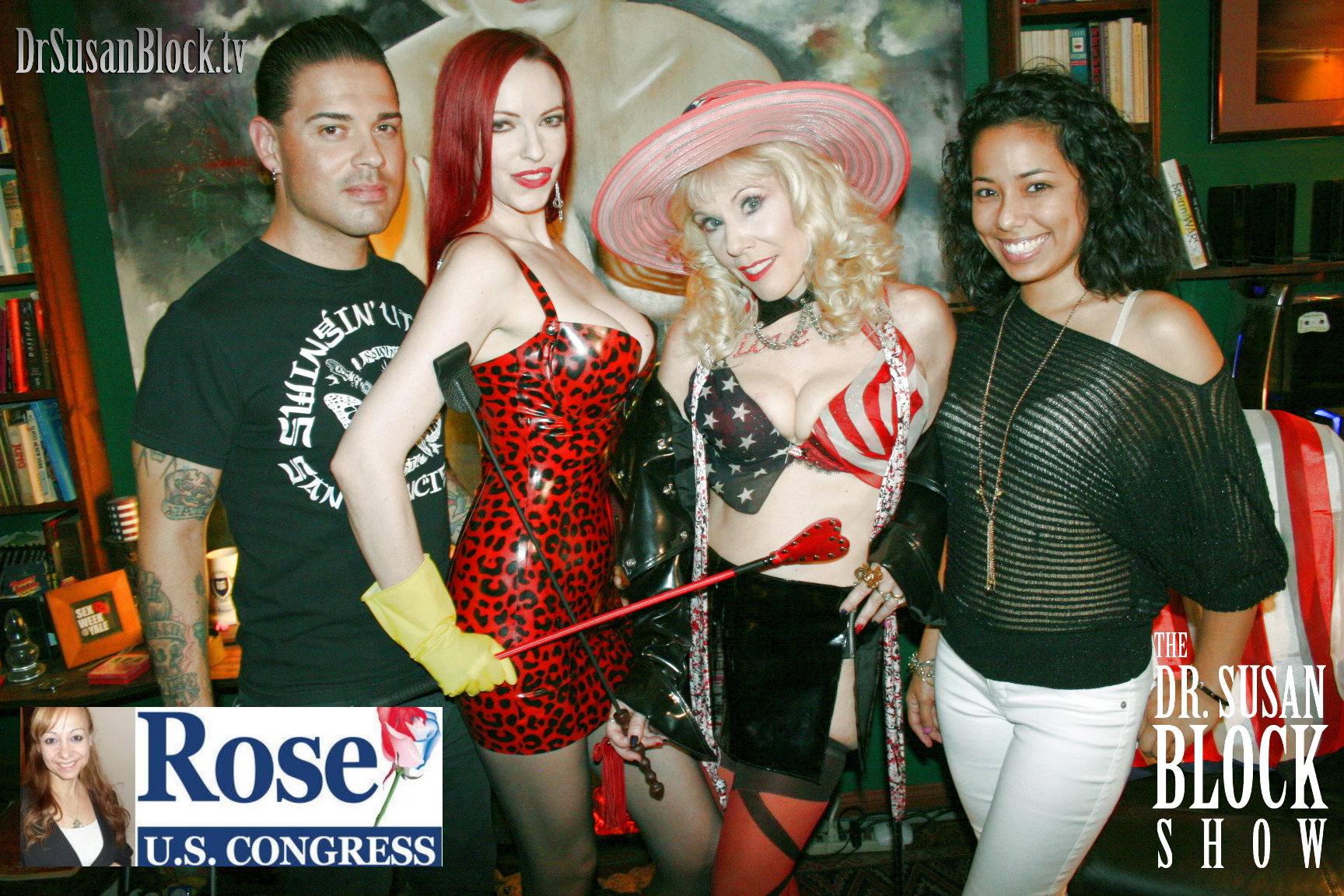 Eric Razo, Emily Marilyn in Cathouse Latex, Dr. Susan Block with JuxLeather crop, Maya. Photo: L'Erotique. Insert: U.S. Congressional Candidate Rose Izzo (DE)
Length 1:29:20   Date: Sept. 20, 2014
Featuring a couple of fabulous women on the front lines of the American sex-affirmative revolution, this DrSuzy.Tv show rocks the electoral boat with a latex paddle.
In-studio is fetish supermodel Emily Marilyn, a passionate rubber lover with a body like Jessica Rabbit and a mind like Havelock Ellis (including his taste for water sports). I've admired Emily's style from afar for years, plus we share the same middle name, so it's thrilling to finally meet Ms. Marilyn, engage her delectably perverted brain, embrace her impossibly tiny waist and taste her delicious lips… above and below.
From fetish to politics to a fetish for politics… Calling in from the great state of Delaware is U.S. Candidate for Congress Rose Izzo. Speaking up for hemp legalization, sex positivity and net neutrality with an adorably thick Brooklyn accent, Rose gets our votes. The fact that she's running on the Republican ticket just reminds us that American politics are topsy-turvy. So one day we may be addressing her as Congresswoman Izzo… or Congress-gal Rosie.
Though Emily is "apolitical" and Rose doesn't wear latex (at least not on the campaign trail), intriguing connections arise. Rose's commercial about Congress pissing away our tax dollars triggers Emily's revelation of her love for receiving golden showers, especially from her studly "behind-the-scenes" partner Eric Razo who joins us for Bonoboville Communion.
Rose comes to national politics with considerable experience as a "Kitchen Table Economist" (a horny housewife/accountant?). When I ask how her political career has affected her sex life, like a true politician, she deftly replies, "When the bills are paid, I feel sexy."
It turns out that Emily's original fetish turn-on is also kitchen-based. When she confesses a strong childhood lust she harbored for her mom's rubber ducky yellow dishwashing gloves, Maya produces a pair, still damp from doing the Bonoboville dishes. Watching those bright canary-colored gloves caress Emily's big boobs and shaved yoni puts everyone into a state of domestic goddess erotic hypnosis.
More Weapons of Mass Discussion include Emily's torrid tale of being a tranny's teenage sex slave, "cake-farting" (from a twitter fan via Kelsey Obsession) and Erotic Gent's appreciation for our shiny outfits and kinky play. We send a shout-out to Alexandra Silk (Happy Birthday Silky!) and Luc Wylder (whom we just saw at CatalystCon) and their "Sex Across America" campaign for connecting us with Rose. Shout-out to Cathouse Clothing for Emily's sexy red leopard latex dress as she peels it off, and we enjoy an extra-sensuous Bonoboville Communion featuring Dirty Tequila, Ron de Jeremy Rum, margarita salt and Maya "boobs-on-boobs" with Emily.
Going into over-time, the live broadcast climaxes as Eric removes Emily's classic, well-worn high heels and gives her fetish-perfect, black-stocking feet a masterful foot-rub, concentrating on the ball of her foot and big toe, giving her an intense toegasm mixed with a moaning, Doc Johnson Pocket Rocket-powered vulva-centered orgasm that (once my over-excited tech team manages to get the batteries in right) blows the roof off of RadioSUZY1.
And with that, we go from Kitchen Table Economics to Kitchen Table Orgasmics, adjourning for the after-party to the Bonoboville commissary where we have a splendid addition to our Kitchen Table Sex scenes, featuring an elegant and delectable Emily Marilyn main dish exploding into another Pocket Rocket orgasm for dessert.
Drop Pocket Rockets, Not Bombs! It's our politics. It's our fetish. It's the Bonobo Way (coming soon to a Kindle near you).
---
Explore DrSusanBlock.com
Need to talk? Sext? Webcam? Do it here. Have you watched the show? No? Feel the sex. Don't miss the Forbidden Photographs—Hot Stuff, look at them closely here. Join our private social media Society. Join us live in studio 😊. Go shopping. Gift shop or The Market Place. DrSusanBlock.tv, real sex TV at your toe tips. Sex Clips Anyone? FASHION, we have fashion! We also have politics. Politics? Have you Read the book? No? How about the Speakeasy Journal? Click here. Ok, how about some free sex advice?
---