FemDoms of the Wild: DomCon LA, the Bonobo Way, 2017
The mad, misogynistic Pussy-Grabber-in-Chief may be occupying the White House, but femocracy, the Bonobo Way, is alive and well and on full-bodied erotic display at DomCon LA.
And whilst the Golden-Showered One was receiving a Gold Medal even gaudier than the fixtures of his Trump Tower toilet from the wannabe King of Saudi Arabia (a land which Trump himself said "wants women as slaves and to kill gays"), the good and (relatively) honest denizens of DomCon were receiving The Bonobo Way with thanks, spanks and a whole lot of heart and Tantric soul.
They say, "three's the charm," and 2017 was my third time at DomCon LA, so maybe that's why I was even more charmed than before by the organic magic of FemDom power and the love that flows between the smacks within the BDSM community. It could also be that I was being feted and fawned over a bit more than usual, since this year, DomCon founder and director Mistress Cyan had made me a "Guest of Honor."
Honors aside, the best part of DomCon are the Dommes. While Riyadh was hiding its women under veils (so Ivanka and Melania's could be the only botoxed lips on display?), DomCon was showing off beautiful, sexual, powerful Mistresses, Goddesses and Mesdames of all shapes, sizes and ages (over 21, of course), from around the globe, displaying their charms as much as the Hilton would allow.
We gathered together to educate each other and to celebrate our power as individuals, in groups and as a "femocratic" community. The greatest beauty of DomCon lies in how these fiercely independent women and men support each other. Solidarity is as important to the FemDoms of DomCon as it is to the FemDoms of the Wild. It's the Bonobo Way.
Once again, that's what I was there to deliver: the message that our kissing cousins, the bonobo chimpanzees, the most FemDom Apes on Earth, present a new primate paradigm that can help us create more female-empowered relationships and a more FemDom community, maybe even a "femocracy," loosely (very loosely, erotically and otherwise) based on the bonobo model.
As much as I was there to give The Bonobo Way, I also wanted to take it all in. I basked in the power and glory of FemDoms, old friends and new, strutting their stuff all DomCon weekend long. From fetish fashion to philosophy, bold burlesque humor to dark feminine mystery, the deeply personal to the shamelessly political, from over-the-knee book–spankings to butt plugs bigger than Trump's inauguration, DomCon 2017 was the place to see and be seen and a whole lot more in between.

Bonoboville Bound for DomCon LA
Early Thursday morning, Mark Brown worked his hair magic on my sleepy head (and not in that Cosby sort of way), Ana helped me with last-minute packing, and by afternoon, I was slipping into a Red-Carpet red Catalyst Latex pencil skirt with a black-trim slit up the side to show off my fishnet stocking top. The skirt was a little big, but Gypsy Bonobo laced me into a black Catalyst latex corset that hugged me tight in all the right places. Fetish Factory latex gauntlets, shined with silicone lube, black red-bottom heels and a matching chiffon hat completed the ensemble: a sex therapist in Mistress clothing.
This was the first of five different latex designer outfits that I would wear throughout the weekend: Demask of Amsterdam (now with an LA branch), Mademoiselle Ilo of Paris and Libidex of the UK, as well as two by Catalyst. Latex is the material of choice at DomCon where you'll find more hot rubber than at a Monster Truck Rally… though with a lot more class, as well as femocratic sass.
By the time we arrived at the Hilton LAX, DomCon LA was underway. Folks in doggie masks, collars and chaps with no pants rubbed shoulders (and more!) with Retired Teachers' Association (CalRTA) attendees wearing cardigans, slacks and sensible shoes. Despite major wardrobe differences, everybody seemed to understand each other. After all, teachers "discipline" their classrooms regularly, and one of the top 10 fantasy roleplays in the pro-Domme playbook is, of course, "teacher-student." Though I think all would agree that corporal punishment is best left in the dungeon, and not the classroom, for obvious reasons.
I had just enough time to register, dash through the marketplace and slide into a seat for the last few minutes of Madame Margherite's industry-only class in "How to Make a Man Your Pet." As those of you who know the show know, Madame Margherite is a favorite guest of ours and winner of the 2016 SUZY award for "Best Animal Play," so it was a pleasure to start my DomCon weekend with the lovely svelte Brooklyn-born Madame who was rocking a slinky black over-the-shoulder gown as she put her man Andres through his paces for the pleasure and edification of her class. Today's lesson: Help release his inner animal and you'll have him eating out of your hand!
Meanwhile, Capt'n Max grabbed our room – not as spacious as our Silver Honeymoon paradise at the Marina, but nice enough for sleeping and screwing between presentations and parties – while I made a quick stop at the Whiplr Lounge for champagne and reunions with old friends and goddesses.
What a delight to run into fellow "Guest of Honor," the passionate, mesmerizingly lovely Goddess Soma (who first invited me to DomCon LA in 2015), sporting bright turquoise eyebrows to match her hair.
Of course, our ever-gracious Whiplr hostess, Mistress Simone Justice, was there to greet us, along with Whiplr King Max Candy, and what a joy it was to reconnect with a very special Dr. Susan Block Show guest from our HBO show days, Mistress Nicolette, who is now "Goddess" Nicolette, as she is combining Tantra with domination, having been one of a very few Tantric sex instructors certified by the late great Psalm Isadora.
DomCon 2017 Red-Carpet Opening Night
Thus fortified, we met up with Abe, Gypsy, Del Rey, Hugo and Bambi Leigh and transported ourselves via various vehicles to Mistress Cyan's Sanctuary. There we found a line snaking around the building practically to the airport… where American flight attendants appear to be practicing a kind of BDSM of their own lately; unfortunately, it's not consensual. Maybe next year United will have a booth at DomCon!
Fortunately for our feet, "Sultriest Domme" 2016 SUZY award winner and Sanctuary Mistress Eva Cruz worked her sultry charms to get us inside Sanctuary where we met up with Jacquie Blu, Mistress Liz and an eye-popping Mistress Chelsea Charms future winner of a SUZY award for the biggest boobs ever (cup size: Triple Z) … the only bigger boob being that guy in the Oval Office, of course.
Lighting up the Red Carpet with her electric whips, megawatt charisma and sensationally toned physique, 2016 SUZY award winner for "Most Dazzling Domme," Goddess Phoenix wore a black and white latex corset with tuxedo-like tails that was striking in more ways than one. The Goddess gave us the warmest of welcomes, and into the catacombs we went.
Inside, the place was packed with shimmering Doms, Dommes, subbies and kinksters, including sexy Madam RavenRae, winner of the 2016 SUZY award for "Sexiest Domme," with Her slave winnie, and a tiny but potent Goddess Pepper. Mistress Genevieve, whom we hadn't seen in over a decade, shouted like a kid on a playground when we saw each other, zooming in for a big latex-to-latex hug. Star of our 2004 "Dommes and Hollie" show, Ms. Gen also worked for the Dr. Susan Block Institute as a sex therapist specializing in fetish play. In 2005, She introduced me to Mistress Tara Indiana who has, since DomCon 2016, become a regular guest on the show and certainly my favorite 2016 U.S. Presidential candidate… even though I did vote for Hillary, because, well…. Trump.
Glowing and resplendent in a red latex and lace Victorian-style dress with puffed sleeves, heart-shaped nipple covers and a big bow in the back that made Her look like the ultimate fetish gift, Mistress Porcelain Midnight greeted us warmly before taking her place onstage. Winner of two 2016 SUZY awards, "Most Creative Domme" and "Best Bonobo Way Book-Spanking," and this year's DomCon Mistress of Ceremonies (MC), Ms. Porcelain expressed Her love and support for the fetish community with heartfelt emotion.
Later, when She gave an especially eloquent introduction to one of the Guests of Honor, I wondered who that lucky person might be, and then was deeply touched to hear Her call my name.
Providing hilarious comic relief, the "cheeky" and "naughty" Mistress Gabriella, aka the "Cuntress" of Australia, also served as DomCon 2017 MC, with the third MC being the fair and jolly Mistress Molly of Ireland. Quite the international threesome, as befitting the world's largest professional and lifestyle domination convention.
I was honored to receive my award, even though it seemed like half the folks in the place got some kind of plaque or certificate for something. And why not? We all deserve awards for letting our freak flags fly in the faces of anti-sex activists at the highest ranks of government, like Mike Pence and Paul Ryan, and with our two-faced, Saudi-fellating narcissist in charge.
All kinds of kinksters swung in from all corners of the LA jungles to attend Opening Night at Sanctuary. I even ran into a sex therapy client of mine; of course, I won't say who, though I will say that he dropped to his knees right on the floor before me, with a deep submissive sigh, and kissed my latex-covered knuckles.
The awards show flowed into the play party. Couples and small groups sidled off to shackle and torture each other in various chambers of the dungeon, as others enjoyed watching the spectacle. I've said before, but it bears repeating: Freedom is the greatest aphrodisiac, but restraint is a close second. The eroticism of consensual restraint was on full display.
The acoustics and sight lines were much better in Sanctuary than they were at the Hilton for last year's Opening Night. But the food went much faster. No sooner did it appear than it was scarfed up by starving kinksters.
So, award in hand, off Capt'n Max, Abe, Gypsy and I went to Denny's, the ultimate after-hours club.
Once back in our Hilton home-away-from-Bonoboville, one quick orgasm each, and off we swam into a sea of kinky dreams.
Latex Bride at the Pussy Parade
Friday morning, I put on my white Yale panties under a long ivory latex bridal gown, another spectacular outfit by Catalyst Latex of the UK. This one featured a voluminous skirt that hugged my body from ribs to thighs, then flowed out from my knees like a pot of spilt cream.
Whose pussy spilled my cream?
With a big off-white straw hat and heels, I was the cream-filled Cat Lady, and Institute therapist Gypsy Bonobo was my pretty pussycat in black mask, blonde hair, claw-like French tips and lip-licking red lips.
I put a collar around her neck and a leash on the collar, and together we marched, danced, pranced, sashayed, spun, clawed and crept around the DomCon marketplace in the Kitty Parade; which, in my infinite naughtiness, I kept calling the Pussy Parade.
Grand Marshals of the Parade were the Queen of the Pet Show and Pony Show Herself, Mistress Ellen, attired as a tawny tabby, and Mistress Porcelain Midnight, a splendid black cat with glittering talons, as well as tigress Madame Margherite and her beautiful Snow Leopard, among other feline furries, kittens, dogs, wolves and cat people.
We tried to keep to the parade route, but got sidetracked multiple times, encountering sweet Mistress Cyan, dazzling Goddess Phoenix, chatty Kim Airs of Grand Opening, latex nurse Jay Toriko, and the always helpful and extremely talented Sea of Austin, singer of merry cuckold songs and minister to the Guests of Honor. I finally got to meet Karen from Sybian, and she showed me their cool new attachments and waterproof, washable new covers. We love our Sybian!
Since I'd be wearing a fantastic Demask latex catsuit for The Bonobo Way the next day, we stopped at the Demask booth where we met the catsuit's designer, the elegant Louva of Amsterdam, and reconnected with Mistress Isabella Sinclaire who was on my show almost 15 years ago, but seems to have aged backwards. Must be all that latex. As we chatted, who joins us in the Demask booth but famous erotic photographer Ken Marcus, whom we've known since before the Internet.
Howdy, Ken! Is that a camera on your pelvis, or are you happy to see us?
With friendly faces at every turn, it was hard to get out of the marketplace, but somehow we managed to parade ourselves over to the bar to grab some mojitos and lunch. At the bar, we were approached by a retired CalRTA teacher named Christy who looked so conservative, I thought she was coming over to complain about the noise. But she smiled, complimented my Catalyst latex gown and bought a copy of The Bonobo Way, which I signed for her. She also admired my "Impeach Trump" pin (made by Clemmy), so I gave it to her, along with a "Femocracy Now" pin (concept by Del Rey, design by Clemmy). Happy as a puppy in the pussy parade, she skipped back to her table to show her less-courageous colleagues her goodies.
If retired teachers and latexed-up sex therapists can get along, why can't red and blue America?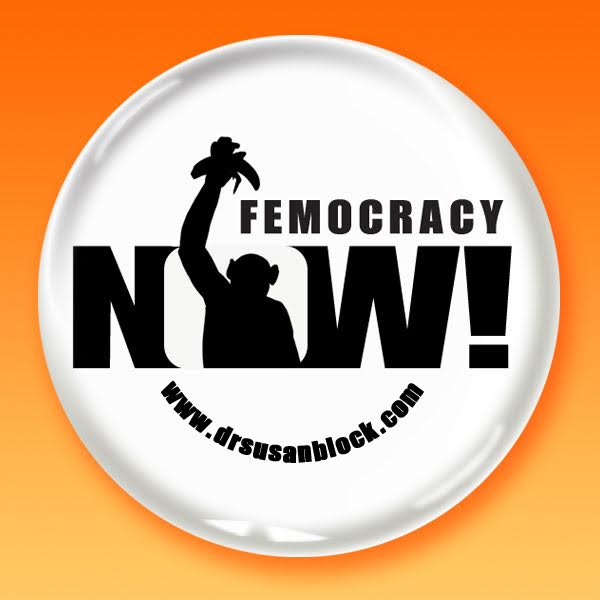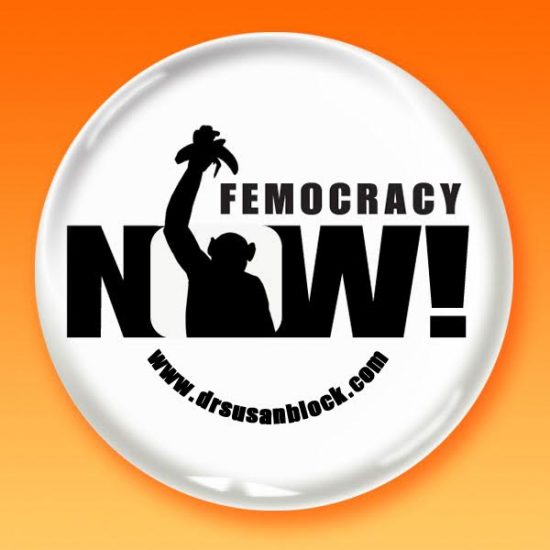 Libidex & Cocktails
The crew returned to Bonoboville, the Captain sailed into a well-earned nap, and a visit to Madame Margherite (just two doors down) found her busy putting finishing touches on wings for her peacock (take that in as kinky a way as possible) and phoenix. So, I was on my own.
I slipped out of my gigantic Catalyst latex wedding gown, and unzipped a sleek Libidex Latex "Adelphi Dress," putting the halter around my neck and shoulders before zipping it up the front. Then I took a deep breath and didn't really let it out for the next three hours. That's how tight this dress was on my post-lunch body.
On the upside, the body-constricting latex forced all that bloat up out of my waist and into the bazooms, with a circus-y flair provided by a VS polka dot push-up bra. Same idea as a corset, but without the lacing. Kudos to Libidex for making the Adelphi Dress so well that despite the tightness, it never popped apart.
Though I couldn't possibly bend at the waist, I did manage to ambulate back down to the marketplace where I selfie-danced with multitudes, including the crew from Sex Positive LA, and veteran porn star and sex educator Nina Hartley (first on my show in 1995), in subbie mode with her Master, Ernest Greene. I even had the delight of introducing Nina to performance artist, Mistress Sheree Rose. Of course, Master Ernest already knew Sheree, whom he hadn't seen in years. LA's BDSM world is such a tight-knit community, a real human Bonoboville, and for many, DomCon is reunion weekend.
Then up we went to the Pro-Domme Social in Mistress Cyan's suite where the Dominatrices and special guests sipped champagne as sissy maids and butlers waited on us hand and foot, often quite literally. What a pleasure to go bonobos in this more intimate setting with the magnificent taller-than-Trump-Tower Goddess Fae Black, Mistress Jacqueline Dumonde, People Exchanging Power (sponsors of the social) CEO Sera Miles, Freudian Slit and Cricket Rose of Paranormal Perversions Productions, Mistress V of South Africa, and many other great Dominas and kinksters.
In parties and hallways, I gave "Femocracy NOW" buttons to "Femocrats" attending both conventions. While the Trumps were curtsying for gold to Saudi executioners, Femocratic solidarity was mounting (in more ways than one) at the Hilton. Back in our room, I unzipped my Libidex Latex, finally exhaled and crawled into bed with my Captain for a leisurely roll in the Hilton hay before a very bright-and-early "showtime" for The Bonobo Way.
The Bonobo Way in Demask Latex
It took us a while to locate my lecture room which was hidden away behind water coolers, conference tables and cardboard boxes. I felt sure no one would find us.
But well before our start time at High Noon, the place was packed. Maybe it was because we gave free books to the first 15 people there, and free bananas to the next 15. We are living in a Banana Republic these days, and excitement – with extra potassium – filled the otherwise over-freshened hotel air.
Our Big-Dickhead-with-a-small-penis Trumpster Doll sat in the corner like the big baby he is, bound and under gag-order with a penis pacifier, by the fire extinguisher, surrounded by bananas and The Bonobo Way. I wish Melania would keep him like this. She certainly looks like a FemDom; but the First Lady can't even stand to hold her husband's tiny little hand. Then again, maybe she is becoming more dominant, refusing to touch him because he's been such a bad boy and smells like old French fries mixed with hair fixative and compulsive lying.
Presentation prep was challenging. This wasn't exactly the Womb Room in Bonoboville. Capt'n Max, Abe, Gypsy, Clemmy, Mar and Del Rey strived mightily to get everything going and flowing, though fluorescent lighting and sterile vibes prevailed.
I did feel quite energized by my gold Demask latex catsuit, an excellent outfit for going bonobos without getting kicked out of a hotel lobby. True, it wasn't a "bonobo suit," but bonobos are like cats in that when they jump or fall from high places, they tend to know how to land. In our ecologically disastrous efforts to consolidate our real estate, humans have lost that skill, unless they're stunt performers in action movies.
Not that I was jumping off the shelves, but my Demask latex catsuit made me feel like I was in an action movie minus the body count, helping me to "release my inner animal." As we witnessed in the Kitty Parade, there are many animals at DomCon, including the human variety, though we often forget we are animals. This delusionary state, which primatologist and Bonobo and the Atheist author Dr. Frans de Waal calls "anthropodenial," damages us sexually, politically, emotionally, ecologically (and in a lot of other ways that ends with "ly"), as shown every day on both the fake news and real news.
That's why it feels good – and it is good – to release your inner cat, pussy, puppy, pony or cock of the walk (at least sometimes), and get in touch with your animal nature. All nonhuman animals have something to teach us. But our closest genetic cousins, the bonobos, have the most to teach us about ourselves, our sexuality, our relationships, our politics and BDSM .
"Oh really?" I could almost hear my audience thinking. "BDSM & bonobos?" They're no suckers for "alternative facts." Fortunately, my belief in the Bonobo Way of BDSM is based on actual facts. Check out last year's talk for some of those.
Though at that moment, I needed to get my Demask catsuit and Fetish Factory fingerless gloves lubed up to a DomCon dazzling shine. This was the best part of the talk, for me anyway.
Gypsy and Jacquie did the lubing, pretty much giving me a full catsuit-body massage… without the Happy Ending (though this audience would have probably liked that).
Speaking of which, what a great audience. Though Mistress Cyan and Madame Margherite couldn't make it since they were scheduled to do their own talks at the same time, I was touched that Mistress Sheree Rose made it, along with my 1980's radio show producer, John Clark, and my former radio assistant, Janelle Hopkins, who now have a son (Derek Wilder) together! Though the Bonobo Way is more about using sex for recreation than reproduction, the occasional reproducing does occur. All three were on the show for the first time a few weeks ago. I was also honored to have Goddess Soma and some of her tribe (which I call a "Bonoboville") swing into our class, as well as Mistress Liz, Jonny Menton and Goddess Nicolette. Pro-sub Bambi Leigh was tardy, obviously "releasing her naughty schoolgirl nature," so she got a Bonobo Way book-spanking. But so did many others, for the sheer "joi de la fessée."
I guess I was "preaching to the choir," if you go by all the "Amens" and "Awomens," but a few sexy strangers and bonobo virgins managed to squeeze in. And yes, the room was way too small for the crowd, but that heightened the communal ecstasy and FemDom camaraderie.
Like in 2016, I introduced the Bonobo Sutra of bonobo sexuality, their amazing ability to make "peace through pleasure," their extraordinary female-empowered culture, and how they provide a new Great Ape paradigm for humanity that can inspire us to fight fascism, misogyny, war, plutocracy, Trump and Trumpism. For more about that, see last year's talk.
Of course, last year, Trump was just a candidate. We knew about his tiny hands and equally miniscule peepee and brain, not to mention heartless character, but we hadn't even heard the Access Hollywood tape. Now the pussy-grabbing mango-plumed baboon and his whole family of baboons (with sincere apologies to actual baboons) are turning our White House into a Trump family business. So, the Bonobo Way is more important than ever now, especially for female empowerment.
FemDoms of the Wild: Bonobos & Baboons
Whether you believe in FemDom values because you think it's good for society, it turns you on, it suits your style, or because it's "good for business" (as my Dad would say), the amazing Femdoms of the Wild will support you. No, they won't pay your rent, but it's better; they will provide the natural role model we all need especially now: a new living great ape paradigm for humanity.
A paradigm is not a blueprint. You don't have to sleep in trees and eat bugs like bonobos. You don't have to have sex with everybody you know (though some of you might enjoy that). You don't even have to dress up in a bonobo furry suit (though I've done that and it's more fun than a barrel of monkeys!). A paradigm is a model and, in the case of the Bonobo Way and Bonoboville, an inspiration.
As you've probably figured out by now, I use the term "Bonoboville" to describe communities of real bonobos in the wild or at the zoo, as well as communities of humans who practice the Bonobo Way in some form or fashion ("bonobo sapiens"). In our Bonoboville in West LA, we live semi-communally, run a business, produce the show, participate in local and international politics, and enjoy the occasional orgy. In a way, DomCon is a type of Bonoboville, a place where we can release our inner bonobos through BDSM and kink.
And yes, the real bonobos are very kinky compared to the other Great Apes, practicing a kind of BDSM, bonobo-style, with a little spanking, tickling, humiliation, tease and denial, body worship and more. Both BDSM and the Bonobo Way transform violent, potentially destructive urges into consensual erotic play and a kind of "discipline." After all, bonobos don't kill each other and that's discipline. And it's not because they're completely non-violent. Bonobos are no angels. They're animals, like us. However, while we've been building houses, temples, universities and war machines, they've been cultivating the key to peace through pleasure and femdom power.
Can we cultivate it too… before it's too late?
Consider the tale of "Forest Troop," a clan of savannah baboons studied by primatologist Robert Sapolsky, which I learned about from Sex at Dawn author Dr. Christopher Ryan. Unlike bonobos, baboons are notoriously brutal. Adult males savagely kill each other, rape the females and make war on other baboon tribes. At the start of Sapolsky's study, Forest Troop was no different. A neighboring group's alpha males were even more violent, there being something of value to fight over: food! Their territory included a cornucopia of discarded junk food in a garbage dump outside a Kenyan guesthouse. Sapolsky dubbed this gang, "Garbage Dump Troop." When Forest Troop infiltrated Garbage Dump Troop's precious dump, the most aggressive, greedy, gluttonous, high-ranking Trumpsters – I mean, baboons – feasted on all the leftover burgers, stale French fries and melted ice cream on a daily basis, battling each other for more, and never sharing any with the females, children or more passive males. These guys did almost no grooming, since who has time to groom with all that tasty trash to fight over? Life in Baboonville got progressively bloodier, dirtier and unsexy… until suddenly, one day, everything changed.
What caused the change? In a word: food. Some very bad food.
One day, a batch of tainted meat was thrown into the dump. Within days, all the big-shot alpha baboons contracted tuberculosis and died, leaving behind the females, youngsters and nice guys who, due to their subordinate statuses, hadn't been allowed to eat the infected beef. Now suddenly, these non-violent and very well-groomed FemDom "survivors" were in charge. Rates of aggression plummeted while rates of grooming skyrocketed. Sensuous pleasure and harmony reigned. Apparently, these baboons went bonobos!
The amazing thing is that over the years, they seem to have kept a bonoboësque lifestyle. Some two decades after the deadly tuberculosis outbreak, Sapolsky's Forest Troop was still uncharacteristically peaceful and sensuous, spending a lot more time grooming than fighting and making love, not war. How did they do it? Since baboon boys leave their birth troop after puberty, there were soon new, violent males from other colonies entering Forest Troop who, if the so-called "Law of the Jungle" really ruled, should have pummeled the females and mellow males into submission. Yet Forest Troop's extraordinarily FemDom vibe persisted as the rowdy new recruits were gently but firmly schooled by the rest into keeping the peace, bonobo-style. This amazing but true story shows us that the Bonobo Way is not just for bonobos. If a bunch of baboons can release their "inner bonobo," maybe us grouchy, gun-toting humans can too…. Vive la résistance!
It's certainly worth a try… one spanking at a time (which makes it a lot of fun trying). At universities, I do book-signings. But at DomCon, I do book-spankings along with the signings. Books make great spanking paddles. Read the Bonobo Way or get spanked by it! Be well-read or get, well… red. Or both!
Speaking of the book, the second half includes my handy dandy 12-Step Program, which will help you to release your inner bonobo. It's really the anti-program that deprograms you from other 12-step programs, culminating in Step #12, my personal favorite: Save the Bonobos. This highly endangered species that is over 98% genetically similar to humans is being hunted as bushmeat in the African rainforest. If we let the bonobos go extinct, then we lose our living FemDom Great Ape Paradigm forever. Especially with the Gold-Loving, Oil-Sucking Twitter Fiend in the White House who has virtually demolished the Environmental Protection Agency, we need to step up to protect our environment and preserve our bonobos. Lola ya Bonobo, the Bonobo Conservation Initiative and the Bonobo Project are all helping to rescue bonobos from extinction. Save the bonobos, and they will reciprocate and show us the way to save ourselves.
Remember, if a bunch of baboons can go bonobos, we can do it, too.
Catnip, Lube and Love, Love, Love
I had such a good time; it felt like the talk was over before it started. Maybe the Demask latex catsuit actually contained catnip.
After the book-spankings and signings, I catted around the Marketplace, stopped at the Demask booth for a quick catsuit photo-op, ran into Madame Margherite with her Phoenix, and Siouxsie Q. James dressed up as a "Satanic Piggy Whore" (or something like that) with statuesque Mistress Bella Bathory as a sexy butcher, and off we went to see them perform and present in Mistress Ellen's Pet Show.
The magic of mojitos brought us to Fetish Chamber's Headmistress Olivia with Del Rey, Jux Lii and Janel.
Then it was time for the Mistress Photo, one of the high points of the weekend, out on the Hilton patio which, with its steely fencing and shiny black windows, has a nice, subtle BDSM feel to it.
I was delighted to see Mistress Porcelain in a Mother Superior dress with an upside down purple cross on a field of latex gold – the exact same color as my latex gold catsuit.
Donald Drumpf, eat your tiny little gold-worshipping heart out.
Mistress needed lube, so Jux and I lubed Her up with what I had, including whatever was still on my ass from the class.

As for the Mistress Photo itself, that also was over too fast! Plus, I almost photobombed it, as just as I found my spot in the second row, an unnamed Amazon stood in front of me. I felt latex-clad hands pushing me towards the front, spinning me around until where do I find myself but at the feet of Mistress Porcelain. I knelt at Her side respectfully, but there was too much gold in one spot, so the magnificent Mistress Gabriella generously picked me up and put me on Her commanding knee just in time for the "finger" shot. #GoBonobos for The Cuntress! I love that woman.
Honestly, I love all of these women.
So much fabulous FemDom power.
I love the guys, too.
Especially my guy. Capt'n Max filmed at least five different "shows" for Facebook Live… on nothing but hamburgers, mojitos and quickie sex. And he supports Femocracy Now! Whatta real man.
Even Max was stumped by the strange Hilton LAX elevator system which was supposed to be "smart" enough to read our minds and *know* our floor, but just wound up taking us up and down more often that a broken Ferris wheel. Streaming out of the whacky elevators in frustration, FemDoms, retired teachers, even vacationers and entire families with screaming children made the Hilton hallway resemble a refugee crisis… with some very fashionable latex refugees, but still…
After we finally found our floor (via one of the regular old "dumb" elevators), we quick-changed and collapsed in the jacuzzi where we met Goddess Chocolate and melted our latex aches and high heeled pains away.
We were sad we didn't make it to Sanctuary for the Fetish Ball, but we had our own ball in bed. Praise God, the Goddess and the Cannabelly.
Sunday Mistress Tea & Penis Cookies
Sunday morning, we packed up everything, gave Trump Baby one more Bonobo Way book-spanking, threw him in the trash bag where he belongs and sent him back to Bonoboville with the crew. If only we could dump the real Trump in a trash bag and send him somewhere he could "do no harm." If only….
Capt'n Max also had to go, so I was on my own again. This time, I slipped into a fairly tight, exquisitely designed, turquoise blue latex dress created personally by the great Mademoiselle Ilo of Paris. It arrived last of all, after DomCon had already started, so it fell into place that I wore it on the last day.
Inspired by Goddess Soma's turquoise blue eyebrows that matched her hair, I brushed turquoise blue mascara through my eyebrows to match Goddess Soma, as well as my Mademoiselle Ilo dress. It was a turquoise-blue Sunday afternoon.
After another quick spin around the Marketplace took me and my big selfie stick to Goddess Susie Patterson and her pup, Danny O'Neil from Sex Positive LA, Sir Pent and his harem, the Sybian crew and more. What a delight to see fellow Guest of Honor, the lovely Mistress Ultra Violet of Atlanta rocking the turquoise and transparent leopard Baby Loves Latex dress designed by Reneé Masoomian that I had worn to DomCon 2016 Opening Night. What a latex fetish fashion whirlwind!
The surprise of the day was bumping into none other than the Unlicensed Pros themselves, our beloved "Anal Artist," Catherine Imperio, and her bombshell "sidekick," Samantha Fairley. Looking more Santa Barbara than bombshell this Sunday, but gorgeous as ever, the girls were doing DomCon their way.
Then it was time for the Mistress Tea where I was honored to sit next to Mistress Cyan, Her fiancé Genesis and her lovely daughter (who looks just like Her), Janella Schwartz, along with Mistress Porcelain, Madame Margherite, Mistress Sheree Rose and other luminaries.
I saved a seat for my turquoise blue Sister Soma who slid in mid-Tea. It was nice to catch up on a bit of personal stuff and snap a selfie to send to Mike (aka "Fat Mike of NoFX," now casting for their awesome new musical, "Home Street Home"), as we sipped Earl Grey provided by Sissy Maids and munched penis-shaped sugar cookies.
Wonder how those might go over at a Yale Master's Tea…
After Tea, the tearoom transitioned into a classroom where the "Legends Panel" featured six generations of "legends" of the Pro-Domme field: Sheree Rose, representing Mistresses in their 70's; Mistress Cyan for Mistresses in their 60s; Tara Indiana for the 50s; Isabella Sinclaire for the 40s; Mistress Lexine for 30-somethings; and introducing this year's "Baby Domme," Mistress An Li, representing Mistresses in their 20s. Each Mistress told the story of Her first session as well as a "Domme Tall Tale" so unbelievable "only a Pro-Domme could tell it." All the tales were illuminating, hilarious and kinky.
Nice tails, too!
One More Whiplr & Back to Bonoboville
Quick as a Whiplr butler dropping to his knees to deliver my champagne, I thanked Whiplr's CEO, Mistress C, who lives in Tel Aviv, for her hospitality, and bid farewell to the marvelous Mistress Gabriella of Australia, Simone Justice and Madame Margherite. Even though we're both in LA, the Captain and I are off to visit Mother Yale next week, and Madame and her pet are off to somewhere, so we won't see each other until my birthday show on June 10th.
Meanwhile, my phone had died completely.
No more selfies and no more calls to Max! Now I really had to leave. I took one last whiff of DomCon magic before departing for Home Sweet Bonoboville, where I was greeted by my favorite bonobo sapiens, cooking, laughing and dumping on Trump, as well as Betsey the dog who was eager to see if I had a treat for her.
And of course, Capt'n Max. We always have treats for each other.
And what a treat DomCon LA, the Bonobo Way, was for all of us!
Thanks to: Photographers – BNatural, Hugo, Jux Lii; On-Campus Bonobos – Abe Perez, Del Rey, Gypsy Bonobo, Harry Sapien, Jacquie Blu, MarsFX, Johnny Jungle, Clemmy Cockatoo, Ana & Miguel. + Malcolm Jones and the Bonobo Way Female Empowerment Outreach Project + Mistress Cyan, Sea of Austin & Everyone at DomCon + Latex: Demask of Amsterdam, Mademoiselle Ilo of Paris, Libidex of the UK, Catalyst
© May 25, 2017. Susan Block, Ph.D., a.k.a. "Dr. Suzy," is a world renowned LA sex therapist, author of The Bonobo Way: The Evolution of Peace through Pleasure and horny housewife, occasionally seen on HBO and other channels. For speaking engagements, call 310-568-0066.