Deck the Halls with Dommes & Hollie!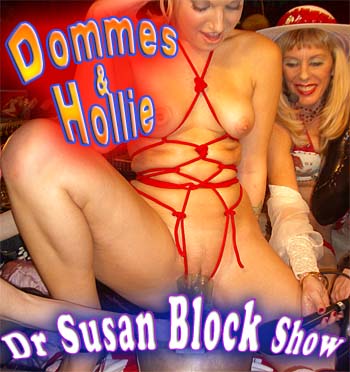 Are you dreaming of a Wet Christmas? Wet dreams come true in DOMMES & HOLLIE, our Holiday Festival of Faith-Based Sex, The Natural Miracle of Squirting and Very Merry Golden Showers, clocking in at 90 minutes of Wet and Wetter pleasures, now available on DVD, and in Stream and Download, just in time to Squirt in the New Year!
Yes, indeed, Brothers & Sisters, Lovers & Sinners, the DOMMES & HOLLIE EXPERIENCE virtually baptizes you in two different kinds of sparkling feminine Holy Water: Female Ejaculation and Golden Urination. Praise Be to the Waters of Life. Ho, Ho, Ho's…
But DOMMES & HOLLIE isn't just wetter than a Mermaid Pajama Party without the PJs. It also features rollicking double-dong girl-girl action, blazing pyromaniacal fire-play (boobs on fire!), exquisite Japanese shibari red rope bondage, sissy maid boot-licking, sensuous high-heel sucking and slobbering foot worship, crossdresser dancing, a little light spanking, lots of hot wild wide-open "Pussy Talk," and the seductive exposition of my erotic and ironic, spiritual and sensual, life-affirming philosophy of Faith-Based Sex, produced and edited with artistry and passion by Mar Sorell.
DOMMES & HOLLIE stars some of the hottest wettest Ladies of Sex to grace the Speakeasy: Annie Body, the world's most prolific female ejaculatrix, squirts to high heaven several times during the course of the evening, and even helps me to squirt in the "Faith-Based Squirting" Grande Finale! This show also marks the maiden appearances of buxom blonde Domme Mistress Genevieve and gorgeous good-natured XXXmas angel Hollie Wood, a.k.a. Hollie Stevens. Cleaning up after us is the amazing, amusing golden shower-guzzling Sissy Maid who drinks gallons of everybody's pee without spilling a drop on her frilly white and pink pinafore. Slutty Svetlana, Mistress Norma Jean and my akita corn snake Evie round out the cast of Commedia Erotica characters in this glorious, hilarious and very very sexy exploration and celebration of female ejaculation and urination (you can see the difference, even if you can't smell it), under a rather high level of holiday intoxication. That's right, Charisse, our lovable lesbian DOMMES & HOLLIE bartender, concocts highly addictive XXXmas-red Cosmopolitans that help to make all that squirting, peeing and preaching as reality-based as it is faith-based.
Erotic art is part of the backdrop to DOMMES & HOLLIE, especially the luminous digital paintings of none other than my beloved running mate, U.S. Presidential Candidate Frank Moore. "Suzy's Pleasure Font" shows me squirting up a sparkling rainbow of amrita, and "Two Hot Babes" shows Annie and I, more than half-naked and lit up like an XXXmas tree by the Power of the Cosmos.
Bettie Page & Dita
I should also mention that there are two very special cameos in the "Faith-Based Squirting" Grande Finale: The deep sultry Southern voice of the living legendary Queen of Fetish Bettie Page Herself (yes, that Bettie Page, appearing live on my radio show in '96), accompanied by vintage video of Bettie, as well as one of Bettie's spiritual daughters, an 18-year-old quiet beauty named Heather Sweet who went on to become retro fetish supermodel Dita von Teese.
Speaking of Faith and Sex, Bettie Page is now a devout Born-Again Christian. When I ask her how she reconciles her faith with her naked past, she says she doesn't believe God disapproves of nudity, or why would He have created Adam and Eve nude in the Garden of Eden? Doesn't that make sense? As a matter of fact, it does. But it doesn't matter. Faith doesn't generally make sense.
Whatever you have or have no faith in, I have faith that if you like sex, comedy, anti-war insurgency, orgasmic play and hot wet wild fun, you'll love DOMMES & HOLLIE. If you need specifics, here's a little run-down on how we deck the halls (the hyperlinked scenes can be downloaded as individual clips for those of you who are too busy or too cheap to watch the whole thing):
DOMMES & HOLLIE: Part I
Faith-Based Sex
My rousing and arousing, erotic and ironic, politically progressive, theologically challenging and teasingly squirt-erific opening to the evening's kinky wet festivities… This is not available as a clip at the moment, but only as part of the full DOMMES & HOLLIE EXPERIENCE.
Annie Squirts Holy Water
The Miracle of G-Spot Female Ejaculation straight up from the Squirting Pussy Rainforest Herself, our favorite Geyser of Desire, Annie T. Body
Golden Hollie Wood Tie Up
A latex-corseted Mistress Genevieve ties up giggling naked Hollie Wood with XXXmas red rope in a Japanese Shibari-style bondage gift package sure to dazzle. Thus wedgied, Hollie pees a sparkling gurgling golden shower into a very tall glass that Sissy Maid guzzles like a thirsty dayworker downing a beer.
Boobs on Fire
Ms. G lights her generous breasts on fire, with a trick she learned doing burlesque in New Orleans, then gives me a Fire Kiss. Ooh la la! It's very sexy and quite spiritual, in a holiday way, a light of hope in darkness.
DOMMES & HOLLIE: Part II
3 Pees & a Spank
Thanks to Charisse's Christmas Cosmopolitans (bet ya can't drink just one!), I have to pee, so does Ms. G, and Hollie makes three, so we all give up our sunshine champagne to voracious yet oh-so-feminine Sissy Maid. Chug it, Sissy, chug it! The "Spank" is for me from Ms. G and Hollie. I'm such a naughty hostess!
Siss & Boots
Sissy Maid slavers over all our boots, high heels and naked feet like a good slave, going down on the pointy toe of my patent leather boot as if she's giving it head, tracing the straps of Ms. G's high-heeled sandals with her tongue and making wet love to Hollie's naked foot with her whole slobbery mouth.
Dr. Suzy's Double-Dong with Annie
This scene has your hapless hostess riding one end of a large glass double-header dildo, while the amazing Annie Body rides the other end, doggie-style. Annie is a vigorous lover, and she really gives it to me hard, much harder than I would normally be able to take it, except that I am well-lubricated inside and out, the inside part having been achieved with the help of Charisse's Cosmopolitans, the outside with the help of Annie's talented tongue.
DOMMES & HOLLIE: Part III
Annie Over Easy
The Amazing Annie Body squirts again, this time with Hollie's enthusiastic assistance. This part gives you some pointers on how to help your partner to squirt (though the most educational female ejaculation film is still Dr. Suzy's Squirt Salon). Then Hollie and I turn Annie over and give it to her doggy-style with that huge glass dong. Annie can't quite squirt "over easy," but it sure looks hot. Animal!
Annie's XXXmas Squirt
Now Annie's the one who's all tied up in XXXmas red bondage. Then, like an uncorked bottle of Holiday Brut, she squirts up a geyser of Amrita Champagne!
Sissy Ballet
The indefatigable Sissy Maid dances in feminized ecstasy – with me! Whatever your feeling about sissies, you can't help but get swept up in the sheer silly joy of this scene.
Faith-Based Squirting Grand Finale
Now it's my turn to squirt, both physically and philosophically. Skip this part if you can't handle mixing squirting with philosophy or orgasm with revelation or sex with politics, of if you're a card-carrying AA member or if you're simply turned off by the sight of a woman joyously squirting whilst imbibing a very strong Cosmo, since I am imbibing said Cosmo before and after said female ejaculation. But if you'd like to experience a uniquely exciting stream of your darling Love Doctor indulging in a bit of sensuously explicit and intimate self-pleasuring, climaxing with female ejaculation, and followed by a bonobo rant, beautiful art (including, and a hefty helping of peace-through-pleasure politics, this will be the "best part." And there's that rather remarkable bonus: the amazing "clip within a clip" featuring the living legendary Bettie Page talking about faith, sex, nudity and my sexy voice. You'll also see Heather Sweet/Dita von Teese.
So, Deck the Halls with Dommes & Hollie: Fa La La La Spank, Suck, Screw, Shower, Squirt! Amen & Awomen! If you're on a tight budget, check out the Stream, but for the best, clearest view of the female ejaculation scenes, we recommend the Download or DVD.
Try Our HOLIDAY BUNS – Delicious!
HOLIDAY BUNS is a perennial December double feature favorite, featuring HOT HOLIDAY SEX with Kaylynn, Alana Evans & Charlene Aspen and DENIGRATION:The Butt Woman Challenge with Charlene Aspen, Bridget Kerkove & Kristin Kane. Mmm, you know, you just want to devour those hot sweet  !HOLIDAY BUNS
Speakeasy in The Land of Canaan
After several hundred hours of holding the world's heaviest camera with a cigarette between his lips, Canaan Brumley is wrapping principle shooting on Speakeasy, his film about our Speakeasy. This is kind of sad, because Canaan and his two "actors," Sara Sioux and Wallace, have become part of the Speakeasy community. We will miss our weekends dancing and romancing through Canaan's unique and heartfelt vision of this place. But an end is always a new beginning, and we're looking forward to the moment Canaan's Speakeasy hits the screen..
Sara Sioux has become a Speakeasy Girl and, in the midst of her hectic life as Warner Sister and Melo Queen, she is still working with us on BonoboWay (which is just about to take a leap forward in its evolution; stay tuned), and she will be joining the festivities on Eros Day '08 which happens to be her B-Day (!). We're not sure when we'll see Wallace's morose but mischievous visage again. As for Canaan, well, even though he's stopped shooting scenes, he's still shooting inanimate objects in and around the Speakeasy. The other day, he spent a half hour in my office shooting a portion of a saki cup. Talk about detail. Canaan picks up all kinds of subtle things that most filmmakers pass by, and I have faith that his movie (should I live to see it) will be a masterpiece. The one thing that has eluded him in the two years of weekends he's been shooting here is rain. Canaan is determined to shoot the Speakeasy in the pouring rain. Who knows why, probably as some kind of cinematic metaphor for female ejaculation or sadness. But wouldn't you know it, for the past two years, almost all of the weekends have been dry to barely drizzling. Well, it's not easy to make Mother Nature wet exactly when you want Her to be. It's not like there's a G-Spot Stimulator for Her. Or is there? A precipation divining rod? A rain dance? A sad story to make the sky cry?
Ha-Nookie
We just celebrated Hanukkah, a.ka. Chanukah, a.ka.  Chakakhan. However you spell it, the Jewish Fesitval of Lights, a lunar holiday that always falls on different dates in our solar calendar, fell irritatingly early this year, instead of conveniently close to Christmas, like in the past couple of years. And with the pre-XXXMas Holiday Sales Rush in Shopping Heaven, the mercantile side of my Jewish background took the reigns from the spiritual side. So, no wild Hanukkah orgies or Maccabeean banquets this year. We did light the candles most of the nights on RadioSuzy1 and had plenty of Ha-nookie, because of course, as every kinky married Jew knows, it's a mitzvah (good deed) to have sex with your spouse on most holidays. And considered how often religions denigrate sex, we can use all the religiously sanctified nookie we can get.
On the last night, we had a spontaneous Latkes Party. JJ and her friend Dan, a screenwriter who's been working the picket lines, popped by, two wandering Jews in the wilderness of LA, looking for a miracle. JJ transformed before our eyes from a hot Speakeasy Girl to a Balaboosta in the Commissary, and the two of them made latkes for the whole Bonobo Gang, with enough left over for Dan to pack up and take to striking screenwriters on the picket lines, many of whom might have been too busy marching for their rights to have much of a Hanukkah. We're proud to feed the striking screenwriters of Hollywood!
Penis from Venus
Artist Karin Swildens arranged a couple of her exquisite sculptures at the Speakeasy Gallery the other day. Karin is a very sweet and proper ceramicist, trained in Paris and Morocco, who happens to be one of the finest sculptors of the human penis on the planet.
Of course, sometimes a penis is just a penis. But sometimes, it is a metaphor. The best erotic art has many layers of meaning, arousing sexual feelings as well as inspiring deeper thoughts. Look carefully at Karin's whimsical wheeling Double-Dong sculpture, Battle of the Sexes, and you will see that it is actually a Triple Dong. Yes, this particular "Battle of the Sexes" takes place between three phalluses, the first being the little penis which is being used to hit the big dickhead as he rides the long cock into battle. Sperm Wars! The original work of art in high-fired clay measures nine inches, an impressive size for any warrior on the Battlefield of Sex.
Then we come to Double Header on the Rocks, Born From A Penis, Just Like Venus...Venus (Aphrodite to the Greeks), the Classical Goddess of Love and Sex, is said to have been born when Cronus castrated His father Uranus and the Old Man's genitals fell from Heaven into the Sea. The Godly penis' sperm "mated" with the seafoam and produced the sexiest, loveliest, most irresistible Goddess in Heaven…"Double-Header on the Rocks" is a beautifully sculpted torso of a heavenly female form rising from a penis and capped by another cock helmet. Thus, the name "Double-Header." The frontal view is reminiscent of the Venus de Milo, but the view from behind is especially breathtaking..
Eros Day Is Coming…
New Year's is for amateurs. Pop your sexual champagne at Dr. Suzy Speakeasy on EROS DAY: A Classical Tribal Astrophysical Musical Magical Orgasmical Celebration of Love, Lust & Blue Values ! This year, we'll celebrate on Saturday night, January 19th, 2008 with Jack Fountain representing Eros incarnate and Darryl Hanah reigning as Venus/Aphroditie. So, if you want us to save a spot for you and you're bargain-minded, make your reservations now…
---
Explore DrSusanBlock.com
Need to talk? Sext? Webcam? Do it here. Have you watched the show? No? Feel the sex. Don't miss the Forbidden Photographs—Hot Stuff, look at them closely here. Join our private social media Society. Join us live in studio 😊. Go shopping. Gift shop or The Market Place. DrSusanBlock.tv, real sex TV at your toe tips. Sex Clips Anyone? FASHION, we have fashion! We also have politics. Politics? Have you Read the book? No? How about the Speakeasy Journal? Click here. Ok, how about some free sex advice?
---
---