D.A.D. (Dominatrixes Against Donald Trump) Returns for Another Great Russian Hooker Pee Party on DrSuzy.Tv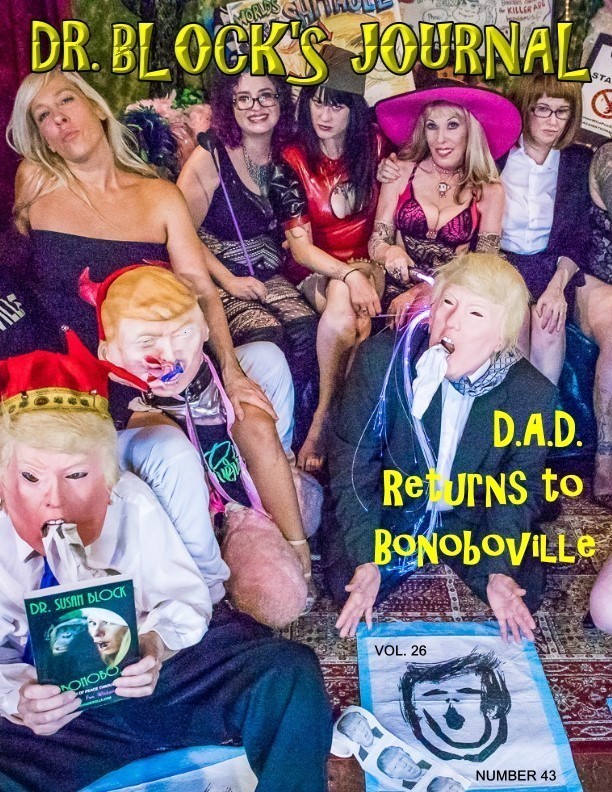 Length 01:45:37 Date: August 4th, 2018
The Trumpocalypse is upon us: climate change roiling Mother Earth, migrant children being ripped from their parents, neo-Nazis on the march, military build-up as social services are stripped, sexists stealing women's rights and corporations stealing all of our resources.
Meanwhile, the Narcissist-in-Tweet spews maddening vitriol, stimulating hate in the basest of his base and distracting the rest of us from the great multi-trillion dollar heist he and the uber-greedy .001% are pulling off that could lead rather quickly to the curtain call of the human race (and most other species) on Earth.
Then he flips reality with the funhouse flimflam of a veteran of nothing but con-artistry:
"Just remember, what you are seeing and what you are reading is not what's happening."
AAAAaaarrrrrgggghhhh! It's downright stupifying and stupid-ifying, relentlessly and effectively making us as stupid as he is.

Something tells me this big baby needs a spanking… and a roto-rooter drilling, followed by a strong dose of golden Russian hooker Holy Water… climaxing with a kick in the diaper out of the White House and into a Home for the Narcissistically Infirm… in a remote location… run by sex workers.
Dominatrixes Against Donald Trump (D.A.D.) to the rescue!
Happy Obama Day
Yes indeed, D.A.D. is back, bigger and bawdier than ever, with a platoon of FemDoms, patriots, "Women Who Pee Standing," a bumblebee for ecology, strap-on queens and "toxic masculinity" fire fighters—ready, able and willing to spank out the dumpster fire that is Trump with crops, canes, The Bonobo Way, the Forbes that Stormy spanked him with, Goddess Phoenix's neon whip and their beautiful bare hands… then hose it down in a Russian rush with a gush of golden therapy.
The leader of the pack is D.A.D. founder and director Mistress Tara Indiana, 2017 SUZY Award winner for "Best FemDom of the Resistance."
In a dark business suit, white blouse, pearls and high heels, Mistress Tara looks quite presidential whether she is speaking passionately about sex workers' rights or cracking the bullwhip on the Trumpus' tush.
PHOTOS 1 & 3: ZAK.  PHOTO 2: SELFIE
It's "Obama Day" when we broadcast the show live, and we celebrate the birthday of our former American president by dominating three (yes three!) tRUMP impersonators.
Besides my old voodoo doll Trump gagged with the Russian flag, Mistress Tara brings along 1) Nemo Trump who takes most of the spanking, reaming and golden tinkle torture (what a good sport for water sports!) 2) TMI Trump as the diapered big Baby-in-Chief with hot pink toenails and a babydoll he stole from a migrant child 3) Jeeves Trump in a suit and the jester cap of the quintessential  American Presi-Dunce.


It's a Three-Ring Trumpus Circus!
As Adolf Twitler himself would describe it, it's a veritable Trump INFESTATION..
Trumpocalypse Therapy
As D.A.D. has grown, it has attracted more members and supporters—as well as guys willing to put on rubber Trump masks and get beaten, scolded and/or pissed on.
Why such enthusiasm? Why not? A lot of performers like to play the bad guy.
Also, humiliation is a tricky but popular fetish.
PHOTO 1: ONYX.  PHOTOS 2-6: JUX LII.  PHOTOS 7-10: ZACH
Besides this is Commedia Erotica, political comic erotic theater, and all of our Trumps are politically anti-Trump, so they know they are suffering for a good cause.
Being sexual masochists or one kind or another also helps them withstand, enjoy and even, in a way, be exalted by the erotic degradation.


The Trumpocalypse Therapy that we perform with D.A.D. on the Dr. Susan Block Show goes both ways, releasing the various types of Post-Trump Sex Disorder that plague FemDoms, subbies and almost everyone in the Resistance, as well as many Trump supporters, including incels.
Though our evenings of erotic political theater with D.A.D. are mostly loved by fellow libs, they do attract viewers from Trump Country too.

PHOTOS 1-7: ONYX.  PHOTOS8-10: ZACH
These Trump-loving fans tend to have strong fetishes they want to explore, for erotic role reversal, golden showers, taboo sex, interracial sex, strap-on play, Bonobo Way book–spankings, public disgrace or cuckolding.
Sex is a great motivator; it can even get you to open up to a different way of politics.


I may not be able to change a Trump supporter's mind, but with bonobo love and a little psychic-erotic elbow grease, I can help them go bonobos and see the golden light… before it's too late.
Russian Hooker Collusion & Strap-On Interrogation
Russian spies know all about using sex as a Weapon of Mass Seduction in a war for the future.
Embodying this truism, D.A.D. brings along a real Russian hooker who doubles as a spy for Putin, a formidable beauty in luscious red, black and army green latex with a smartly cocked military cap, plus a functional cock strapped between her hot latex legs.
PHOTOS: JUX LII
Her name is Maria Butina.
Or is it Natasha?
PHOTOS: JUX LII
Or is it Goddess Soma Snakeoil, 2017 SUZY award winner for "Best Fire Play," as well as many other awards?
Much as we adore her Goddess-ship, we always knew she was a slimy Russian spy (please pass the lube).
PHOTOS 1-5: ZACH.  PHOTO 6-7: CLEMMY
An expert in domination, interrogation and humiliation, she performs a very penetrating cross-examination of the Trumpus with her strap-on, also demonstrating the "Joy of Collusion."

PHOTOS: JUX LII
On the other end of the Trump Turkey, stuffing it with her strap-on in a "Spit Roast" is Rhiannon Aarons, "Most Well-Rounded Kinkster" SUZY award-winner, M.F.A. grad and real-life MILF, looking voluptuous and comfy in her trademark black lace body suit.
She and Mistress  Tara really put Big Baby Trump through "Tender Age" Detention Camp to punish him for separating toddlers from their parents at the border.
Ms. Tara's Tender Age Detention Camp includes bullwhip training.
PHOTOS 1,3, 4: JUX LII.  PHOTO 2: ONYX
Later, Rhiannon dramatically swats Trumpty Dumpty with a genuine "I Really Don't Care, Do U" raincoat, among other implements.
PHOTO 1: ZACH.  PHOTOS 2 & 3: ONYX
The even more curvaceous Mistress Jenna Rotten, whom we met a few weeks ago on Sexual Intuition and the Motorbunny, is back with D.A.D., also wielding a strap-on like a bad-ass and making sure tRUMP's rump is as red as her hair as she whacks him with the rolled up Forbes.
Buzzing around the action is DrSuzy.Tv virgin, Margie Schnibbe, roleplaying an "Angry Bee" to berate, spank and sting the Trumpus for taking our mounting destruction of our environment up several notches and into the stratosphere of vast ecological devastation.
Melania in Bonoboville
D.A.D.'s big scoop this show is a surprise visit from none other than FLOTUS herself, First Lady Melania Trump.
I'm pleased to see that Melania (embodied with sexy haughtiness and wifely disgust by the always lovely Miss Antoinette) not only supports LeBron James—who just built a school for disadvantaged children—against her husband's hissy fit, she's ready to give Trump a good wallop with the Forbes, a la Stormy Daniels. If only she had the nerve to do it in real life…

Not that we can trust this complicit bitch either.


She really doesn't care.
And there are spies everywhere!
Stormy, SESTA & HR2299
Speaking of Stormy, the Trumpus showed his comfort with sex worker relationships by offering her payment (even though she refused the money at the time), yet he panders to the Religious Right's calls to curtail women's rights, including sex workers' rights, and the Holy Rollers, in turn, close their eyes to his dissolute immorality.
One of D.A.D.'s goals is to "highlight the hypocrisy, injustice and double standard that's applied to sex workers and the politicians that hire them. A Dominatrix who pees on Trump can be sent to jail, while Trump can pay to be peed on and he gets to be President."
We certainly do highlight this point in bold, wet, golden strokes across Liddle Donny Diaperpants' quivering carcass.
Shoot the gun between your legs! Water pistols, not real pistols! Urination Not Assassination. It's the Bonobo Way.
Nevertheless, as Mistress Tara points out, SESTA is getting worse, much worse, for sex workers and for everyone else. First they went after your Freedom of Speech. Now they're going after your money.
Yes, indeed, Trumpty Dumpty is a big problem for many groups of people—all groups except the billionaire group—and one of the groups suffering under his cruel, incompetent and yet systematically destructive reign is sex workers.


As we discussed on Spring Showers, Woman Power, SESTA, the Senate's "Stop Enabling Sex Traffickers Act" and FOSTA, Congress' "Fight Online Sex Trafficking Act" do absolutely nothing to stop real sex trafficking of minors (which nobody is in favor of) and do everything to endanger legitimate sex workers. They also censor the Internet big time (maybe even bigger than the axing of Net Neutrality), decimating Section 230, the federal provision shielding web publishers and platforms from certain legal liabilities for the things their users post. Senator Ron Wyden (D-Oregon) and Rand Paul (R-Kentucky), the only Senators that voted no to this monstrosity, deserve our ongoing appreciation. Every other Senator voted yes and the Trumpus signed the bill that is doing nothing to stop the sex trafficking of minors, but is wreaking havoc with the lives of consensual adult sex workers and curtailing everyone's Free Speech.
Now Mistress Tara tells us, Senators Elizabeth Warren (D) and Marco Rubio (R) are bringing HR2299 End Banking for Human Traffickers Act which will essentially enable your bank to close your account and sometimes keep your money, if they think you might be involved in sex work.
Wow. With a law like that, how could Trump pay Stormy and Karen McDougal their hush money?
For billionaires and their "special" concubines, there will always be a way. But for the average consenting adult American sex worker, law HR2299 spells financial doom.
We expect this crap from a smarmy right-winger like Marco Rubio. But when a fellow female liberal like Elizabeth Warren does this to us, well, it hurts a little more, and we call her out for her ignorance and/or hypocrisy.
Nevertheless, for this latest horror, we punish our motley crew of Trumpty Dumpties.
Yes, indeed, we make all those tRUMPs take a knee against police brutality.
In the Good News department, Goddess Soma recently had a very promising meeting with Congresswoman Karen Bass (D) from West LA about sex workers rights. To be continued…
Stop the War on Whores! 
Piss on Trump
For this Russian Hooker pee party (I think it's our 6th), we have limited edition puppy pee pads featuring Japanese-style paintings of Trump by the artist Jeffrey Vallance, featured in our 2016 U.S. Presidential debate show.
Just before the second part of the show, the Dommes and I sit around the tarp covered with Jeffrey's pee pads featuring Trump's iconic odious visage.
PHOTOS: JUX LII
We admire the display like a fine art installation which, in a way, it is, before the pads are doused with fine Russian champagne.
PHOTOS: ONYX
The pads are soft and inviting. I even take off my hat and roll around on them for a few seconds, savoring the plush, clean pristine sensation along my bare back, anticipating the coming deluge, my bladder full and almost ready to release.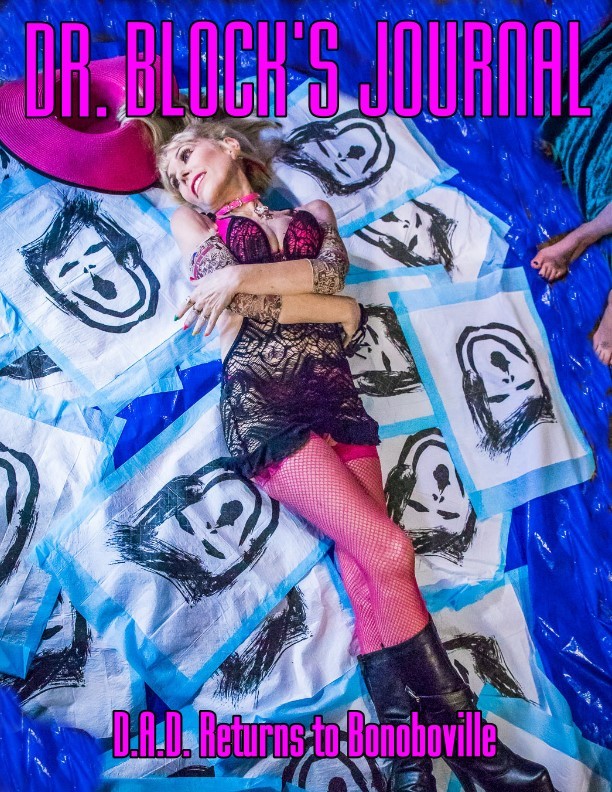 Word on the tweet is that there's more truth than fake news to the Russian piss rumors. There's the second dossier, prepared by Cody Shearer, that seems to corroborate the first dossier, compiled by Christopher Steele, contending that Donald Trump was compromised during a 2013 trip to Moscow that involved "lewd acts" committed with Russian escorts in a five-star hotel. These "lewd acts" would be those notorious golden showers in the bed the Obamas slept in—the ultimate naughty, nasty, forbidden "gold" for the germaphobe who loves gold in all its forms.


Happy Obama Day!
Whatever the Trumpster really did, this is the age of "fake news" and "alternative facts" and this is, in fact, what We the People of D.A.D. and Bonoboville think of him: Underneath all those crude, patronizing remarks about "shithole countries"  and "low IQs" lies a shithole Presi-dunce with his mouth open. Filthier than the old D.C. "swamp," he's a human toilet, as Mistress Tara said when she was running against him. Psychologically, we're all swimming in his shit, so we might as well piss on him. No shitting please. We'd rather not deal with anymore shit than we have to.
PHOTOS 1, 3: JUX LII.  PHOTO 2: ONYX.  PHOTO: 4: ZACH
And so it begins: Trump tromps in, stripped down to his tighty-whities and lays down trembling on the pee pads by order of Mistress Tara and the Dommes. Then we put the big Trumposity through the urinary car wash—or as they say in Newport Beach (where we were for last week's Inner Journey 3), the "Car Spa"—until he's gleaming gold as a Trump Tower.
May our Golden Waterfall become a Blue Wave in November… Amen and Awomen. Let the Holy Water rain on down.


It could happen. After all, D.A.D. pissing on Trump's star on Hollywood Blvd. led to comedian George Lopez pretending to piss on his star which led to a concerned citizen absolutely demolishing it with a pickax. At least the Dommes, at the end of their performance, cleaned up their pee with a big mop. Cleanliness and safety first and foremost, even when pissing on the President.
As usual, Rhiannon is first to gush upon the human lavatory that is Trump.
First, we take off her bra, revealing those award-winning "Well-Rounded" boobs.
PHOTOS: ZAK
Then she hoses down the Trumpus with her golden elixir right into his potty mouth.
Whereupon Mistress Jenna shows off her even larger rack, and she lets loose a very solid stream on his mid-section as the two big-boobed beauties rub their racks together.
"Just like bonobo females doing hoka-hoka," points out Mistress Jenna who attended my Bonobo Way: FemDoms of the Wild class at DomCon 2018.
It's definitely a beautiful female bonding experience, generating female solidarity through intimacy. #MeToo activists, take note!
Next, it's my turn to straddle the Latrine-in-Chief in a official D.A.D. Position of Honor between Mistress Tara and Goddess Soma.
PHOTOS: JUX LII
I remove my panties, as Mistress Tara says a few words of benediction over the tRUMP body.
Then we assume our Pee Party Positions, political, physical and psycho-sexual.

I tell Max to take over the show, and I breathe deep, in and out, hugging Soma from behind, squeezing and then pushing out my kegels, and then the next thing I know, I'm peeing right onto the Big Dickhead's tiny penis, or thereabouts. It is so minuscule, it's not easy to target. It's so funny; I'm laughing so hard, I'm peeing my panties (good thing I'm not wearing any panties).

It's a challenge to urinate in public like this, whether or not you're hosting the show.
I have to stop talking, breathe deep and push out my kegel muscles to make it happen. It's definitely not for everybody. But it's such a great release if and when you can do it. Almost orgasmic!
Talk about "taking the BOO out of taboo" (the subject of Inner Journey 3). We are indoctrinated, from an early age, to keep our peeing private, and here we are pissing away all over a Trump impersonator, cameras rolling and everyone around us shrieking and laughing hysterically.
Very Bacchanalian. Very bonobo too. Bonobos don't keep their peeing private. They even "weaponize" their pee and poop. Though they don't kill each other, nor have bonobos ever killed humans, there are many reports of bonobos high up in the rainforest trees urinating and defecating down onto the heads of hunters, loggers and the occasional hapless researcher. Maybe these acts of urinary aggression have actually fended off some adversaries, or maybe not, but it seems that bonobos get a certain satisfaction from pissing on their tormentors.
So do we!
A lovely audience member named "Sunshine "steps up onto the tarp and straddles Trump's head, eager to join in the Pee Party. She gives some profound personal reasons for being inspired to let loose a stream of golden sunshine all over the Trump Monster, but alas, her kegels are not cooperating.
PHOTO 1: JUX LII.  PHOTOS 2 & 3: ZACH
Some other D.A.D. members can't quite pee either; we're wondering if it's due to the dehydrating heat of climate change. Or maybe it's because we have a journalist from a major media outlet in the steamy Womb Room. He seems really nice, but who knows what he'll write?
PHOTOS: JUX LII
How will he describe this kinky little comic erotic ritual we come together on the first Saturday of (almost) every month in the Womb Room of Bonoboville to spank, pork and piss on Trump?
In any case, enough of us gush out our golden Holy Water that the Presidunce and all the pee pads are pretty well soaked.
I'll say this: if anyone can teach those neo-Nazi Proud Boys a lesson, it's D.A.D.
Feeling a little damp between the labia, I grab some Trump Toilet Paper (thank you Jux Lii!). Great for wiping wet twats and stuffing in Trump's shithole… and no, I don't mean his butt.
PHOTOS: JUX LII
I mean his mouth.
You can watch this wet and wild show now playing on DrSuzy.Tv or a censored older clip "Trump's Golden Shower: Therapy for the Trumpocalypse," also playing uncensored on Clip-O-Rama.
The Revolution Costs Money
After the Pee Party, we spot Wry in the Womb Room studio audience and bring him onstage for a little chat about the challenges of public peeing, among other things.
Rhiannon also gives some valuable tips on "social urinating" (not as mainstream as social media, but catching on) that you can watch on DrSuzy.Tv, which is now free, though it would be great if you could give us a donation to help save the bonobos in the jungle as well as support the work of us bonobo sapiens in Bonoboville.
PHOTOS 1 & 3: JUX LII. PHOTO 2: SELFIE
As Capt'n Max says, "The Revolution Costs Money."


Speaking of revolutionary causes, when I ask Mistress Tara if she will run again for President in 2020, she coyly replies, "I'll get back to you on that after I consult with my family."
Such a politician.
Three Trumps & a Rapper
With just a few minutes left, we howl for Ikkor to get up on the stage with five FemDoms, three Trumps and a Bumblebee for Ecosexuality.
Ikkor looks around at all the Trumps and then at the Dommes and sings "She Bad."
PHOTOS: JUX LII
It's pretty crowded, and there's not really enough room to dance.
With the three of them, it's like the Trumpus Past, Present and Future: Big Baby Trump, Narcissistic Toilet Bowl and Old Dotard.   
The proliferation of Trumps is kind of scary.
But the Dommes and the Bee beat the Trumps to the beat, keeping them under control.
We bad.
Post-Pee Party Speakeasy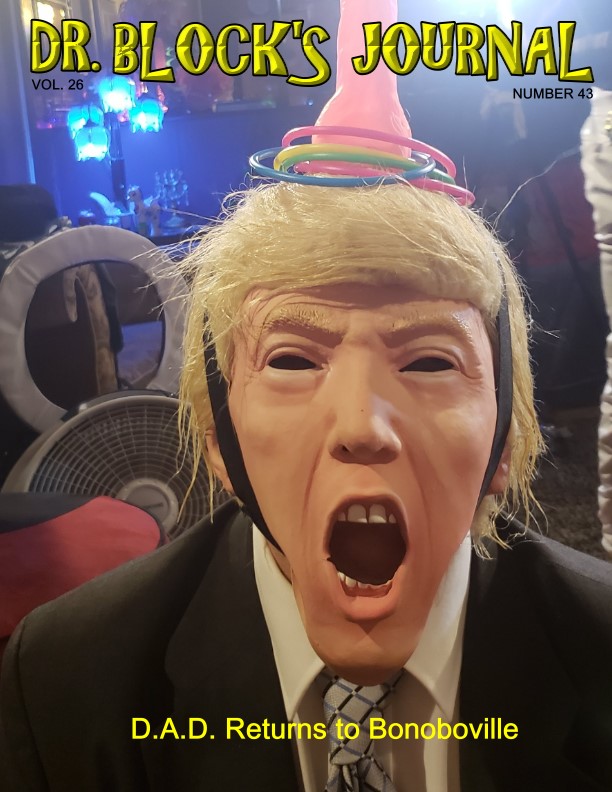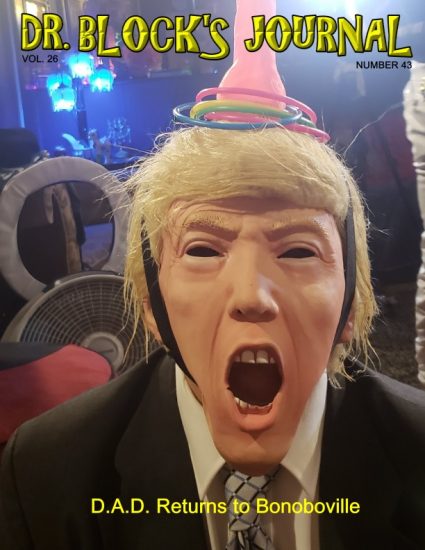 After the show, we play Toss the Ring on the Dickhead.
The dick hat (or whatever it's called) is worn bravely by one of the Trumps.
Without playing identity politics, secret indentities are revealed.
More frolicking through the bar and Garden of Bonoboville ensues.
`
PHOTOS: ABE
After spanking the Trumps' pathetic rumps, I am delighted to spend some quality time spanking and whipping Brigitte's fabulous, well-toned ass.
A nurse, a real-life Milf and mother of five kids, she keeps her sexy body fit by working out with Ikkor.
PHOTOS: JUX LII
It looks radiant being spanked by Goddess Phoenix's electric whip.


As usual, a good sparkle-spanking and a great communal piss-on-power clears the way to awesome orgasms-for-peace for the Captain and me.
We love us some Dominatrixes Against Donald Trump!

© Aug. 6,  2018. Susan Block, Ph.D., a.k.a. "Dr. Suzy," is a world renowned LA sex therapist, author of The Bonobo Way: The Evolution of Peace through Pleasure and horny housewife, occasionally seen on HBO and other channels. For speaking engagements, call 310-568-0066.