Burlypicks Burlesque
by Dr. Susan Block
In general, I'm pretty nonjudgmental, but the other night I was invited to be a judge.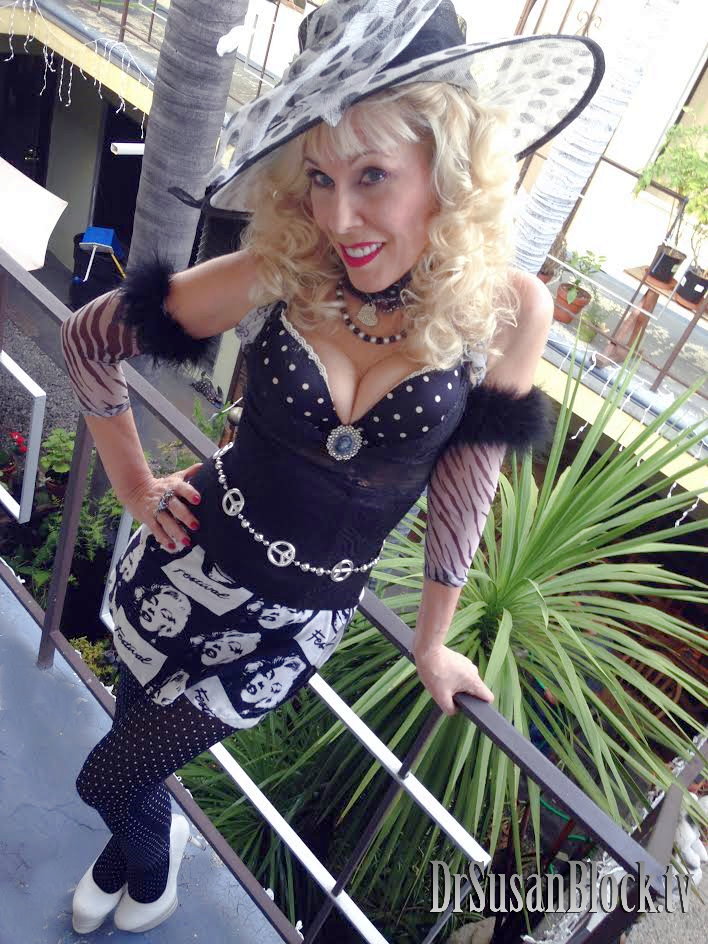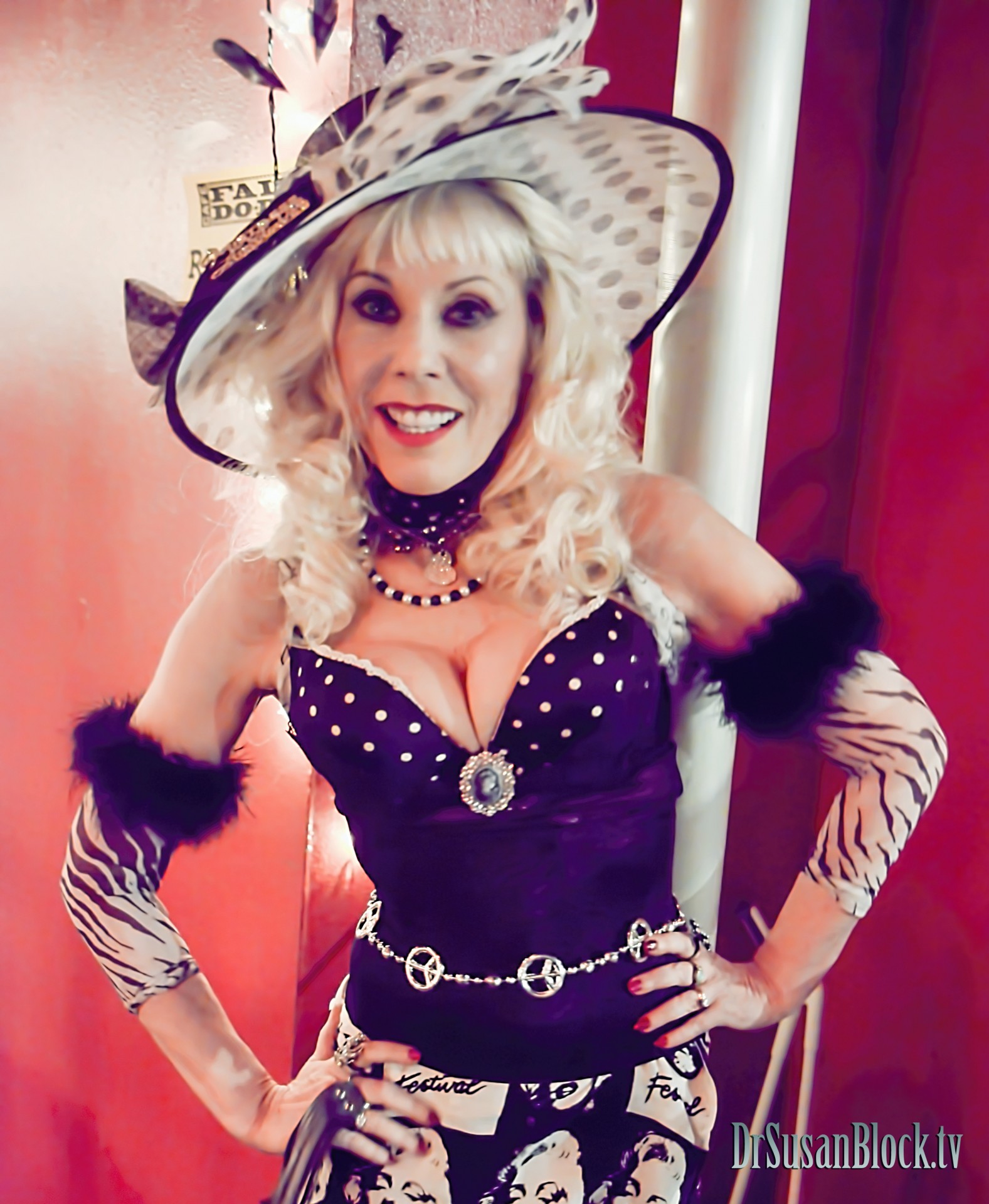 HERE CUM DA JUDGE.  Right: Photo by Chelsea Raw.  Left: Clarence Alford Photography
No, I wasn't happily sentencing hapless drug "offenders" to hard time in the Prison-Industrial Complex, as so many judges do.
The judging I was invited to do was of the Burlypicks Regional Competition at the famous Club Fais Do Do. Having authored the definitive definition of "striptease" for the new Wiley-Blackwell International Encyclopedia of Human Sexuality and interviewed a number of burlesque performers on my show, most notably the inimitable Bettie Page, Tempest Storm and Dita Von Teese, you could say I'm a bit of an expert.
At least, I know what I like, and I can count from 1-10, the two essential components of judging. Interestingly, Burlypicks policy is that even the most stalwart judges can be swayed and/or bribed by shameless competitors. Therefore, my judging duties were not revealed until show time, so I received no bribes, boas, sparkling foofery, extra "likes," or $100 bills discreetly tucked into my g-string, leaving my judgments of the show pure and unsullied.
And what a show it was, an eclectic parade of contestants of all shapes, sizes, hues, genders and orientations weighing in for the gold, silver and bronze. Not the old-style, classic burlesque that Capt'n Max knew so well from his deliciously misspent youth. Neo-burlesque style is open to all styles, as long as you take a certain amount off and keep your pasties on.
It's a great equalizer. Anyone can command that stage if they just turn on the personality and, as Meaghan Trainor sings, "shake it, shake it, like I'm s'posed t'do." This is very empowering for the performers, and I say hooray for that.
However, such a rainbow of styles competing for first, second and third places turns the act of judging into a personal "style" of its own.

Which brings me to my little Burlypicks-judging beef: My personal favorite, Leggy Lass Greenleaf, who performed what I considered an excellent ballet burlesque with an ironic Christian motif, didn't win a "goddamn" (if I may quote MC Patrick Saxon quoting the Bible) thing. Not that the winners' performances weren't also good; in fact, all of them were pretty wonderful, according to their diverse styles.
But Leggy Lass Greenleaf had a leg up over the rest. At least, that's my not-so-humble judgment. Obviously my fellow judges didn't agree, and I didn't want to get into a judging brawl with the lovely and knowledgeable Jewel of Denial nor the imposing Sister Mariposa of the Sisters of Perpetual Indulgence, so I just stewed quietly, which didn't make wearing my punishingly tight waist cincher any less punishing.
I did enjoy dressing up for the event, going all out in black and white leopard and dots, and the waist cincher set it off right, punishment and all. I didn't even feel over-dressed when I saw my fellow judge Sister Mariposa wearing a habit the size of a house. I wonder if she gave Leggy a low score for denominational reasons.
I do want to give congratulations to the winners (a special hat tip to bronze winner April Showers' MJ tribute) and thanks to the producers of the event, including Chris Beyond and Peepshow Menagerie, as well as my peeps, the exquisitely attired Elizabeth Aston, dapper Ken Bonobo and the ever-sheik Unscene Abe, for accompanying Capt'n Max and I on this interesting excursion.
Far be it from me to be a "sore loser" or to whine about the state of weight in this great land. My hat is off to the winners; they are fabulous, and I hope they ace the finals. I just want to give Ms. Greenleaf a hand and a little bloggamy for her entertaining, thought-provoking and original performance, not to mention her nice, balletic little bod.
© June 2, 2015. Susan Block, Ph.D., a.k.a. "Dr. Suzy," is a world renowned LA sex therapist, author of The Bonobo Way: The Evolution of Peace through Pleasure and horny housewife, occasionally seen on HBO and other channels. For speaking engagements, call 310-568-0066.
---
Explore DrSusanBlock.com
Need to talk? Sext? Webcam? Do it here. Have you watched the show? No? Feel the sex. Don't miss the Forbidden Photographs—Hot Stuff, look at them closely here. Join our private social media Society. Join us live in studio 😊. Go shopping. Gift shop or The Market Place. DrSusanBlock.tv, real sex TV at your toe tips. Sex Clips Anyone? FASHION, we have fashion! We also have politics. Politics? Have you Read the book? No? How about the Speakeasy Journal? Click here. Ok, how about some free sex advice?
---
---