Beauties & The Bautista Wrestle with Desire
Length: 95:13 minutes Date: 12/10/2011
Free PGish Pix Page. X pix and video at DrSusanBlock.tv
It's a tag team smack-down in the Womb Room ring, full of boob-grappling, libido-wrestling, dildo-wrangling, stripper pole sliding, lunchbox munching and blow job competitions, not to mention an intriguingly raunchy, face-to-crotch, upside-down, pro-wrestling maneuver known as the Bautista Bomb. In the midst of a bevy of wild beauties from all parts of the XXX industry is the PG Animal, wrestling with his sexual desire. Though Bautista keeps his pants on, we do "unleash the beast" (in a Bonobo Way) from within our beauties, "sacrificing" a Speakeasy virgin on the altar of my bed, pinning her to the mat in a full-frontal Hitachi climax–her first public orgasm. Through it all, Anthony Winn, the co-creator of Stripperella with the great Stan Lee, creates new art (of me!), and the Speakeasy rocks out into an exuberant after-party of sex, fun, wild rickshaw-riding and wrestling with naked angels. And why not, because aren't wrestlers and porn stars among the greatest real-life comic book characters we know?
Featured Guests:
David Bautista: In this corner, we have the longest running champion of the WWE—the great and powerful Batista (whose real name is Bautista)! He may be new to the Speakeasy, but he's been around the ring a few times, and now he's a Hollywood hunk, promoting his new film with Russell Crowe, The Man with the Iron Fists, and his favorite cause, fighting one of the modern world's most powerful, proliferating evils: cancer. The champ also collects vintage lunchboxes (we gift him with an "Invasion of the Monster Women" beauty), which might sound like an innocent enough hobby, until deeper sexological analysis reveals that being a "box," this is an expression of the Animal's lust for the female genitalia. Indeed, once quoted as saying women are his greatest addiction, the champ wrestles with his high sex drive more than any opponent. Even though the beauties here put up a good fight, the Champ stays true to his girlfriend Sarah and keeps his pants on. We do manage to get his shirt off, revealing more muscles than a seafood platter, and a quick feel below the belt lets us know there's plenty of muscle down under too–a real knockout, with a heavy-weight package. Though he doesn't wrestle Greek-style for us, he gives his biggest little fan Tasia the thrill of her life by Batista Bombing her into ecstasy.
Angela Sommers: And in this corner, we have the Angel to balance out the Animal in the room. When Bautista declares this dazzling Marilyn Monroesque RadioSuzy1 veteran to be the winner of his own personal "Who's Your Favorite Porn Star" contest, she gives him a very special striptease poledance, allowing him a whiff—if not a taste—of her Naked Lunchbox. Too bad this Animal's taken, because our Angel could have been a contender. But we're happy for Sarah….and we're excited that Angela will be joining us for New Year's Eve!
Destiny Dixon: On a triumphant return to the RadioSuzy1 ring, this dynamic, charismatic porn star, entrepreneur, squirter and motorcycle stunt-rider is hotter and more cum-manding than ever. Destiny sees the value in wrestling—mostly because she loves buff, sweaty men rolling around in microbriefs. She runs this show's blow job competition and commandeers the tying up of our Speakeasy virgin with the bravado of a supreme super-villainess. Then we shackle her to the Cross in the after-party and have our way with her delicious lunchbox.
Samantha Saint: This leopard-panty dropping beauty up for Xbiz and AVN's Best New Starlet award, is new to the Speakeasy, but gets right into the Agwa ritual, serving up her lovely pierced nipples for salt-licking and shaking her well-toned booty on the stripper pole for all to ogle.
Victoria White: Another Speakeasy virgin, Samantha's gal pal is built like a Victoria's Secret model with golden tresses as long as Lady Godiva's, though instead of riding a horse, she rides the stripper pole—and a few other things. New to porn and a Valley Girl, we're excited that Victoria will also be joining us for New Year's Eve.
Daisy Delight: Visiting web-cam model from Ohio, this freshly picked flower gets multiple cherries busted on this show—her first public orgasm is also her first time at the Speakeasy and her first time in LA. Once she's tied to the bed and down for the count, making a cum-back from an onslaught of tongues, ties, tits and vibrators, she cums like a Ninja, earning the bell-ringing recognition of her peers as "the new bitch on the block."
Anthony Winn: Creator and artist of the Stripperella comic book series in collaboration with the living, legendary Stan Lee, Anthony gifts us with a knock-out storyboard panel of the new red-haired Stripperella and whips out an amazing Dr. Suzy-rella sketch in just a few moments. Who knows, maybe Stripperella will start seeing a sex therapist soon…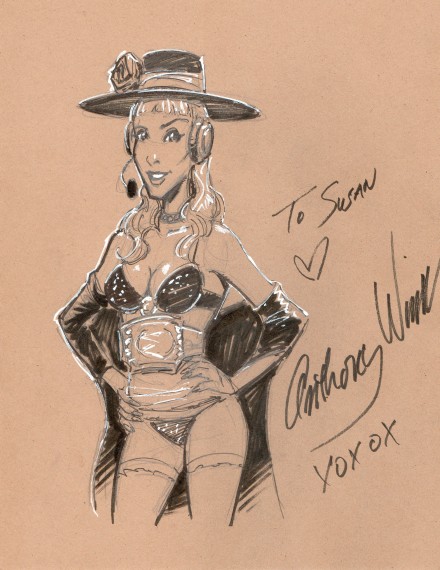 Callers:
Panty Boy, fittingly enough, was born on Xmas Day, so we're getting an early start on stocking (panty?) stuffers, and just about all the beauties gift their panties, dropping them into the manger of our kinky nativity scene, featuring religiously inspired dildos from Divine Interventions. Panty Boy also wants to know who Bautista's favorite porn star is. A tough question for the Animal, but he awards the crown to our Angel.
Robert wants to know if Destiny will ever be in Playboy. Destiny, having been told she has too many tattoos for the bunny, responds, "Fuck Playboy."
Weapons of Mass Discussion:
Beauties and The Beast, Women Are the Healthiest Addiction, Spit in the Mouth, Bisexual Girls, Lingerie Football League, Women Bent Over Playing Pool, Action Figures Vs. Dolls, How Lunch Boxes Are Like Vaginas, Fighting Cancer, Artists Behind the Scenes, Stripperella, Pamela Anderson, Stan Lee, New Redhead Vegas Showgirl Stripperella, Stripper at Night and a Superhero Later at Night, Quadrunners in the Streets of Vegas, Wrestlers and Porn Stars Are Comic Book Characters, Porn Actresses Getting Paid Less than Other Actresses, Waitresses and Nurses Become Porn Stars, Being Comfortable with your Sexuality, Hot Ladies in Wrestling, Girls Liking to get Beat up During Sex, Wrestling Losers Need to Know how to Fall, Making a Living with your Body, Divorce Doesn't Have to Mean the End of Love, Power of Hate, Children with Cancer, Doing Something Positive, OCR Efforts, Competitive Pole Dancing, Closed Relationships, Trend in Porn Stars Having a Boyfriend & Doing Porn with the Girls, Champion Belt Like a Corset, Service for Sexual Research, Squirt Masters, T&A (talent and artistry), Playboy Hates tattoos, Squirting on Command, Squirting off Camera, Max & I Batista Bombing Each Other Later, Having Sex all Day, The Bonobo Way
Performance Erotica:
Playing with Batista Action Figure (Not a Doll), "Invasion of the Monster Women" Lunch Box Gift, Modeling Panties, Strip Off the Panties & Donating Them to The Panty Boy Collection, Multiple Well-Groomed Pussies, Clit Rings, Nipple Rings, Butt Plug Baby Jesus, Bautista Action Figure in the Crotch, being nice to the action figure, Dr. Suzy Sketch, Aromatic Fuchsia Panties, Vaginas on Stage, Hair and Eyes by Markeisha, Stripping for Bautista, Spanking it for Bautista, Bautista taking his Shirt off, Tasia Gets Bautista Bombed, Lots ofTitty-Licking, Agwa down the Hatch, Spilling Salt on the Rug, Jacking off the Penis Squirter, Prop Malfunctions, Clearing the Bed for the Great Bautista, Going After Bautista's Package, Shout Outs to Girlfriend Sarah, Holy Water, Teaching a Newbie to Cum in Public, Doing the Pussy Voice, Dirty Talk, Tying up the Virgin, Stripping off the Panties, Sucking the Hard Nipples, Batista Action-Figure Between Boobs, Tongue Inside Pussy, Best Tag Team Ever, Sucking & Vibrating, Going Down with the High-speed Hitachi, Quiet Ninja Cum, Cock-Sucking Contest on Mr. Squirty, Sharing the Same Dick, Girls Making Out on the Stripper Pole, Baby Jesus Butt Plug & Mother Mary Dildo in XXXmas Nativity Scene, Shackled to the Cross, Hula-Hooping, Trapeze, Rickshaw Riding, Lunchbox Munching
insert video
Show Length 01:32:02 Date: Dec. 10, 2011
© December 10, 2011 Susan Block, Ph.D., a.k.a. "Dr. Suzy," is a world renowned LA sex therapist, author of The 10 Commandments of Pleasure, bonobo advocate and horny housewife, occasionally seen on HBO and other channels. For speaking engagements, call 213-291-9497.
---
Explore DrSusanBlock.com
Need to talk? Sext? Webcam? Do it here. Have you watched the show? No? Feel the sex. Don't miss the Forbidden Photographs—Hot Stuff, look at them closely here. Join our private social media Society. Join us live in studio 😊. Go shopping. Gift shop or The Market Place. DrSusanBlock.tv, real sex TV at your toe tips. Sex Clips Anyone? FASHION, we have fashion! We also have politics. Politics? Have you Read the book? No? How about the Speakeasy Journal? Click here. Ok, how about some free sex advice?
---
---