Sex at Dawn III: From the Pages of a Book to an Orgy on My Bed!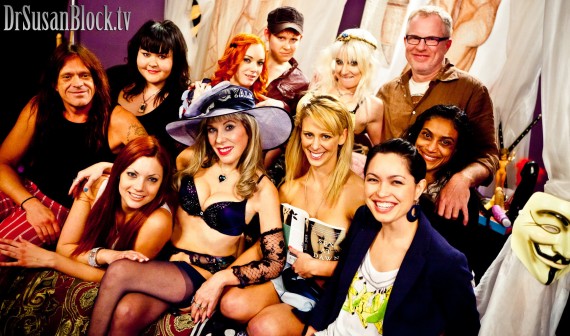 Length: 98:10 minutes        Date: 12/03/2011
Free PG pix page.  X pix and video at DrSusanBlock.tv
In our third live broadcast focused on Sex at Dawn: The Prehistoric Origins of Modern Sexuality, the Womb Room explodes into a chasm of brain-gasms that lead to a daisy-chain of orgasms, male sword-swallowing (the most dangerous deep throating you've ever seen), squirting, fisting and then back to brain-gasms again. A sensational and provocative Commedia Erotica festival of sex & the discussion of sex—who says you can't judge a book by its lover(s).
Featured Guests
Christopher Ryan, Ph.D.: Co-author of Sex at Dawn, New York Times best-seller and "the most important book about human sexuality since the Kinsey Report," according to none other than Dan Savage, this is my third interview with Chris, but it's his virgin experience in the Womb Room.  This time he comes with his co-author/wife, the luminous Dr. Cacilda Jethá.  Of course, we've already spent two shows (Sex at Dawn 1 and Sex at Dawn 2) discussing the book's brilliant theories regarding the "promiscuous" nature of human sexuality.  This time we actually bring Sex at Dawn to life.  It begins with a little conversational foreplay, and the Sex at Dawn-inspired discussion of human sexual history is so hot, that the lesbian-loving ladies of the show can barely hit the books before the panties come off and the girl-girl orgy begins. A discussion of "female copulatory vocalization," a scientific term for the way a woman moans during sex (purpose: to let other potential partners within earshot know that she's hot), leads to a symphony of moans and screams, as my mostly red-headed female guests lick, finger and fist each other into the orgasmic communal ecstasy that our ancestors probably enjoyed.  Now that's what you call "hands-on"—and fists in—research.  Upon witnessing a bevy of nude beauties lying in bed reading Sex at Dawn, he proclaims this show "the best book interview [he's] ever had."
Dani Jensen: This red hot little redhead puts the fun in fun-sized, peaking at 5'1" (and also peaking for her first time on the Speakeasy bed). She reminisces about her origins as a waitress, this profession being a gateway drug to porn.
Jayden Cole: At a higher level of the fun spectrum, this 5'11" Penthouse Pet and Playboy model is another cherry-popped visitor on the Womb Room. A girls-only porn performer, she says she is less concerned with exhibitionism than she is with a connection with other sex performers.
Cherie DeVille: Another newbie to RadioSuzy1, this porn star/swinger also tends to stick to the ladies when she's not getting stuck by her husband.  And she gets fisted in the middle of the orgy and spends a large portion of the show stark and delightfully naked.
Sex Nerd Sandra Daugherty: This witty and adorable Nerdist sexpert really gets off on talking about sex. Not that she doesn't actually have it sometimes. But her slutty brain gets aroused by cerebral sexual connections and verbal exhibitionism, at least as much as the in-the-flesh stuff. So our Sex at Dawn discussion is right up her alley—literally.
Murrugun the Mystic: This daredevil actually swallows a sword while getting his own sword swallowed!  First, he reprises his AVN award-winning scene for Most Outrageous Sex Act, sucking a 27" sword (now that's well-hung!) down to the hilt while porn starlet Jonni Lynch sucks his cock to the hilt.  He tops that by swallowing four swords at once while Jonni keeps fellating.  He actually keeps the swords down his throat longer than she sucks his cock.  He then demonstrates what he learned through transcendental meditation—the ability to control pain and body functions while cramming a sharp rod through his bicep muscle without a single speck of blood (or semen) messing up my carpet! Then he breathes fire.  I'm just glad he didn't end up filleted while being fellated.
Jonni Lynch:  In her second appearance on the RadioSUZY1, Jonni does some impressive, sword-swallowing stunts of her own when she completes the lower, cocksucking, half of Murrugun's two-tiered deep-throating sword swallows.
Lily Cade: This bodacious butch beauty offers up her ample natural boobs for Agwa shots and her pussy for the multiple orgasms, producing a series of earphone-splitting examples of female copulatory vocalization. Being big on multiples may have something to do with her multiple orgasmic visits to the  Speakeasy. She's also a big fan of Sex at Dawn (she listened to the audio book), in part because it validates her own open relationship with her wife Sten.  She also appreciates how the book debunks conservative evolutionary psychologists who twist science into knots, trying to push the square peg of monogamy through the round hole of human sexuality. Later I help her to squirt on the Speakeasy bar.
Sten: Lily Cade's artist wife says that the glass-shattering, female copulatory vocalizations from her wife, Lily Cade, are music to her ears, and no, she is not the jealous type, she assures us, smiling as she watches her wife climaxing over and over in the middle of the orgy.
Lily Carter: A porn chick whenever she's in LA, this sweet Lily turns into a bookworm at home in Oregon.  Sex at Dawn is next on her reading list.
Special thanks to Justine Middleton for editorial assistance with this bloggamy.
Weapons of Mass Discussion
Our Sexual Great Great Great Great Great Grandparents, Sex at Dawn, Bonobo Handshake, Jacking and Jilling Off, Rehabilitating the Word "Promiscuous," Women Stopping to Masturbate Every 15 Pages, Myths About Female Sexuality, Waitressing as a Gateway Drug to Porn, Why Artists & Musicians Always Get Laid, Erogenous Tissue in the Vaginal Canal, Braingasms Connect to the Pussy, Guys are More into Fetishes, Exhibitionism in our Ancestors, Sound of a Woman's Orgasm, Guys have Stoic Orgasms, Female Sound versus Relatively Quiet Male Ejaculation, Female Copulatory Vocalization, Graduate Students with Microphones Capturing Primate Sex, Promiscuous Primates Make the Most Noise, Female Ovulation Apparent in Primate Female Orgasm Noise, Sperm Competition, Ovum making Chemical Choice, Laughter is a Mental Orgasm, Proper Choking, More Open Dialogue with Teens & Couples, Porn Nerds, Newt Gingrich as the Least Scandalous Republican Candidate, Huge Polyamorous Community in Los Angeles, Couple Remarried after Reading Sex at Dawn, Monogamous Relationship with Open Communication, Is Jealousy Natural?, Insecurity when your Loss is Someone Else's Gain, Communal Maternal Responsibility in Other Societies, Sexual Revolution Isn't Limited to Women, Panel of Lesbians and Chris, Editing Porn Desensitizes You, Transcendental Meditation, Nipple Suspension in a Man Called Horse, Next Book: Civilized to Death, Animal Instinct Vs Societal Practices, Bonobos
Performance Erotica
Profusely Pouring Agwa Salt all Over Naked Breasts, Double Titty Shots, Removing the Tough Girl Outfit, Red panties coming off, Bonobos in Bed, Hitachi is too strong for first orgasm, Three Women on One Girl, Redhead Eating Redhead, Talking Dirty, Playing with the Pocket Rocket, Making out After Eating Out, Womb Room in Communal Ecstasy, Team Effort Daisy Chain, Female Vocalization, Teaching to Squirt, Elegant Clothing Removal Near the Books, Licking Sex at Dawn, Tribbing, Fisting, Every Male Writer's Dream of Naked Women on the Bed Reading His Book, Mind over Matter, Metal Rod through Bicep & Out Other Side of Arm, Blow Job, Unsheathing the Sword from the Yoga Pants, 27" Sword Swallow, Ultimate Deep Throat, Licking the Sword,  Sword-Swallowing While Getting One's Sword Swallowed, Swallowing Four 27" Swords at the Same Time While Getting One's Cock Sucked, Fire Breathing Finale, Sexy Circus Girl, Editorial Girl Won't Put out, Running Around the After Party Wearing Nothing but Boots, Nude Partying, Hula-Hooping, Trapeze, Ballroom Dancing, Book-Signing, Sex at the Speakeasy Bar
---
Explore DrSusanBlock.com
Need to talk? Sext? Webcam? Do it here. Have you watched the show? No? Feel the sex. Don't miss the Forbidden Photographs—Hot Stuff, look at them closely here. Join our private social media Society. Join us live in studio 😊. Go shopping. Gift shop or The Market Place. DrSusanBlock.tv, real sex TV at your toe tips. Sex Clips Anyone? FASHION, we have fashion! We also have politics. Politics? Have you Read the book? No? How about the Speakeasy Journal? Click here. Ok, how about some free sex advice?
---
---