50 Shades of Holy Crap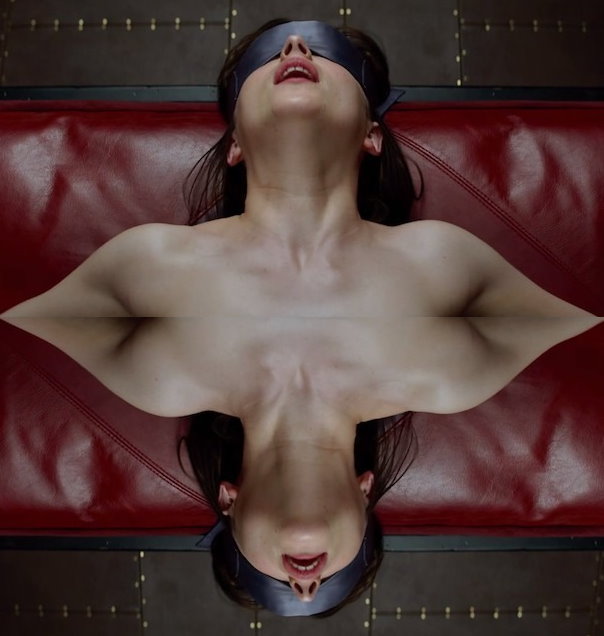 by Dr. Susan Block
It seems like the biggest fans of 50 Shades of Grey are those who have not actually read the book. As a writer and avid reader, I confess I found it to be 50 Shades of torture, and not the erotic kind. After wading through bogs of insipid phrases like "holy crap," "oh my!" and "inner goddess" without a trace of irony, about 40 times each, I found myself begging for a blindfold just so I didn't have to read anymore.

But as a sex therapist, I give a thumbs-up to anything that gets my clients–and millions of "regular" people around the world–excited about sex, desire, masturbating, communicating, reigniting moribund marital love lives, exploring sex toys, fetish and fantasy roleplay. There's no doubt that 50 Shades has accomplished an important feat in the world of erotica, whether or not its fans read all those crappy words. And I tip my hat to that. Just please don't make me read it again!
Some BDSM purists are upset that 50 Shades doesn't properly represent a consensual Dominance/submissive relationship. No doubt it doesn't. But it's a fantasy, a modern patriarchal fairy tale dressed up in grey silk and red leather, now playing in the erotic theater of the mind. In many arenas of life, especially in fantasy, the ideal is the enemy of the real. People interested in negotiating real BDSM will get as much out of 50 Shades of Grey as people interested in building a real relationship get out of reading a Harlequin novel.
However, though Christian Grey does not appear to have taken the prerequisite seminars in BDSM contract negotiations before binding, whacking and verbally abusing the innocent virginal object of his desires, Anastasia is always free to leave her gilded cage. She might not approve of the BDSM activities her lust object prefers, at least not at first, but no one is forcing her to hang out with this guy and his billions. Moreover, in the end (and yes, I confess I skipped a lot of "holy crap" to skim to the end), she accomplishes her goals of romance and marriage. So in a way, this politically incorrect, male-dominant fairy tale actually empowers its female protagonist, certainly a lot more than that great literary BDSM classic (which doesn't show a speck of crap), Story of O.
Though I didn't care for 50 Shades, the novel, I really loved 50 Shades: The Musical, a gently hilarious parody of the book. So I am open to seeing the film. Since it doesn't involve any reading, I might just enjoy it and find myself squealing "Holy Crap!" in the midst of my next orgasm. Sapiosexuality notwithstanding, what turns us on sexually isn't always great literature.
But please Master/Mistress, don't make me read it again!
COUNTERPUNCH, "America's Best Political Newsletter" picks up "50 Shades of Holy Crap"
Excerpted in SFist's 50 Sexperts on Why They Hate 50 Shades of Grey
© February 11, 2015. Susan Block, Ph.D., a.k.a. "Dr. Suzy," is a world renowned LA sex therapist, author of The Bonobo Way: The Evolution of Peace through Pleasure, occasionally seen on HBO and other channels. For speaking engagements, call 310-568-0066.

---
Explore DrSusanBlock.com
Need to talk? Sext? Webcam? Do it here. Have you watched the show? No? Feel the sex. Don't miss the Forbidden Photographs—Hot Stuff, look at them closely here. Join our private social media Society. Join us live in studio 😊. Go shopping. Gift shop or The Market Place. DrSusanBlock.tv, real sex TV at your toe tips. Sex Clips Anyone? FASHION, we have fashion! We also have politics. Politics? Have you Read the book? No? How about the Speakeasy Journal? Click here. Ok, how about some free sex advice?
---
---