Eros Day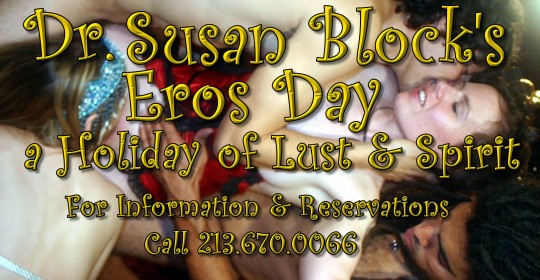 It's that time of year again. The Hallmark holidays and AVN awards have run their course, and cold hard work looms ahead. But the most exciting holiday of the year is yet to come! And cum. And cum again! Yes, all the little elves, angels and devils are trimming their wings, training their telescopes and preparing the new Womb Room for the Twelfth Annual Eros Day on Saturday night, January 22, 2011. Happy Eros Day Everyone!
What, you may ask, is Eros Day? On Eros Day, we honor Eros, who is both a great and powerful God, according to classical mythology, and a little penis-shaped planetoid, according to modern astronomy, as well as the "Spirit of Eros"–the philosophy of peace through pleasure and the feeling of passionate love.
Celebrations of Eros, the God of Sex Love and Life itself, were held in Ancient Greece perhaps as far back as 1800 BCE, most notably in Thespiae, as part of the Eleusinian Mysteries and in Athens where Eros shared a popular cult with his mother Aphrodite (Venus to the Romans). These erotic ceremonies and ritual gatherings continued until around 390 AD when Roman Christian Emperor Theodosius forbade the practice of all other religions except Christianity under penalty of death.
Ancient Festivals of Eros shared many similarities with our modern holiday of Eros Day, most notably a ritual coming together of people wishing to express their appreciation of and desire for the principles of love, lust and erotic pleasure. However, these early revels did not necessarily take place on or around January 22, as the planetoid 433 Eros had not yet been discovered.
The modern holiday of Eros Day originated in the mind of our longtime friend, Italian filmmaker, author and classicist Alberto Ferro, a.k.a. Lasse Braun. A lifelong devotee of Eros, upon learning about the planetoid 433 Eros and its January 22 proximity to Earth, he began honoring that date with a girlfriend…or two. Then, on the first day of the new millennium (just after Lasse and his son Axel Braun made me squirt for the first time on New Year's Eve 2000), Lasse said in his quintessential Northern Italian accent, "Susanina, weee must celebrate Eeeroos Day." The evening of January 22 was a spontaneous sensation with Playboy Centerfold Teri Weigel's husband Murrill Maglio becoming Eros–his proud manhood bearing an uncanny resemblance to the planetoid–and Teri herself transforming into a radiant and raunchy Venus. Eros Day became a habit, and we began hosting annual celebrations, some intimate gatherings, others drawing hundreds of participants coming from halfway around the world, while thousands more have shared in the festivities online.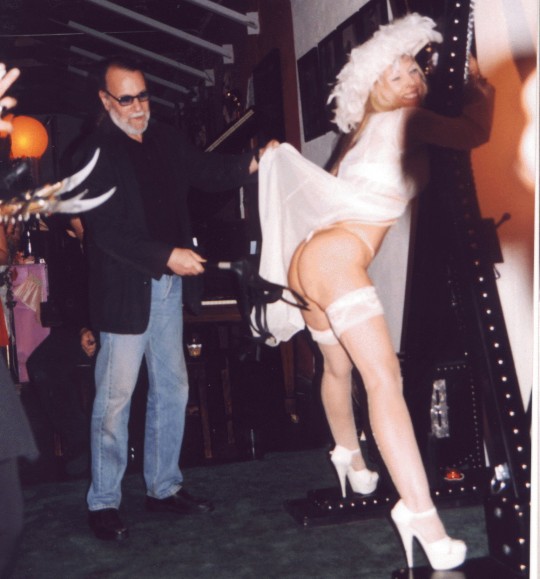 Michael Vegas & Misti Dawn: Eros & Venus 2011
Eros Day is for everyone, married or single; after all, until we start cloning ourselves, we are all Children of Sex. But this year, Eros Day XII will be a very special night for couples. Alt porn star power couple Michael Vegas and Misti Dawn will reign over the Eros Day festivities as Eros and Venus.
"I have always wanted to be a sex god," says Michael as he prepares to be Eros, wearing the traditional costume of nothing but white wings and a very large smile. "Now I will achieve my goal."
"I'm excited to be a human embodiment of sex in its purest form," says Misti. And the rest of us are very excited, ready and willing to be inspired by the Divine Erotic Couple of 2011.
Eros the God, the Planetoid & the Spirit
Similar to another very special divinity, EROS is actually a trinity that consists of god, planetoid and spirit. Eros the God is the Classical Eros, one of the four original Creators of the Universe, all of whom emerged from Chaos, according to Hesiod's Theogony of 800 BCE. The other three are Gaia the Earth Goddess, Uranus the Sky God, and Tartarus the God of the Dead. The fourth Great Creator is Eros, God of Life, Love and Sex. Eros blows the Breath of Life into all creatures, even the Gods–this is what I call the Original Blow-Job.
In other Greco-Roman myths, Eros is portrayed in more human form as a handsome, sexy, mischievous young man with large wings and a potent quiver of arrows to pierce the hearts of paramours with desire. His closest relationship (quite shockingly incestuous at times) is with his beautiful mother Aphrodite, Venus to the Romans, Goddess of Love, Sex and Beauty (we tend to go with the Roman "Venus" since that's what the planet is called. Also, more importantly, Lasse and Max are from Rome). This more human Eros also becomes the husband of Psyche, Goddess of the Soul. In keeping with his swinging character, Eros' father is uncertain; He could have been Zeus, Ares, Hermes or any one of his mother's many lovers. Eros becomes Amor in Rome, and later, Cupid. Even later, Cupid is portrayed as a cuddly little angel, or troops of angels who fly around shooting their arrows of desire into the hearts of people everywhere to make them fall in love. These little angels even manage to make their way into the heart of Christianity through Valentine's Day and other images of chaste romance.
All the representations of Eros—from the original life force to the naughty young man with wings to the sweet loveable "Eros Angels" of all genders–abound on Eros Day. Though there is always one official "Eros" and "Venus" for the evening, the night is filled with unofficial Eroses cavorting in wings and Venuses dancing in the nude. Other revelers dress up and portray other Greco-Roman Gods and Goddesses such as Artemis/Diana, Zeus/Jupiter, Proserpina/Persephone, Hermes/Mercury, Dionysus/Bacchus, Thanatos (Death) and Pan.
But Eros is not just some funny Valentine. Discovered by Dr. Carl Gustav Witt in 1898, EROS-433 is a planetoid, or large asteroid, and we celebrate the holiday of Eros Day every year on and around January 22 when it spins closest to Earth. If "size matters," Eros measures 25.3 by 9.1 by 8.8 miles, making it one of the most elongated planetoids in our solar system, the better to penetrate our hearts, and other metaphorical organs. Though astronomers and newscasters tend to say that Eros is shaped like a banana, I'll tell it like it is: Eros is shaped like a curved cock. After all, Dr. Carl didn't name his planetoid Chiquita.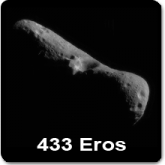 In addition to Eros the God and Eros the Planetoid, Eros Day celebrates the Spirit of Eros, the philosophy of peace through pleasure, the feeling of passionate love and the essential drive that Sigmund Freud recognized as the libido. The idea, feeling or "Spirit" of Eros is our inherently libidinous and erotic drive to mate, to relate and create.
We're Opening Two New Erotic Theaters—On the Web & In the Womb Room!
Eros Day 2011 heralds the Grand Opening of our two amazing Erotic Theaters in cyberspace and on terra firma. Our new Erotic Theater of the Mind at DrSusanBlock.tv parts the velvet curtains of time to reveal a stunning visual history of the Institute thus far: the stimulating sex education, the outrageous, theatrical yet spontaneous action, the fetish fun, the porno romance, the squirt salons, the revolutionary spirit, the wild bacchanalian orgies and some of the show's hottest, craziest moments ever, artfully captured on thousands of eye-popping (and trouser-popping) photos, taken by some of the world's finest photographers, including images and video from 11 extraordinary Eros Day celebrations, with number 12 on the way.
Eros Day XII also marks the opening of our bricks and mortar Erotic Theater in the brand new Womb Room. Max is supervising construction of this grand yet cozy studio space with 20-foot ceilings, a performance stage, several king-sized beds and couches on platforms, a poker table around a stripper pole and erotic art in various media by well-known local and international artists. Eros Day XII exhibiting artists include Scott Siedman, Yossi Vardan, Alex Filangieri, JuxLii, Andrew Dunbar, Skee Goodhart, Tom Zimmerman, Annie Sprinkle, Betty Dodson, John Evans, Sayko, Doug Johns, Karin Swildens, Glenn Campbell, Xam Paris.

Eros Day 2011 will feature a Commedia Erotica cast of characters, porn stars, professors, singers, swingers, fetish models, BDSM lovers, cultural anthropologists, doctors, nurses and the couples-next-door–all decked out in togas, lingerie, fetish gear, formal wear or nothing at all. Stars who have confirmed for Eros Day include Cadence St. John, RubberNecro, Zoe Holloway, Lily Cade, Paris Kennedy, Amber Berlin, Chastity Lynn, Scott Lyons, Snow Mercy, Kat, Lilo, with more coming in as Eros Day approaches.
I'm very excited about another special guest who will be joining us in the Womb Room on Eros Day 2011: Lasse Braun's son, Axel Braun, winner of multiple AVN 2011 Awards for his Batman XXX parody and This Ain't Avatar XXX 3D, recently joining his revolutionary dad in the AVN Hall of Fame, and the first man to make me squirt (before Marcus London, and even before Deborah Sundahl in Squirt Salon, there was Axel "The G-Man" Braun fingering my G-spot, making my Holy Water spurt forth).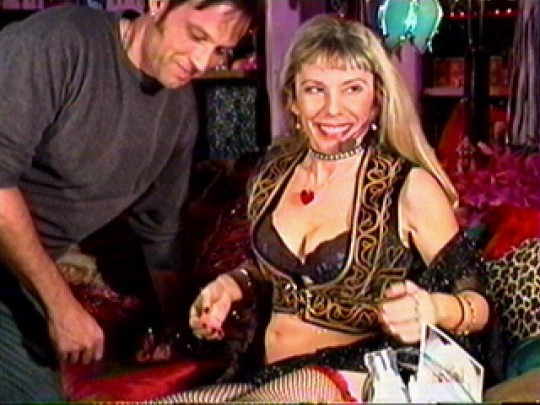 Erotic niceties for all to enjoy include Pocket Rockets-provided by Doc Johnson-encouraging peace through pleasure ("Drop Pocket Rockets, Not Patriot Missiles" is an ongoing theme of Eros Day), Eros Day Peckers and Dolls by Pipedreams, condoms by Condomania, as well as Eros Day Penis and Vulva Candles by Mojo Candles. Live music features DJ Don Tonic and the Sonic Percussion Ensemble. Berkeley sponsorship by Frank Moore and our good friends at LUVeR Underground Visionary Revolution. And the Eros Day Drink of Choice is, once again, Agwa di Bolivia Coca Leaf Liqueur, one of the many fine beverages featured at the always-popular Eros Day Open Bar and Aphrodisiac Buffet serving Tzepao Sanpien, chocolate delicacies and fresh oysters.
Proceeds from Eros Day donations will go to help save the highly endangered "make love not war" bonobo chimpanzees from extinction in the Congo, and promote the Bonobo Way of peace through pleasure around the world.
You don't need to be watching a computer screen or swimming in a sea of naked bodies to celebrate Eros Day. There's is no greater way to honor Eros than by making love to someone you love…even if that someone is you."
Eros and Assange
Though he makes an adorable Santa, we feel in our bones that Wikileaks' Julian Assange is a devotee of Eros. After all, he is a purveyor of transparency and openness, which is good for governments, but also sounds very erotic to us. He is certainly a lover of beautiful women, even if some of them try to take him down like the Sirens did Greek sailors. We'd like to invite him to be a Guest of Honor at Eros Day, but we're sure he wouldn't willingly set foot on American asphalt–even for the God of Love—so we'll just send him a free pass to watch it live online.
Also, we'd really love to invite poor Private Bradley Manning, accused of providing many of the documents that Wikileaks has been publishing, now locked up in the Marine Corps Brig in Quantico, Virginia, in a brutal form of solitary confinement 23 out of 24 hours a day. He could definitely use a little communal ecstasy.
.
Related Links
Could you use a little communal ecstasy? Join us for Eros Day January 22, 2011
Watch EROS DAY 2011 LIVE
View Amazing Photos from Eros Days Past
Watch Eros Day X: Orgy for Obama Inagural BALL (those were the days ;)
Watch the First Eros Day with Lasse Braun, Teri Weigel and Murril Maglio
Enjoy Eros Day Pocket Rockets. Drop Pocket Rockets, Not Patriot Missiles!
Eros Day Peckers, Dolls and other novelties by Pipedream
Eros Day Condoms by Condomania
Eros Day Penis and Vulva Candles by Lucky Mojo Curio Co.
Eros Day Live music features DJ Don Tonic and the Sonic Percussion Ensemble.
Berkeley sponsorship by Frank Moore and our good friends at LUVeR Underground Visionary Revolution.
Eros Day Drink of Choice: Agwa di Bolivia Coca Leaf Liqueur
Try Tzepao Sanpien Chinese Aphrodisiac
Read Lasse Braun's Lady Caligula
Want to talk about Eros, Communal Ecstasy or any other aspect of sexuality? Call the Telephone Sex Therapists of the Dr. Susan Block Institute: 213.291.9497