Walking the Bonobo Way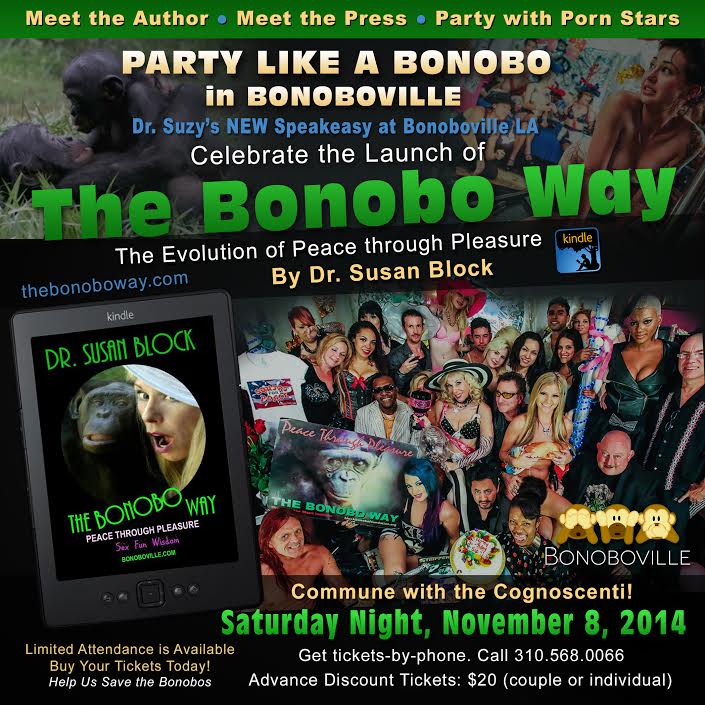 It's the eve of (finally!) publishing my new book The Bonobo Way: The Evolution of Peace through Pleasure, and I'm deeply grateful for all the glowing reviews coming in from some of the world's most highly esteemed humans, from primatologists to porn stars, best-selling authors, artists, environmentalists, international icons and the former Pakistani Ambassador to the United States, refreshing my belief that The Bonobo Way can bring much-needed attention to the plight of the highly endangered bonobos in the wild, plus help us humans "go bonobos" and make peace through pleasure in our bedrooms and maybe even on a few battlefields.
Of course, when the book is published in a few days, I'm sure it'll get its share of flack. In fact, the flack is already flying, and the flinger of said flack is none other than one of our former volunteers here in Bonoboville, California. As some of you already know, this über-disgruntled ex-cop just went e-postal all over the Internet, spraying bullets of spite, colorful lies, solemn denunciations, hypocritical condemnations and inadvertently hilarious accusations on Craigslist and Gmail. In so doing, he committed slander, Internet identity theft, publishing our private address, attempting to incite violence against us, double-spamming a couple of our PR lists that he apparently stole from our computers (a federal crime) while he worked here.
Whew! "Every black cloud has a silver lining" goes the saying, but I guess the reverse is also true. Just as Max, my fellow Bonobovillians and I are starting to revel in that sweet silvery lining of (finally!!!!) getting The Bonobo Way published by the venerable house of Gardner & Daughters (in print and on Kindle!), here comes a big, mean, old, pot-bellied, redneck-black cloud to rain on our parade.
So what can we do but put on our high-heeled galoshes and sing in the rain?
Also, this gives me a golden opportunity to put my money shot where my mouth is and "walk the talk" of the Bonobo Way before it's even hot off the presses. I won't stoop to this guy's level and call him the kinds of names he's been calling me, even though he's an easy target. I'll just let the pictures, which always say a lot more than words, in the photo montage show you how this big grumpy old ape was just recently a very happy human bonobo, basking in the sex-positive, empathetic warmth of our community which, though no Utopia by any means, this man praised as "paradise" almost every single day of the eight or so months he was here.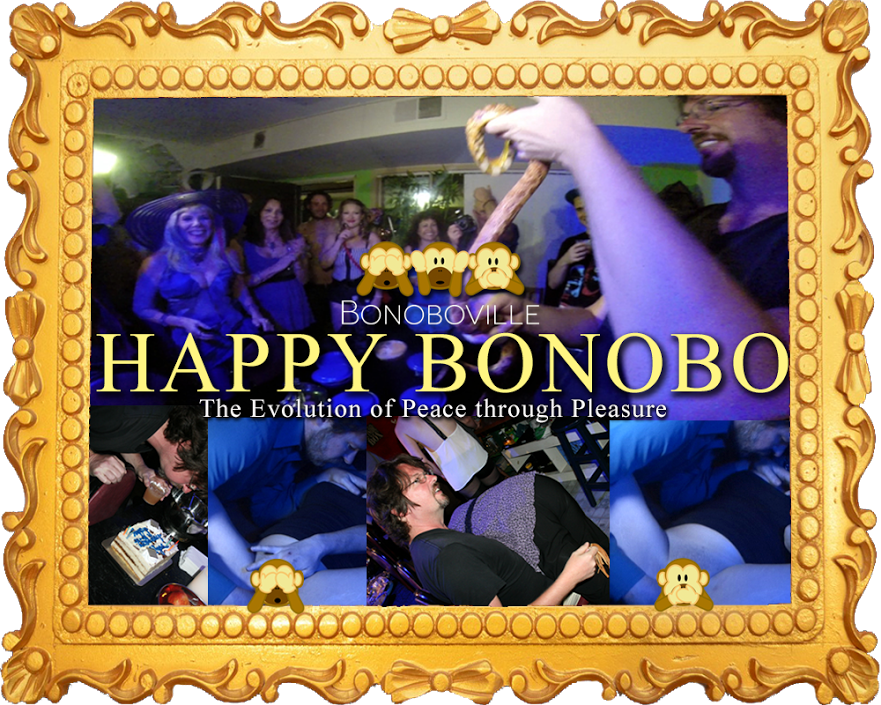 Then he got cocky and screwed up royally, flouting rules, tampering with security equipment and issuing ludicrous demands. A woman accused him of attempted assault, and he made violent, vicious threats against me, Max and the community. So politely as we could, we asked him to leave "paradise," and when he refused, we insisted. And now here he is, throwing envy-infected poop in the path of the Bonobo Way like a foaming-at-the-mouth mad chimpanzee, trying desperately to somehow—anyhow!—shame shameless little ol' me, as well as hurt Bonoboville (publishing our private street address and inciting violence against us) and grasp some attention for his poor, pathetic self.
Anyway, that explanation—and an apology to all friends, fans and media who were spammed by this petty criminal—is about all the attention I'm giving him right now, and it's more than he deserves. But I also see this as a "Bonobo Liberation Challenge" to walk the talk of the Bonobo Way and try my best to handle this venomous, envious hate attack with the compassionate wisdom of love.
Besides, I'm so excited! Things are bustling in Bonoboville, as we put last-minute touches on the print and Kindle editions of The Bonobo Way, crank up the PR, "like" the FB page and get ready to open up the new Speakeasy for a kick-ass, star-studded launch party this Saturday, November 8th, which happens to be on Capt'n Max's birthday!
Thanks to donations from friends and fans and volunteer labor, we're putting up lights, cameras and erotic art, fluffing up the pillows on the show bed, charging up the Sybian, washing the dildos and building a brand new, fabulous Speakeasy bar, sure to be the scene of many Bonoboville Communions-to-cum. Thanks to the sultry Chelsea Demoiselle, we have christened the bar with its first dancing naked lady!

 Hope to see you this Saturday! Get advance discount tickets here or order through Paypal or call us at 310-568-0066 to get your tickets by phone. Ticket Price includes First Print Edition Signed Copy (Gardner & Daughters Publishers) and Kindle Edition of The Bonobo Way,OPEN BAR, special prizes and sexy surprises, freedom of expression + lots of free parking! A portion of all ticket sales goes to help save bonobos in the wild as well as promote The Bonobo Way.
Can't join us in the flesh? "The Bonobo Way Launch Party" will air LIVE November 8th 2014, 8pm-midnight PSTon The Dr. Susan Block Show. Listen FREE on your computer at DrSuzy.Tv or your phone at http://m.drsuzy.tv. Watch the Live Party for as little as $5.95!
And don't forget: The Bonobo Way Kindle Edition launches on Wednesday "Hump Day" November 12th. A complimentary Kindle copy of the book will be available between November 12th-17th. So get it while it's FREE!

Goodreads members: Enter our Goodreads Contest to win one of three free print editions!
All of these parties, promos and giveaways too complex? Just Watch The Bonobo Way promo video.
And always relish an opportunity to walk the Bonobo Way, even when a toxic old chimp throws his poop in your path.