Stripperella Squirting New Year's Eve!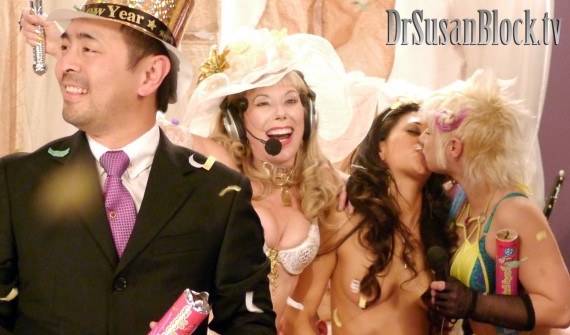 Length:  87:08 minutes        Date: 12/31/2011
Free PG Pix Page. X-rated Pix and Video on DrSusanBlock.tv
What better way to bring in the New Year than with a squirting orgasm, a hot strippin' ass kickin' superheroine, a newlywed BJ, kisses all around, spanks for joy, a reverse cowgirl ride into the future, sparklers, champagne and confetti shooting like multi-colored sperm throughout the Womb Room.  Whether our notions of time are fact or over-scheduled human fiction, we resolve to occupy our future with sexual literacy, erotic exploration and the Bonobo Way of peace through pleasure.  So, to honor the transition from '11 to '12, we gather together our brothers and sisters, lovers and sinners for a passionate farewell to the past and a very ecstatic "hello there!" to what's to come…and come again.
Featured Guests:

Anthony Winn:  Our guest of honor, the artist and creator of Stan Lee's newest comic book, Stripperella, happens to have been born on New Year's, and this show is a celebration of his life and amazing comic book art—as well as his culinary skills; his succulent lamb chops are a big hit at the Aphrodisiac Buffet.  His dancing skills are also pretty stellar as he manages to Fred Astaire me around the floor several times without dropping me once.
Angela Sommers: A real-life Stripperella with the pole-dancing panache to prove it, this is sweet, loveable, squeezable, drop-dead gorgeous Angela's third appearance in the Womb Room, and she dazzles the congregation like a New Year's Eve sparkler in her princess dress of pink frills and black lace. The only place that dress looks better than on Angela's beautiful body is on the floor around her sky-high heeled feet, revealing her glorious nakedness to inspire us all to take on the challenges of a new year.  She is certainly a muse to Anthony who sketches a cartoon of her during the show.
Lyla Storm: Another Womb Room third-timer, Lyla's clingy little red velvet dress presents her gifts like a yummy batch of red velvet cake. That's rather apropos, since she and her hubby also brought a batch of red velvet cake made from scratch (which is as perfectly moist and delicious as she is). But once we get past the dress, beyond the ribbon-tied black lace panties for Panty Boy and down to the best naked layers of this sinful dessert, she steals our hearts with her heart-shaped pussy patch—and her heart-shaped ass as well. She also tries out a new toy for us, namely the Stockroom Viberite—a wireless joy gadget comparable to the classic Hitachi, with some very interesting, alien-head resembling attachments that send her into a giggling, squirting orgasmic spiral of glee.  Lyla squirts again in the post-show party when Ron Jeremy—yes, that Ron Jeremy—joins us after having attended the "boring" Playboy party, and gives Lyla (and me!) the finger.
Jeremy Conway: Lyla's good-natured hubby says his best sex of 2011 was with his hot wife after a multi-male gang bang; obviously, he has no qualms with being sloppy twenty-seconds.  Then he sends the old year off right by giving his horny housewife some oral support before her sparkling Stockroom Viberite-induced squirting orgasm.  A paragon of domestic fairness, she then returns the favor, and hops up on top into hard-core copulation through the countdown into the new year.
Chris Gore: Frequent frolicker on RadioSuzy1, G4 comedian and creator of the new Fetishvil series, Chris suggests that a great way to get laid on New Year's Eve might be going up to people just after the stroke of midnight and confiding in them longingly that you haven't had sex all year. His eyes get bigger than the NYE ball when he hears Angela describe her fantasy sex for 2012: Having sex with three hot women at once.
Mary Forrest: Chris Gore's hot GF returns to RadioSuzy1, sharing this couple's sexy highlights of 2011, like the time she got into a car accident on the way home from the airport, and then had hot sex ("Crash" fetish, anyone?) , strangely turned on by her brush with death. Though smartly attired in a tuxedo dress, she is the congregation's most vociferous proponent of following Stripperella's example, and even bares her own lovely natural ta-tas for a couple's Agwa salt delectation.
Katie Kinns: This Speakeasy veteran and brand new newlywed wears  the same sheer, black babydoll for us that she did on her wedding night. A generous girl, she provides plenty of titty for salt-sucking and brings in the New Year lovingly, with her new hubby Mona Sunoy's cock in her mouth.
Esteban Stabile: Editor & publisher of Ultra Vulgar Super Fiend returns to RadioSuzy1 to bring in the New Year, giving UVSF g-string panties to the ladies and promising to organize some ultra vulgar super orgies in 2012.
Amanda Something:  This virgin in the Womb Room and doctoral candidate gets riled up enough to join the show panel, but her panties stay put, at least until midnight, after which she hungrily sucks my light sabre.
Show Producer: Tasia Sutor  Editorial Assistance: Justine Middleton
Weapons of Mass Discussion
Time Passing, That Strippin' Ass Kickin' Heroine Stripperella, Best Sex of 2011, Sex We Want to Have in 2012, Walking up to Someone After Midnight on New Year's & Saying You Haven't Had Sex All Year, Happy Birthday Anthony Winn, Happy Birthday Dani Jensen, Comic Book Artist's Dream Come True, Sloppy Twenty-Seconds, Mary's Sweet Tart Tits, Orgy Semantics, How Sex Might Change in the Future, Inventing New Positions with New Advanced Technology, Every Woman Likes the Rabbit, Clit Touching and Simultaneous Penetration is Ideal, Peer Pressure is the Enemy of Pleasure, This Year We Occupy Our Future, Bonobos
Performance Erotica
Happy Nude Rear, Angela Sommers Sketch by Anthony Winn,  Showing Off Dresses, Showing Off Panties, Showing off Sex Toys, Rabbit Gift From Adult Play Parlor, the Stockroom Viberite Play, Screaming O Buddy Vibrators, Strip Tease for the New Year, Climbing over the  Stripper Pole Table, Grandma's Amazing Red Velvet Cake, Lyla's Amazing Red Velvet Dress, Cutting the Red Velvet Cake Dress Down the Middle, Heart-Shaped Pubic Region, Light Saber by the Pussy, Anthony Winn Art Auction, Stripteasing the Husband, Pretty Ass, Climbing onto the Husband's Face, Wife Unwrapping the New Year's Gift, Exchanging Tits for Salt Sucking, Sucking Tits and Looking Up with Big Brown eyes, Agwa Salt off the Perfect Butt, Passing Poppers Around, Exploring Sex Toys, Being on the Cusp of a New Year's Eve Orgy, Dress Descends and Hearts Lift,  Losing the Dress & Putting It Back On & Losing It Again, Fishnets and Panties, Self-Spanking on the Stripper Pole, Pillow Fight, Penis Pillow Dick Slap, Dr. Titty Shots, Emergency Panty Removal, Take off Your Panties or the Terrorists Win!, Two Titty Perks of Producing, Heart-shaped pubes, Heart-Shaped butt, Gonzo Vibrator Attachment, Lubing the Alien-Head Vibrator, Vibrator that Rubs the Whole Region, Giggle-spot Vibrator, New Year's Squirt, Renaming the VibeRite Attachment the "Lyla Storm,"  Blow Job, Sex on Stage,  Screaming O Cock Ring and Vibrator Sex, BlowJob in One Corner and Reverse Cowgirl Sex in the Other, Kissing for the Countdown, Cock Riding for the Countdown, Countdown Make out, Countdown Boinking, Countdown Blow Job, Loud-Ass Deafening Poppers, Confetti Exploding in the Womb Room Like a Giant Ejaculation of Multi-Colored Sperm, Sparklers, DJ Climaxxx All Night Long, Rickshaw Warehouse Laps, Hula-Hooping Harem, Girls Lit on Fire, Spankings, Paddlings, Floggings, Foot Play, Dancing on the Bar, Lightsaber Rub Downs, Lightsaber Blowjobs, Dancing with the Stars, Secret Sex in Corners
---
Explore DrSusanBlock.com
Need to talk? Sext? Webcam? Do it here. Have you watched the show? No? Feel the sex. Don't miss the Forbidden Photographs—Hot Stuff, look at them closely here. Join our private social media Society. Join us live in studio 😊. Go shopping. Gift shop or The Market Place. DrSusanBlock.tv, real sex TV at your toe tips. Sex Clips Anyone? FASHION, we have fashion! We also have politics. Politics? Have you Read the book? No? How about the Speakeasy Journal? Click here. Ok, how about some free sex advice?
---
---