Speakeasy Scenes: Living Life on Camera
Saturday, we shot a few scenes for Canaan Brumley's documentary-in-progress, the working title of which is "Speakeasy," and as you've probably guessed, it's all about the Speakeasy. Canaan's first movie, "Ears, Open. Eyeballs, Click," which won several awards at various film festivals around the world, is about Marine boot camp. From the rigors of U.S. Marine Corps boot camp to the pleasures of Dr. Suzy's Speakeasy is quite a leap. But Canaan grew up in Texas, leaping around alligators, nudists and born-again Christians, so it all comes pretty naturally to him. Much of the movie is a real, old-school documentary which Canaan and his cameraman Elijah are shooting as the proverbial "fly on the wall" during our live shows and day-to-day activities here at BlockStudios. But he's also got a couple of actors in the film. Sarah plays a sultry photographer who's supposed to be on my staff, and Wallace is the "director" of the documentary within the documentary, a sort of surrogate for Canaan, but a couple decades older, with a distinguished yet slightly Mafioso way about him.
The first scene of the day involved Wallace the Director arriving at the Speakeasy via the back alley. The alley behind our building is a pretty funky strip of asphalt filled with potholes and strewn with factory-generated trash. Neighborhood hookers bring their johns back there for *privacy.* Terrible crimes have been committed in that alley. If you're just strolling through the wind-swept sea of used condoms, bolts of fabric, packing materials, take-out containers, broken furniture and stray pussies, you would never imagine that a beautiful, magical pleasure palace like Dr. Suzy's Speakeasy is just three floors above you. This is one reason why most people enter the Speakeasy via the fairly clean, far more civilized front entrance.
But not Canaan. I guess the romantic filth of the alley appeals to him, so that's where he wants his Director to come in from. However, the natural state of the alley on a sweltering Downtown LA afternoon was not quite enough for Canaan's vision. He wanted rain beating down on his Director's umbrella. Since it's the beginning of September, there's not much chance of an actual downpour. So Canaan created a homemade rain machine, which Margo operated from the fire escape outside the commissary, so it looked like real rain was plummetting down on Wallace's umbrella as he stood in the alley waiting for David to arrive with the freight elevator. At least, I hope it looks like real rain. I haven't seen the dailies.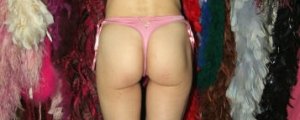 Anyway, David took Wallace the Director, with Canaan the actual director, up the freight elevator, then left Wallace at the bar where he made himself a scotch. Being as this is a documentary, the scotch was real. Then David brought me into the bar, and I brought Wallace back into my office. Having taken a megadose of meds so I would feel no pain (don't I sound like a total actress-junkie here?), it was all pretty much of a breeze. No script, no lines to learn, all I had to do was play myself meeting Wallace for the first time, which I actually was. Just living life on camera.
This is something that more and more people are doing. Whether they're making love, making war or just making fools of themselves, they are living their lives on camera. If after the human race died out, aliens found all this celluloid and digital documentation, they might well conclude that cameras controlled people rather than the other way around.
I was meeting Wallace for the first time, but in a way, we were reenacting the first time I met Canaan last June, when he proposed making a documentary in and about the Speakeasy. In the scene in my office, this is exactly what Wallace proposes. He says that he wants to "live amongst us," documenting our lives here at the Speakeasy much as anthropologists in the field live amongst various tribes, like ethnographer D.C. Marshall lived amongst the highly orgasmic people of the Polynesian island of Mangaia or like primatologist Takayoshi Kano lived amongst the bonobos in the Congo, the better and more intimately to document their lives. This echoed what Canaan had told me at our first meeting, and now here he was filming his surrogate telling me that.
It all made the back of my brain spin with Nietzsche and Milan Kundera's musings upon the Myth of the Eternal Return, or Eternal Recurrence, the fantasy that everything in the universe, including every moment of our lives, has been recurring, and will continue to recur ad infinitum. Of course, I didn't talk about these musings as we filmed, though I could talk about whatever I wanted. But I figured if I spoke about it aloud, I would then have to refer to Canaan, and he was very busy pointing his camera at us from different directions, like the thousand eyes of the fly on the wall. Nevertheless, I quietly experienced that pleasant but eerie sense of déjà vu: Eternal Return.
I'm not a big believer in reincarnation (as Wallace was crushed to discover), or any spiritual idea that can't be proven to at least one of my five senses. But making a documentary that reinacts a scene from real life is a type of return. It may not be eternal, but it does have that feeling of returning, of "coming home" to a moment you've lived in the past. Capturing this seductive feeling of Eternal Return is another compelling personal reason – besides narcissism, exhibitionism, voyeurism and the dream of *making it* – why so many people love to document their so-called private lives in pictures, videos, blogs, myspace pages and documentary films.
If Eternal Return was real, it would be pretty heavy-duty. As Kundera writes in The Unbearable Lightness of Being, "If every second of our lives recurs an infinite number of times, we are nailed to eternity as Jesus Christ was nailed to the cross. It is a terrifying prospect. In the world of Eternal Return the weight of unbearable responsibility lies heavy on every move we make."
But Eternal Return is just a myth, so far as we know. The reality is that our lives are not so heavy. They are "unbearably light." We live, we strive, we die. Precious moments pass like water flowing through our fingers. These may be marvelous moments or moments of great suffering, exciting moments or boring moments. They all pass into the past. Life moves on. The older you get, the faster it moves.
Documentary forms of art – films, blogs, portraits – attempt to freeze these moments into that state of eternal return. Playing a scene that echoes something that really occurred in my past was eerie yet gratifying. Being able to embroider upon it, trying to make it a bit *better* than I remember it to have been, is exciting. Haven't you ever wished you could go back and relive a scene from your life, either to enjoy it again or to correct a mistake, do something you wish you'd done or not do something you did? Documenting that scene on a film allows you to do that, in a way.
Not that I'd want every moment of my life on camera; constant Eternal Return is way too weighty for me. Too stressful to live each moment for eternity. Most moments are best left to the meat grinder of time. For instance, I wouldn't have wanted a camera shooting me unconscious in the hospital with a tangle of tubes and wires hooking me up to machines that were keeping my almost-wasted body alive. At least, the more dominant part of me wouldn't want that kind of intrusion. Though there's another part of me that would like to relive those awful moments, especially since I wasn't even conscious for them. When my friends who visited me when I was in that state tell me what I looked like, I'm horrified, but I kind of wish I had a film or picture to see something of what they're talking. Some people, like my old friend, performance artist Bob Flanagan, have filmed their hospital experiences right down to their deaths. That's a little too much Eternal Return for me, at least for now.
Of course, I have years of erotic Eternal Returns on video. You can see some of them (time for a commercial break!) Backstage, more in the Erotic Theater of the Mind, other moments in the Clip-O-Rama theater. And there are all the various camera crews, from HBO to We TV, who have documented sex, love and life here at Dr. Suzy's Speakeasy, as well as at the Villa Piacere, the Century Wilshire Hotel, the Penthouse, my old West Hollywood condo and KFOX radio station on the Redondo Beach Pier. The outside crews usually spend a couple days with us, at most a few months (HBO). But Canaan has really "lived amongst us" (at least most weekends) for over a year and counting, looking at us through his camera like an anthropologist documents the natives in his notebook.
Toward the end of our scene, I invited Wallace to stay for dinner. We were having a small dinner party for a few friends, including Amber and JJ, plus a fellow Yale gal who just moved from to LA from Chicago (where she worked for Michael Jordan), Phoebe Tree, a very bright (of course), warm, multi-talented artist with a laugh like a screaming cockatoo. If you were in another room and heard Phoebe laughing, you might think someone was being killed, or having an earth-shattering orgasm.
Saturday nights at the Speakeasy often center around sex. This one focused on food. David made a spectacular pasta with red sauce. Kim pitched in with a beautiful big salad, sizzling beef ribs, a delectable vegetable medley and crispy French bread (or would the Bushites make us call it Freedom Bread?). Everyone ate, drank and seemed to have a very good time. It wasn't as wild as a show – not by a long shot – though Amber did model the pink French G-string (is that a Freedom G-string?) I gave her for her birthday. And it was fun to get a little dressed up and entertain a few friends after my recent wrestling match with the Angel of Death.
Wallace mingled with the Speakeasy regulars and Yalies. He's a gregarious sort, and fit right in, despite the fact that he was wearing a suit and tie. JJ asked me if he was a lawyer. My actual lawyer, John Burton, didn't look like a lawyer at all, though he's one of the best in police misconduct (currently stepping outside his field to help the Speakeasy deal with our evil landlords). Paul Blieden took pictures of everyone, lawyers and actors. Phoebe gave me an exquisite art collage featuring a woman in a bejeweled burqa over the words "I Love My Creative Life More Than I Love Cooperation With My Own Oppression." Amber gave me an (almost) orgasmically sensuous foot massage. Through it all, Canaan's camera watched and listened.
Want to join us for dinner at the Speakeasy sometime? Give us a call at 213.749.1330. Ask for Kim or David.
---
Explore DrSusanBlock.com
Need to talk? Sext? Webcam? Do it here. Have you watched the show? No? Feel the sex. Don't miss the Forbidden Photographs—Hot Stuff, look at them closely here. Join our private social media Society. Join us live in studio 😊. Go shopping. Gift shop or The Market Place. DrSusanBlock.tv, real sex TV at your toe tips. Sex Clips Anyone? FASHION, we have fashion! We also have politics. Politics? Have you Read the book? No? How about the Speakeasy Journal? Click here. Ok, how about some free sex advice?
---