Purim Coming, Yale Drinking, Max Going Free!
Porn & Purim Bacchanal
After Eros Day cums Valentine's Day, and after that cums the utterly obscure yet tantalizingly erotic holiday of Purim, which we sometimes celebrate here at the Speakeasy with a Biblically themed orgy.
Last year's Purim orgy was so spectacular that we are now releasing it to the public as a "Raw Editions" DVD. In fact, my Porn & Purim Bacchanal is now a hot 2-DVD set AND a Multiple Download. It's over five hours, so you can crank your grogger all Purim night!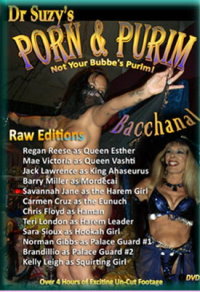 Dr. Susan Block's Porn & Purim Bacchanal featuring Regan Reese as Queen Esther
Don't know Purim from Purée? Don't dismay! All is revealed in my erotic exotic version of the Biblical Tale of Esther, the teenage beauty contest winner who saves her people from genocide with nothing but her own Weapons of Mass Seduction.
A Commedia Erotica cast of some of the world's hottest porn stars, character actors and Speakeasy regulars acts out this twisted tale of horny kings and hot wives, political intrigue, sensuous eunuchs and the secrets of the harem, featuring dozens of hot scenes of Old Testament Bible sex and Speakeasy passion. Groggers and hamentaschen too!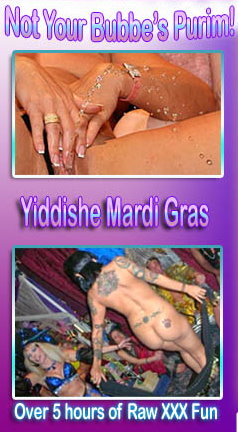 And squirting! Did I mention squirting? Mae Victoria and Kelly Leigh soak all the sheets in the harem!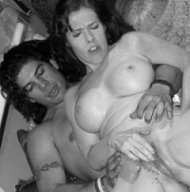 Mae Victoria Squirts at Dr. Susan Block's Porn & Purim Bacchanal
Warning: My Porn & Purim Bacchanal is not your Bubbe's Purim.
And yet…all the traditional characters are here. Besides, since Purim is known as the "Jewish Halloween" or "Yiddishe Mardi Gras," it's not so unkosher to have porn stars playing the most active roles. Raven-haired Porn Princess Regan Reese is irresistible as Queen Esther, and redhead Porn Star/Hooker author Mae Victoria makes a vivacious Vashti. Porn King Jack Lawrence rules as Persian King Ahaseurus with his huge hard scepter and Streisand lookalike Savannah Jane shines as his favorite Harem Girl. Barry Miller (yes, the Tony-award-winning actor who has starred and co-starred in countless major films) saves the day as Esther's Pimpin' Cousin Mordecai. DJ Chris Floyd is a hilariously evil Haman, and fabulous Shemale Carmen Cruz struts her stuff – all her stuff – as a hot (pre-op) Palace Eunuch. Rounding out the cast is Teri London as the Harem Girl Leader, Sara Sioux as Hookah Girl (smoking fetish, anyone?), Norman Gibbs (one of the beloved Jive Brothers from "Airplane") as Palace Guard #1, Brandillio as Palace Guard #2 and the amazing Kelly Leigh as the Squirting Harem Girl who joyously soaks me and several friends and lovers in sweet Holy Water during the after-party.
For a different set of players, watch Queen Esther Commedia Erotica, playing on Purim night on the RadioSuzy1TV live stream. We'll also be doing a RadioSuzy1 Purim show, and probably a small private Hamentaschen-eating party, but no big public orgies with porny Purimspiels this year.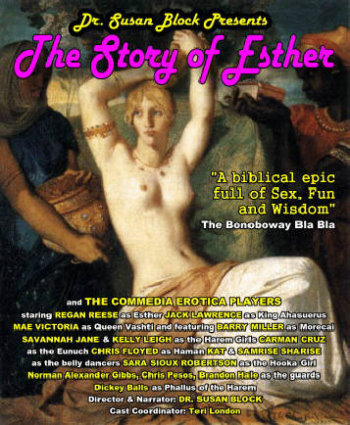 For that, you'll have to shake that grogger and enter the Harem of Earthly, Erotic and Spiritual Delights that is our Porn & Purim Bacchanal.
Fan Me on Facebook!
I never thought I would reach a point where I had "too many friends," but Facebook has informed me that I have indeed hit the limit. I could protest, I suppose, but I can only fight on so many fronts these days, and I'd rather fight City Hall than Facebook. Anyway, they said that if I want to keep all these friends and get more, I had to create a new Facebook Fan Profile, and then I could have as many friends or "fans" as I want. So that's what I did, and my new profile has even more sex, fun, wisdom, art, media, bonobos, bacchanals, lingerie, fantasy, fetish, politics, culture, ethical hedonism, Yale, Eros Day, Purim and the Speakeasy, and I want to invite you to be my friend or fan or whatever you want to call it.
Anyway, enough excuses, it's free, it's easy, why fight it? Just go here, click "Become a Fan" and we'll connect in yet another world of peace through pleasure.
Sex Toy Sara
One perk of working at the Institute/Speakeasy is that sometimes you get sex toys. Of course, sometimes you are made to smile for a photo while displaying your sex toys exploitatively, but that's a small price to pay for good sex toys.
As a belated Bday/Vday offering, Sara Sioux scored a lipstick red Pocket Rocket, XTC Glass G-Spot Stimulator Dildo, Agwa lei, Chinese Aphrodisiacs, Obama Condoms and a Screwch to mop up all that juicy fun that would logically follow from the other prezzies. And yes, you can get all these marvelous items – not to mention Sara's favorite (and mine) the Hitachi Magic Wand, which she got for Hanukkah – in Shopping Heaven. What do you call a truckload of vibrators? Toys for Twats.
Yale February Club & RadioSuzy1
The other night we partook in the resurrection of an old Yale tradition. No, not a secret Skull & Bones control-the-world ritual. This was much more benign and intoxicated (Skull & Boners prefer blood to alcohol).
It's called February Club Emeritus, a sort of Ivy League International Festival of Dionysus. Thousands of Yale alums from all classes get together in cities around the world for 28 straight nights of parties featuring sharply attired men and women heavily slurring five-syllable words and spilling mysterious forms of alcohol all over the Burberries and Blackberries.
We decided to pass up running into George B '68 at the Feb Club Party on The Ranch in Crawford, and opted for the one at the Crescent Hotel in Beverly Hills instead where we might run into Angela Bassett '83 (but didn't).
Michael Blum (MBA '95) was my gallant escort, lifting me up to show off my white Lust et Veritas thong to Old Blues and Young.
Sara Sioux was my other escort, all done up like the Yale-loving Blair Waldorf in Gossip Girl
We shared saliva with a variety of Yalies of every class and creed…
tipping the giant silver Mory's Cups filled with the intoxicating concoctions that mean so much to sentimental and otherwise stodgy alumni…
then raced home (Michael didn't have as much Mory's as me and Sara) for RadioSuzy1.
Topless RadioSuzy1
We arrived back just in time for an intimate interview with the lovely Maggie whom we last saw in this bloggamy at Meloversary. Maggie is a pharmacy technician who dreams of moonlighting as a stripper. Her well-hung BF Michael said he wouldn't mind, especially if she brought a couple of her sister strippers home to share. Maggie's game!
Perky Maggie is so eager to strip, she started doing it right here in the studio.
Where's that stripper pole when we need it? Hey, Sam's Hofbrau, give this gal a job!
Max Coming Home This Saturday!
I had an emo Valentine's Day without my Valentine. On the outside I was smiling…
wearing pink, chatting away on RadioSuzy1.
But on the inside I was missing Max. I wanted to get away from the Speakeasy. But I couldn't find a cab to take me to Delano.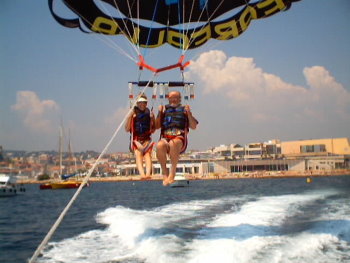 Well, the crazy Kafkaesque nightmare is now finally coming to a happy ending. I know, I keep saying that, and I keep hearing that from double-talking attorneys, squirrelly judges and poker-faced prison officials. But this time, it's the real deal. At least, that's what they say. I'm trying not to get too excited just in case Murphy's Law asserts itself, but I can't help it. I'm so excited! Within a few days, Max will be free, and all my smiles will be real again.
I keep closing my eyes and feeling his warm strong arms around me, arms that I haven't felt in so very long. I keep anticipating our first moments together, finally touching and smelling each other – feeling each other – after all these long months of deprivation; how exquisite that will be! That first feel, that first kiss, what ecstasy, I imagine, what romance! I hope I'm not disappointed somehow, but as long as he's actually released when they say he'll be released, I'm sure I won't be. Already, I can feel the suffering of our separation giving way to the sparkling pleasure of our reunion.
There is nothing so painful in life that some pleasure cannot come of it, even it's only the pure unfettered pleasure of hope.
---
Explore DrSusanBlock.com
Need to talk? Sext? Webcam? Do it here. Have you watched the show? No? Feel the sex. Don't miss the Forbidden Photographs—Hot Stuff, look at them closely here. Join our private social media Society. Join us live in studio 😊. Go shopping. Gift shop or The Market Place. DrSusanBlock.tv, real sex TV at your toe tips. Sex Clips Anyone? FASHION, we have fashion! We also have politics. Politics? Have you Read the book? No? How about the Speakeasy Journal? Click here. Ok, how about some free sex advice?
---
---