Clifton's Valentine's Day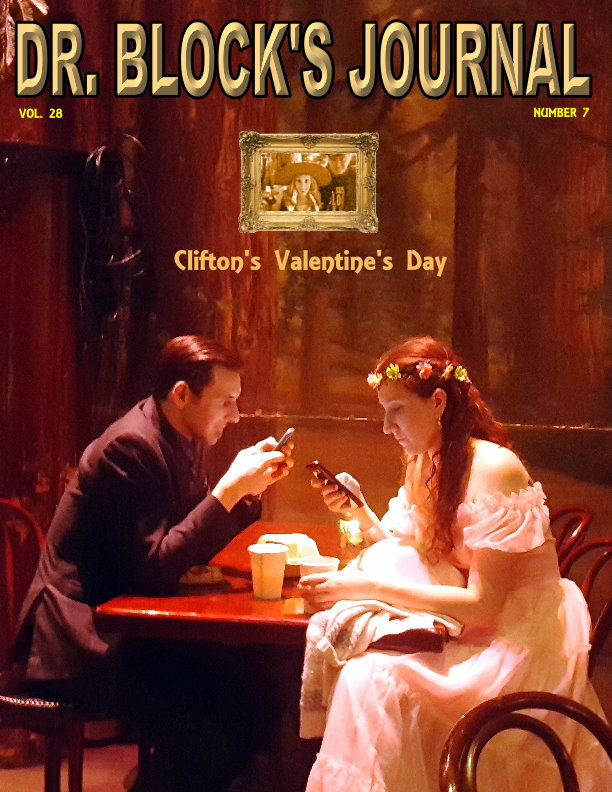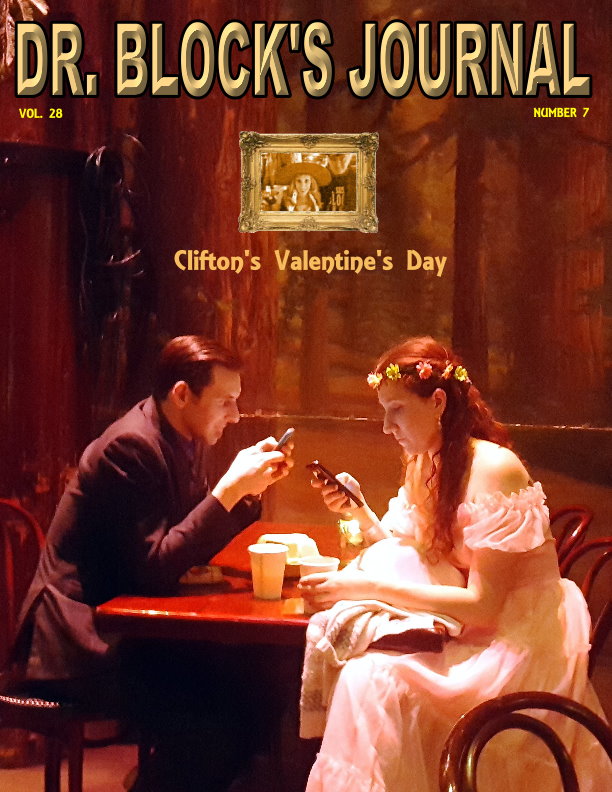 It's no secret. I'm not a fan of Valentine's Day. There's too much pressure to be "in love" on the High Holiday of Love… especially for a professional "Love Doctor" like me. I much prefer Lupercalia, the original pagan Valentine's Day—whipping it up for inclusive, primal lust instead of spending a mint for exclusive, commercialized love.
The funny thing is that I am "in love," and I've been in love (with the same person) for over 26 years. Still the piquant pressures of VDay loom in calendars and hashtags, not to mention my own sublimely screwed-up, old sentimental feelings. Plus with February 14th falling on Wednesday (yep, Hump Day on top of VDay ) this year, I didn't feel like running around whipping people (I'll save that for this coming Saturday night's Lupercal), so that left attempting to celebrate Valentine's Day or ignore it.
Obviously, while the latter may have been wiser, I chose the former (or you wouldn't be reading this).


I started first thing Valentine's morning, around 1 AM, by initiating sex (I'm a bonobo gal) with my Valentine. Knowing that Valentine's Day is often a big sparkly, heart-shaped candy box filled with assorted disappointments, I figured we should have sex before things got rough. That way, even if we got in a fight, or if one or both of us got sick from whatever high-sucrose concoction we'd be eating or drinking, we would at least have gotten some Valentine's sex under our proverbial belts. I also figured that even if the sex was heartless and perfunctory, it would be okay (the Stoic secret to happiness: have low expectations). Then, lo and behold, it was surprisingly intimate and very orgasmic.
My Valentine liked it so much, he was ready to call "game over" for VDay and declare us winners. In retrospect, he might have had the right idea. But after a good, long, loving, cuddly snooze (one benefit of Valentine's Day is that folks aren't inclined to wake us with pointless buzzing and beeping), I felt energized to get "out" and celebrate VDay… in some way.
How that "energy" took us to the grand old Clifton's Cafeteria, now transformed into a nightclub called Clifton's Republic, I'm not really sure, but it had something to do with the Internet, cannabis, Grace Slick and those hazardous sentimental memories (Max was taking a lunch break at Clifton's on November 22, 1963, the day JFK was shot, the whole place went nuts and he never went back to work!).
So suddenly, there we were, Valentine's Day, 2018, "going through the rabbit hole" of Clifton's Alice in Wonderland-themed VDay soirée with various Mad Hatters, Queens of Hearts, Caterpillars and a mincing Caucasian Rabbit with smaller hands than Trump. Clifton's has been refurbished for the 20-teens, but it still has odd, old or just old-style "curiosities" like a stuffed buffalo, a waterfall, a meteorite on the bar, antiques and weird art. There's even a Lupercalian wolf (also stuffed) with something (a rabbit?) in its mouth and a blazing fireplace in the middle of a sequoia tree that appears to be growing out of the floor in the middle of the club.
Of course, we didn't have to leave Bonoboville for an in-house curated nature scene and funhouse-like oddities. What we lack in ingrown sequoias, we make up for in palm trees and a whole leafy-green garden in the middle of our studio, plus we've collected multiple "curiosities" and erotic art pieces, which Clifton's can't have since it's trying to appeal to the easily offended.
 However, I must say Clifton's lives in a fantastic old building with marvelous balconies filled with great artistic and romantic possibilities but, at least on Valentine's Day 2018, failed to inspire much action.
Also, unfortunately, the food was not great, at least not Max's dish, some kind of "gourmet" pizza with blobs of white cheese on yellow cheese. I had a decent if unromantic salad with toasted almond dressing. The desserts looked like mini-wedding cakes, sugared, creamed and topped with sparkling red hearts or incongruously shaped like burgers. I chose a gorgeous neon LGBTQ-rainbow jello mold that jiggled erotically and tasted like… jello. I don't know why I expected it to taste like anything else, but, well… Valentine's Day.
Good thing I'm better at choosing lovers than desserts, though it was clear my lover was not loving the place.

As Max stewed stoically, I ran around hopefully (and a little manically), taking selfies with various costumed Wonderland characters. It was no Disneyland for Adults, but it was kind of cool to be among people wearing funnier hats than me. It was also lovely to run into one of my favorite show guests, Misti Dawn, who was doing make-up for some of the characters. The Caterpillar (mmm… sexy hookah!) and the Queen of Hearts were cute in a charming, how-much-longer-do-I-have-to-suck-it-in-for-this-costume sort of way.
I was especially fascinated by all the couples, most of them younger than us. One striking young couple, all dressed up for a romantic Valentine's Day—he in an impeccable dark suit with slicked back coiffure, she in a seductive, over-the-shoulder Victorian frock, her hair enwreathed in flowers—sat across from each other in the great historic hall. In the old days, they'd be looking deeply into each other's eyes on the High Holiday of Love. But it's VDay 2018, and they're looking deeply into the screens of their respective phones.
I could have couple-watched a little longer. But Max was bored, hot and verging on ill, so back we went to Bonoboville. I guess you could say Clifton's Republic was another VDay disappointment, but it could have been a lot worse; we returned to news of a Valentine's Day massacre in a Florida high school, just to sober us up and put superficial "disappointments" in perspective. Maybe that seemingly disconnected couple staring into their phones was searching for news of missing loved ones, who knows?

In any case, it takes a lot to beat hanging out here in the 'Ville, whether it's with our little community, with a big Lupercalian Bacchanal or just with each other.
Hardly anybody was up and about when we got back, so (after overdosing on real and fake news and our inability to tell the difference), we crawled back into bed to pick up where we left off, flying even higher on Eros' astoundingly strong wings.
Well, we survived our 27th Valentine's Day, and all I can say is thank God and the Goddess for sex. When it comes to another so-so night "out," it can save the VDay.

© February 16, 2018. Susan Block, Ph.D., a.k.a. "Dr. Suzy," is a world renowned LA sex therapist, author of The Bonobo Way: The Evolution of Peace through Pleasure and horny housewife, occasionally seen on HBO and other channels. Watch The Dr. Susan Block Show live every Saturday night from Bonoboville. For information, call 310-568-0066.  All photos are selfies or taken by the author.