Pin-Up Legend Bettie Page on The Dr. Susan Block Show in The First And Only Live Interview!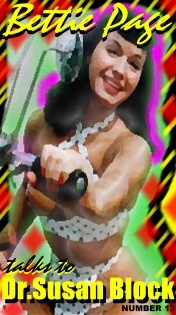 This is the first live on-air interview ever with the incomparable "Notorious" Bettie Page, Queen of Pin-Up, Queen of Fetish, Queen of the Jungle and Queen of our Hearts. It is also Bettie's longest, most in-depth interview ever. For video of the interview, featuring vintage film and photos of Bettie in her prime, accompanied by the voice of Bettie Page herself, talking with Dr. Suzy about her extraordinary, legendary and ultra-mysterious life, click here.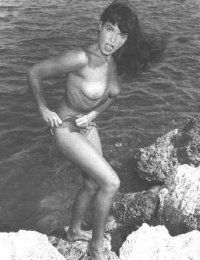 "Bettie Page was the Queen of Pin-Up, Queen of Fetish, Queen of the Jungle and Queen of our Hearts," says Dr. Susan Block. "She gave us boundless, buoyant eroticism, and she did it during the sexual Dark Ages, 1950's America, when Senator Estes Kefauver and his censorious cronies cast as dark a shadow on the US Senate as their sinister colleague, Senator Joe McCarthy. She was a freethinker in an era of extreme, stultifying conformity. Most of us who are interested in sexuality, fashion and freedom take great inspiration from her example and great joy from all her amazing images."
Besides being a "Bettiephile," Dr. Susan Block is also a sex therapist in private practice, a best-selling author (her latest book is The Bonobo Way) and host of Radio Sex TV on HBO and The Dr. Susan Block Show on radio, cable TV and the World Wide Web. The first live interview that she did with Bettie Page on The Dr. Susan Block Show was also the longest interview (90 minutes) that Ms. Page has ever done.
For a video of the interview, including footage of Bettie Page in action, click here
For more info, click here
---
Explore DrSusanBlock.com
Need to talk? Sext? Webcam? Do it here. Have you watched the show? No? Feel the sex. Don't miss the Forbidden Photographs—Hot Stuff, look at them closely here. Join our private social media Society. Join us live in studio 😊. Go shopping. Gift shop or The Market Place. DrSusanBlock.tv, real sex TV at your toe tips. Sex Clips Anyone? FASHION, we have fashion! We also have politics. Politics? Have you Read the book? No? How about the Speakeasy Journal? Click here. Ok, how about some free sex advice?
---
---