11-11, Bonobo-Style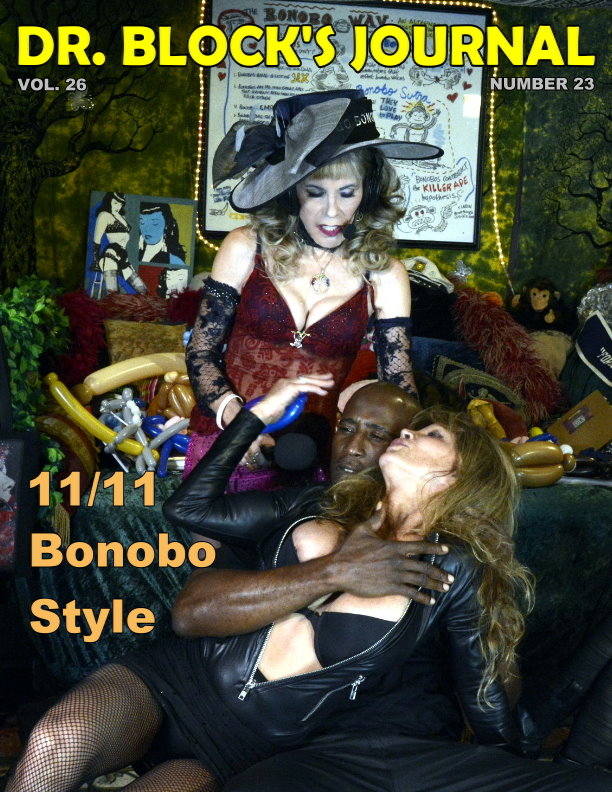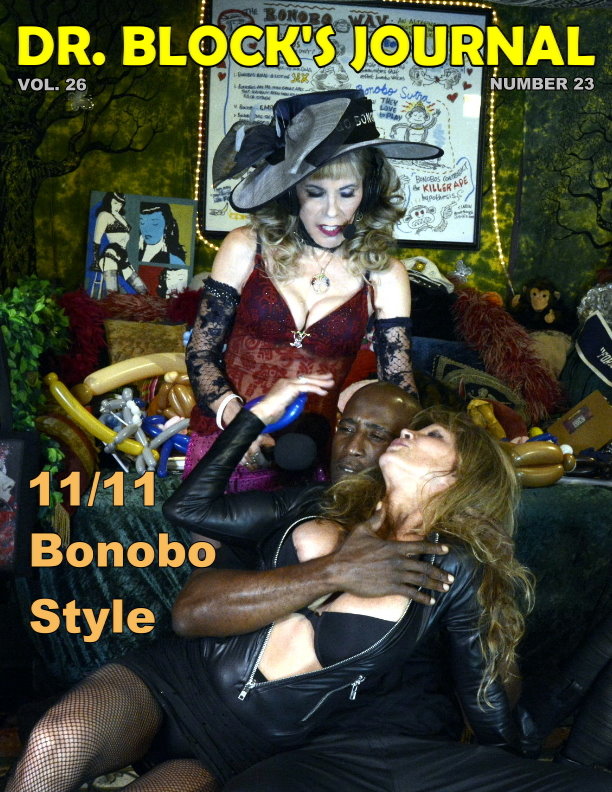 Length 01:51:05 Date: November 11, 2017
It's a year into the Trumpocalypse, one long year since that unforgettably cataclysmic seizure of electoral dysfunction sucker-punched America, triggering the insanity, the fascist fashions, the "Fire and Fury," the plutocratic powergrab, the gutting of the EPA, the Nazi resurgence, the tragedy of Puerto Rico, the continuous fattening of the already bloated Military-Industrial Complex, the ghastly Presidential narcissism and Post-Trump Sex Disorder.
Somehow some of us have survived. We have made it through Year One of the Bombastic Trumposity, and for that, here in our little village of Bonoboville, we celebrate with big boobs, kinky balloons, using our tRump surrogate as a literal punching bag, sapiosexual conversation and the Bonobo Way.
Actually, we didn't figure on doing this show at all. We were supposed to be going to Vegas to deliver The Bonobo Way of Peace through Pleasure at Erotic Heritage Museum, but my talk was canceled because the museum's "Evolution of Sex" exhibit was vandalized. We don't know why or how, whether it was a religious anti-sex, anti-science and/or an anti-art whacko or a disgruntled ex-staff person, but there is no doubt that we are living in troubled times torn by vandalism, sexual harassment and mass murder and unrest.
But it turns out to be a great show! Amazing what happens when your plans falls through. I've said it before, but I'll say it again: The best-laid plans may not get you laid the way you planned. But if you can swing like a bonobo from the old plan to the new reality, you might just find yourself flying high in the sky.
11:11 on 11/11
This show's live broadcast happens to fall on November 11th, aka 11/11, an auspicious date, a mystical power number, the Chinese celebration of singlehood and the time most commonly noticed on a digital clock by those seeking meaning in the mundane.
In Bonoboville, we love to celebrate just about anything with erotic play, often accompanied by  communal ecstasy. So, when the clock strikes 11:11 on 11/11, and as the gong clangs 11 times, I pull my featured guest across my knee, lift up her skirt and spank her bottom 11 times with The Bonobo Way.
And the Womb Room goes wild!
Very auspicious.
Christine Dupree: From Penthouse to Bonoboville
My featured guest is a home-grown sexual revelation. Those of us who have been hanging around Bonoboville of the past few months know Christine Dupree as the sweet, unassuming photographer who wears track suits, running shoes and no makeup as she jumps around snapping beautiful shots of our guests.
This time, Christine's the guest, and wow, oh wow, does she wow the Womb Room crowd, especially the Citizens of Bonoboville who thought that they already knew her. Decked out in sexy black pleather and fishnets, dancing and roleplaying with Ikkor the Wolf, Christine Dupree releases her inner bonobo to the world.
We begin with her origin tale: A nice Lutheran girl, sexually repressed but lustfully longing for adventure, leaves the cold, prudish climate of Ohio to find her sunny erotic self in Southern California, and winds up baring her beauty in Penthouse Magazine. Check her out in Penthouse, the September issue of 1985 with Madonna on the cover.
Along with modeling and photography, Christine is also a wrestler and boxer. We trade stomach punches and half nelsons. This Renaissance Hottie is also a published author, and we also talk about her book, Hot Romantic Escapades For Lovers, 69 Fun and Daring Ways to Keep the Thrill Alive.
The book is filled with great ideas for monogamous couples to spice up their sex lives with kinky roleplays like "The Casting Couch" and "Animal Night." As I elaborate on in The Bonobo Way, "Trust Kills Lust" in most long-term relationships. That is, as love grows between a couple, desire often, sadly, diminishes. But it doesn't have to.
It may not come as effortlessly as it did when you first met, but you can keep the lust alive, along with the trust, by releasing your inner bonobo in various ways, one of which would be engaging in some of the playful, libido-stoking activities described in Christine's book.
"Temples & Brothels"
We also welcome back Moushumi Ghose, MA MFT, sultry sex therapist, author and filmmaker, last seen on DrSuzy.Tv to promote her book, Classic Sex Positions Reinvented in Sex Positions 101. This time, she talks about her upcoming film Temples & Brothels, which includes an interview with me about the juxtapositions of sex and religion.
I know there are a lot of worthy causes that deserve your hard-earned dollars (including the bonobos), but if you can kick in a few bucks to help Moushumi finish this sure-to-be awesome film, then please do!
Temples and Brothels is also very timely in that it explores the real lives of sex workers, taking on the question of why the "world's oldest profession" is still so severely punished and denigrated by society, and whether or not this sex-work-negative social attitude is changing.
Reduce Sexual Harassment by Destigmatizing Sex Work
For a multitude of reasons, I believe that prostitution, aka sex work, should be decriminalized as well as destigmatized for consenting adults. Among other benefits, the decriminalization and de-stigmatizing of sex work would go a long way toward solving the great international workplace "problem" we are having and have long had with sexual harassment.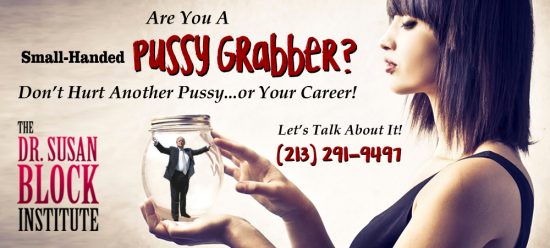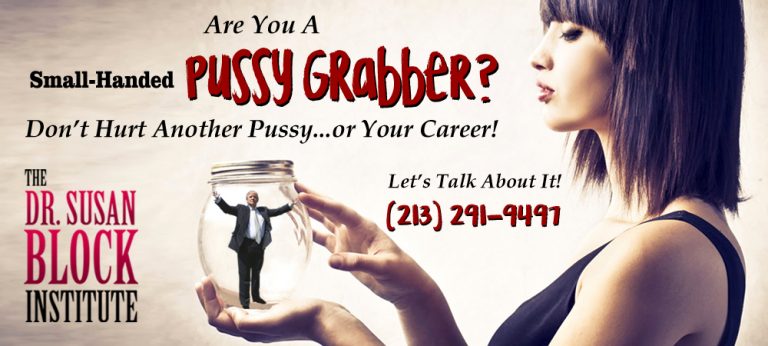 As I write this, a tsunami of celebrity sexual harassment accusations is drenching the Internet-addicted public in sordid details of pussy-grabbing, boob-squeezing, penis-flashing, butt-slapping, drunken, stupid, selfish, nonconsensual, bad-boss behavior.
Most people agree that this is all very wrong and unacceptable, but what to do about it besides shun and threaten these big baby boy-bosses, fire them, take away their hard-earned awards, sue them for millions, maybe throw them in jail, or at least subject them to devastating public humiliation in the court of public opinion?
Because all the punishments in the world won't take away their sexual desire and their determination to satisfy it; in fact, it may just make some of them fetishize punishment (one might wonder whether Louis CK was masturbating when he penned that fervent apology for nonconsensual masturbation). On the other hand, some men could refuse to even take private meetings with women, the Hollywood version of Holy Hoosier Mike Pence, for fear of being accused.
My partial solution to the pervasive problem of workplace sexual harassment lies in practicing the Bonobo Way of peace through pleasure, female empowerment and male well-being. Among bonobos, females gently and firmly rule the roost, keeping the males gentle and firm. Rape and "harassment" rates are extremely low in real-life Bonoboville because the males get laid—a lot. They enjoy frequent consensual sex with confident, dominant females, as well as with each other. Who needs to rape and harass when you're getting plenty of good consensual sex?
People who say that sexual harassment is about "power, not sex" are, in my humble opinion, just plain wrong. It's about sex and power, including the power of sex that turns powerful men into weak, wiener-wanking fools who risk their powerful careers for a moment of false sexual abandon. The problem can't be contained by simply telling these horny, frustrated men to zip it up… or else. If we really want to end or at least greatly curtail workplace sexual harassment, we need to provide an acceptable solution, not just outrage and castigation.
Just think: If our society provided a system of prostitution that was not only legal, but considered normal, healthy and as easy as ordering a pizza, then a lot of these desperate horny harassers probably wouldn't harass anybody. They'd just order a pizza, with a blow-job.
Many Hollywood hookers are struggling actors and actresses anyway. Let's support sex work as a (partial) solution to sexual harassment! I'm sure it sounds silly to some (and to others, quite immoral), but seriously, it could work. It's the Bonobo Way.
Burlesque Balloons
Our next featured guest is Damion Tong, the kinky balloon man who brings a marvelous menagerie of "Burlesque Balloons" in the shapes of genitalia and fornicating animals.
That sounds very X-rated, and it is, but these are balloons, so it feels like innocent fun.
Damion even creates some of his balloon concoctions right in-studio, including a magnificent swirl of multi-colored tentacles he calls an "STD."
Next time you throw a sexy party, include some Burlesque Balloons.
Danica Roem & Chris G
One of things we're celebrating this auspicious 11/11 night is the heartening wins of many Democrats in the recent election. Not that the Democrats are true bonobos; many are Perma-Warmongers and neo-liberals bought and paid for by Wall Street, the NRA and the MIC. But in general, they're not as bad as the horrible puritanical Repugnicans, and their recent wins are a nice slap in the orange face of the Clown-King Cheetolini.
Three cheers for winners like Danica Roem, the first openly transgender person elected to a state legislature, who unseated Republican Bob Marshall, one of the state's most socially conservative lawmakers, who in recent years, had referred to himself as Virginia's "chief homophobe," having sponsored a bill (which, fortunately, died in committee) that would have banned transgender people from using the bathrooms of the gender with which they identified.
We take a call from our political activist "bonobo-in-the-field," 2016 SUZY award-winner for "Best Political Speech," Chris Gagliardi, who regales us with tales of celebrating these great wins after many long hard months of political canvassing, going door to door, to "defeat the Trump machine."
Ikkor & More
We wind up this fun impromptu show with a sexy topless Bonoboville Communion between Christine and Ikkor.
It's all very deliciously dramatic.
Their roleplay segues into Ikkor rapping "She Bad" as the beautifully "bad" Christine Dupree twerks, gyrates and simulates sex like a bonobo gone wild.
A warm and convivial after-party ensues.
PHOTO 1: ABE.  PHOTO 2: SELFIE.  PHOTO 3: JUX LII
Then, after a quickie roll in the marital hay and a few sweet dreams, it's time for Pr. Lobkowicz's birthday dinner with the Pr. Lobkowiczes.  Buon Compleanno!
PHOTOS: SELFIES
Give the Bonobo Way for the Holidays!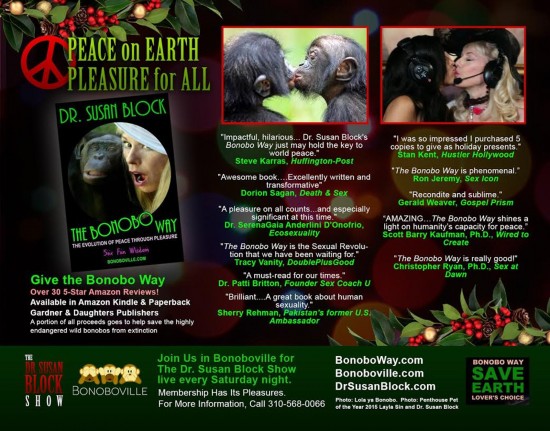 Thanks to Our Volunteers: Videographers – Tim Liles, Kristian Abasolo, Michael Sullivan; Photographers – Raul, Jux Lii, WhoIsBigMac, John Vic, James Wilson; On-Campus Bonobos – Abe Perez, Camille Rosebud, Del Rey, Reyna, Harry Sapien, Jay Red, MarsFX, Clemmy Cockatoo, Ana & Miguel, Lenny Shaw
© Nov 11, 2017. Susan Block, Ph.D., a.k.a. "Dr. Suzy," is a world renowned LA sex therapist, author of The Bonobo Way: The Evolution of Peace through Pleasure and horny housewife, occasionally seen on HBO and other channels. For speaking engagements, call 310-568-0066.