Whore Chic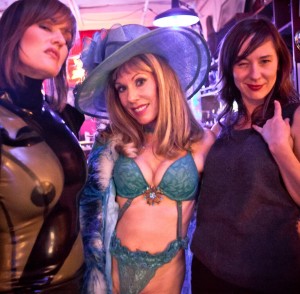 Length: 92:53 minutes          Date: 11/20/2010
Calling all attention whores, shoe whores, camera whores, corporate whores, military whores, Hollywood whores, high-priced whores, dirty whores, and every other shade of whore under the sun and moon: on this lively edition of the Dr. Susan Block Show, we approach the infamous word "whore" from a variety of angels, liberating it from its negative connotations and embracing it as a positive, empowering, and dare we say chic way of life! Dr. Suzy has a terrific array of radioSUZY1 guests in studio to explore and challenge the meaning of whoring: Ginger Murray, vivacious editor of Whore! Magazine; professional dominatrix, chemistry professor and humanitarian Mistress Snow Mercy, fresh from her mission of mercy to Haiti; Mistress Snow's newly-procured submissive Boy Kyle (whom she met in Haiti); and polyamorous BDSM-friendly couple Exceter Miles and Siren Selene. Dr. Suzy opens the show with Ginger's vision behind Whore!, an eclectic new publication that celebrates unapologetic feminine sexuality and its advocates throughout history and today. Etymology whores, take heed: Ginger discusses ancient origins of the word "whore" from a root that means "to care, cherish, give, or desire;" far from the belittling, hurtful and sometimes hostile word that has been used as a slur against women for centuries. Whore! attempts to demolish those former connotations by taking ownership of the concept of desire. One motivation is that openly embracing the word takes the power away from those who would use it to judge. Ginger admits that though she's never whored in the traditional sense, she has fantasized about it; she also shares how aspects of her personal history, like opening up to her sexuality after a breakup, watching her first porn film, and growing out her armpit hair, made her the sassy whore, in the broad sense, that she is today.
 Prince Max gets nostalgic about his first encounter with a traditional whore in his teenage years and how she was less of the stereotype and more of the "caregiver" of the word's ancient roots. We get a little history lesson about the Comstock Laws and Victoria Woodhull, U.S. presidential candidate who ran against Ulysses S. Grant and one of Dr. Suzy's role models, who battled on the frontlines of the war against sexual repression. Women like Victoria Woodhull and Margaret Sanger were called "whores" and worse, often suffering physical abuse as well as imprisonment for exercising women's sexual rights and freedoms. Toasts to these pioneers are in order, so the Agwa bottle gets cracked open and the salt-licking commences out of armpits (Ginger's, naturally) and off the perky nipples of Siren Selene. Towering Glamazon beauty Snow, clad in a futuristic, mostly see-through, latex gown, openly admits to being a sadism whore (as anyone who listened to or saw her last Speakeasy appearance "Professor Snow's School for Spanking already knows), which is fortunate, given that her collared submissive Boy Kyle confesses himself to be a pain whore. Snow discusses her humanitarian mission in Haiti, where she worked on water purification and eradicating cholera, yet still had time to meet fellow volunteer, former Eagle Scout Boy and eager submissive Kyle! Imtiaz calls in from Bangladesh, asking Ginger why she chose the name "whore" for her rather elegant magazine, as the translation into Hindi is "rundi," which has an equally negative connotation in South Asia culture, without the nouveau chic quality of "whore." Could this be the beginning of Rundi! Magazine?
 From Bangladesh to Kansas City, our next caller is Robert who asks Snow Mercy a few questions about how she tortures her slaves, and even earns a light rebuke for getting too personal with the imperiously statuesque fairy tale domme. Snow does allow Kyle to share what type of pain he loves most (being whipped with a single-tail flogger), and his anticipation builds as attention is brought to the array of fetish toys on the table, some of which Mistress Snow uses on him in the erotic after-party, as Exceter and Selene play with their BDSM toys, in the webcam room and Ginger frolics whorishly with the denizens of the Speakeasy. Being a whore has never seemed so fun!
Caller 1: Imtiaz in Bangladesh asks Ginger why she chose to name her magazine "Whore!" when the translation into Hindi, "Rundi," has such a negative connotation.
Caller 2 Robert McQueen asks Snow Mercy about CBT (cock and ball torture) and anal play
---
Explore DrSusanBlock.com
Need to talk? Sext? Webcam? Do it here. Have you watched the show? No? Feel the sex. Don't miss the Forbidden Photographs—Hot Stuff, look at them closely here. Join our private social media Society. Join us live in studio 😊. Go shopping. Gift shop or The Market Place. DrSusanBlock.tv, real sex TV at your toe tips. Sex Clips Anyone? FASHION, we have fashion! We also have politics. Politics? Have you Read the book? No? How about the Speakeasy Journal? Click here. Ok, how about some free sex advice?
---