Spring Showers
Length: 95:37 minutes Date: 03/26/2011
Click Here to WATCH the amazing Squirt Salon 27: Spring Showers where Deauxma squirts 29 times!
In the spring a young man's fancy lightly turns to thoughts of… porn stars (with apologies to Alfred Lord Tennyson)! And swinging into spring on Adultcon Saturday night, Dr. Susan Block, resplendent in spring-flower pink Yale sombrero and lingerie, features some of the world's hottest porn stars on Saturday's live broadcast, exploring sex, fun, wisdom, Girlfriends power, MiLF and Cougar sex, bisexual lust, fetish, kink, wrestling, swinging, bonobos, the U.S. Marines, nuclear energy, revolutions inside and out, being a porn princess (or Prinzzess), and oh, the glory of it all… female ejaculation. And we're not just talking about a squirt or two, but gushers and geysers and gales, oh my!
In-Studio
Deauxma—legendary MILF superstar of porn from the Great State of Texas and "Dr Suzy's #1 fan," Deauxma is a ravishing force of nature—a Jessica Rabbitesque body, 36DD and, her most impressive asset, a squirt factory the likes of which merits the title of the 8th Wonder of the World, producing a fragrant-as-spring-flowers "Holy Water" that Dr. Suzy has dubbed Champagne Deauxma. Sister Deauxma squirted a couple times on Dr. Suzy's Squirt Salon 2 with Squirt Instructor Marcus London. But here, she propels us into spring not with just a shower but a gale force geyser, over 20 fire hose-force gushes, assisted by Dr Suzy's nimble fingers and tongue (though Deauxma credits her tsumani of squirt to our Love Doctor's "soothing voice").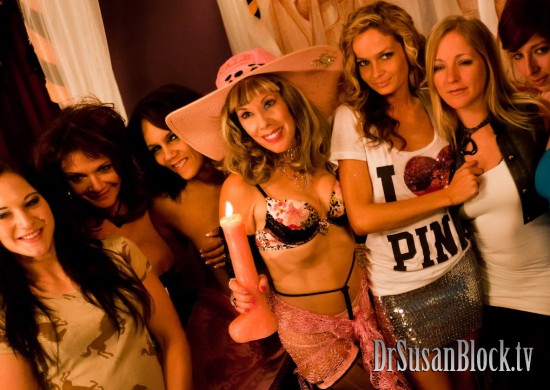 Prinzzess Felicity Jade—Girlfriends Films contract star, Penthouse Pet, daughter of Christian missionaries raised in Belize, this dazzling blonde royal beauty shows us—and her biggest fan Panty Boy—her sweetly sexy white, see-through thong panties, as well as her just about perfect natural boobies. Prince Max begs an introduction, but alas, the heart of this Prinzzess belongs to another: her hot new fiancée—India Summers—announcing their impending nuptials for the first time live on the show.
Anjanette Astoria—2011 Urban X Award MiLF Performer of the Year nominee, mother of 5 children (with the same husband!), part Blackfoot Native American, Anjanette licks Agwa salt off the Prinzzess' royal boobs and jumps into the show bed with Deauxma and Dr. Suzy, rips off her soaking wet red lace panties, moaning and screaming as the Love Doc smacks her vulva and the Milf Queen rides her like bonobo sisters, hoka hoka style, aka genito-genital rubbing, aka lesbian grinding, tribadism.
Dia Zerva—sexy U.S. Marine-turned-kink-performer and professional dominatrix, Dia shows off her tri-strap pink panties to reveal her hot Marine bootcamp-toned ass which is "gang-bang-ass-licked" as all the ladies use it for their Agwa salt surface, with Dia grinning all the way–what a soldier girl!
Cheyenne Jewel—sexy wrestler and fetish starlet into "everything," Cheyenne sits on Dia's lap for most of the show and contributes her virginal white thong panties to the Panty Boy collection.
Boxcutter—another U.S. Marine (what is it with Semper Fi and Dr. Suzy?) and self-declared masochist with a passion for beating and biting, Boxcutter participates in the 'gang licking.'
Monique Allen— a guest of frequent Dr. Susan Block Show caller Imtiaz, Monique and her 38 triple FFFs pop in to say hello.
Weapons of Mass Discussion

Spring, Squirting, Swinging, Cumming into Spring, lesbian porn stars, MILFs, panties, Christian missionaries, Belize, U.S. Marines-turned-fetishists, Revolutions for the Right to Watch Pussy, bonobos, nuclear energy, marriage, Holy Water
Commedia Erotica

Squirting, squirting and more record-shattering squirting! Panty play, wet panty play, Agwa shots off boobies, fingering, cunnilingus, gang bang ass-licking, lesbian grinding, and in the after-party: rope suspension, candle play, fellatio, coitus a mammalia, playing piano while being bullwhipped, more orgasms, casual and not so casual sex!
---
Explore DrSusanBlock.com
Need to talk? Sext? Webcam? Do it here. Have you watched the show? No? Feel the sex. Don't miss the Forbidden Photographs—Hot Stuff, look at them closely here. Join our private social media Society. Join us live in studio 😊. Go shopping. Gift shop or The Market Place. DrSusanBlock.tv, real sex TV at your toe tips. Sex Clips Anyone? FASHION, we have fashion! We also have politics. Politics? Have you Read the book? No? How about the Speakeasy Journal? Click here. Ok, how about some free sex advice?
---
---