Mistress Tara for President & FemDom Politics the Bonobo Way on DrSuzy.Tv
Length 1:47:02 Date: July 30, 2016
Brothers and Sisters, Democrats and Republicans, Libertarians and Vegetarians, my fellow Americans, Humans, Great Apes and All of My Fellow Animals on Earth: welcome to the Lesser of Three Evils and the Greatest Sexuality Show on Earth! Welcome to the Trumpocalypse, the Clinton Corruptathon, and this amazing show of FemDom politics and fun smack in the middle of this erotic neurotic and kind of psychotic Election Season. USA! USA!
Yes indeed, the DNC is over. They did it better than the RNC. The DNC speakers acted like grown-ups, not big babies or bullies. Nobody mocked anybody for physical disabilities. Nobody called for anybody to be executed by firing squad. Nobody threw the Sieg Heil. Nobody got caught plagiarizing their speeches.
But the Donkeys did copy the Elephants' awful national anthem, braying, "USA! USA! USA!" exulting in the odious "accomplishments" of America's biggest export, our bloated, enormously destructive Military-Industrial Complex. Really guys (and gals), it's vulgar for the richest, most militaristic country on Earth to brag about how rich and militaristic we are. Didn't your mamas teach you to have a little humility? Well, let Me teach you then: It's obnoxious, it's insensitive, and it just might make folks in the countries we're bombing double-mad at us, maybe even mad enough to sacrifice their lives and their sanity in another terror attack on our civilians. Yikes!  So please: Stop braying "USA!" and bragging about our military might and our soldiers, as if they're a football team. Feel free to wave your flag, but remember that our brave armed forces are made up of paid volunteers, and it's really sad when they die and get maimed, but it's also sad when they kill and maim civilians, and now most of America's killing and maiming is done not soldiers facing death themselves, but by drones. So please: stop the killing and maiming, America—abroad and at home. And stop bragging about killing. Then maybe the terror will die down, and love will grow, like flowers, on its grave. It's the Bonobo Way.
So no, in the grand scheme, the Democratic Convention was not very bonobo, unless you're comparing it to that gathering of neo-Nazi dingbats sailing under the flag of Trump University, Steaks and Failed Casinos the week before, in which case I'd have to say that it was downright bonoboësque. Everything is relative, after all, and the Dems did provide a Big Tent. The Bernie-or-Busters may not have been treated like royalty, but they got their say on the international stage, chanting "No More War!" as some military fetishists spoke. Our friend Abby Martin was arrested, which was terrible, but at least she was released within a few hours, and delivered her usual truth-telling reports without further interference.
Though the DNC's military enthusiasm felt disturbingly ominous, there was not much bigotry. Indeed, a veritable rainbow of colors, genders and faiths graced the DNC stage, not just rabidly angry white men and Stepford Trump wives and daughters dressed in pseudo-virgin white. Many have called Hillary insincere and opportunistic for saying to Bernie supporters "Your cause is my cause." I don't disagree, but I do think it's a lot better than calling them criminals punching bags as Trump calls his opponents and protestors.
And it made history. Hillary Clinton is the first woman nominated for President of the United States by a major party, and that's a major victory for the Bonobo Way right there. But she's not the first woman to run for president. Victoria Woodhull was the first woman to run for President. Shout-out to our friends at the Woodhull Sexual Freedom Foundation, including Nina Hartley, Danny O'Neill and Reid Mihalko, plus Ecosexuality co-editor SerenaGaia Anderlini D'Onofrio will be going to Woodhull for the first time.

Besides just being a woman, Hillary has one other essential quality: She's not Trump. So I support her in her efforts to defeat him and what he represents. So do a lot of Republicans, which is nice, but where does that leave the state of the union? The Democrats sound as militaristic as Republicans, and the Republicans have gone off the deep end, possibly heralding the collapse of our two-party system into one, which isn't exactly democracy. In my view, not only do we need two parties, we should have 12 parties: the Green Party, the Libertarian Party, the Vegetarian Party, the Block Party, the Party like a Bonobo Party and many more, including the Female Supremacy Party.
Which brings me back to this show, which is a kind of party for the Female Supremacy Party, presided over by international super-Dom and U.S. Presidential Candidate Tara Indiana, whipping America back into shape, one middle-aged white man at a time. Not to be racist or anything, but most of today's world problems are caused by middle-aged and older white men like Big Guns-Small Dick Cheney, George Dubya Pussy-Bush & Donald Short-Fingers Trump.
Mistress Tara has been beating men like Donald Trump for 25 years, and that is why, on this historic live broadcast, I give her my support, my bonobo love and my endorsement in her courageous, comedic and kinky run for President of the United States. I've known Tara for over a decade, since we met at my Cinekink premiere of Squirt Salon back in 2005, and I can tell you this: she's strong, she's smart, she's female and she's fierce. But she's never started or even voted for war like Hillary, and she's never ripped off her workers like Trump. Ms. Tara is, in many ways, the Donald's polar opposite, and she embodies the best aspects of Hillary with none of the political baggage: She's tough, she's shrewd, she's dominant, she possesses a pussy, and she can handle being called a cunt and a bitch by enemies and admirers alike.

Back in 1993, I fell in love with Hillary as a Dominatrix as portrayed by Spy Magazine, the same folks who called "The Donald" a "short-fingered vulgarian" when he was first polluting America's media atmosphere with his proud narcissism. Who cares if that was really Hillary's body?  It looked and felt real to me. But alas, it was and is not real. Hillary is a war criminal, like many powerful national politicians in this country, not the gentle but firm, sexy, bonoboësque dominatrix that Spy caricature portrayed her to be.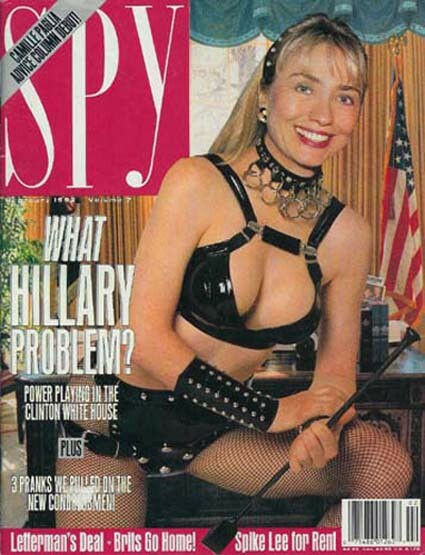 Tara, on the other hand, is a real Dominatrix who can beat Trump and a lot of international blowhards, dick-tators and assholes with small penises and big mouths. As an alpha-Domme, President Tara will beat, gag and humiliate them, but she won't kill them or bomb their countries. Tara's election to the highest office in the land will empower fellow Dominas, as well as all kinds of other powerful women, successful businesswomen, politicians, mothers, grandmothers, sex workers and hot MILFS like her. That's the Bonobo Way of FemDom Power in a Corset.
I endorse Tara on this show because, to be blunt (fire up that blunt!), I like her better than the other major candidates still in play. Maybe not Bernie, but he's no longer running. As for voting, well, unlike Capt'n Max, who never votes, I sometimes do.  I voted for myself for President in 1992, I voted for the late great Frank Moore in 2008 when I was his running mate, and I've voted a few other times, when I feel the stakes are high… at least high enough to risk getting jury duty.
So if it seems like it's going to be a close contest in California, I will certainly vote for Hillary, and I encourage all American voters to do the same, especially if you're in swing states, to prevent the dark specter of Trumpism from trumping our democracy, such as it is. But if she's got a healthy lead in your state, then you could vote Green or Pink or whatever hue matches your view. We'll see as we get closer to November 8th (Capt'n Max's birthday!), 2016.
So right now, while Election Day is more than three months off, and after these two conventions of terrible Trumpeting and boastful braying, I am cheerfully endorsing Tara for President on this great show that feels sort of like a kinky political convention, and definitely like a party.  And so to happy cheers, intoxicated applause and fervent cries of "Amen" and "Awomen," I introduce "the next President of the USA": Mistress Tara Indiana.
After the usual political pleasantries, we chat about the issues, macro and micro, Trump's small penis problem, the political value of erotic humiliation (one of her projects is to send 1000 tiny dildos to his office), her plans to decriminalize sex work and marijuana use (promoting the peace and well-being of the populace and creating a ton of jobs), as well as her "enhanced" interrogation techniques that would allow an element of feminine sensuality to such common CIA practices as "anal food rape," hiring top dominatrices (more jobs created!) as interrogators and torturers.
My other guests, hot Mistresses who also endorse Mistress Tara for President, include the voluptuous (42DD) and clever Miss Freudian Slit and the statuesque (6'5") and stately Miss Sadie Synn, as well as adorable, androgynous Jay Toriko, and our own Jacquie Blu. Endorsements pour in from Mistress Genevieve (who introduced Tara and me back in 2005) and another favorite DrSuzy.Tv FemDom show guest since 2010, Snow Mercy.
The Womb Room cheers as Ms. Tara shows us exactly how she will "beat Trump" by actually beating, spanking, gagging and trampling upon our Donald Trump surrogate. Some say Trump would enjoy this too much, but that's okay, as long as he takes his punishments for the harm his narcissistic, bigoted, bullying, babyish, small-penis-anxiety-fueled neo-fascism has already caused this country, and as long as he stays gagged.
A very bonobo political animal, Tara generously lets us each take a turn at "beating Trump," including with The Bonobo Way, creating the sort of gal-gal camaraderie that makes bonobo gals "stronger together," and can win elections. Ms Synn whacks him hard with her big hands and Jay rides Trump like a toy pony, and we all laugh at the fact that this big bully is much better-suited to being a pony ride in an adult amusement park than to being anyone's Commander-in-Chief. I trample the wannabe Bully-in-Chief. It's great fun and good sex therapy for the Trumpocalypse, brought to you by the Therapists Without Borders of the Block Institute. Call anytime!
Music is a big part of every political convention, including ours. Both the braying Donkeys and Trumpeting Tuskers call out for blessings from "God," blithely ignoring America's supposed "separation of Church and State." So we follow suit, as our very own "Drunk Jesus," up-and-cumming rapper Me$$ed Up, freestyles his way through Bonoboville before embarking on his big multi-college tour.
Here in the Womb Room, our "religion" includes our ritual of Bonoboville Communion, as well as "waterboarding," bonobo-style with Agwa di Bolivia Herbal Coca Leaf Liqueur. Volunteering to be the "Altar Girl," Miss Freudian Slit offers up her fabulous 44DDs for delectable Communions with Me$$ed Up and Jay Toriko. Freudian's HUGE boobs serve to underline the smallness of Trump's penis, mind and conscience, as well as to entertain the troops and give comfort to all who look upon them.
We also get the treat of seeing our bombshell bartender, Shannon Coronado, a vision in black and white, pouring the Agwa for the people.
Though this show is packed with action (not just political hot air!), we also take two calls, first from Chelsea Demoiselle, Dr. Susan Block Institute therapist and our own "bonobo-in-the-field," responding to my observations about the hate comments from some DrSuzy.Tv listeners and viewers on social media, upset that we're talking a bit more about politics these days. They would prefer that we just talk about sex. Tune in to hear our advice on how to fight the hate with love, the Bonobo Way.
There's a lot of emotion in this election, and much at stake in terms of sexual rights. Crazy baby Trump aside, the Republican platform is filled with anti-sex, anti-female goals, such as repealing Roe vs. Wade and Gay Marriage in the Supreme Court, targeting porn-viewing as an "addiction," and encouraging harmful "conversion" therapy for those attracted to the same sex. So we will keep being political, as well as sexual, throughout this important election season and beyond. If you don't like it, change the channel to Rush Limbaugh or the Vivid Radio heavy breathers.
The second call comes in from a guy in rural, ultra-conservative Pennsylvania who calls himself "Donald." I brace myself for an avalanche of expletives excoriating the Female Supremacy Party and the Bonobo Way. Instead, we are gratified to receive another endorsement of Tara for President, proving that there is hope for this great and complex country of ours sprouting up like corn from the Heartland.
When Tara proclaims her willingness to pander to voters, I ask her to put her boobies where her mouth is. She balks at first, saying it's too much trouble to get her big natural bazoombas out of her buttoned up Presidential shirt and bra, she gives the voters what they want and proceeds to #FreetheNipple(s), whereupon the rest of us follow suit, and oodles of pretty titties and nippies come out, like confetti at a convention.
More spankings and Communions ensue with Jacquie, Jay and the world's biggest baby/bully, Trumpty Dumpty who takes a great fall, at least on this show, and even gets trampled. It's great Sex Therapy for the Trumpocalypse, Bonobo-style. Certainly, it release a lot of our frustrations through BDSM and laughter, and we hope it releases yours too.
Highlight of the Afterparty:  Auto-fellatio performed by Jay Toriko! Such talent we have on The Dr. Susan Block Show. Coming soon to Clip-O-Rama.
Up right now: My UC Berkeley talk on The Bonobo Way at the 5th International Conference on the Future of Monogamy and Nonmonogamy. Coming soon: The Bonobo Way of FemDom Power from DomCon LA. This Sunday: I'll be talking about bonobos, sex, love and peace in beautiful, balmy Laguna Beach the Inner Journey on KX 93.5 FM with Greg Friedman. Catch us if you can sometime this summer. It's a hot one. Stay bonobo.
© July 31, 2016. Susan Block, Ph.D., a.k.a. "Dr. Suzy," is a world renowned LA sex therapist, author of The Bonobo Way: The Evolution of Peace through Pleasure and horny housewife, occasionally seen on HBO and other channels. For speaking engagements, call 310-568-0066.
---
Explore DrSusanBlock.com
Need to talk? Sext? Webcam? Do it here. Have you watched the show? No? Feel the sex. Don't miss the Forbidden Photographs—Hot Stuff, look at them closely here. Join our private social media Society. Join us live in studio 😊. Go shopping. Gift shop or The Market Place. DrSusanBlock.tv, real sex TV at your toe tips. Sex Clips Anyone? FASHION, we have fashion! We also have politics. Politics? Have you Read the book? No? How about the Speakeasy Journal? Click here. Ok, how about some free sex advice?
---
---