Max's Birthday with Persia Pele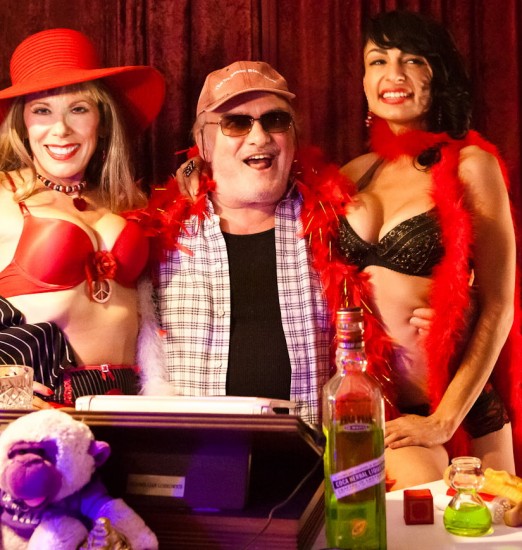 Length: 93:40                           Date:  11/06/2010
All hail panties, Pocket Rockets, and Persian porn stars–it's a radioSUZY1 birthday party fit for a prince! On this episode of the Dr. Susan Block Show, we celebrate Prince Max's birthday with tempting Tehran-born porn star Persia Pele, adult industry producer, director, and writer Bon Jon Syn, Princess of Pure Pleasure (not to mention wife) Dr. Susan Block, and the whole in-studio audience at the Speakeasy. Before we let the birthday boy wax nostalgic about some of his many past shenanigans, Persia has some personal history of her own to share. Born in Iran in a strict Muslim background, she and her family fled the repressive political regime and immigrated to the U.S. when she was six years old. Children brought up in religious traditions often have a near-explosive conversion when discovering their true sexual natures, and Persia was no exception–unbeknownst to anyone in studio, her first introduction to the world of sex came from Dr. Suzy's legendary public access TV show! Pretty Persia recounts her vivid memories of the show, describing Dr. Suzy's outfit (lingerie, boots and hat), and reveals she used to masturbate to the show long before she embraced her current calling. Like Bon, she has only recently crossed over into the adult industry from her "mainstream" acting career (which, interestingly, included a role as Mary Magdalene). Bon, whose first adult film stars Persia, shares his philosophy of adult filmmaking that weighs the importance of a compelling story over the sex.
 We turn back to Persia's story–this time, the history of the sensuous Persian Empire and how its harems, opium dens, belly dancers, erotic poetry and passionate pleasure orgies were destroyed to make way for the Iran of today that bans its women from even showing their faces in public. The taboos surrounding female sexuality are pervasive in many parts of the Muslim world, a topic Dr. Suzy has tackled before in her blog about Miss USA Rima Fakih and Strippergate. Persia shares how deeply disappointed her family is with her career and how her occasional use of Farsi in scenes makes her both popular in Iran and the target of death threats. Though she's since converted to Judaism, she's not intimidated by threats from Muslims or anyone else–in her words, she's not out to push envelopes, she's out to burn them.  When we at theBlock Institute promote our Bonobo Way of Peace through Pleasure, we mean it globally, and nothing excites us more than seeing responsible, empowered individuals from every culture serve as beacons of sexual freedom to the world. Frequent caller Imtiaz, for example, gets on the line all the way from Pakistan to wish Max a happy birthday, compliment Persia and tease us about his overseas romantic endeavors. More birthday wishes come from Lord Artimus Foul, the BDSM Master and active-duty Marine, who has a video "present" on his vlog Lord Foul shares news about his (now former) slave Box Cutter before the conversation turns back to history and politics. Admitting she's turned on by intelligence (and not in the military sense), Persia shares her shoe fetish and her recent interest in trying submissiveness in the BDSM context, demonstrated as she obeys Dr.  Suzy's command to take her top off and expose her gold shiny bra  (which "smells delicious," according to Bon!) We also get a taste of her orange or peach–up for debate–lace panties which hug her taut body that has maintained its lusciousness through years as a trained ballerina and more recently through Bikram yoga.
 Max weighs in with some birthday musings, recounting his own immigration to the U.S. and the first time of many he was "busted" for distributing obscene literature.  Agwa toasts to Max all around ensue;  Persia declines to lick salt due to an allergy, but that doesn't deter Bon from licking his own salt off her nipple–making sure not to leave a single grain. Lord Foul (still on the line!) toasts Max with rum, and a temporarily absent Persia emerges wearing nothing but Dr. Suzy's gift panties and bearing a birthday cake for our Prince which is put to good use, with Dr. Suzy licking sweet, creamy icing off Persia's ample nipples. The royal court rides the celebration train into the after-party, with Persia now licking Dr. Suzy all over, haremgirl-style. Ooh-la-la! Whereupon Prince Max and his Princess Suzy depart for the royal bedchambers and some good old-fashioned marital sex on the eve of his birthday, calling out in tribute to that moment of pleasure and passion 67 years ago that brought us this extraordinary child of sex.
Caller 1 Imtiaz wishes Max a happy birthday, compliments Persia and talks about Pakistani women
Caller 2 Lord Artimus Foul wishes Max a happy birthday and discusses history, politics, being a US Marine and breaking up with Box Cutter
Caller 3 asks about an incest fantasies about his mother
---
Explore DrSusanBlock.com
Need to talk? Sext? Webcam? Do it here. Have you watched the show? No? Feel the sex. Don't miss the Forbidden Photographs—Hot Stuff, look at them closely here. Join our private social media Society. Join us live in studio 😊. Go shopping. Gift shop or The Market Place. DrSusanBlock.tv, real sex TV at your toe tips. Sex Clips Anyone? FASHION, we have fashion! We also have politics. Politics? Have you Read the book? No? How about the Speakeasy Journal? Click here. Ok, how about some free sex advice?
---