Mamma Mia Culpa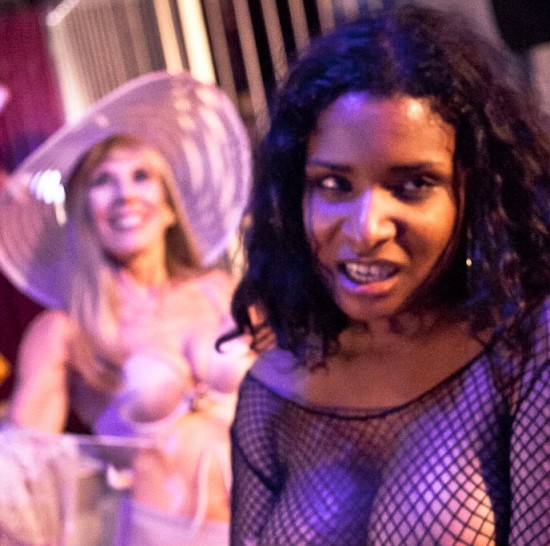 Length: 91 minutes                               Date: 10/23/2010
Mamma Mia! Don't blame us if you get aroused by this week's Dr. Susan Block Show—blame our featured Speakeasy guest: USC graduate with a Masters in Communications, sometime porn star, part-time girlfriend and full-time sex goddess, Mia Culpa. Mia, whose name—just in case you forget your Latin–is a play on the phrase for "my fault," owns up to all her sinful behavior and confesses her thoughts on exhibitionism, bisexuality, monogamy, deep throating, feminism, squirting, and love.  A RadioSUZY1 repeat offender, bold and sensuous Mia appeared on last week's show with Sex at Dawn authorChristopher Ryan, last month's show with bisexual Kink.com model Jack Hammer, and Dr. Suzy's famous Squirt Salon 2—where female ejaculation expert Marcus London made her squirt for the first time ever. She doesn't disappoint this week either, kicking off the show by exposing some of her below-the-garter-belt, rather literary tattoos including Dante's "Abandon All Hope Ye Who Enter Here" (Lasciate ogne speranza, voi ch'intrate) etched right above her vaginal Inferno.
 Then our ethical hedonist host Dr. Susan Block (fresh from her interview on KGO radio) gets Mia to open up about her feelings about her Republican boyfriend who wants their relationship to be sexually monogamous. Monogamy and promiscuity have been recent favorite topics on the show, and we touch on some of the differences between love and sex, commitment and exclusivity, and what falls under the couple's definition of cheating. Mother Confessor Dr. Suzy also draws more details of Mia's Catholic upbringing and family history out of her, most notably how her conservative, West Virginian grandfather has influenced her (namely, introducing her to her first porn and giving her a double-header dildo for Christmas!). Prince Max the engineer, overseeing the smooth transition to a new sound board, joins in as the discussion turns to the recent death of his old friend Penthouse publisher Bob Guccione, the history of pubic hair trends in mainstream pornography and the current state of the country's wealth gap between the conservative few and the horny many.
 We shift gears to speak to our first caller (another RadioSUZY1 veteran) Lord Artimus Foul, aBDSM slave master who also happens to be an active-duty Marine. Lord Foul shares his experience reconciling his military profession with his kinky private life. Though the Block Institute's Bonobo Way of peace through pleasure is at odds with the country's current perpetuation of wars, occupation and violence in the world, we strongly stand behind our troops' sexual freedom; active-duty members of the military like Lord Foul and Box Cutter, not to mention former Marines like radioSUZY1 guests Jack Hammer and Dia Zerva, among many others, have our full support in staying true to their kinky selves in the face of enormous pressure from society. Our webmaster/bartender, Nori, an U.S. Air Force veteran, brings his point of view into the discussion.  Though we oppose the political and military-industrial machine, we love sex machines (both the kind James Brown sang about and the actual sex toys), and Mia describes her epic 6-hour Kink.com webcam session with a Hitachi Magic Wand and a "fucking machine" that makes the Monkey Rocker look like a tricycle.
 Ever the exhibitionist, Mia then strips her bra off (with Dr. Suzy's help) and exposes her panties (which, according to her, she "wore against her better judgment") to don Dr. Suzy's gift of a body-hugging, everything-showing, fishnet dress, describes her fetish for torturously teasing men to the point of begging for an orgasm, then licks Agwa salt off Dr. Suzy's breasts. After the show, she rides our beloved Monkey Rocker to a rollicking orgasm (with the clitoral help of her Pocket Rocket).  Yes, Mia Culpa put on quite a show for us—Catholic guilt complex be damned!—but next week's Halloween Eve show with special guests from the LA Fetish Film Festival also promises to be a scary good time. Tune in from 10:30 PM PST until the witching hour, and until then, seek your peace through pleasure, and always remember…you're never at fault for staying true to yourself (unless you really want to be).
Caller 1 Lord Artimus Foul shares his thoughts on the divide between his kinky BDSM personal life and his military professional life as an active-duty U.S. Marine
Caller 2 asks about foot fetishes
Caller 3 asks Mia about double-penetration and blow-jobs
---
Explore DrSusanBlock.com
Need to talk? Sext? Webcam? Do it here. Have you watched the show? No? Feel the sex. Don't miss the Forbidden Photographs—Hot Stuff, look at them closely here. Join our private social media Society. Join us live in studio 😊. Go shopping. Gift shop or The Market Place. DrSusanBlock.tv, real sex TV at your toe tips. Sex Clips Anyone? FASHION, we have fashion! We also have politics. Politics? Have you Read the book? No? How about the Speakeasy Journal? Click here. Ok, how about some free sex advice?
---