Love Unlimited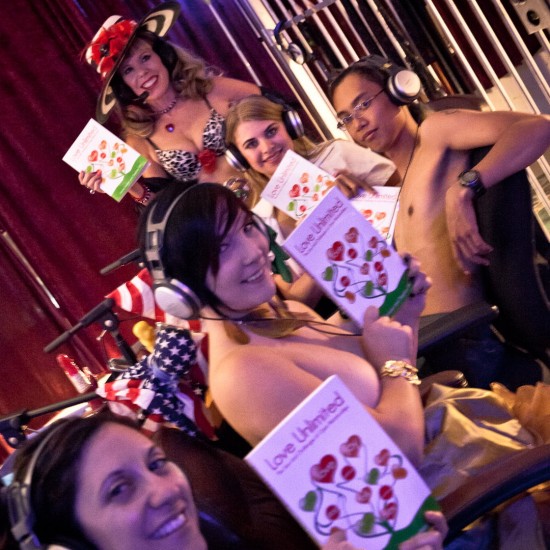 Length: 91 minutes
Date: 11/13/2010
Love Unlimited
You get more bang for your buck on this edition of the Dr. Susan Block Show devoted to the theory and practice of polyamory (having more than one intimate partner): not only is polyamory expert Leonie Linssen on the phone from Holland to discuss her new book Love Unlimited: The Joys and Challenges of Open Relationships, but real-life polyamorous couple Exceter Miles and Siren Selene and triad Katie Kinns, Mona Sunoy and Madylin Rayne join Dr. Susan Block in the RadioSUZY1 studios to discuss their experiences living open sexual lifestyles. If that wasn't enough, pornographer Jayme Waxman, diminutive and kooky Mistress Misogyny (last heard on the Fetish Halloween show through a post-apocalyptic gas mask) and legendary porn director Jack the Zipper are also at the Speakeasy to add to the mix of stimulating chatter on important matters like sex and love…with a little BDSM to spice it up. Dr. Suzy opens with author and therapist Leonie, whom we might call a "sexpert" (to Prince Max's annoyance, since he hates that word), by clarifying what we mean by polyamory. For Leonie, it's all about love: the ability to love more than one person at a time, and not in the sexual wild orgy way that is often the stereotype of the polyamorous lifestyle.  As Dr. Suzy explains, much in the same way a mother can simultaneously love multiple children, so can humans possess a vast amount of love that can be distributed to more than one person and still maintain its strength. Ignorance of this idea today leads so many strictly monogamous couples into the troubled waters of infidelity, cuckoldry, so-called "sex addiction" and divorce–issues with which the therapists at the Block Institute often help people, by the way–and spurs societal instability, repression, oppression and violence.
 Dr. Suzy points out that the origins of codifying monogamy are in the advent of farming, which left the formerly polyamorous, promiscuous hunter-gatherers owning land, property, and ultimately sexuality. This is the premise of the book Sex at Dawn by Christopher Ryan (a recent favorite topic on the show), which argues that the history of our true sexual natures is less like the traditionally accepted male-female marriages and more like the multi-male, multi-female sexual communes of the bonobos. Love Unlimited offers insight into how successful multi-person relationships can work in the world today, including critical tips on dealing with jealousy in a healthy way, but stresses that there is no "right" relationship model; monogamy, serial monogamy, polyamory or a mix, the most important thing is that the people involved are happy. Our guests are certainly happy in their own relationships: Birthday girl Katie Kinns celebrates her 23rd on the show and shares how she and her boyfriend Mona met 17 years ago and still keep their passion strong while Katie maintains her relationship with her porn starlet girlfriend Madlyn. Exceter and Selene discuss their philosophies and the fact that their respective families, though accepting of their involvement in the fetish world, still retain the taboos around polyamory that much of society shares. Speaking of fetish, the last time Exceter and Selene were at the Speakeasy, they had their first real erotic encounter, with Exceter demonstrating considerable skill with his knife blade caressing Selene's creamy skin but never drawing blood.
  BDSM is another favorite topic on the show, and we get personal with our guests about submission, the importance of knifeplay safety and getting turned on by sweaty hockey players brawling…which Katie confesses to, recounting her recent night at a Kings game that would have left her soaking her panties…had she been wearing any! Imtiaz calls in from New Zealand, never ceasing to amaze us with the caliber of women he goes out with, having just taken out Miss New Zealand 2010, Ria van Dyke (whose mother he used to date). As usual, everyone loosens up some restraint with a few Agwa shots and salt licking off some boobs in honor of the birthday girl, who opts to get cut out of her broken dress and give the in-studio audience a taste of her birthday suit. After opening up a Bday Goodie Bag, including a Rocket of a gift, from Dr. Suzy, her friend Jack the Zipper hops on the microphone to share some good wishes and momentarily bring the focus back to polyamory, describing his current monogamous relationship. The focus gets blurred pretty quickly, though, because Jayme and Katie have a little sex-educating to do in the form of demonstrating their blow-job skills on a condom-covered 10″ dildo.
 Then its birthday time, and it's not a Speakeasy birthday without cake licking off body parts and spanking, and Katie gets all that and much more at the erotic after-party. She also takes a turn riding the Monkey Rocker and gets some passionate lovemaking from her boyfriend Mona (soon to be a clip!), while Exceter and Selene get busy with floggers and knives (but no blood!) in the webcam room as Speakeasy revelers watch through the windows and play somewhat less dangerous games of romance and communal pleasure. Love Unlimited, indeed.
Caller 1 Leonie Linssen author of Love Unlimited: The Joys and Challenges of Open Relationships talks about polyamory
Caller 2 Imtiaz talks about traveling through New Zealand and going out with Miss NZ 2010 Ria van Dyke
---
Explore DrSusanBlock.com
Need to talk? Sext? Webcam? Do it here. Have you watched the show? No? Feel the sex. Don't miss the Forbidden Photographs—Hot Stuff, look at them closely here. Join our private social media Society. Join us live in studio 😊. Go shopping. Gift shop or The Market Place. DrSusanBlock.tv, real sex TV at your toe tips. Sex Clips Anyone? FASHION, we have fashion! We also have politics. Politics? Have you Read the book? No? How about the Speakeasy Journal? Click here. Ok, how about some free sex advice?
---